Win Your Way to EPT Monte Carlo with PokerStars Satellites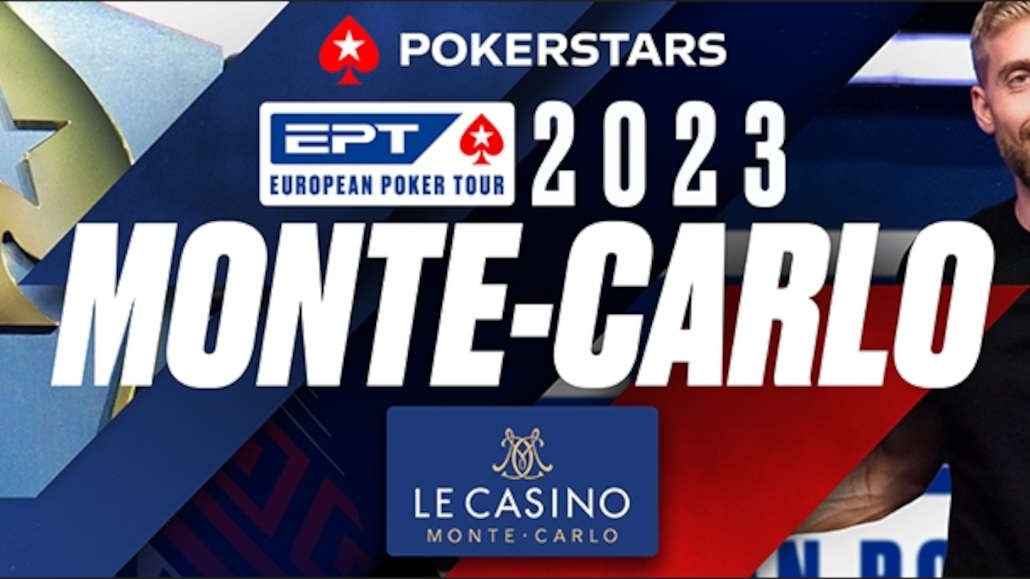 EPT Monte Carlo is on the schedule for the last days of April and early days of May, with the first flight of the €5,300 Main Event kicking off on Sunday, April 30.
Playing an EPT Main Event in Europe's gambling capital is certainly a dream come true for many poker players, but the €5,300 price tag attached to it is certainly not one that everyone can afford to pay.
To make sure that everyone has a fair fighting chance, PokerStars is throwing plenty of satellites for this epic upcoming poker festival, with full packages worth €9,000 up for grabs through the popular online poker platform.
If playing Europe's most popular poker tour has always been a dream for you, keep reading and find out how you can win your EPT Monte Carlo seat through PokerStars and what kind of an experience you can expect if you do end up as one of the lucky qualifiers.
Win Your Main Event Package for €530
Currently, PokerStars is giving away EPT Monte Carlo packages via a series of €530 direct qualifiers, which run once a day, most days of the week.
Depending on the day you choose to play, the operator will be awarding either €9,000 full packages or €6,300 seat + travel expenses packages to the qualifiers.
Of course, you need not worry about being damaged in any way, as the satellites with seat + package deals will award more tickets for the same amount of money in the prize pool.
If you do opt to play in the real money poker qualifiers that award the full package worth €9,000, you will be playing for the following prizes:
€5,300 Main Event entry fee
8 nights for two at the Monte Carlo Bay Hotel
€508 in travel expenses (paid to your PokerStars account)
As you can probably tell from this shortlist, the accommodations deal that's part of the package is quite a valuable one and includes absolute pampering for you and one guest you decide to take with you to Monte Carlo.
For a price of just €530, you could play in any of the daily qualifiers you pick and potentially win a poker trip of a lifetime to one of the most glamorous destinations in Europe.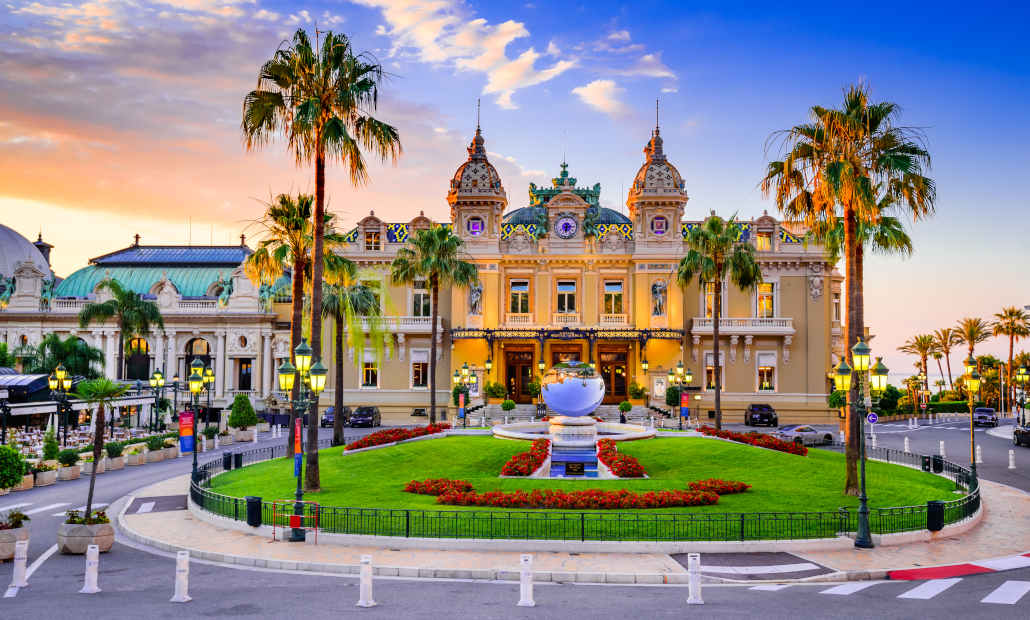 The Long Path to Monte Carlo
Of course, paying €530 just to pay in a satellite tournament is also not something that everyone wants to do. This is why PokerStars offers many other opportunities for players to win their seats.
There are several types of feeder events that will give you an opportunity to play for a seat in the €530 satellite at a much more affordable price, including:
€2.20 Rebuy satellites
€5.50 Freezeout satellites
€22 1R1A satellites
€27 Freezeout satellites
€55 Freezeout satelllites
Each of these feeder satellites is on the schedule at least once per day, with the lower buy-in ones available multiple times per day.
In these, you will be playing for a seat in the €530 satellite and have a chance to earn your way to Monte Carlo by besting a larger field of EPT hopefuls.
If you have the time on your hands, this is probably the best and most affordable way to play in EPT Monte Carlo. It will give you an opportunity to capitalize on your poker strategy and skills, and beat many weaker players along the way.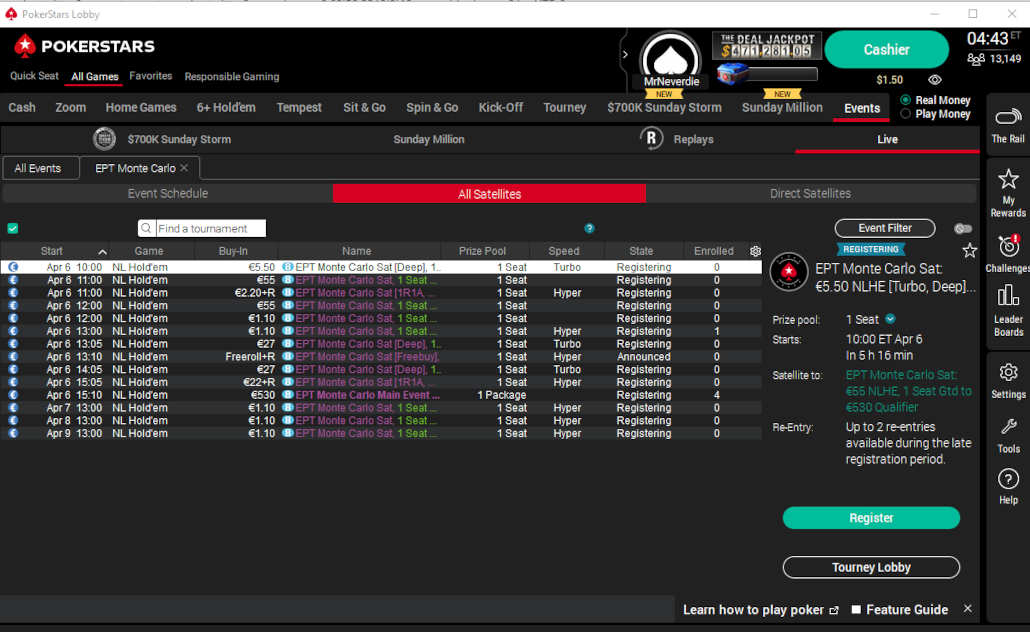 If you have a small bankroll on PokerStars and still want to give it a shot, the operator offers an opportunity to win a seat in the €27 qualifiers for just €1.10, which is the first step on the road to Monte Carlo.
Finally, even if you don't have a bankroll to speak of, PokerStars runs a daily EPT Monte Carlo Freeroll, where tickets to the €22 1R1A satellite are given to the top finishers.
Keep in mind that you can also rebuy into the Freeroll satellite for the price of just €0.11, which makes it a decent opportunity to try and win your €22 ticket very cheap and make your way to the EPT from there.
As you can tell, there are many different paths to one of the most prestigious poker tournaments in Europe this year. Thus, you will not necessarily have to pay the steep entry fee to compete with the game's biggest names.
Win Your EPT Seat in Monte Carlo
If live poker is more of your scene and you don't feel like competing with faceless and nameless opponents at PokerStars, that's quite alright.
Starting in the days leading up to the Main Event, the organizer will be throwing a series of €600 and €1,155 live satellites at the venue, where you can also win your EPT Main Event seats.
The live satellites award seats only, which means there will be one seat awarded for each €5,300 in the prize pool, making it somewhat easier to win that coveted entry ticket.
The Main Event satellites will run for as long as Day 1 flights are available, but you can also compete for seats in the Mystery Bounty, High Roller, and other events of the 2023 EPT Monte Carlo.
With plenty of satellites and side events running, EPT Monte Carlo should be one of the most exciting poker festivals of the year and one not to be missed.
More PokerStars Events Coming Up
PokerStars opened 2023 strong in terms of both online and live poker, with many new live tournament engagements added to the schedule.
For the first time in history, PokerStars is one of the sponsors of the upcoming Irish Open in Dublin, while the legendary LAPT is also back on track with the next stop scheduled for Montevideo this spring.
The rest of the year will be equally as exciting with more EPT, LAPT, APPT, EUREKA, UKIPT, FPS, and other PokerStars-sponsored events to look forward to.
The best thing about it is that the operator's lobby is already loaded with satellites for all these events. You can fight for your chance to play in each Main Event without having to actually make the trip out before having a seat.
Join PokerStars today, explore the live satellites lobby, and find the best and most affordable opportunities to win your next live poker festival seat today.