What Is Risk Premium in ICM – Expert Tips by Fedor Holz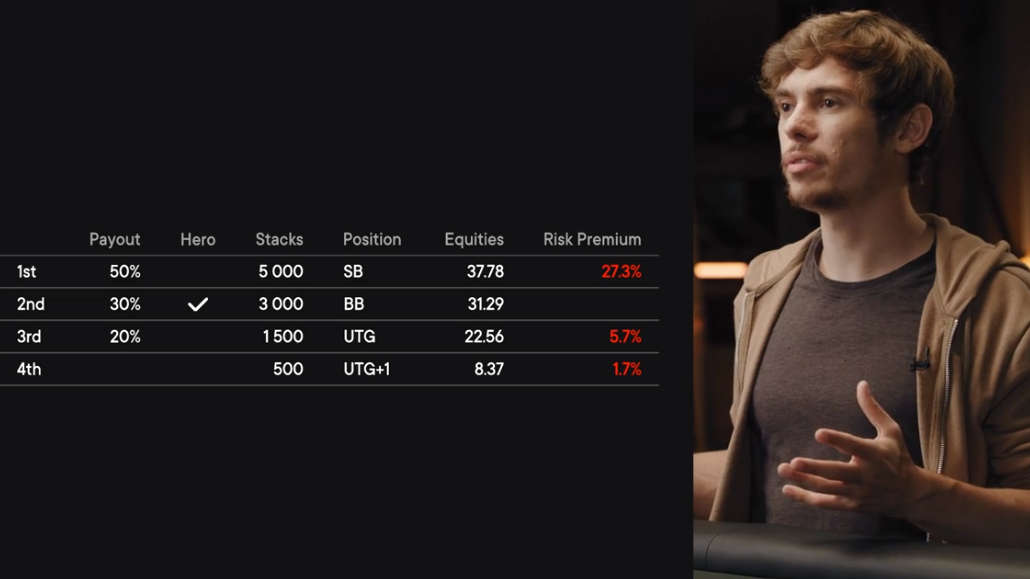 2 minutes
Last Updated: November 5, 2023
If you want to become a top player in your games, make sure to learn from the best and check Pokercode.
…
Most tournament players know about the Independent Chip Model (ICM), which is used to shape your strategy according to prize payouts in a tournament. In this article, I'll explain an important concept within the ICM, and that's risk premium.
Simply put, this is the extra equity that we need to make a profitable play once the ICM is in effect.
In most cases, once the ICM comes into play, winning chips doesn't help you as much as losing chips from your stack can hurt you.
The risk premium is used to try and approximate how to best adjust our strategy according to a given ICM situation.
How to Use the Risk Premium?
Whenever you have a decision at a poker table, there is certain chip equity that you'll need to make that decision profitable. You'll base your decision on your opponent's perceived range, figuring out your pot odds and the equity.
However, once the ICM is in play, around the bubble, or when there are significant pay jumps to consider, there is an extra factor added to this calculation, and that's the risk premium.
The risk premium percentage will differ depending on how big your stack is compared to your opponent's.
The bigger the part of your stack that will be at risk, the higher the risk premium will be.
This is not a perfect system, but it can be a very good baseline. It's founded on the idea that if you bust out of a tournament, your chance to cash in that tournament immediately goes to zero.
Calculating the Risk Premium
Now, you have a good idea of what the risk premium is and what it is used for, but this still doesn't tell you how to actually calculate this number.
The best way to do this is by using poker tools designed for this particular purpose, but I'll give you an example to explain how the risk premium works depending on the stack size.
In this example, the big stack has a very low-risk premium because no other stack at the table can bust them.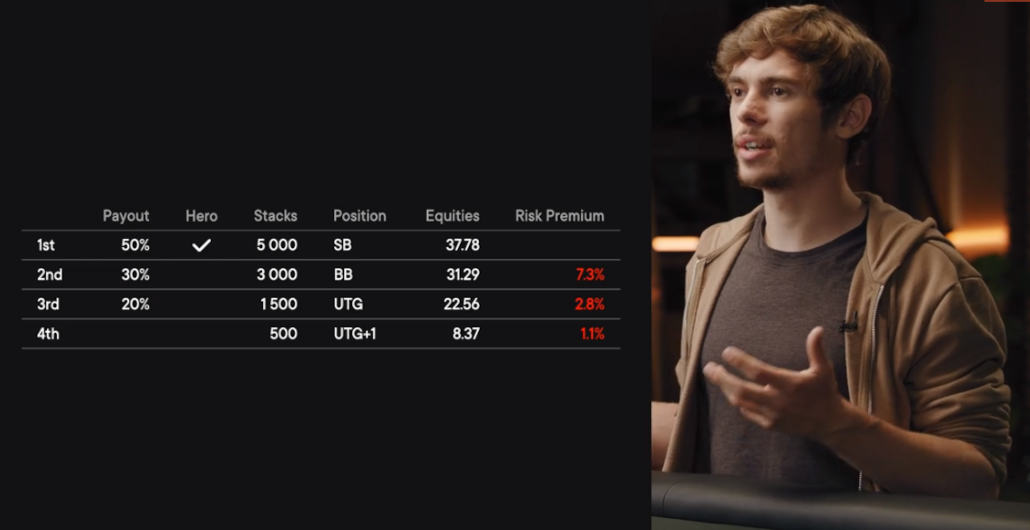 It still exists, as losing a big portion of the stack increases the chances of being eliminated later on, but it's not as impactful as with smaller stacks.
So, in practice, when calculating the equity, you need to make a call. You'd add on the risk premium percentage on top of the standard calculation.
If we look at the risk premium factor from the mid-stack perspective, things are quite a bit different. The player with 3,000 chips is very likely to cash, but they can still bust to the big stack.
Thus, their risk premium against the big stack is 27.3%.
Many players make the mistake of not accounting for this factor at all when making their decisions in a tournament setting.
They end up making very costly mistakes as they bust out, calling off way too light in certain spots with many shorter stacks at the table.
So, try to keep the risk premium in mind in ICM spots and use it as a guideline to figure out when it might be the right time to take a more passive approach!