High Stakes MTT Sessions Review – Is It The Best Nick Petrangelo Course?
High Stakes MTT Sessions Review
If you want to beat highs stakes MTTs, you have devote a lot of time for working with solvers or can take a short-cut and learn from the best. As simple as that.
Playing multi-table tournaments at the highest level has become very challenging. You have to deal with some of poker's finest players who spent countless hours studying the game and perfecting their strategy.
The only way you can expect to be successful against these players is if you have one of them explaining the intricacies of their strategy and letting you in on the secrets.
Nick Petrangelo fits the bill as he is one of the most successful tournament players around. With more than $17,000,000 in live winnings and equally as impressive online results, his credentials can't be disputed.
So when Upswing launched their new High Stakes MTT Sessions course taught by Nick Petrangelo, I was very excited to see what's inside.
Unlike his previous course on tournament play, which was more theoretical, this one focuses on actual hands played in real tournaments, which makes it easier to absorb information even if you aren't a top-notch player just yet.
The course is divided into these main groups:
These categories overlap in many of their segments, but Nick Petrangelo approaches situations from different perspectives. It is much different when you take a single hand and analyze it in isolation as opposed to analyzing an entire session.
Then, there is also live play, where we get to see Nick in action as he records himself playing some highs stake MTT games.
Introduction To High Stakes MTT Sessions
In the introduction part of the course, Petrangelo explains several important concepts that are going to be used throughout the videos later.
It is important to watch these short introductory videos as they make it much easier to keep up with later explanations as Nick keeps going back to the concepts discussed in them.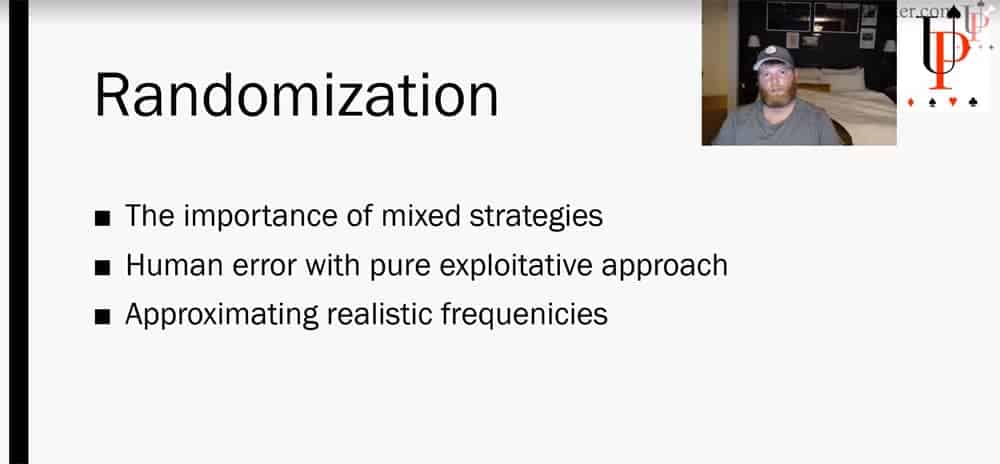 He covers randomization, linear vs. polarized ranges, and differences between this course and his previous MTT course, Winning Poker Tournaments.
Petrangelo recognizes that some people can learn better in the play-and-explain format. So if you prefer this approach instead of theory packed videos, this course could be a better fit for you.
Nick Petrangelo Strategy: Themed Play & Explain
Like the name of the category suggests, Petrangelo covers several important themes or concepts in the videos contained within. Themes included in this section are:
Multiway pots
Blind vs. Blind play
Nick spends a lot of time addressing each of these topics through a short introduction and then showing examples to illustrate his strategic ideas.
What's nice about this approach is the fact Petrangelo doesn't spend too much time on theory. He introduces every topic in a short (under 10 minute) video and then moves on to examples to demonstrate the points.
This approach works very well and makes it much easier to learn and remember the information. Therefore, Nick quickly moves from theory to practice, jumping into real hands to help him explain his thoughts and ideas. He has hand-picked hands from his database to go through in each section.
Instead of just hearing about different stack depths and calculations and watching numbers and percentages on the screen, you get to see how these translate into real play.
Watching how Nick Petrangelo approaches different spots in multiway and BvB spots as well as listening to his explanations about ICM spots was very useful, and I think you can drastically improve your play just from watching this part.
High Stakes Tournament Sessions: Mastering Different Stages 
In the Sessions section, Nick goes into his database to pull out some of his tournament runs. The section is divided into three parts:
Early-stage strategy
Middle-stage play
Late-stage approach
Every video shows several MTTs played at the same time. So, you get to see what it looks like when a high stakes MTT crusher like Nick Petrangelo fires up a SCOOP session, for example, and what is his thought process during these sessions depending on the various tournament stages.
He takes time to explain many hands throughout these videos, and you get to see what his reasoning for various plays throughout his sessions was.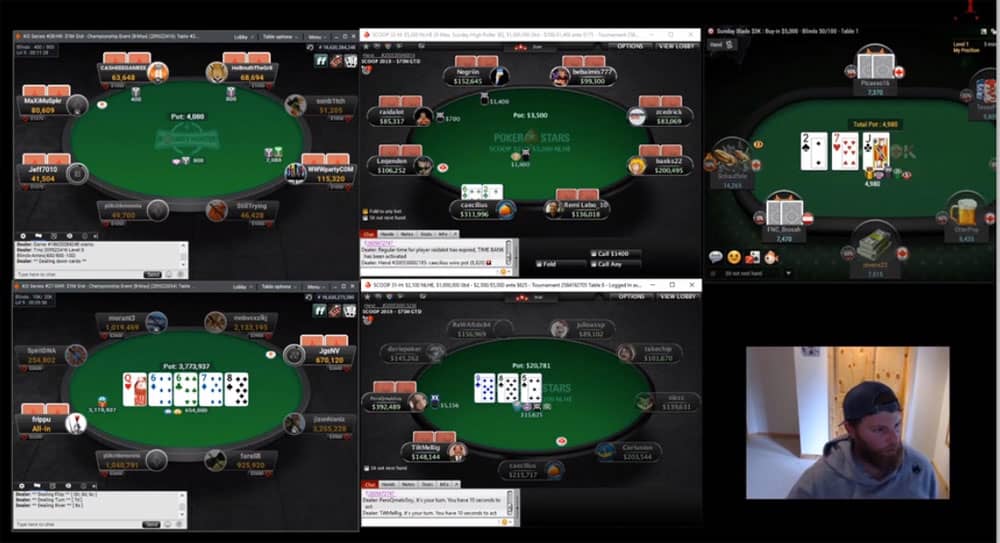 This approach makes videos much more engaging as Petrangelo goes through most likely options for a particular spot and then proceeds to reveal the actual play.
Thanks to this, MTT session reviews don't feel too robotic and are much easier to follow. It's also nice to see Nick isn't trying to show himself as someone who never makes mistakes and is open to discuss any errors he picks up on his play along the way.
From the learning perspective, there is a lot of value in this approach. When Nick recognizes a certain mistake from him or his opponents and analyzes that play, it is much easier to memorize that particular spot.
All in all, this entire section is well worth watching, even a few times over. Hand by hand, stage by stage, Petrangelo shows how to improve your play, avoid some common pitfalls, and adjust ranges to the stage of the tournament, other players at the table, and your position.
Hand History Review by Nick Petrangelo
The hand history review section is somewhat similar to the Sessions part, but instead of going through multiple tournaments at once, Nick focuses on a single tournament and goes through every single hand he had played during the event.
Currently, the course covers two full runs, hand by hand:
2k Progressive KO on Party Poker
1k High Roller on PokerStars
Nick Petrangelo makes deep runs in both of these MTTs. In the KO, he goes all the way to the final table, and he wins the High Roller.
Thus, you get to see many crucial poker hands he had played from start to finish.
The fact that one of the tournaments is a progressive bounty is quite important here as well since these progressive KOs have special dynamics that can influence our decisions along the way, and I have never seen it explained more clearly.
There is additional equity for eliminating players in these tournaments, so Nick explains how you need to account for this fact when figuring out what to do, especially in potential all-in situations.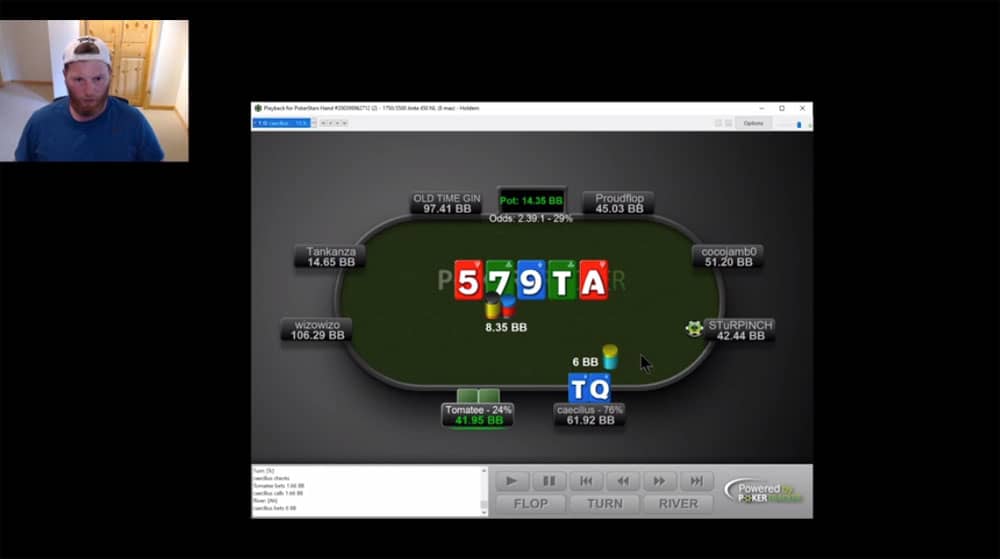 Hand analyses in this section are very detailed as Petrangelo goes through all the different considerations in various spots.
Of course, these being reviews of actual game-plays, there is no structural organization in terms of topics that are going to be covered in the next hand. We go from defending in the big blind to opening the button, to deciding what to do with a pocket pair in the middle position facing a raise, etc.
I think that the best way to watch these is from start to finish, in order. There is a lot of footage, so it may be difficult to do in one sitting, but the good thing is you can always pause the course and come back to it later.
Watching videos and hands one after another is important because it is a review of a single tournament, so certain decisions are made based on previous plays by other players, so you get to see how dynamic can influence your decisions.
Listening to one of the top tournament players explain every single hand he had played during a tournament is an excellent way to learn.
Throughout these videos, Nick covers many different spots that you'll likely face in your sessions (with some parameters slightly changed), and thanks to his detailed reviews, you'll have a much better idea of how to approach these spots correctly.
High Stakes Tournaments Live Play 
Watching Nick play and explain all of his decisions as he goes is quite fascinating. There is so much going on at all times, but he seems to have no difficulties with keeping up with the action and vocalizing his thought process for almost every hand he gets involved in.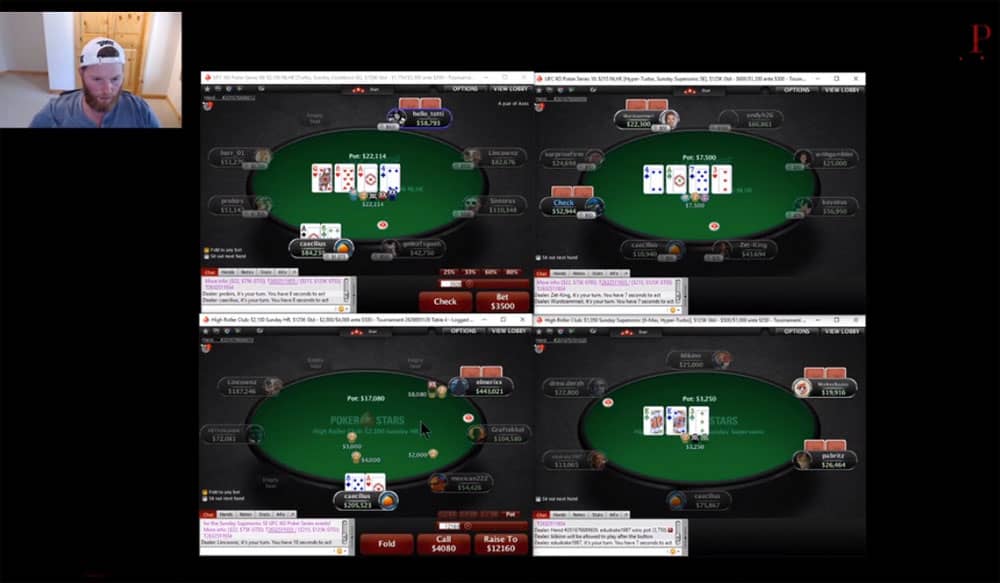 That being said, I think this section feels less educational than other parts of the course because the action is fast, and a lot is going on, so Nick doesn't get to the detailed analysis you have in review sections.
On the other hand, in the live play, he shows us what it is really like when you have to make your decisions on the spot and don't have infinite time to think about them and analyze every little detail.
There are hours of footage in this particular subsection, so you can take your time with it and watch it when you can. It is a bit like watching someone on Twitch playing a live session, but the big difference here is that you get to see a top-level player who is not keeping anything back.
Conclusion + Extra Bonus
There is no doubt that Upswing's new High Stakes MTT Sessions course is an excellent resource for pretty much everyone looking to get better in tournament poker.
Of course, the price is probably a bit steep for low-stakes tournament grinders, but these players can get the most value, so it is still worth the investment.
All the different concepts, ideas, and situations apply to all tournaments regardless of the buy-in. So, while the course aims at high stakes pros and those looking to move up in stakes, all lessons can also be applied in lower stakes MTTs.
If you prefer learning by watching actual play, hand examples and strategy explanations I would choose to invest in this course because you can easily get a great ROI (return on your investment).
However, if you are already beating high stakes and want to learn more about the solvers and advanced theory considerations, then Winning Poker Tournaments could be a better option for you.
You should choose based on your situation, but I feel that this course hits the sweet spot for lower and medium stakes players, who want to absorb the knowledge in a more approachable way, and are ready to move up the stakes. If that is you, go and check this course yourself!
EXTRA BONUS: I am an affiliate for the High Stakes MTT Sessions course, and will get a commission if you sign up through my link. That being said, I am ready to give that commission back and even add some on top to you in the form of an EXTRA bonus worth €497 when you join through this link.
Just contact me if you enroll to High Stakes MTT Sessions, and I will give you a great course about live play nuances, which will help you excel further when playing live!