ICM Unmasked Review – Learn From The Best and Win More
The Independent Chip Model (ICM) makes it possible to assign values to tournament stacks based on factors such as the prize and stack distribution, the number of players left in the tournament, etc.
ICM helps you make much more profitable decisions in the long run, and is one of the key elements that every tournament player has to master.
While this concept has been around for a long time, Nick Petrangelo, the creator of Upswing's ICM Unmasked course, believes that many players like to throw this acronym around without really understanding what they're talking about.
If you go into it thinking this will be just another ICM course that will make your head spin, you're in for a pleasant surprise. Petrangelo takes a rather different approach and the one that you might not expect from such a successful modern tournament player. He covers not only the math part but all essential areas as you can see in this ICM Unmasked Review:
How ICM actually works and how to apply it
When you should deviate from it to make more profitable plays
How to adjust to different MTT payout structures
How to play in high-pressure spots
And when entirely ignore ICM
The structure of ICM Unmasked is such that it first focuses on what really matters and only towards the end moves to what could be called the "boring" part, i.e., the theory. If you go through the entire course (which isn't too long), you'll realize that Nick thoroughly does what he promises, unmasking the convoluted ICM concept and laying it out in a simple, sensible way.
ICM Unmasked Review: Laying Out Foundations
The first video of the ICM Unmasked course really sets the tone for the entire series. Instead of jumping straight into explaining what Independent Chip Modeling is and how it works, Petrangelo explains that the idea of this course is to do much more than that.
While ICM is important for tournaments as it is the only existing model that can be used in various payout scenarios, it has many inherent flaws.
Nick emphasizes that this is a very rigid system that tries to tackle something that's, by its very nature, highly dynamic. As such, it has to disregard many moving parts that are very important.
ICM can't account for the future value of what could be dubbed a gambley play. It doesn't look into skill gaps between the players, nor is it able to predict how other players are going to adjust to new situations.
So, while Petrangelo does take some time in this introductory video to explain the basics of ICM poker, he focuses more on the other stuff.
What I like about this approach is that he is very honest about the fact that you can find these basics anywhere online – for free. So, he rather spends time explaining things that aren't as readily available.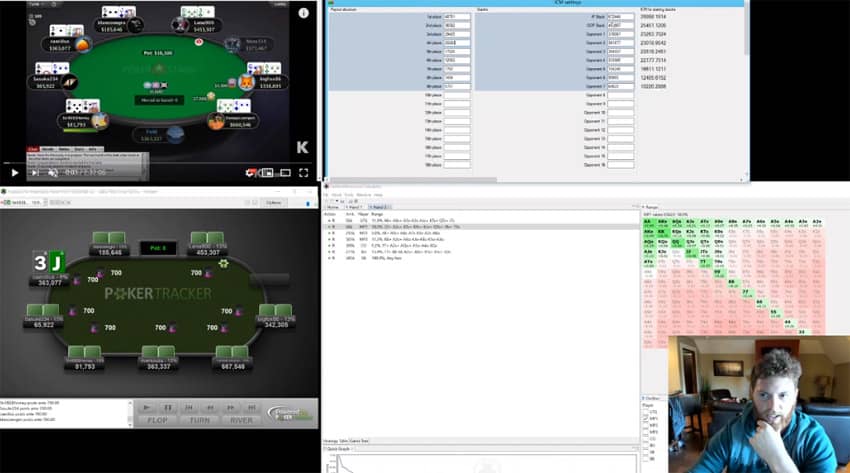 You might find the final part of this first video somewhat surprising. Nick doesn't debunk ICM, but he does refer to is somewhat of "fake" science.
He's not trying to say that you don't need ICM in tournaments, but he's trying to point out that players are often focusing way too much on it, to the point where it influences their play and causes them to make wrong decisions that seem right.
What does that mean in practice, though? How can you apply ICM if not in this rigid, unmoving form? That's what the next part of the course is all about.
ICM Unmasked Review: Practical Application in Real-Time
The second section of ICM Unmasked contains five videos that provide a detailed analysis of a $2,100 High Roller tournament on PokerStars with all cards up. In these videos, Nick picks up a number of interesting ICM spots and goes into detail of what had happened, what should have happened according to calculations, and gives his personal take on the situation.
A very important point he's trying to make throughout this course is that ICM is somewhat mystified while the reality isn't all that complex.
You're pretty much making logical decisions dictated by the given situation.
Before moving on to the actual hands, Petrangelo takes some more time to explain what's the foundation of the ICM theory and how you can review it with tools like Holdem Manager 3 and other tracing software.
In cash games, for example, you can't make money by folding. In tournaments, though, having players get involved in a big pot resulting in one of them busting can benefit you directly as you move up the prize ladder.
You're playing to get the maximum amount of money from the tournament – plain and simple.
You don't need to necessarily learn all the complicated numbers and formulae if you can remember the main strategic ideas that stem from this model. One good example (from many you'll find in this section of ICM unmasked) is adjusting your strategy when playing with a big stack.
What you need to think about in these spots, explains Petrangelo, is that middling stacks will usually severely under-bluff against you and will not defend with their standard ranges.
So you can afford to open wider but also need to understand that when a player shows strength by 3-betting you, it's much more likely they're in their value range.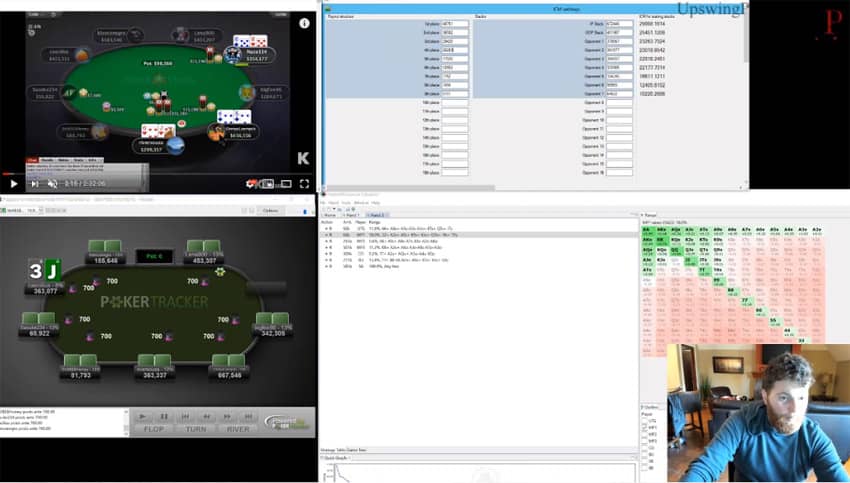 Players often get stuck in the ICM mind, where they don't even bother to properly check the payouts. Sometimes, ICM is almost a non-factor if there are no considerable payout jumps for the next few spots.
In these scenarios, you can revert back to playing solid poker that focuses more on pure chip EV and not worry too much about short stacks busting before you.
Someone might say that this is oversimplifying things, but I'd say that it's simplifying it just enough to the point where even a somewhat serious casual player will be able to use this knowledge.
They may not have all the numbers in their heads and might make some mistakes still, but they'll be able to add ICM considerations to their play in a meaningful manner that's likely to help improve their ROI.
And that's what makes ICM Unmasked a course worth watching.
There are other courses out there that are much more focused on the numbers and various solvers considerations like Winning Poker Tournaments or High Stakes MTT Sessions. It requires much more work on your part since various strategic considerations need to be addressed, but if end-game ICM is what you want to master this course will tremendously help you.
The way in which Nick manages to explain ICM in his videos represents an excellent balance between "heavy" stuff and useful examples that you can learn from.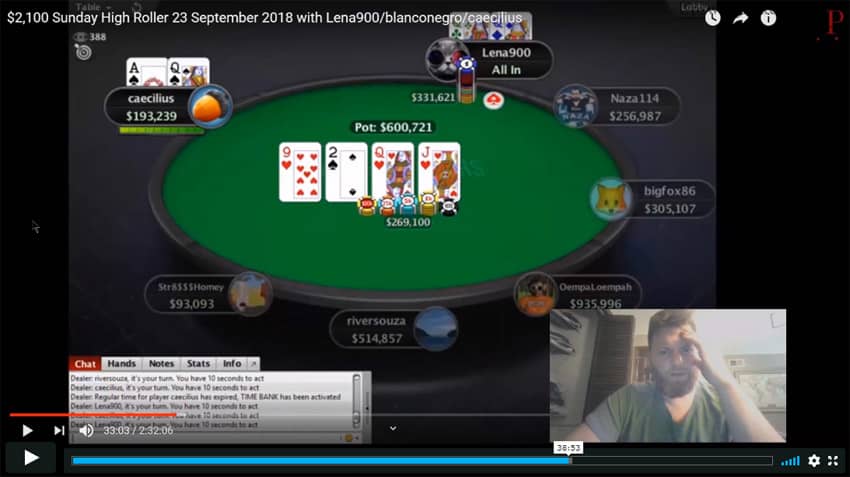 As you go through the videos, you'll learn about various important ideas that are all in the foundation of ICM, such as being passively cooperative with other big stacks.
This doesn't mean you're colluding with other chip leaders, but it rather means you're doing a sensible thing that fits the situation, like avoiding overplaying flush in poker, medium-strength hands, and other common mistakes.
ICM Unmasked Review: Pros & Cons
It's not hard to conclude from the videos that Petrangelo himself isn't a huge fan of ICM, and he openly talks about it.
The video discussing the pros and cons of the model highlights why this important concept should be approached with an open mind and your ability to adjust to the changing situation.
It is true that the Independent Chip Model is the only system that players currently have to figure out where they're in a tournament, and it is needed as a helpful tool to come up with certain strategic adjustments across the board.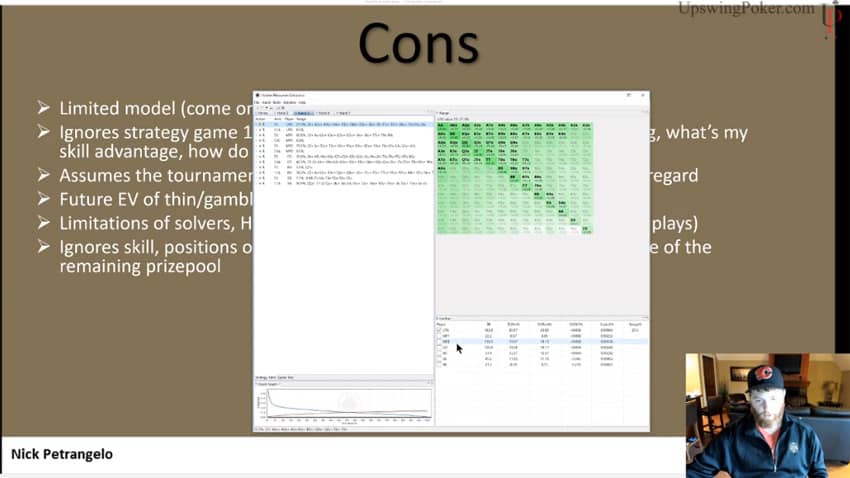 At the same time, it simply doesn't cover enough ground. As Nick emphasizes, this model was developed for horse racing, so it's not too hard to understand why it's not a perfect match for poker.
It misses out on many important points that just can't be quantified, like the future value you gain from winning a huge coin flip or significant skill gaps between opponents.
A good player needs to be able to think about these other things as well and account for them when making decisions.
Sticking to rigid ICM rules isn't always what's best for you in a tournament. Sometimes it's worth it to make a riskier play and go for a big stack if you know that will give you a huge edge over the remaining players – and that's something no model can calculate for you.
The Nitty Gritty Part: Theory Of ICM
Given that ICM is a mathematical model, after all, no course on this topic would be complete without crunching some numbers as well.
The final three videos of ICM Unmasked are where Petrangelo goes into several interesting spots, pulls out poker tools like PioSOLVER, and goes into the math behind it all.
Even in this part, though, he still compares numbers provided by the software and tries to compare them to what would be an intuitive play in given situations.
By doing this, he is trying to emphasize that there is usually no huge discrepancies between what you would do anyway if you took the proper time to analyze a spot.
At the same time, he talks about certain situations where these numbers could be off exactly because they fail to consider other aspects discussed previously.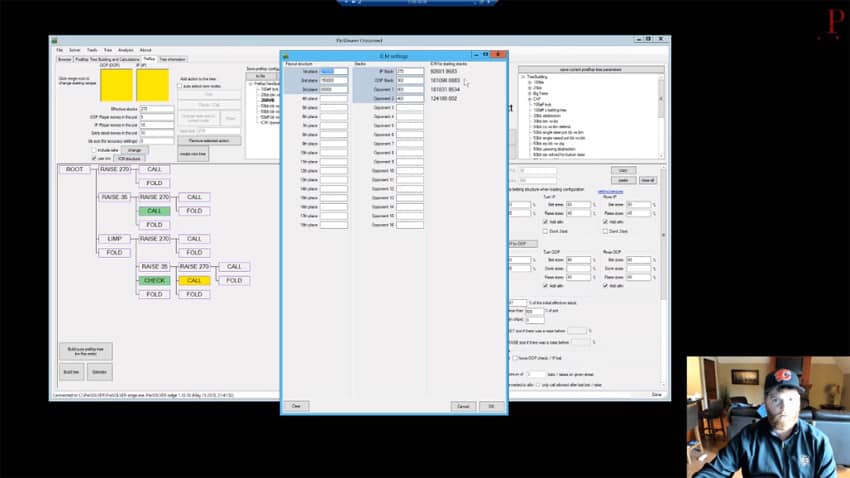 Some of the example hands are quite interesting as Petrangelo takes real-life scenarios like his hand on the very bubble of the Aria $25k tournament or the bubble spot in the $1,000,000 One Drop event.
The final video in this series is a particularly interesting one as Nick pulls out several different tournaments and breaks down their payout structures.
He explains how these different structures play a huge role in terms of strategies you should employ. Some structures prefer a more conservative, ladder-y style of play, while some that are top-heavy are better suited for a riskier approach.
Theory videos are not the most exciting part of the ICM Unmasked course, but they're much easier to keep up with once you've watched previous videos as you're better prepared to understand where those numbers actually come from.
Conclusion: Will ICM Unmasked Make You A Better Tournament Player?
When it comes to mathematical concepts in poker, it's very hard to find balanced and player-friendly courses. Most of them require you to have a lot of previous knowledge or do some heavy calculations on your own to keep up.
This is where Petrangelo and Upswing really came through with ICM Unmasked.
Even if you're completely new to the concept and all you know about ICM is that it exists and you should know about it, you won't feel this course is over your head.
Nick takes time to explain his thoughts, and he does it very well, especially when going through the hands, which is what matters most for a majority of players.
So, I'd say that this course will definitely help you become a better tournament player and the best thing about it is that it can help experienced grinders and those new to MTTs alike.
While there are many tools that can help you learn ICM strategy, this is probably the only resource that will teach you how actually to use it in-game and adjust in various situations. To put it in short, you won't find a better course than ICM Unmasked for this area.