PokerStars Summer Festival in Malta – Highlights, Satellites, Venue and More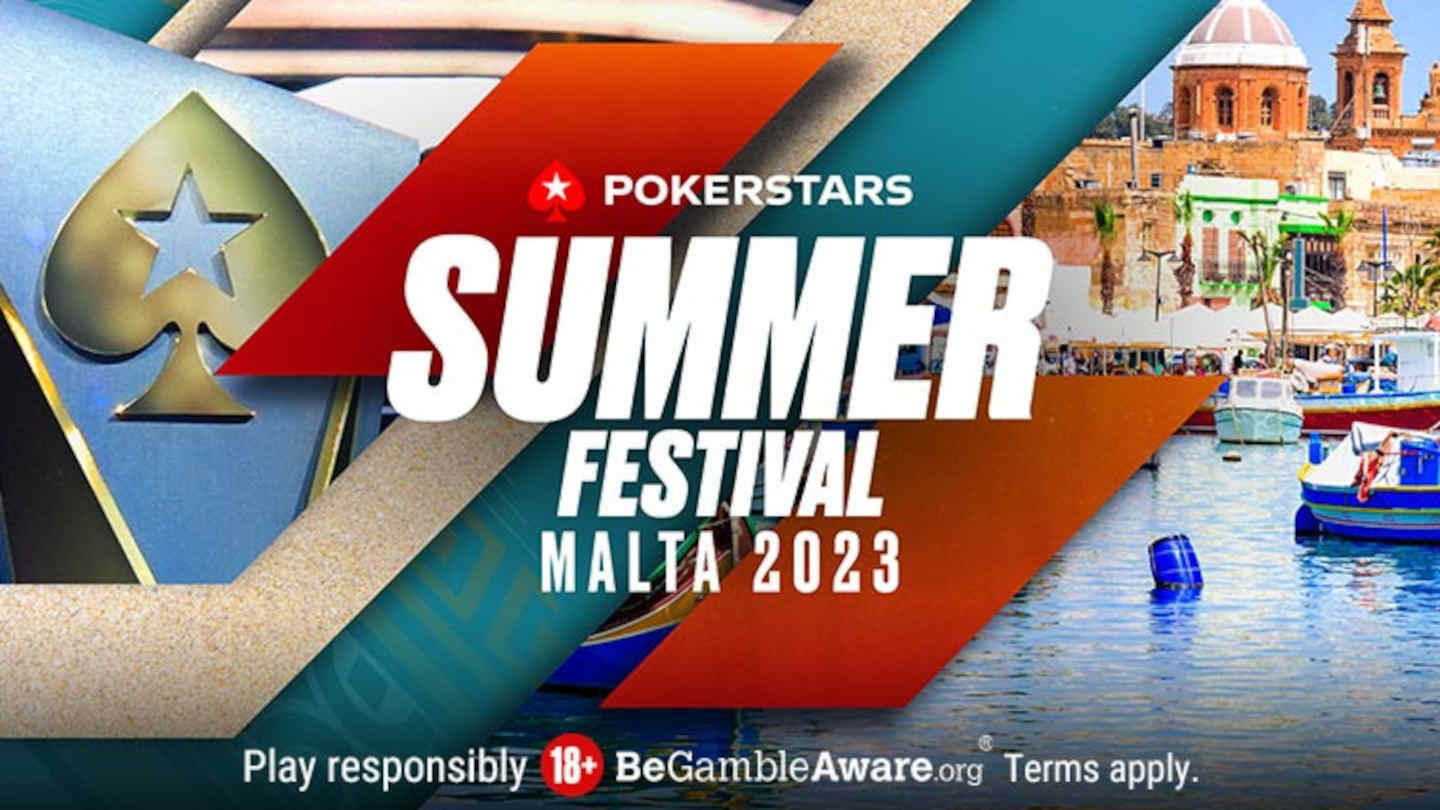 Live poker has been booming in years following the Covid-19 pandemic, and Malta has been a major hub, with players from across the continent flocking to the exotic Mediterranean island and tournament action seemingly never stopping.
This summer, PokerStars is sponsoring its second Summer Festival in Malta, with the beautiful Casino Malta in St. Julian playing host to a week of hectic poker action.
Last year's Summer Festival was a major success with nearly 30 events, so the expectations for this year's edition are running high.
With PokerStars being the main sponsor of the Festival, we can expect a huge turnout and plenty of players making their way down to Malta via online poker qualifiers.
The Summer Festival is scheduled to kick off on June 27 and run through July 2, in the midst of the summer season. This is an ideal opportunity to get some tan, play some poker, and enjoy an experience of a lifetime.
PokerStars Summer Festival Highlights
The schedule for this year's edition of PokerStars Summer Festival has been released, although a number of important details such as the guaranteed prize pools for particular tournaments have not been announced.
What we do know is that the Festival kicks off on Tuesday, June 27 with a €2,200 High Roller, followed by the €1,100 Main Event, whose first day starts the very next day.
A selection of other tournaments with buy-ins ranging from €220 to €1,100 will run over the following week, with No Limit Texas Hold'em, Pot Limit Omaha, and Five Card Omaha being the main featured games.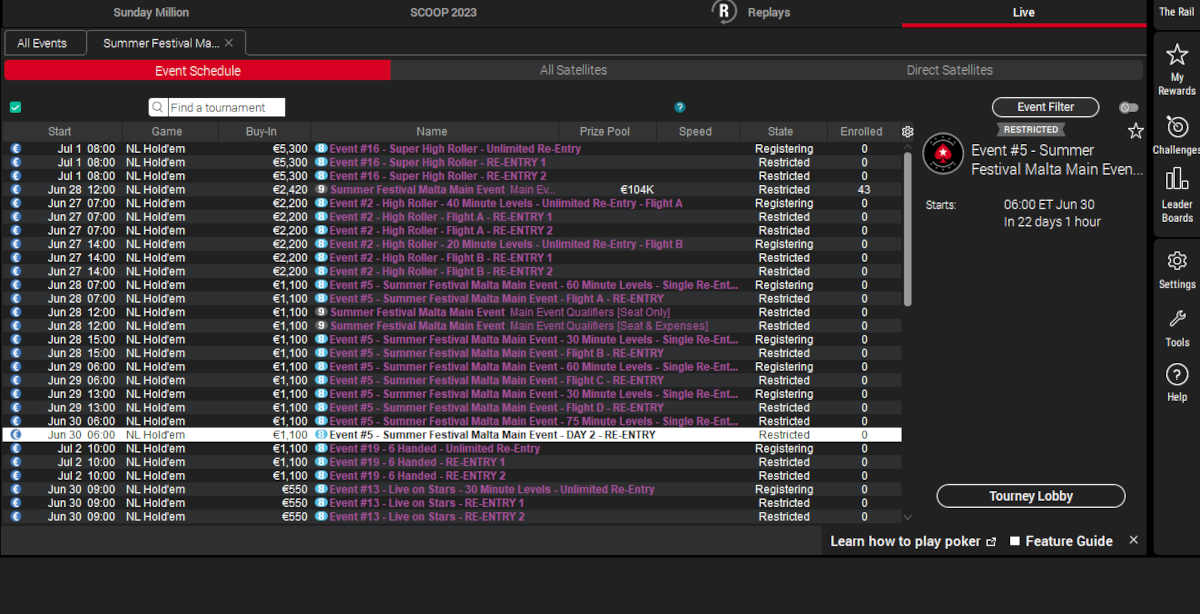 A €330 multi-day event is scheduled to start on June 30 for players who decide not to play the Main or those who bust out and want another opportunity at a slow structure and deepstack play.
Eleven unique events, along with plenty of qualifiers and guaranteed cash game action on the side, will ensure that every player who makes their way to Malta this summer has plenty of amazing stories to tell of an unforgettable week of poker.
Mid-Stakes Poker at Its Best
The European live poker scene has never been livelier than the last couple of years, and Malta in particular has become a hub of mid-stakes poker action.
The Summer Festival saw 815 entries in the €1,100 Main Event last year, which was enough to create a massive €782,400 prize pool.
This summer, we can expect that number to be even greater, and it would not be too surprising to see the Main Event prize pool reach over a million Euros.
While the Summer Festival is overlapping with the World Series of Poker, the difference in average buy-ins should ensure that not too many players decide against playing this festival because they are out in Vegas for the duration.
Instead, we are likely to see a higher turnout than most other similar festivals, as the summer heat and beautiful beaches of Malta continue to make the island one of the main hubs of mid-stakes poker in the entire world.
Combine poker and a holiday at the Summer Festival Malta.

🗓️ June 27 – July 2
🏆 €1,100 Main Event: June 28 – July 2
🛰️ Satellites from freebuy/€1.10
▶️ €162 direct satellite tonight at 22:10 CET
ℹ️ https://t.co/lqCOPfYbou pic.twitter.com/dWPxeSnqGz

— PokerStars LIVE (@PokerStarsLIVE) June 4, 2023
With plenty of side events with buy-ins under the 1k mark, players can expect to have an extremely enjoyable week of poker with no more than a few thousand Euros as a bankroll, making this one of the best deals around.
What's even better, PokerStars will allow for plenty of opportunity to qualify for the Main Event online, with Step Satellites available for as little as €16.50 on PokerStars already and continuing to run over the month leading up to the Festival.
You can fight for your spot in the Summer Festival Main Event if you head on over to PokerStars, sign up for a free player account, and jump into any of the many satellites already available on the tournament schedule.
Malta Offers More than Just Poker
While the poker action alone should be enough to convince most poker players to make their way to Malta this summer, there is plenty more to do in this Mediterranean paradise than just play cards.
Tournament poker days tend to be long, but also don't start too early, allowing for plenty of morning and noon hours at the wonderful beaches that have been an exclusive tourist attraction long before any poker was ever played on the island.
What's even more, Malta is also a historic hub, with places like Valetta and San Julian offering plenty of historic attractions and sites you must explore during your trip.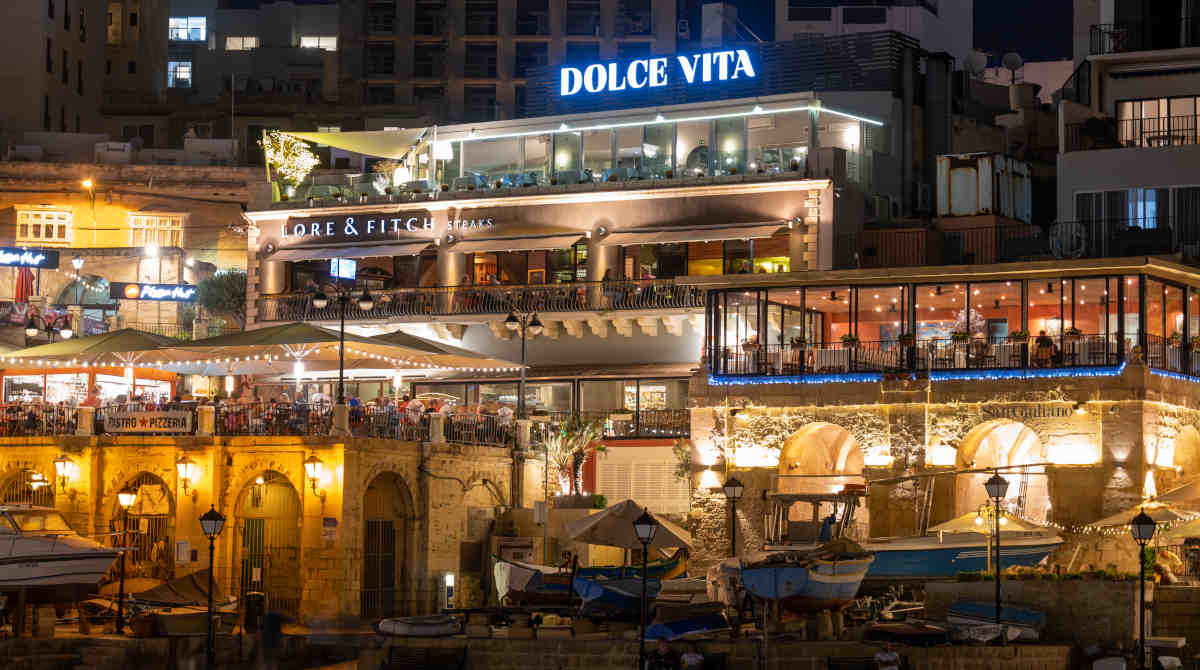 Once the last poker hand of the night is dealt, it's time to hit the bars and clubs, with the island's urban centres offering tons of amazing nightlife until early morning hours.
Whether you are looking to get some tan and relax in the mild Mediterranean sea water, party like a maniac every night, or play poker non-stop for your entire stay, you will have more than enough opportunity for each or any combination you decide works best for you.
Get Ready for Summer Festival 2023
Summer Festival 2023 is now just a few weeks away and promises to be one of the best mid-stakes tournament series this summer in Europe and beyond.
The PokerStars sponsorship means you will have plenty of chances to qualify for the Festival online over the coming weeks, while the affordable buy-ins mean you can make the trip and play poker on a limited budget as well.
Sign up right now to take a look at all the available satellites, or book your room and flights already if you are happy to pay the direct buy-ins and play in the Summer Festival on your own dough.
Even if you are only looking to play a single tournament this summer, Malta might very well be the best venue to choose.
It offers so much more than just casino and poker action, making it an ideal opportunity to mix poker and relaxation, and enjoy a memorable vacation alone or with your loved ones.