Top 5 Reasons to Play at PartyPoker: You Need to Know This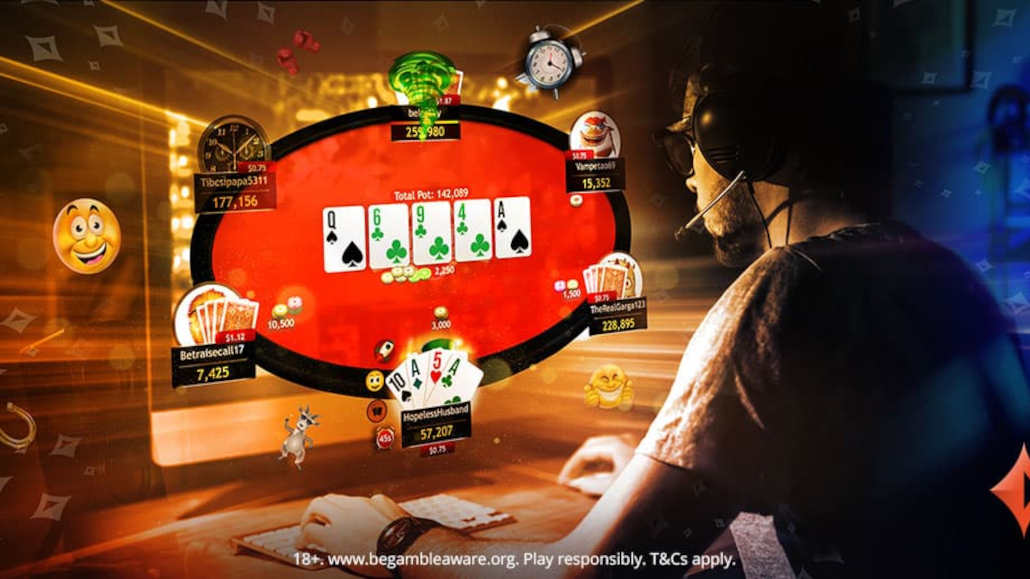 5 minutes
Last Updated: March 15, 2023
Ever since its launch back in 2001, PartyPoker has been one of the most prominent brands in the world of online poker.
The operator has attracted millions of players, run some of the best online and live poker tours on the planet, and continually provided a top-notch player experience for everyone playing on the platform.
The longevity and sturdiness of PartyPoker need no further description, but today we want to find out whether PartyPoker is still one of the best places to play online poker in 2023.
For that reason, we went to work in an effort to find out what the top reasons to play at PartyPoker today are and why it is still one of the best operators in the online poker world.
#1 – Impressive Tournament Schedule
While both cash games and tournaments have been running at PartyPoker for over two decades, the room has always been best-known for its impressive schedule of poker tournaments.
Not only has PartyPoker been able to maintain this legacy to this day, but their recent reconstruction of the daily tournament schedule has made the room more appealing to tournament grinders than ever before.
The daily schedule of Legends events with buy-ins across the board, major weekend events like the Sunday Party and Sunday Carnival, and regular tournament series like the upcoming Grand Prix Spring are only the highlights of this impressive roster.
PartyPoker has also recently increased the guaranteed prize pools on all their major tournaments and made the playing times more accessible to players in the European time zones. This makes it the ideal place for die-hard tournament grinders and casual players alike.
If you enjoy hectic and fast tournament action and want to play for huge prize pools at an affordable price point, PartyPoker is still one of the best online poker sites for you in 2023.
#2 – Added Value for Everyone
Since the moment you sign up with PartyPoker, you will feel like a VIP, and that's something that players can quickly grow accustomed to.
Even just creating an account and making a minimum deposit will make you eligible for $30 in free rewards, and making a more substantial deposit can get you a lucrative welcome bonus worth up to $600.
On top of that, all PartyPoker players are automatically entered into the operator's Cashback program, while the exclusive Diamond Club offers extra value to the most loyal and stubborn of players.
To make things even juicier, PartyPoker offers a number of recurring promotions, such as the daily fastforward leaderboards, cashback boosted hours, daily gifts, and much more.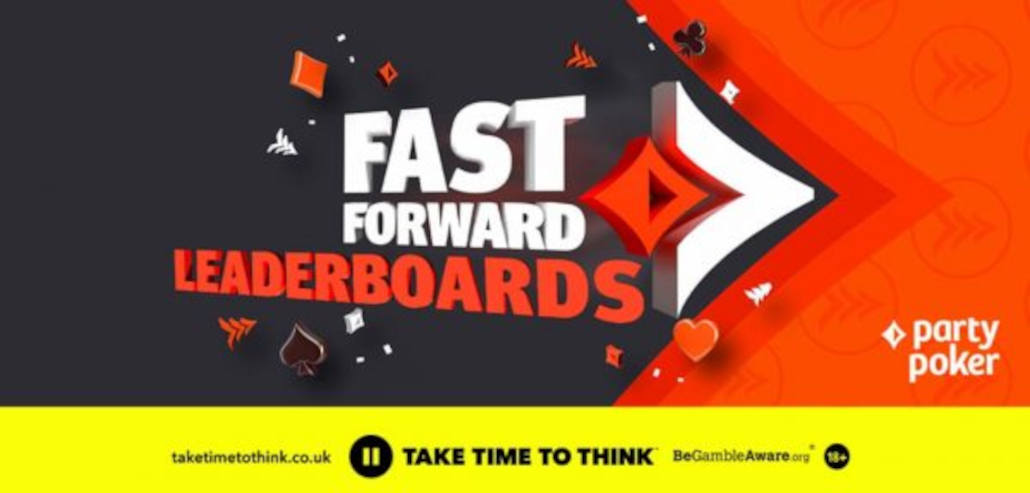 With so much value being given away around the clock, PartyPoker is definitely a place to check out whether you are a novice looking for some extra startup capital or an experienced player looking for best value and a VIP treatment.
#3 – MyGame Whizz
Whether you are new to poker or have been playing the game for years, MyGame Whizz is a poker tool that may very well help you improve as a player very fast and very efficiently.
This unique PartyPoker feature is available to all players on the platform, and serves as both a reporting and training tool all at once.
As you play poker at PartyPoker, Whizz will accumulate information about your game and create report cards on how you have been performing.
The tool will recognize patterns in your game, tell you about your stats, and give you real-time advice on things you could improve.
For example, if you are playing too many hands, limping into pots too often, or playing cards you should not be, Whizz will point it out and give you tips on how you can play better.
Of course, the tool can't turn things around for your overnight, but it is a great way to stay aware of your possible mistakes and quickly find ways to rectify any flaws in your game.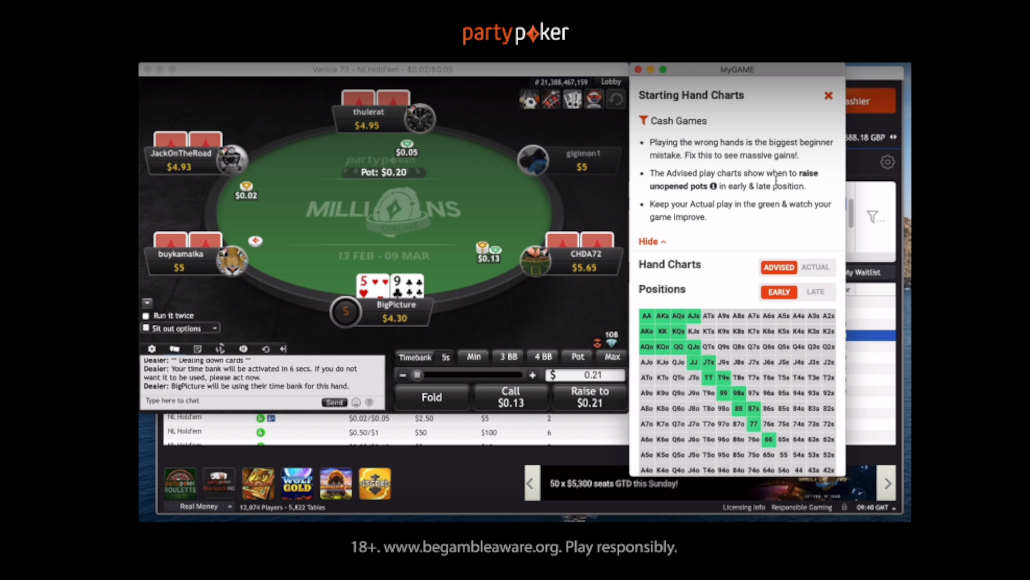 You don't have to use MyGame Whizz all the time either, but turning it on once in a while and having the AI assess your game is a tool that certainly won't hurt and could help in more ways than one.
#4 – PartyPoker TV
If you are a true fan of poker, PartyPoker TV is another tool provided by the operator that will keep you entertained for hours and give you access to some amazing content, completely free.
Live streams, video clips from live and online poker games, interviews, and much more is available through PartyPoker TV, which you can access directly through the operator's website.
Sign up with PartyPoker to get regular updates on what's new on the video platform, and watch fresh content from the likes of the Staples brothers and Patrick Leonard day in and day out.
#5 – Sportsbook and Casino Access
Once you have signed up with PartyPoker, you will immediately gain access to other Party platforms, which include the sports betting and online casino platform.
This means you can use your login credentials to access a comprehensive and modern sports betting site at all times, as well as to play slots and live casino games, all in a single place.
Only 1 day to go until Cheltenham! Todays offer is Constitution Hill (Champion Hurdle) by over 7.5 lengths! Was 8/11 and now it's Evens! https://t.co/ItKugSBbqt pic.twitter.com/V1K0KDfwG0

— PartyPoker (@partypoker) March 13, 2023
The downloadable PartyPoker app will allow you to play poker without any interference of the gambling platforms, but accessing the operator's website will make it easy to transition into other types of entertainment.
Place your weekend bets at PartyPoker's sports platform or kill the hours between your tournaments playing low stakes slots, all with a single Party account.
Join PartyPoker Today
With one of the most modern online poker platforms, plenty of soft cash game and tournament tables, and some of the best player rewards in the industry, PartyPoker remains one of the leading online poker operators in the world.
You can join PartyPoker easily by following this link and creating your account for free, which will make you eligible for all the new player rewards.
Once signed up, you will receive regular updates from PartyPoker as well, including news on major upcoming tournaments, lucrative promotions, and much more.