Top Reasons to Play Poker at PokerStars in 2023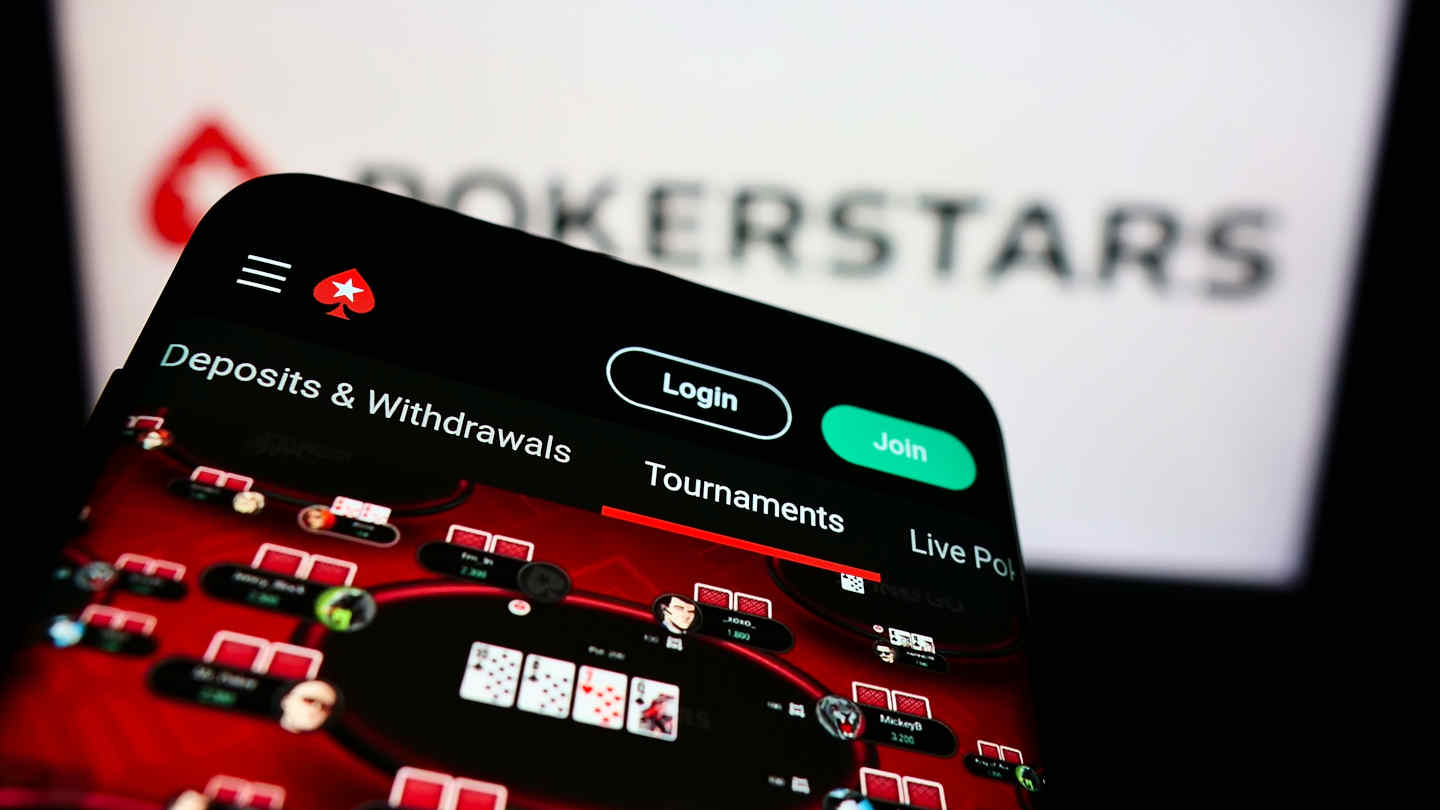 Online poker has been booming in recent years, with several new big poker sites emerging on the scene and putting up a significant competition to PokerStars.
Despite all that, PokerStars remains one of the biggest brands in the industry and the go-to site for many of the world's top pros.
For most serious poker players, it is normal practice to play at more than one online poker site, but PokerStars is one of their top choices when looking for action.
If you are not yet registered or haven't played on the site in a while, these are our top reasons to play poker at PokerStars in 2023.
#1 – Longevity and Brand Power
There are few poker brands that have been around as long as PokerStars has. The operator has not only existed, but actually dominated the market for longer than most competitors have been around.
PokerStars launched in 2001 and was one of the early online poker sites you could play at, even before the days of the Poker Boom.
When poker exploded, PokerStars quickly became one of the top sites for the millions of incoming players, and when it all came crashing down on Black Friday, the operator showed a ton of class.
Not only did PokerStars pay up all the money owed to American players, but it also bought out competitor Full Tilt Poker, and settled all the debt this defunct poker site had amassed.
While PokerStars has changed ownership and even its business model in some ways over the years, it remains one of the most stable and trustworthy brands in the entire iGaming world, and is definitely one of the safest places to play poker in 2023.
#2 – Huge Tournament Series
PokerStars has always been synonymous with tournament poker, and nothing has changed in that regard, as the platform still hosts many of the world's biggest tournament series.
The World Championship of Online Poker (WCOOP), Spring Championship of Online Poker (SCOOP), and Micro Millions are only a few of the massive series hosted by PokerStars.
What's on your #SCOOP schedule today? ♠️ ♥️ ♦️ ♣️

Selected events below:

⏰ 17:30 CET – $11 NL 5 Card Draw
⏰ 19:30 CET – $11 PLO
⏰ 22:30 CET – $11 6+ NLHE

ℹ️ Full schedule 👉 https://t.co/rs2SHNEiJZ pic.twitter.com/lVVKFMxmCw

— PokerStars (@PokerStars) May 9, 2023
With millions to be won over hundreds of tournaments, and all buy-in ranges taken care of, these tournament series bring real value to players at all levels.
Whether you are a recreational player looking for consistent action or a poker pro looking for an edge, PokerStars tournament series have you covered.
#3 – Live Tournament Satellites
If you enjoy playing live poker events, PokerStars is the one platform you have to be signed up with, as it offers by far the most live event satellites in 2023.
The operator is the official partner of the European Poker Tour (EPT), as well as a number of regional poker tours spanning the globe.
Whether you live in Europe, Asia, or Latin America, the operator has tournament satellites running right now that could see you play the next stop near you for a fraction of the full price.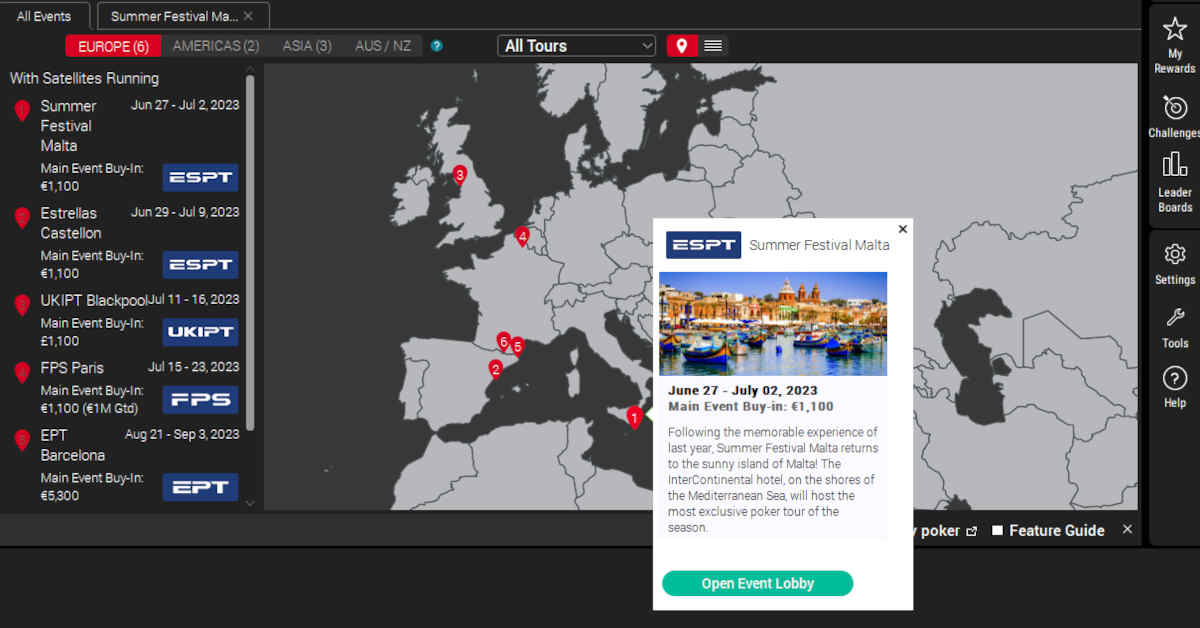 It is no secret that live tournaments can have steep price tags on them. PokerStars gives you a chance to alleviate these costs and even win full packages that include flights and accommodations.
While there are a few tours that are no longer associated with PokerStars today, there are always at least a few live events for which you can win your seat through a PokerStars satellite.
#4 – Top Notch Poker Platform
We have come a long way from the early days of online poker and the clumsy platforms that would glitch, freeze, and shut down as we played.
Yet, these kinds of things still happen with many of the competitor platforms, but not with PokerStars, which features one of the finest pieces of poker software out there.
Playing at PokerStars is true joy from the perspective of esthetics and ease of use, as every table element can be customized, cards displayed in a number of ways, and countless features turned on and off as per your preference.
If you want to play poker in style and truly enjoy the most advanced technology there is in the industry, PokerStars is the site to play at.
#5 – Amazing Bonuses & Rewards
Few poker sites offer as much value to their players as PokerStars does in 2023, as the operator awards new players with a $600 welcome bonus, while all existing players can get up to 60% of their rake back.
Improved with the Weekly Poker Challenges, the Stars Rewards program now allow you to get as much as 60% of all the money you paid at the tables back, and that's not all.
A variety of promotions run all the time for different game formats, offering even more value, while random reload bonuses and tournament tickets are issued as part of player retention on a regular basis.
#6 – Zoom Games Galore
Fast fold poker has been around for a long time, and while most operators these days offer it in some capacity, few actually get enough action to keep the games running.
PokerStars is one of the few operators where you can find consistent fast fold action, as Zoom tables up to NL200 are always active, and PLO games at lower stakes run at most times as well.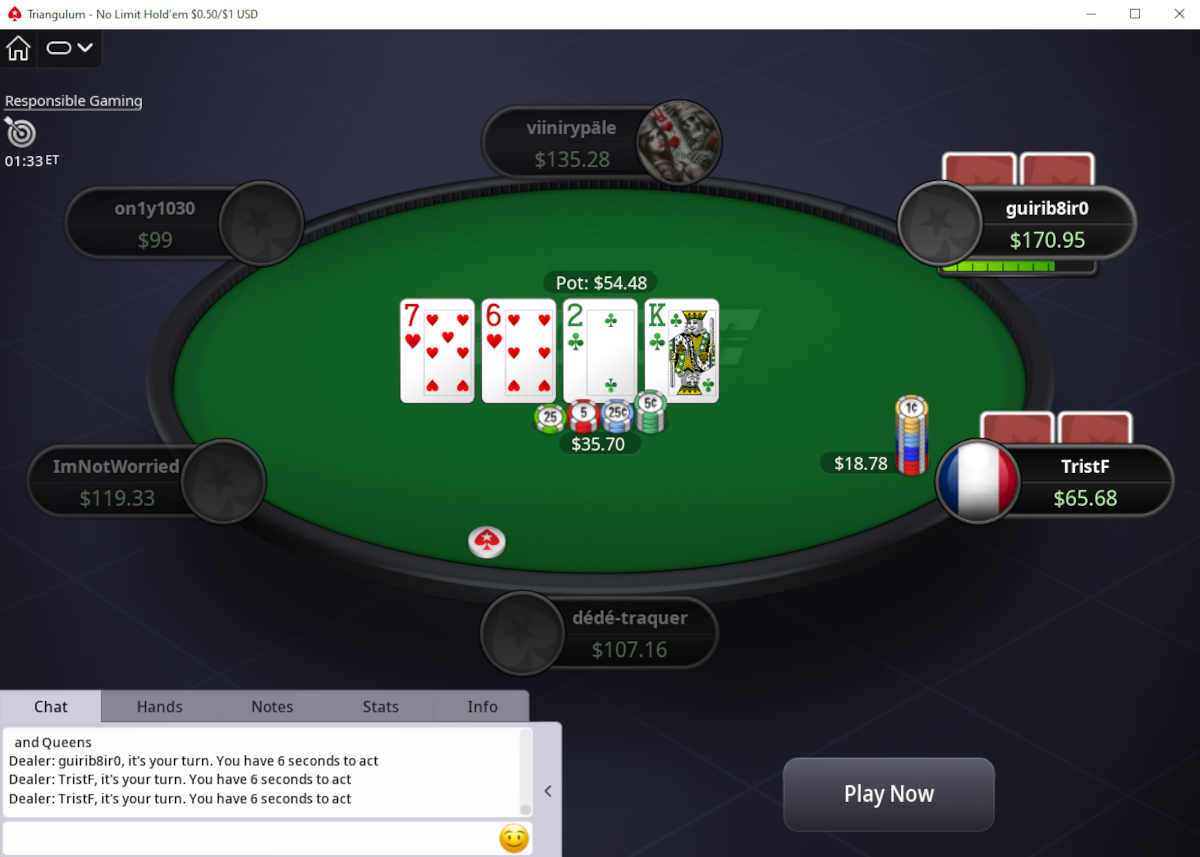 Zoom games might not be the splashiest around, but if you are looking for quick action and hate tanking on your hands, Zoom poker at PokerStars is your ideal game.
#7 – Mix Game Poker Heaven
To this day, PokerStars remains the only poker site out there where you can actually enjoy playing all the different poker games out there.
Games like Seven Card Stud, 2-7 Triple Draw, Badugi, or Short Deck are certainly not high on the list of priorities of other poker sites, and most platforms don't even support these games.
At PokerStars, cash game tables for all of these and plenty of other games are open around the clock, and you will find a variety of mix game tournaments on a daily basis.
The coolest thing about PokerStars is that you can play all the poker games at the lowest stakes imaginable, which means you can really get as much fun as you want even for the smallest of deposits.
Sign Up with PokerStars Today
PokerStars has managed to remain one of the top names in the poker world for more than two decades, even as many of the competitors crashed and burned in the meantime.
Today, PokerStars offers more different poker variations than any other site, and as much poker action as you can possibly want for.
Sign up with PokerStars today to experience online poker at the highest levels, claim a valuable welcome bonus, and qualify for the next live poker tournament in your neighborhood, all in one place!