All You Need To Know About Zoom Poker Tables
Pocket Aces – How To Play It To Boost Your Winnings
Photo by PokerStars used with permission
One of the biggest issues online poker fans have is a lack of time. Work-life balance can make it challenging to dedicate countless hours to conventional multi-table tournaments with massive prize pools that take a lot of time to complete.
However, online poker has a lot to offer for every player, and that doesn't mean that it should be out of bounds for you if you do not have a lot of time to invest.
That's because the leading online poker rooms are rapidly developing next-generation poker variants of classic Texas Hold'em that suits casual players and are anything but run-of-the-mill, and today will talk exactly about that.
Here comes Zoom Poker
One of the main poker variants on the lips of casual online poker fanatics is Zoom Poker, available at PokerStars.
On the face of it, a Zoom Poker table looks like any standard cash (ring) game. However, the main thing to get your head around at the Zoom Poker is that your opponents change every time when there is a new hand.
When you start playing Zoom, you become part of a player 'pool' instead of a set number of opponents at a table.
That's what makes it such an exhilarating experience.
Once you are dealt your two hole cards at a Zoom table, you'll be given a choice to play your hand or 'fast fold' it, which will immediately take you to another table to try and find a better hand to play.
The process repeats throughout your entire gaming session, maximizing the number of hands you can play in an hour.
The pros of playing Zoom Poker Tables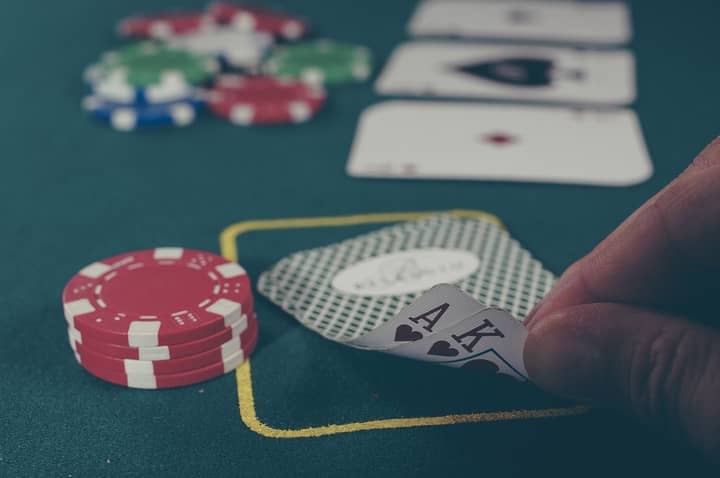 Source: Photo
We've already touched upon the way in which Zoom Poker helps to increase your hands per hour rate, but it's important to reinforce this benefit, particularly if you are capable of being profitable at the Zoom games.
You could increase your hourly profit by playing Zoom compared to regular tables.
Zoom format can also help poker players that want to hone their skills playing against opponents that are total strangers.
Let's say you usually play once a week with a group of friends. The chances are you know how each of them plays after a few weeks and will not learn much going forward. On the other hand, playing against new opponents gives you a chance to try different strategies, as they'll have no player data on you either within their HUDs like Holdem Manager 3.
If you are a relatively tight and aggressive (TAG) player at the poker tables, Zoom Poker could be the ideal solution for you.
The 'fast fold' feature allows you to quickly fold poor or riskier hole cards in favor of waiting for pocket pairs that can do more damage pre and post-flop. Once you become familiar with the characteristics of Zoom, it may even be possible to multi-table.
Playing more than one Zoom Poker table at once si another effective way of ramping up that hourly win rate, but you should be sure to stick with proper pre-flop hand selection.
The cons of playing Zoom Poker
One of the biggest downsides to playing at the Zoom games is the different table dynamics.
Some people will find it frustrating not getting more than one hand to play with the same opponents and being unable to build up information on their moves.
It can prevent weaker players from being capitalized by stronger 'sharks,' as it's harder for the sharks to know whether random opponents are bluffing.
Furthermore, some casual Texas Hold'em poker players will also get irritated at the inability to play a wider range of hands at the Zoom Poker tables.
The very nature of the game dynamic means that most players will choose to wait until they have premium holdings in their hands before betting or raising pre and post-flop.
Given that you are likely to play more hands per hour in Zoom Poker, you'll also have to consider the size of your poker bankroll very seriously.
Zoom Poker and the uncertainties these tables bring often lead to increased variance, with wild swings between wins and losses.
It's, therefore, a very good idea to increase the number of buy-ins you'll need to be comfortable at the Zoom Poker tables beyond the average number of buy-ins required at a conventional cash game table.
Zoom Poker Tips
These days you will meet many tight players at Zoom tables, and you can actually exploit these tendencies by being more aggressive yourself.
First of all, you should be looking to steal more from late positions since many players will have already clicked auto-fold, and you will have a higher chance to take down the pot without even seeing the flop.
The same goes for 3-betting. Since your opponents will not know your strategy because you be moving tables so often, you can exploit that by being more aggressive and 3-betting a bit more often.
While you should still stick to a solid poker strategy, these adjustments can be very effective against weaker players or tight regulars since they will not be looking to play tough hands, and a lot of the time fold more than they should.
Summary
All in all, Zoom Poker offers an excellent experience for both recreational and professional players with plenty of benefits for both groups, so don't knock it before you've tried it.
It will help you play more hands and reduce wasted time at the tables, which is something that excites many players.
Although there is no tried and trusted strategy to beat the Zoom Poker tables, it's definitely a variant that sees patience rewarded. If you want to increase your chances of winning, you can always check one of the poker training options or dedicate some time to learning yourself.
Poker is poker no matter what you play, and the only way to succeed in the long run is to build solid fundaments and keep working on your game.