Why Visit WSOP 2023: Top Tips by GGPoker's Pamela Balzano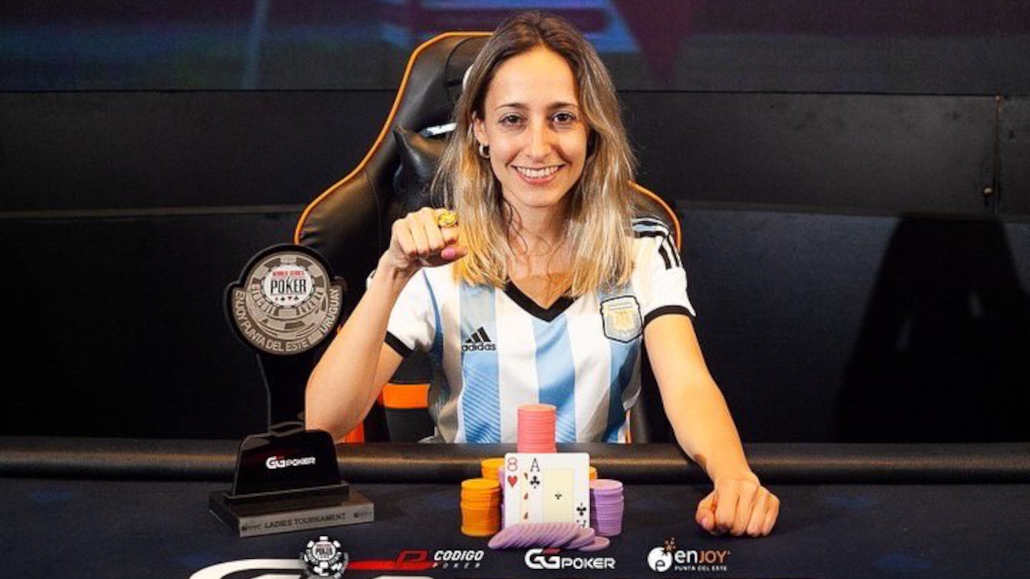 4 minutes
Last Updated: April 24, 2023
We are yet another week close to the 2023 World Series of Poker. Time flies quickly, and it won't be long before poker legends, eager amateurs, and everyone in between come together in Sin City for the 54th edition of the poker extravaganza that is the WSOP.
For the past few weeks, we've been talking to GGPoker streamers and ambassadors, who were happy to share their past experiences and expectations for the upcoming Series.
We continue down the same road today as we talk to Pamela' Pamsi' Balzano, a 26-year-old poker player and content creator hailing from Argentina.
You Can't Get Bored in a City That Never Sleeps
Balzano has been an active member of the poker community for almost a decade, achieving success both as a player and as a content creator.
After dabbling in photography for a while, 'Pamsi' decided to take things to a new level, starting her own YouTube channel. She used the platform to publish tournament vlogs, tips for new players, and videos featuring famous players like Doyle Brunson and Adrian Mateos.
Her main goal is to reveal the other side of poker, showing things happening behind the scenes, and her approach seems to have struck a chord with her audience.
As for her success as a player, Balzano won several tournaments in 2022 and added a WSOP-C ring to her collection.
Soy tricampeona del Ladies Event 💙

Me llevé mi primer anillo de @WSOP junto a la entrada al Tournament of Champions que se jugará en Las Vegas el próximo año y entregará brazalete al campeón + $1.000.000 en premios!

GRACIAS ✨💍

Y aguante Argentina 🇦🇷 pic.twitter.com/eqpb9kBl0E

— Pamsi (@pamelabalzano) December 10, 2022
What do you like the most about the World Series of Poker, and what is your most memorable experience there?
What I like most is the "World Cup" feeling. Sharing moments with players from all over the world and being on the rail for my country. It is a tournament that connects us in multiple ways.
My most memorable experience was last year when I played Day 3 of the Ladies Event and finished as the best Latin player (It was my first time playing!). The emotion of the deep run was unforgettable.
Why should every poker player visit Las Vegas and WSOP at least once?
The WSOP is the best poker tournament in the world; no matter if you are a professional or an amateur, the experience is unique and a must for all poker lovers.
In the money en el Ladies 🏄‍♀️
Construyendo el stack de a poquitooo! Tengo 211,000 en el nivel 14 (blinds 2k-4k) y somos 135 jugadoras en carrera 💘

Let's go #PAMSINETA! pic.twitter.com/OqpB1xTxab

— Pamsi (@pamelabalzano) June 30, 2022
And Las Vegas is Disney for adults. I don't know any other city in the world with the particularities of Las Vegas: the best shows on the planet, incredible casinos, lights and colors, and what I like the most: the World Series of Poker.
The reason is only one: there is no way to get bored in a city that never sleeps!
What would be your top 3 tips for someone going there for the first time?
Get organized: The WSOP has a lot of tournaments, and it is important to have a mental order of how your days are going to be. The schedule is fundamental.
Rest: It is an exciting city, but the rhythm is very fast. It is important to set aside time to get a good sleep and refuel.
Enjoy it: Beyond the results, we must not forget how lucky we are. Playing the WSOP is everyone's dream. Be grateful every day!
What are the main differences between playing live at the WSOP and online at GGPoker?
The chance to socialize and make new friends. What I love most about playing the WSOP live is that every day I can share a meal, a coffee, or a table with friends.
It's a multicultural space with people from all over, and you can learn a lot about other cultures!
The 2023 WSOP Adventure Is Waiting
The upcoming World Series of Poker will be filled with professionals, poker room ambassadors, members of the media, and everyone else who routinely makes a trip to Las Vegas every year.
But if you set your mind to it, you could be joining them as well and do so without breaking the bank!
GGPoker has embarked on a path of sending hundreds of people to the 2023 WSOP Main Event, and there are various satellites running around the clock on the platform.
You can start your journey for just a few bucks and build your way up to a Main Event package that covers the buy-in, travel, and accommodation. You just need to show up and play!
Get the most out of your WSOP experience with GGPoker! When you qualify through GG, you are automatically registered for the Main Event, including 7-Night accommodation and an extra $1 MILLION DOLLARS if you take home the championship bracelet! Running now only on #GGPoker pic.twitter.com/eH9Hgp41VU

— GGPoker (@GGPoker) April 17, 2023
Of course, winning all those steps can be quite daunting, so we've partnered up with GG to help you skip a few of them.
If you sign up and deposit at least $10 today, you'll receive a $15 satellite ticket for the Road to Vegas. Make a deposit of $50, and you'll get a serious boost in the form of a $125 ticket, putting you very close to winning the dream package.
There is still plenty of time left to win your seat and plan your Las Vegas adventure, but the sooner you start, the sooner you'll be able to look forward to what promises to be an epic poker summer in Sin City!