Join the Winter Festival at WPT Global & Play for a Share of $1.8 Million Guaranteed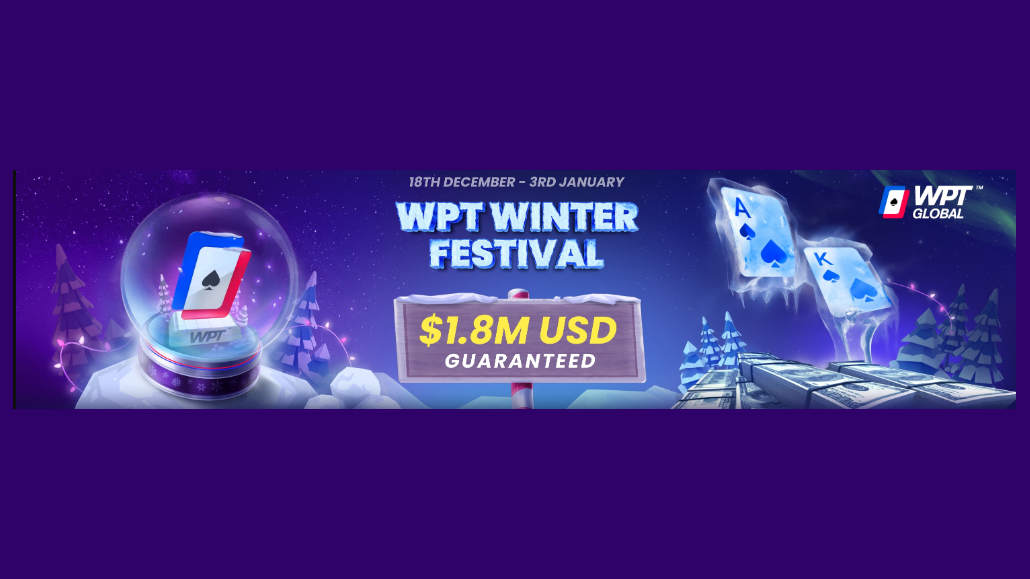 2 minutes
Last Updated: February 2, 2023
Holiday season is well upon us, and online poker operators seem to be flocking at the opportunity to offer their players an exciting tournament series to play in.
WPT Global is no different, as their Winter Festival kicked off without much announcement or pomp, but stands to be one of the most attractive poker series of the winter.
The Festival will feature a total guaranteed prize pool of $1.8 million over more than 20 separate events, with buying ranging from $2.20 for the opening event to $330 for the Main Event of the series.
If you are looking for some fun and lucrative online poker action in the coming days, keep reading and find out how you can get involved with WPT Global's Winter Festival.
18 Days of Non-Stop Poker Action
The Winter Festival has already kicked off with the $2.20 Warm Up event which featured an impressive $15,000 guaranteed prize pool, along with the first flights of the $110 WPT Opener.
Over the course of the coming days, the operator will offer over a dozen other events, including Short Deck, Bounty Hunter, and PKO tournaments, making for plenty of variety for players of all preferences.
First flights of the $330 WPT Main Event are scheduled for Boxing Day, December 26, with a total of 15 Day 1 flights available to try and reach the $1,000,000 guaranteed prize pool the operator has set for this event.
If history is anything to go by, the Main Event is destined to offer plenty of overlay, despite daily satellites running at WPT Global already and plenty of tickets up for grabs before the event kicks off.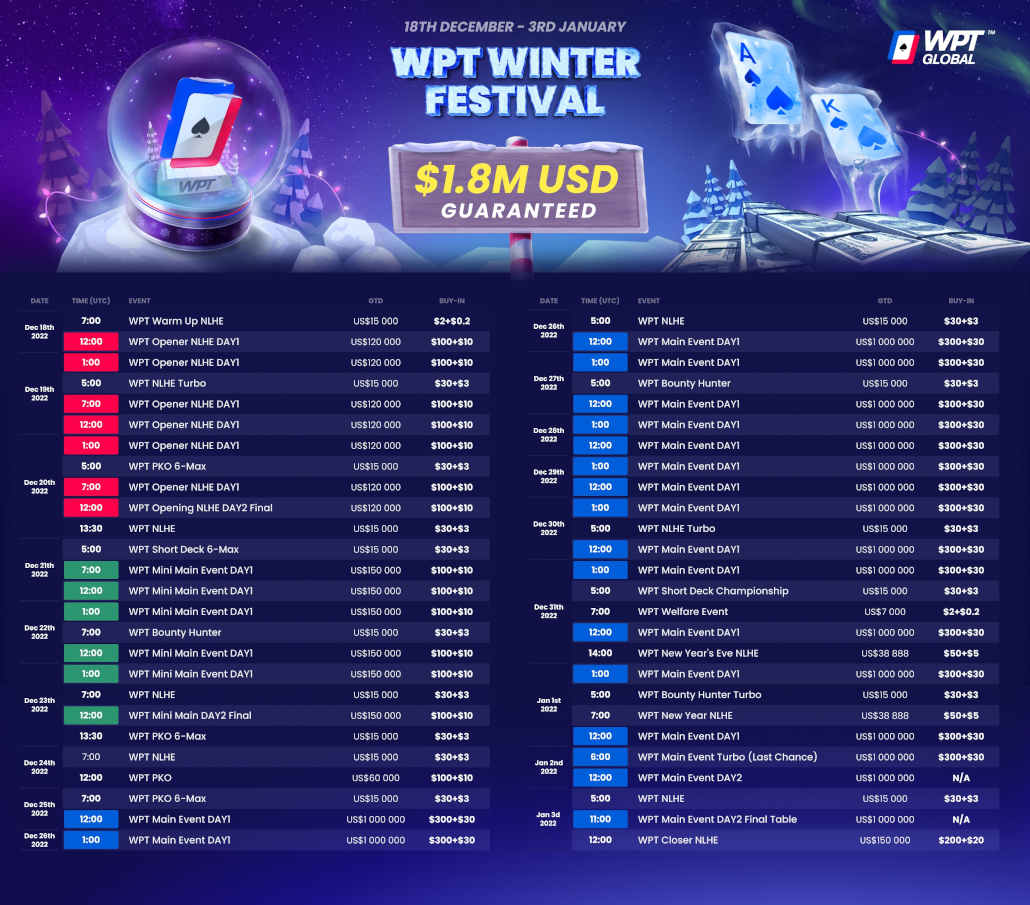 Other major events of the Festival will include the $110 Mini Main Event with a $150k prize pool and the $220 Closer, which also offers $150k in prize money.
With plenty of action available on the sides as well, and some of the most heated cash game action available at WPT Global, the coming weeks should be an exciting time for all poker players registered on the platform.
There is still time to jump into the preliminary events of the Winter Festival ahead of the Main Event, so head on over to WPT Global now and set up your account to get into the ring as early as possible.
Pick Up Your Welcome Package
WPT Global is one of the newest and most attractive online poker sites for quite a few reasons, and the $1,200 welcome package is certainly one of them.
If you register a WPT Global account today, you stand to get $1,200 in deposit bonus value immediately on your first deposit, along with plenty of other perks.
WPT Global offers some of the most exciting online poker action, attracting players from Europe and Asia alike, and offering tables with straddles and action-packed games.
Whether you enjoy No Limit Hold'em, Pot Limit Omaha, or Short Deck Poker, WPT Global is the place to be in the coming 2023.
Register your WPT Global account today to claim your welcome bonus and join the Winter Festival to make good on all the guaranteed prize pools offered by the operator over the next couple of weeks.