Casino Barcelona Poker Room Review: Much More Than a Casino
9 minutes
Last Updated: September 7, 2021
Casino Barcelona Poker Room Review: Much More Than The Games
Images from casinobarcelona.com
Sun, sea, and poker, can you think of a better trio? Well, I certainly can't.
A little bit of Vegas on the Mediterranean coastline, Casino Barcelona allows you to experience safe and regulated gambling, fine-dining, live music, and live shows all under one roof in one of Europe's major cities.
Casino Barcelona Poker Room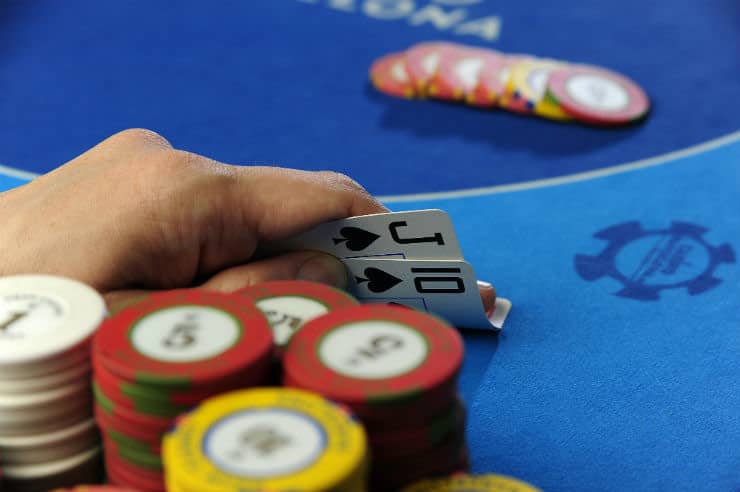 Casino Barcelona is the mecca for poker in Spain. It is the home of EPT Barcelona and has a plethora of poker tables for you to jump in.
The games run at 7-max, which is great, not enough poker rooms do this, it is the sweet spot between short-handed and full ring. The blinds don't feel they come around too quickly, and each orbit doesn't take an age either, so you are seeing more hands per hour you are at the table.
The room is largely seen as comfortable to play in because of the extra legroom – it is a blessing.
The official languages at the table are Spanish and English, which makes games more approachable, and many of the dealers can easily communicate in both of these languages.
Casino Barcelona Poker Room Cash Games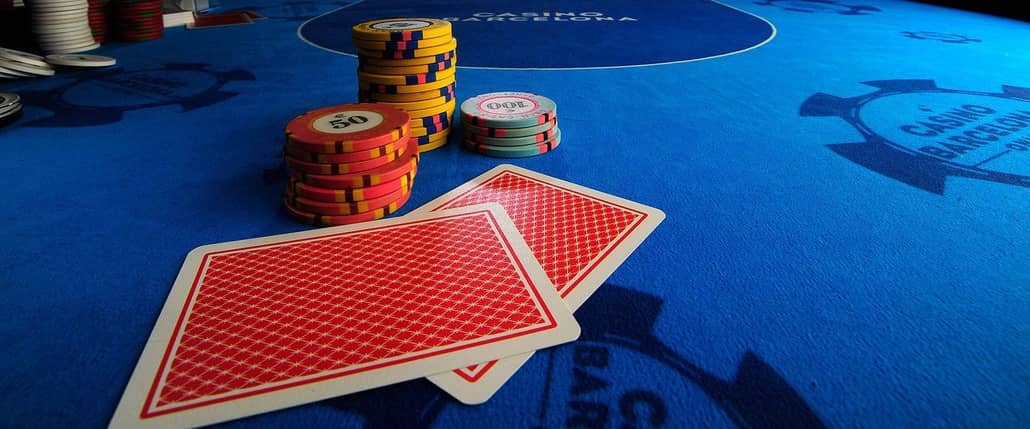 Casino Barcelona Poker Room is open every day from 4:30 pm to 4 am with 8-9 tables running daily.
Players can play cash games in No-Limit Hold'em as well as PLO poker at various stakes.
The cash games at Casino Barcelona are well regarded as stacks get deep, allowing for monster pots in the smallest and highest stakes game.
If you are looking for action, then you have come to the right venue!
No-Limit Hold'em Cash Games
1€/3€: Min buy-in 100€, Max buy-in 600€
2€/5€: Min buy-in 200€, Max buy-in 1000€
5€/10€: Min buy-in 500€, Max buy-in uncapped
10€/20€: Min buy-in 1000€, Max buy-in uncapped
20€/40€: Min buy-in 2000€, Max buy-in uncapped
50€/100€: Min buy-in 5000€, Max buy-in uncapped
Pot Limit Omaha Cash Games
2€/2€: Min buy-in 100€, Max buy-in 400€
5€/10€: Min buy-in 500€, Max buy-in uncapped
10€/20€: Min buy-in 1000€, Max buy-in uncapped
20€/40€: Min buy-in 2000€, Max buy-in uncapped
50€/100€: Min buy-in 5000€, Max buy-in uncapped
As you can see, despite the limited availability of games, the stakes on offer give poker players the chance to take a shot at high stakes where they may not find in their local poker rooms.
So for cash games that they offer, Casino Barcelona scores high.
You can not condemn them for not offering games like Stud or other poker variations because they're just not popular enough outside of the United States of America.
Private Cash Games
For those traveling in groups, you may want to know that when the European Poker Tour (EPT) is in town, you will be able to organize private games for you and your cohort to play.
The minimum stakes you need to play for this to happen is 50€/100€, you'll have the table to yourselves for 2 hours.
Should there be seats available at the table you are playing, it will then be opened to the general population. Rake in this setting is timed.
The Rake
Wherever in the world you play, the house will always take a bit out for themselves. Those not familiar with poker rooms in Europe may have a shock when they see the rake in Casino Barcelona, especially in the lower stake's games.
The Rake at 1€/3€ and 2€/5€ is 5% capped at 10€, which is a lot more than most of us are used to.
Rake at the higher stakes is 2.5% across the board, which is capped at €20, €25, €30, and €40 at the 5€/10€, 10€/20€, 20€/40€ stakes, respectively.
When playing PLO cash games, the rake follows the same structure as the NLHE cash games, but with the rake so high, you must consider which poker hands are worth playing.
Casino Barcelona Poker Room Tournaments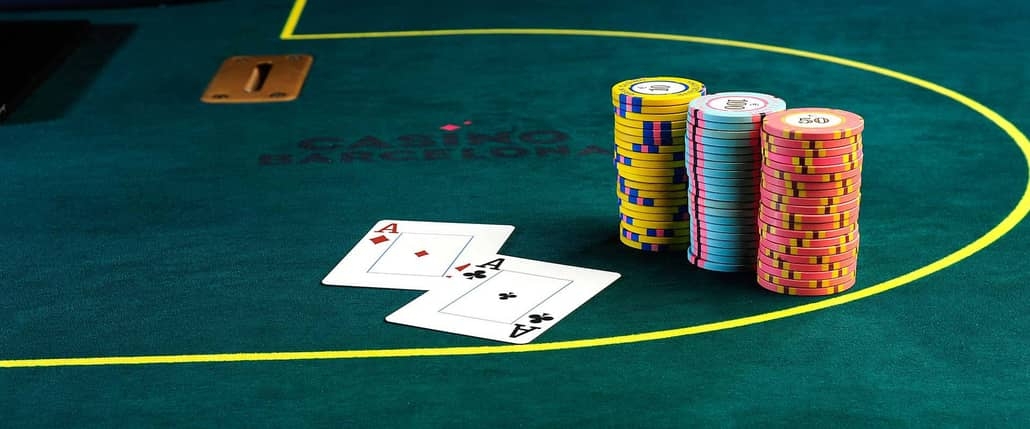 When playing at Casino Barcelona poker tournament, players have the chance to jump into a wide variety of sit 'n' go's and multi-table tournaments.
With various games running daily, you'll be able to jump onto the felt no matter your bankroll.
A usual tournament week at Casino Barcelona looks like:
Monday & Thursday
5pm: NLHE Freezeout, €115 buy-in, 15,000 starting stack, and 30 minute blind levels
8pm: NLHE Re-entry, 60€, 10,000 starting stack and 20 minute blind levels (there are no breaks in this tournament)
Tuesday
7pm: NLHE Progressive Bounty, 90€ buy-in, 10,000 starting stack, and 20 minute blind levels
Wednesday
7pm: NLHE Deepstack Re-entry, 90€ buy-in, 25,000 and 25 minute blind levels
Friday
8pm: NLHE Friday Madness unlimited re-entry, 30€ buy-in, 4,000 starting stack and 20 minute levels
Saturday
5pm: NLHE Bounty Fever, 115€ buy-in, 15,000 starting stack, and 30 minute blind levels
8pm: PLO Freezeout, 20€ buy-in, 15,000 starting stack, and 20 minute levels
Sunday
5:30pm: NLHE Re-entry, 60€ buy-in, 10,000 starting stack, and 15 minute levels
Sit 'n' Go's
These run when the demand is there, buy-ins vary from 25€ to 50€ with the top three places receiving cash prizes, and fourth place gets their money back.
EPT poker tour
Casino Barcelona is also the home for poker when the EPT is in Spain and is expected to host the next PokerStars Players No-Limit Hold'em Poker Championship.
Due to the current pandemic, these events will now take place in 2021 instead.
Casino Barcelona Parking
Valet parking isn't really a thing in casinos that do not have hotels attached to it, but there is a self-parking garage that is free to use.
Casino Barcelona Casino Games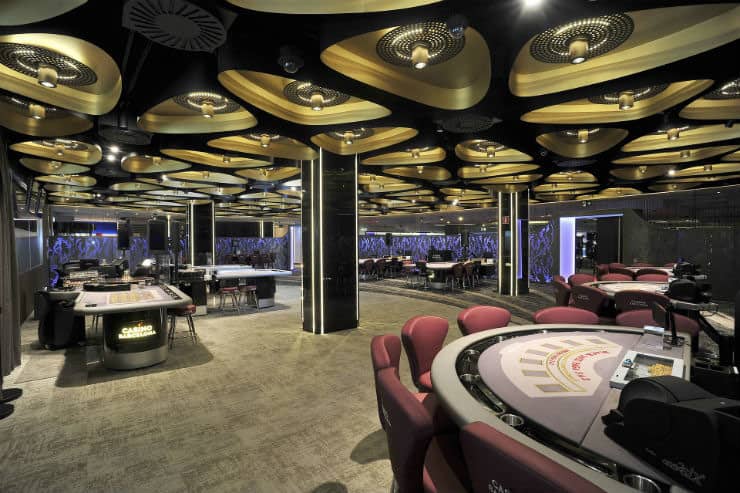 With a combination of traditional slots, live dealer gaming tables, interactive gaming tables, and video slots, there's something for those that favor the old school gambling experience as well as those who prefer to play on the fully automated machines.
The room is well structured and easy to navigate, despite the establishment being 7000 square meters in size.
Table Games

You can also play all the classic table games while you play at Casino Barcelona. The games on offer to you are:
The tables and equipment are well looked after, which adds to the overall gaming experience.
Obviously, the information regarding payouts is in Spanish, but if you have enough casino experience, you should be able to translate without an issue.
If it does get too much for you, you'll be able to ask your dealer or floor manager for greater clarity.

On the I-gaming tables, you will be able to play:
I-Table Three Card Poker
I-Table Blackjack
I-Table Ultimate Texas Hold'em
I-Table Poker (like live poker as you can see your opponents but play on a gaming machine rather than a table with a live dealer
I-Roulette
Slots

As well as having all the traditional slots, Casino Barcelona scores well when it comes to innovative gaming machines.
Many of the more modern slots have USB charging points. This is a nice touch because should your phone need some juice, you can keep it nearby rather than chancing it behind the reception desk.
The new featured slots at Casino Barcelona include:
Baywatch
Clover Link
Fu Gui Rong Hua
Fuzzy's Fortune
Goldfinger 007
Red Hot Tamales
Cleopatra Pinball
Link King Me
Ghostbusters 4D
Slot aficionados will be pleased to hear that all of the above games have multiple win lines and the return to players percentage are all above 90%.
For those unfamiliar with the term return to players, it is a measure of the percentage of stakes a game returns to players in the long run. That said, 90% in a local casino is a very fair deal.
Casino Barcelona – Things to Know & Things to Do
Entry Requirements
Before you start your Catalonian adventure, you'll need some official documentation to enter Casino Barcelona, such as:
Spanish Citizens: Original national ID card
Foreign Citizens living in Spain: Residence permit
EU-citizens: National ID card or passport
Non-EU citizens: Passport
Those on the wrong side of 21 who reside in the USA will be pleased to know that you only need to be 18 to gain access to the casino. Entry is also free.
Dress Code
You'll be able to enter the casino in sportswear, and you can get away with wearing sneakers.
However, you will not be permitted to enter if you are wearing flip flops, espadrilles, or swimsuits.
Vests, motorcycle helmets, and large backpacks are also things you should leave at home if you want to gain entry.
Dining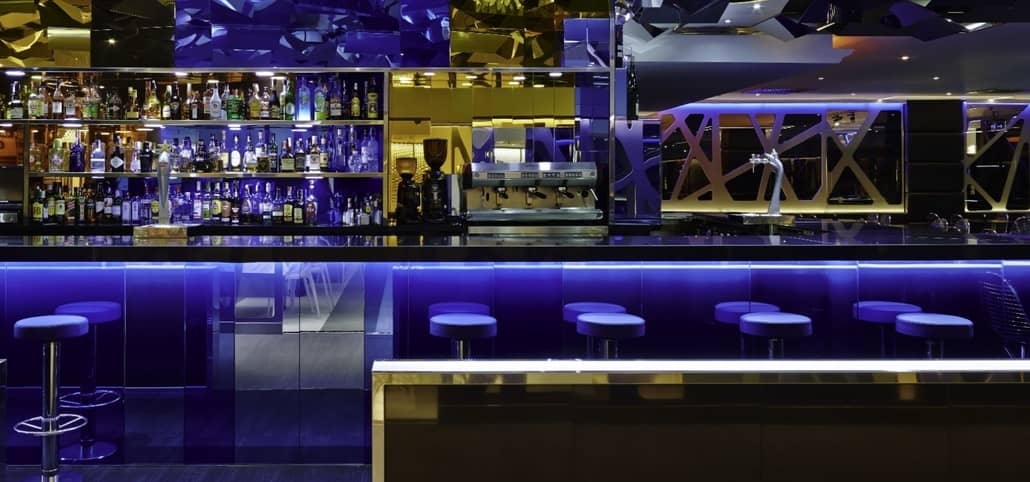 There's far more to do than just hit the poker tables and table games when at Casino Barcelona, you'll be able to experience fine-dining as well see live music and shows.
With four restaurants and three lounge bars with delicious cocktails, whatever your appetite, you'll be able to tuck into a meal with no issues. Culinary experiences here can be found at:
Aji: Peruvian and Japanese fusion
La Vinoteca: The ultimate wine and champagne experience with steaks and tapas (small plates)
Oda: Ibero-American cuisine
La Taverna: Traditional tapas and quick bites
And after you've dined to your heart's content, you can enjoy some brilliant drinks at La Terraza, an outdoor area where you can sip your favorite drinks underneath the starry sky.
If you are looking for new drink experiences, you need to head to the 'all drinks' bar, which is home to the city's best collection of classic and new cocktails.
Live Music and Shows
At Casino Barcelona, you can experience live music in an extremely intimate setting. The concert hall is only 200 seats in size, which allows you to connect with Spanish artists up close and personal.
This has become extremely popular since 'Festival Intims' inception and is a hit with tourists and locals.
In the Cotton Club Lounge, you also experience music up close and personal, but it is also home to other acts such as magicians, showmen, and more. You can also rent this lounge for private parties..
Casino Barcelona – Keeping You Safe Against Covid-19
At Casino Barcelona, your safety is their top priority, so you have fun without all the COVID related anxiety.
To get into the casino, you'll need to wear a mask and practice physical distancing when you can.
There are temperature scanners at the entrances, hand sanitizing stations, and should you have any trash for the bin, they can all be opened via foot pedal to reduce the transmission in high touch areas.
Gaming tables and slots will be regularly disinfected, and there are dividing panels when possible. Casino Barcelona has also promised constant ventilation and air changes to prevent the virus from lasting on surfaces for extended periods of time.
You can find more about their safety protocols in the video below.
Casino Barcelona – A Place To Visit
With marvelous beaches nearby and poker, innovative gaming tables, dining, live shows, and music all under one roof, Casino Barcelona is a perfect playground for those over the age of 18.
The poker room provides plenty of action for tourists and poker players of all skills and allows you to play some deep high stakes cash games in their state of the art room.
Whether on your own or part of a larger group, there's plenty of poker options for you to enjoy.
If you are a Las Vegas regular, you'll notice that the amenities on offer at Casino Barcelona do lack when compared to the Wynn poker room or Bellagio, for example, but if you're on vacation, this is a perfect spot for some poker.