The Bellagio Poker Room Review – Play and Stay at the Historical Casino
5 minutes
Last Updated: August 30, 2021
If you love poker, then you have definitely heard of The Bellagio.
One of Las Vegas' most historic, luxurious and prestigious poker rooms, The Bellagio Resort and Casino has been an institution for entertaining Las Vegas residents and tourists for over 20 years.
The Bellagio Poker Room, often nicknamed as 'The Office,' has been home to many professional poker players over the years.
Due to its notoriety of hosting huge games populated by some of the biggest names that the poker world has produced, from your Doyle Brunson's to your Jennifer Harman's, this is a place to visit.
The Bellagio Poker Room Review– Home of the World-Famous Bobby's Room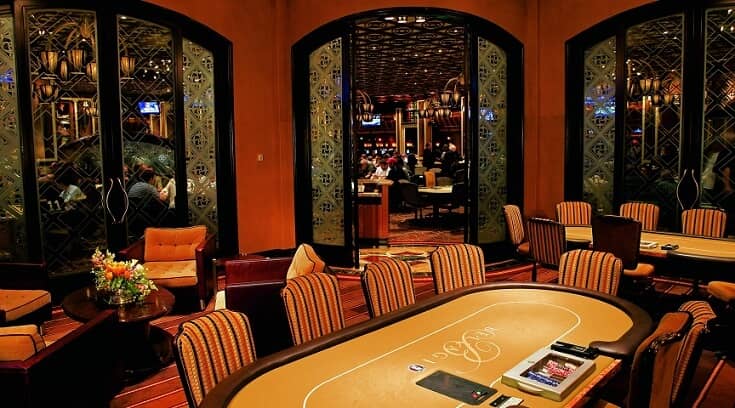 The Bellagio Poker Room is one of the largest in Sin City and is a regular stop for the World Poker Tour (WPT).
Consisting of 7,000 square feet of gaming space luxury for poker aficionado's, you will be sure to find a game for yourself to play at one of the 40 tables that The Bellagio Poker Room has.
The room is split into three, one area for your usual and lower stakes poker games as well as having two high-limit areas for those brave and skilled enough to play the nose-bleed stakes that The Bellagio offers.
The Bellagio Poker Room is also home to the world-famous Bobby's room, an area named after 1978 World Series of Poker Champion Bobby Baldwin.
That room has seen more $1 million pots than you have had cooked dinners, so if you are looking for action, The Bellagio will duly oblige and indulge your temptations.
Also, if you are like me and hate the smell of stale cigarettes, then you will be pleased to know that The Bellagio Poker Room is smoke-free.
And, with eight 32-inch TV monitors and 11 42-inch plasma TV's, you will be able to follow all the action from your sports bets while playing, what more could you ask for?
Oh, you asked for more? Then no problem.
The Bellagio Poker Room also offers around the clock table service, complimentary beverage service, as well as having safety deposit boxes and a fully-serviced cashier cage, so you know your hard-earned dollars will be safe while you play.
If that does not do it for you, then the walls are as a tapestry of poker's greats that will surely get the blood pumping for some hellacious poker sessions.
The Bellagio Poker Room Cash Games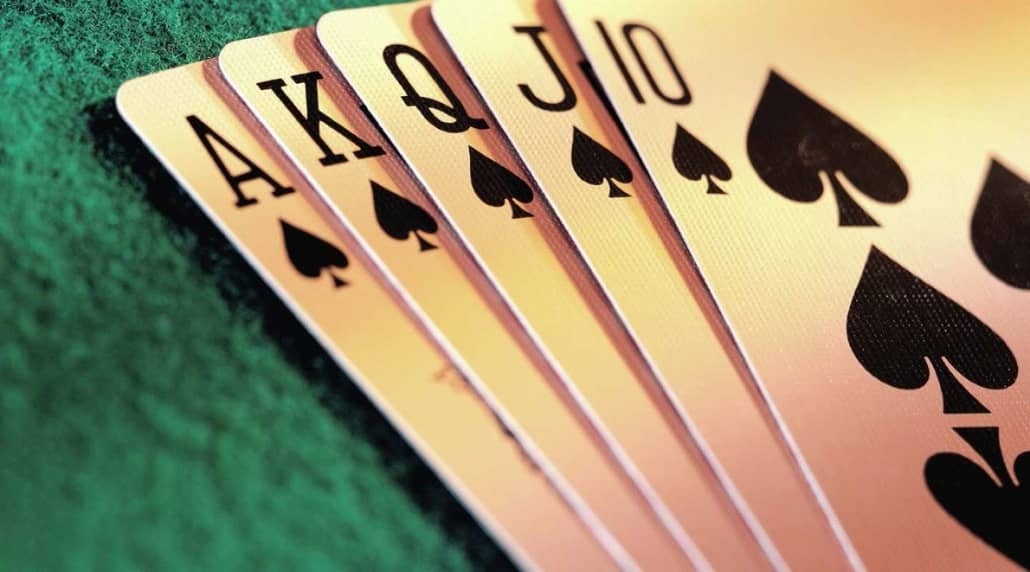 As stated, The Bellagio Poker Room is renowned for its high-stakes games but do not fret if that's not your scene, there are a plethora of live cash games with varying limits that will accommodate any poker player looking for a game.
The poker room is also paired with the Bravo poker live app, so be sure to get that on your smartphone so you know which games have seats available so you can avoid wasting time waiting for it.
For No Limit Hold'Em, you can find table stakes such as:
$1/$3
$2/$5
$5/$10
$10/$20 and higher
In Limit Hold'Em you can play:
$4/$8
$9/$18
$20/$40
$40/$80
$80/$160 and higher
If you are part of the four-card gang and prefer Pot Limit Omaha, you will find games such as:
$1/$3
$2/$5
$5/$10
$10/$20 and higher
You can also roll back the years and jump into a 7 Card Stud game where you will play stakes of:
$20/$40
$40/$80 and higher
And if you can't decide to stick to one poker variant, then fear not as you will find Mixed Games running with stakes of:
$4/$8
$30/$60
$40/$80 and higher
As you can see, there's plenty of options for you to sink your teeth into, and if it is the action you want, it is the action you will get.

Rake
Rake is a pain in the arse for us all, but it is the price we have to pay to play the game we love. You will be pleased to know The Bellagio Poker Room's rake is comparable with all the big casinos nearby.
At the lower levels, the rake is capped at $4, but for $5/$10 and higher, the rake is timed of somewhat capped at $10 per half-hour.
Also, if you are looking to get a piece of a bad beat jackpot, you will be disappointed to know that The Bellagio has no such thing. But this is also the case for poker rooms in the Venetian, Aria, and Wynn too.
The Bellagio Poker Room Tournaments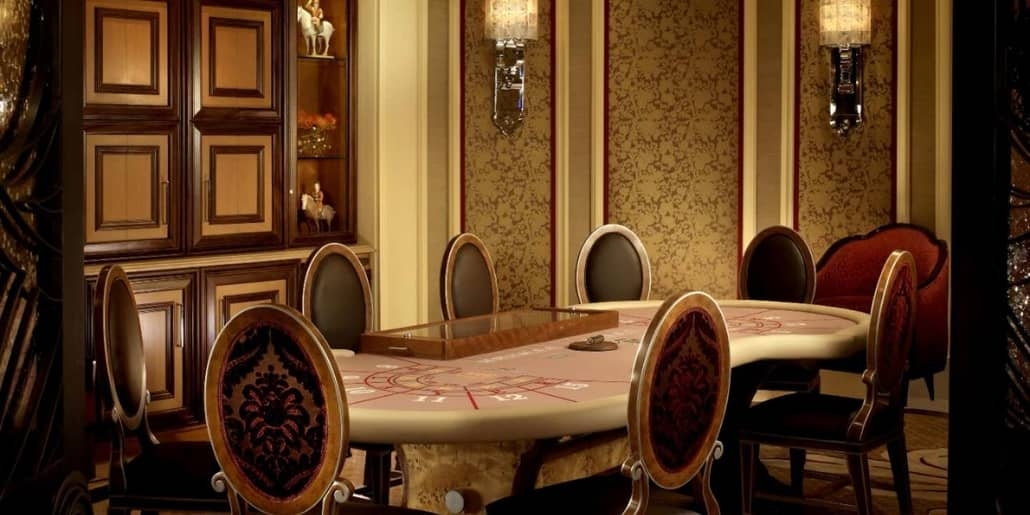 The Bellagio Poker Room predominately focuses on its' cash games, so it should be no surprise that there is only one daily tournament for punters to play.
The buy-in is $100+$30, 15,000 starting stack, and starts at 2 pm throughout the week.
These daily tournaments do get suspended, but that is only when the annual WPT Five Diamond World Poker Classic is in town, which usually runs from the latter end of November to the middle of December. Just in time to get a great payout ahead of Christmas.
There is also the annual Bellagio Cup Tournament, with a buy-in of $10,400, which commences shortly after the WSOP finishes.
This WPT event attracts all high-stakes players and makes for some glorious prize pools. The 2019 Bellagio Cup generated over $1.3 million dollars in prizes with Akin Tuna taking home the first-place prize of $430,030.
The Bellagio Parking
You will be pleased to know that The Bellagio has moved away from charging for self-parking in a post-COVID-19 world.
As a way to welcome players back, self-parking is free for the time being, so be sure to act quickly, so you do not get stung by parking fees later on in the year.
Gold, Platinum, and NOIR members of the M Life Reward program can also take advantage of complimentary valet.
The Bellagio Poker Room Staff
While playing poker for a living or just for fun in The Bellagio Poker Room, the hosts that run the action are Penny Cohen and Colette Weinstock. So, if you need a floor ruling, you will rest easy knowing that the Bellagio has some of the best management that Las Vegas offers.
Poker players also say that the standard of dealing is good, so should you get into an altercation needing a floor ruling, the dealers are more than adequate in resolving felt disputes.
Of course, some will say otherwise, but that is the nature of customer-facing roles, many positive and negative feedback will be situational but with many variants of poker on offer, be assured that the dealers have the expertise that is expected.
The Bellagio Casino Games

While a guest at The Bellagio, as well as the poker room, a trip to the casino is a must. Play your favorite table games and slots in luxury as you try to strike it lucky, so you can tell all your friends back home about how you ripped Vegas a new one.
With around 116,000 square feet of stylish space, the casino floor in The Bellagio is huge.
Casino table games you can play at The Bellagio include:
Roulette
Craps
Pai Gow
Let It Ride
For those who are VIPs and high-rollers, you will have access to the prestigious Club Privé, which is open 24/7.
Players here get to enjoy a private atmosphere with an authentic casino feel. The high-limit room allows players to seclude themselves and indulge in casino amenities such a speakeasy-themed bar offering the finest selections of liquor.
Maybe it is about time you fulfilled that promise to your spouse about that honeymoon you were supposed to take and gave them an experience they will never forget.
Rewards at The Bellagio
Although there are no poker jackpots for you to get a slice of, it would be foolish not to take advantage of the rewards program that is offered.
By signing up for M Life Rewards, you can earn rewards on your well-spent dollars. These can be redeemed for comps on your rooms and entertainment.
You can find out more about the Rewards and Benefits from the Bellagio here.
Bellagio Resort and Casino – The Rooms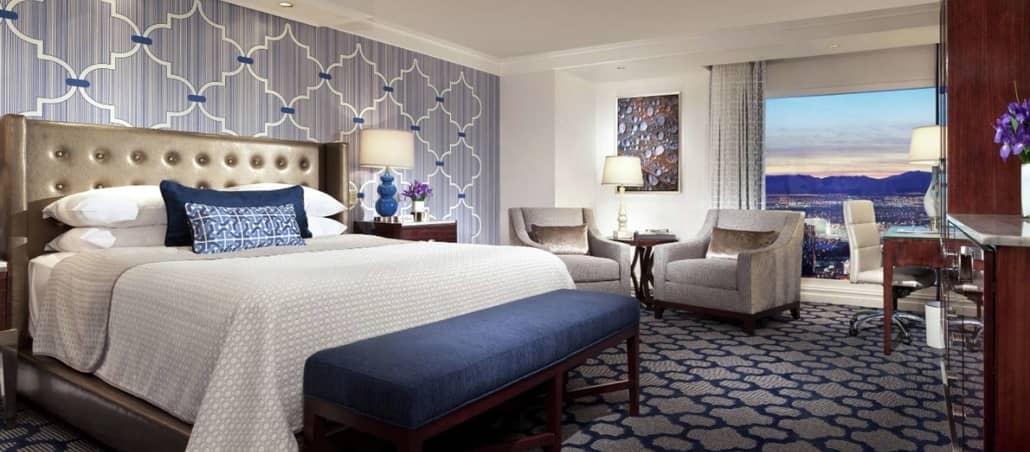 As you would expect, the hotel room and suites are beautiful and elegant, all 3,950 of them.
There's also a wide variety of rooms to choose from. Your standard rooms are a very spacious 510 square feet, but if that doesn't suit your needs, then there are suites that are over 3000 square feet available, so you know you can ball out on the strip in style.
With panoramic views looking over the Las Vegas valley or the picturesque Bellagio fountains, if it is a view you are after, The Bellagio will make sure you get it.
And those with four-legged friends will be happy to find out that the establishment is dog-friendly.
Non-casino related activities
The Bellagio also offers way more than just a world-class gaming space; the non-casino related activities on offer should keep you occupied and entertained throughout your stay.
If you are not familiar with the fountains at the Bellagio, then you are in for a real treat.
Despite it just being sprays of water, it puts you in a great mood and is sure to put a smile on your face.
Vegas can sometimes feel like a concrete jungle and makes you pine for some greenery; The Conservatory at The Bellagio offers this in spades.  A perfect chance to walk off some cobwebs and clear the head in a beautiful garden.
Now what's a visit to Las Vegas without seeing a show, the Cirque de Soleil is a beautiful water show at The Bellagio that leaves spectators in awe.
These are just three of the plethora of activities you can do during your time as a guest at The Bellagio. There's all the spa's and shops for you to relax and treat yourself as well.
The Bellagio – Keeping You Safe Against Covid-19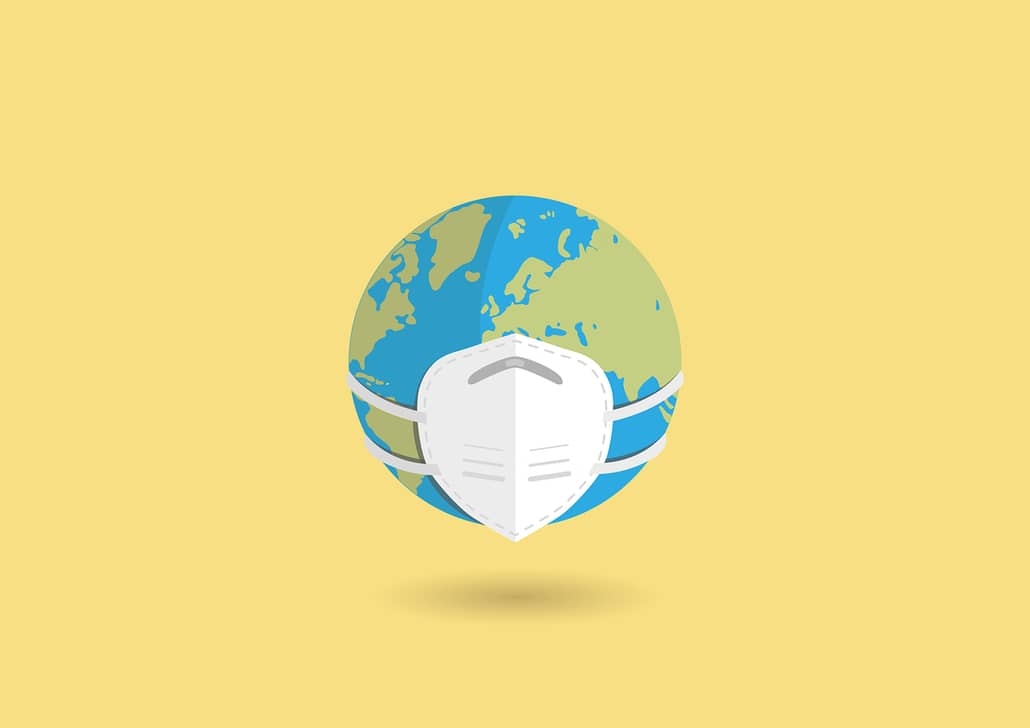 As always in my poker room reviews, I give you the lowdown of the COVID-19 precautions in place, just so you can be at ease to know that you will be as safe as possible.
No one wants to get all on their trip, and The Bellagio is doing all that they can to keep you and their staff safe.
They have a seven-point safety plan which you can read in full here, but I'll give you a brief summary should you not have much time.
Screening, Temp Checks & Employee Training
There are extensive employee protocols in place, including temp checks and training programs. There is medical and security staff on hand to assist anyone in developing symptoms.
Mandatory Masks & Personal Protective Equipment (PPE)
All guests are required to wear masks when inside public spaces and outdoors in the pool areas. All employees will be wearing face coverings, and those that need gloves will be required to wear them.
Physical Distancing
A 6-foot social distancing protocol is in place, and when not possible, i.e., at the gaming tables, there will be plexiglass barriers, face shields, or clear signage.
Handwashing & Enhanced Sanitation
Routine cleaning has been increased with an intense focus on high touch areas such as doors and surfaces. There's also plenty of hand sanitizer stations for you to keep the germs off your hands.
HVAC Controls and Air Quality
They will be providing as much outside air circulation as possible, and rooms will be fitted with air filters that meet or exceed the published standards.
Incident Response Protocols
Trained staff are on hand should a guest or employee test positive for coronavirus.
Digital Innovations
The arrival experience is now in your own hands. You can check-in yourselves and do everything you need to on your smartphone. If you prefer human interaction, you will still get that should you want.
The Bellagio Poker Room and Casino – The Final Thoughts
Playing at The Bellagio Poker Room was something I checked off my bucket list a few years back, and the experience I had there, I still look favorably upon.
Oozing in style and class, it is a perfect escape for when things seem or get too seedy while you are out and about on Las Vegas Boulevard.
With a variety of things to do that aren't casino-related as well as having one of the best local poker rooms in the area, it is without a doubt that you will have an unforgettable time during your time as a guest at the Bellagio.