Best Poker Rooms in Las Vegas – Top 15 Rooms Ranked by a Pro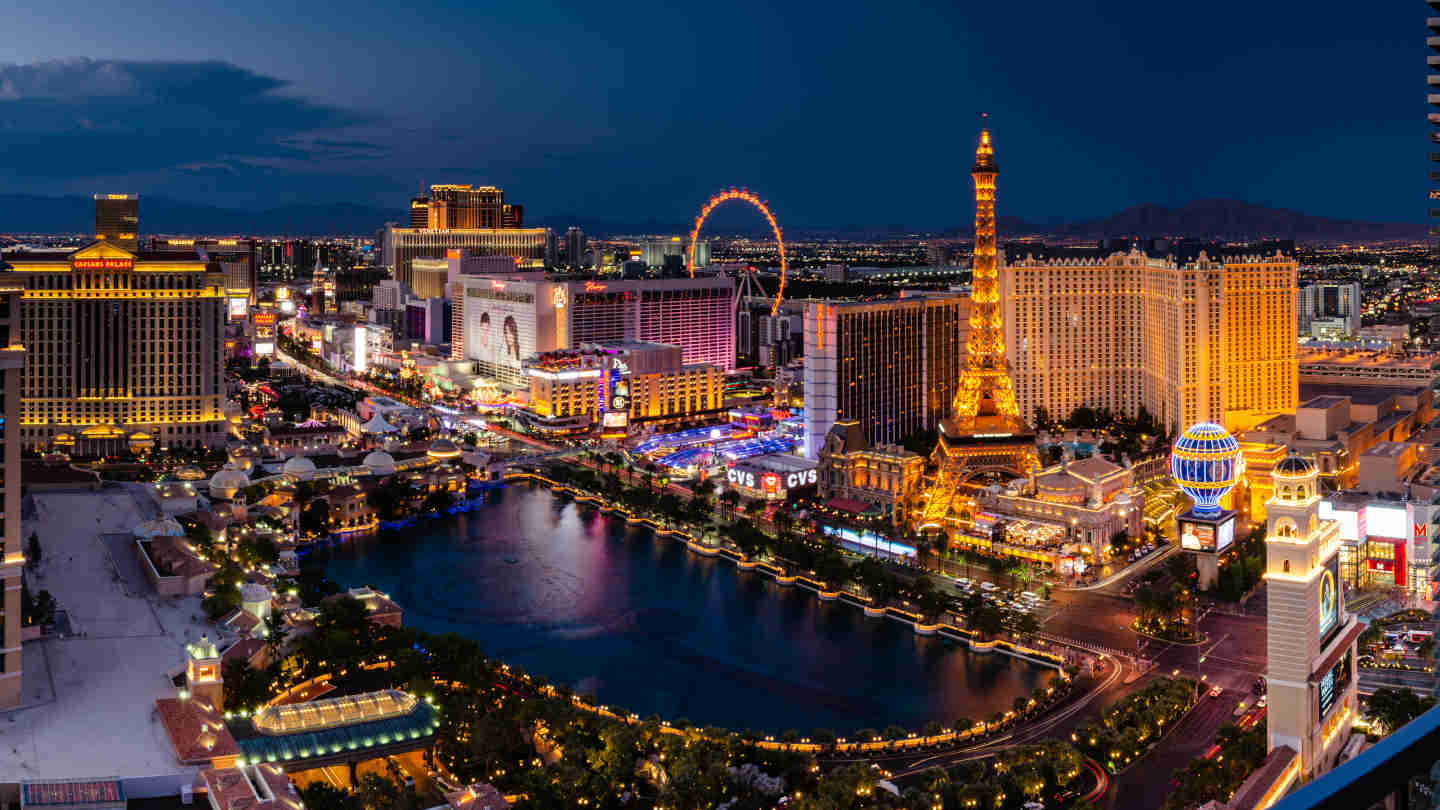 Poker has become a global phenomenon over the years, and there are more cities with thriving poker action now than ever before.
Nevertheless, Las Vegas remains the world capital of gambling and poker alike, as the city offers more places to play the game than any other place on the planet.
A few dozen poker rooms decorate Las Vegas, and it is probably the only place in the world where you can easily find some action at any time, day or night.
But with so much poker in Las Vegas, you may be wondering what the best Poker Rooms in Las Vegas are and why.
I ranked the top 15 best poker rooms in Vegas in order to help you plan your next trip and look up the very best rooms you may want to play at.
#15 – Boulder Station Poker Room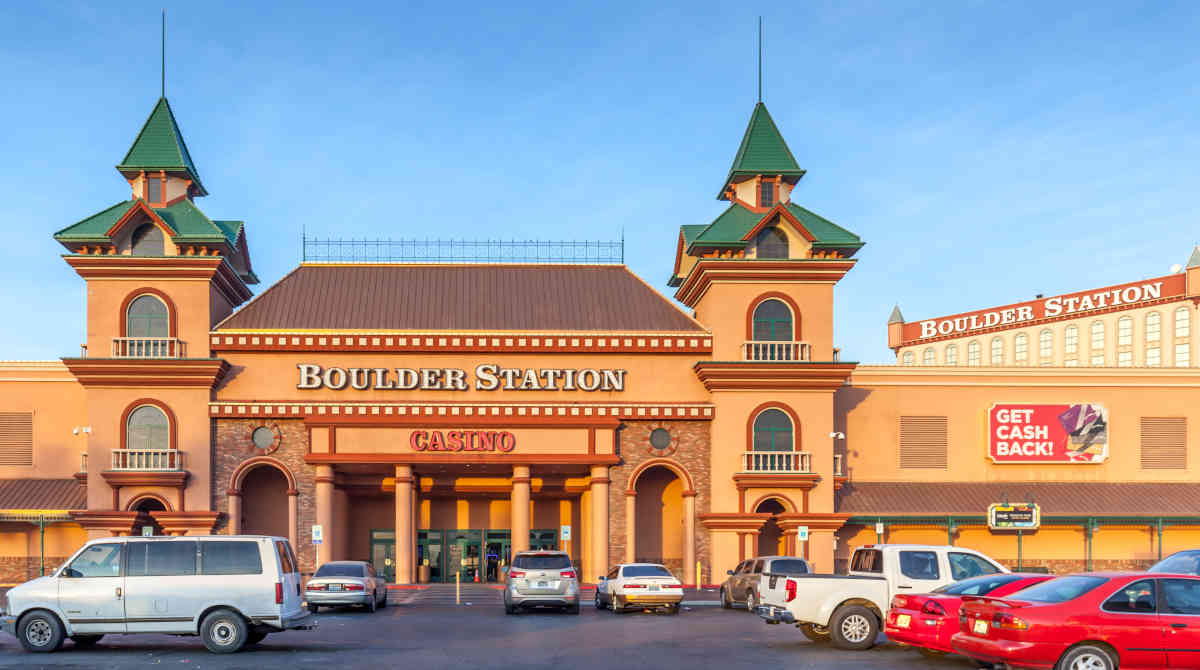 Taking the number 15 spot on my list of best poker rooms in Las Vegas is quite an unassuming poker room found well away from the Las Vegas Strip, at the Boulder Station.
A small poker room in a fairly small casino for city standards, the poker room at Boulder Station is a place locals like to visit to stay away from all the hustle and bustle that tourists bring with them.
Action at Boulder Station starts at $1/2, with cash games taking priority over tournaments.
In fact, at this time, Boulder Station poker room does not run any tournaments, and the ten table capacity is usually partially full with low stakes cash games.
Both Hold'em and Omaha players compete for progressive bad beat jackpots at Boulder Station, the rake is quite reasonable, and the casino runs quite a few other promotions throughout the year to drive some traffic.
One thing to take note of is that you usually won't find too much action at the Boulder Station poker room during daytime, which makes evenings the best period to come down and play here.
#14 – Sahara Poker Room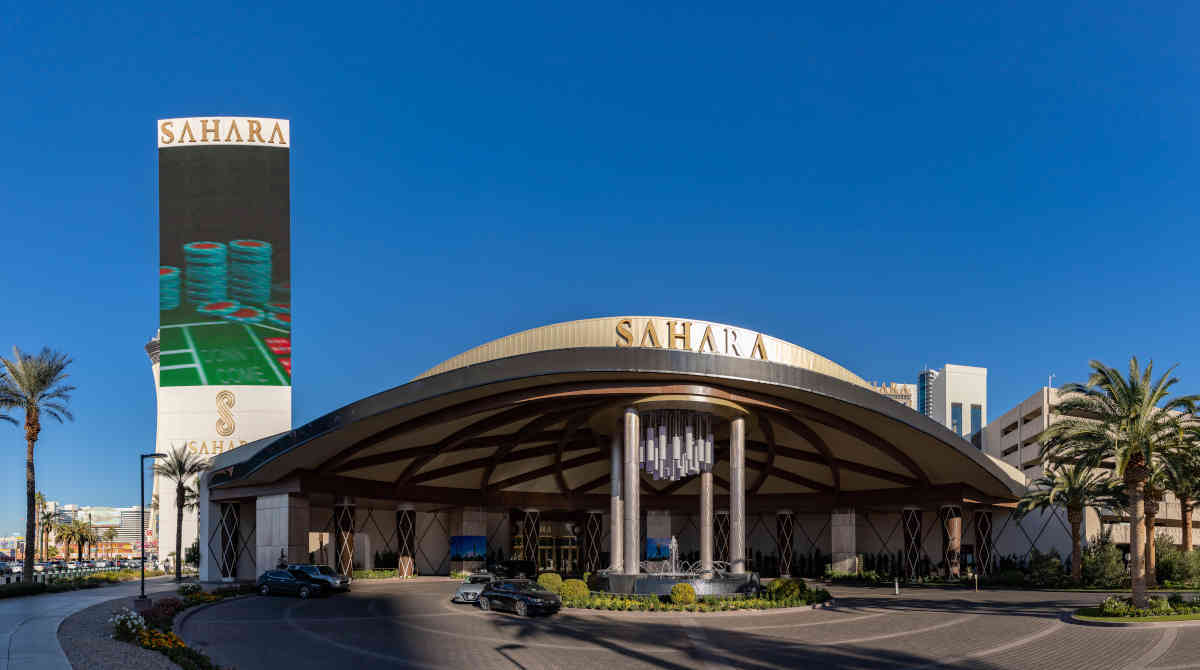 Located about half-way between the casinos you have probably heard of and seen on TV and the famous Fremont Street, Sahara is another casino you might want to consider visiting if you love the game of poker.
Unlike Boulder Station, Sahara poker room offers three daily tournaments. The tournaments come with a low price of $60, making them great for anyone looking for some quick action, and the 12 minute blinds make the action fast and furious, for those who don't have the whole day to play a tournament.
Cash games start at $1/2 and a buy-in of $100, and the $4 rake cap plus the $2 hourly comp rate add to the allure of playing here.
Of course, the traffic to this poker room is nowhere near what you would see in some of the very best poker rooms in Vegas, but the extra perks can add up for some value.
What's even more, the Sahara poker room is actually quite modern and enjoyable, with comfortable seats and an attractive interior.
If you are looking for a new poker room to play at that you have not had a chance to visit before, you should definitely hit up Sahara for a session the next time you're in Vegas.
#13 – Mandalay Bay Poker Room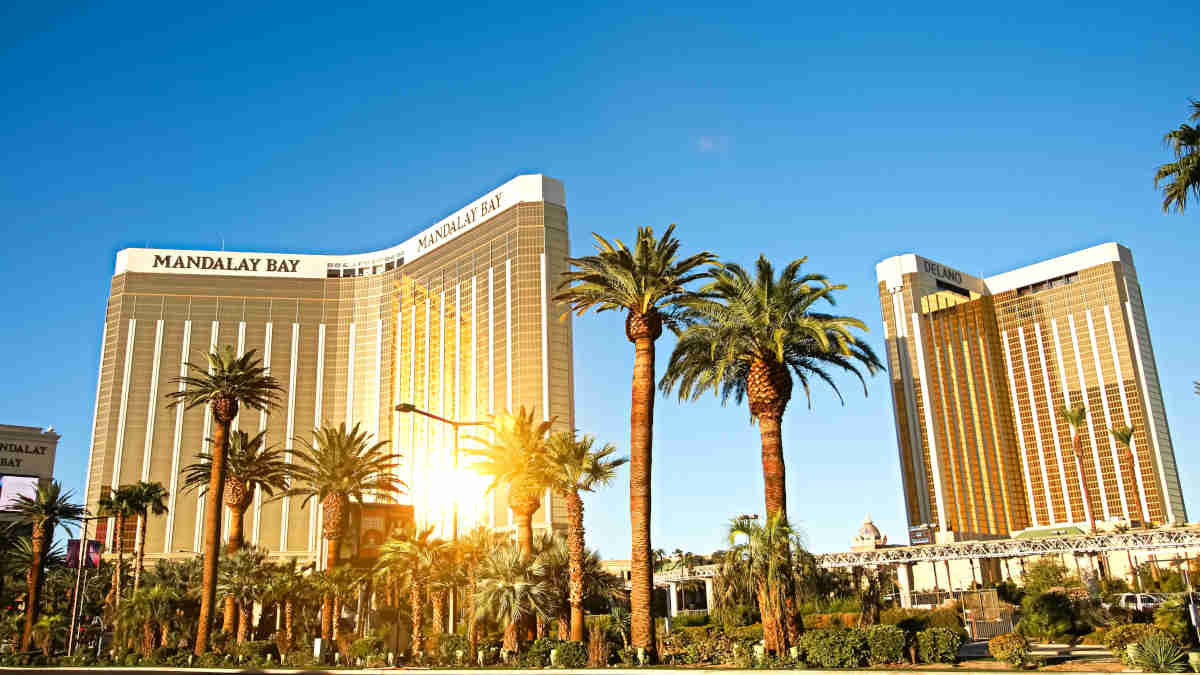 Much like Sahara, Mandalay Bay poker room offers three daily tournaments with a $60 entry fee, each of them with 15 minute blinds and very fast structure.
If you are a fan of tournaments, but don't want to spend too much money or time to play one, Mandalay Bay gives you a few options every day to just come out and have some fun.
Talking of cash game action, games at Mandalay Bay start at $1/2, with action going on most of the day, while some higher stakes games run on occasion as well.
It is worth noting that the Mandalay Bay poker room is not open on Tuesdays and that it shuts down between 4am and 10am on other nights, so you might want to consider this if you are looking to play an all-nighter.
#12 – Poker Palace Poker Room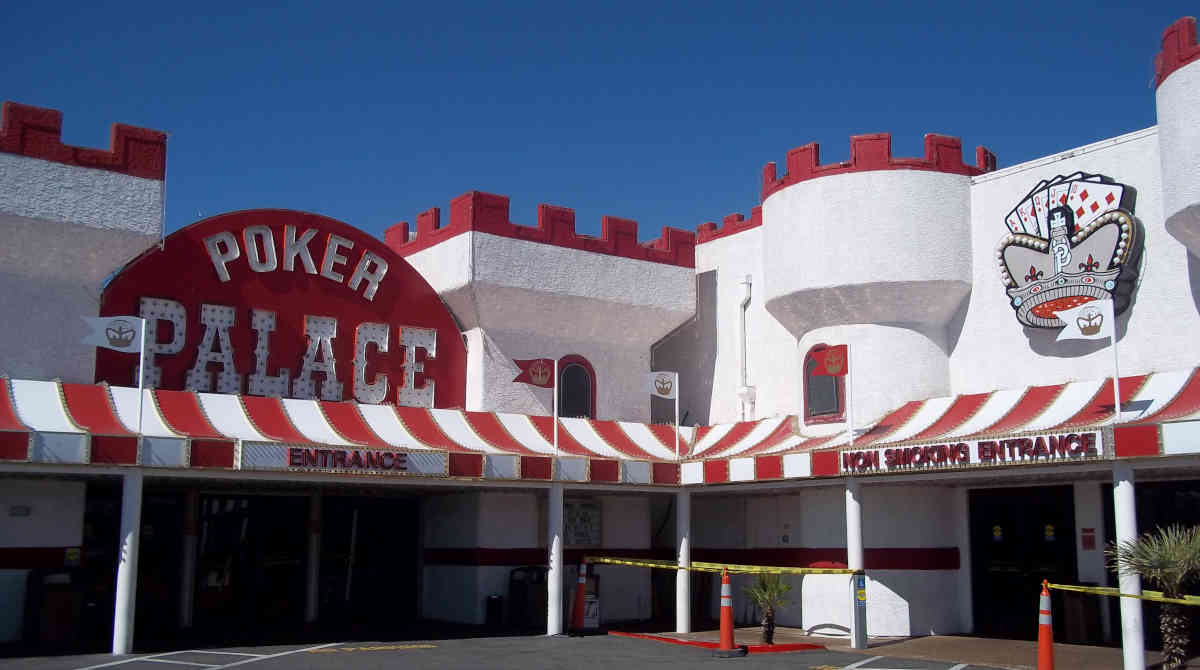 Here is a place most players have never heard of, and for a good reason, as it's located well off the beaten path.
This small poker room in North Las Vegas has made my list of the best poker rooms in Las Vegas for its charm rather than its size or popularity.
Like the name says, Poker Palace is meant to be a poker-dedicated casino, but it runs all the other casino games you might imagine as well, so there is plenty of action for everyone.
The game that usually runs at Poker Palace is $1/2 No Limit Hold'em with a $60 minimum buy-in, which makes it ideal for players who are out there to have some fun.
You won't find any tournaments at Poker Palace, and you should call and check for cash game action before you head out, but I highly recommend playing here at least once to get a feel of playing in a very local-centric casino in Las Vegas.
#11 – Golden Nugget Poker Room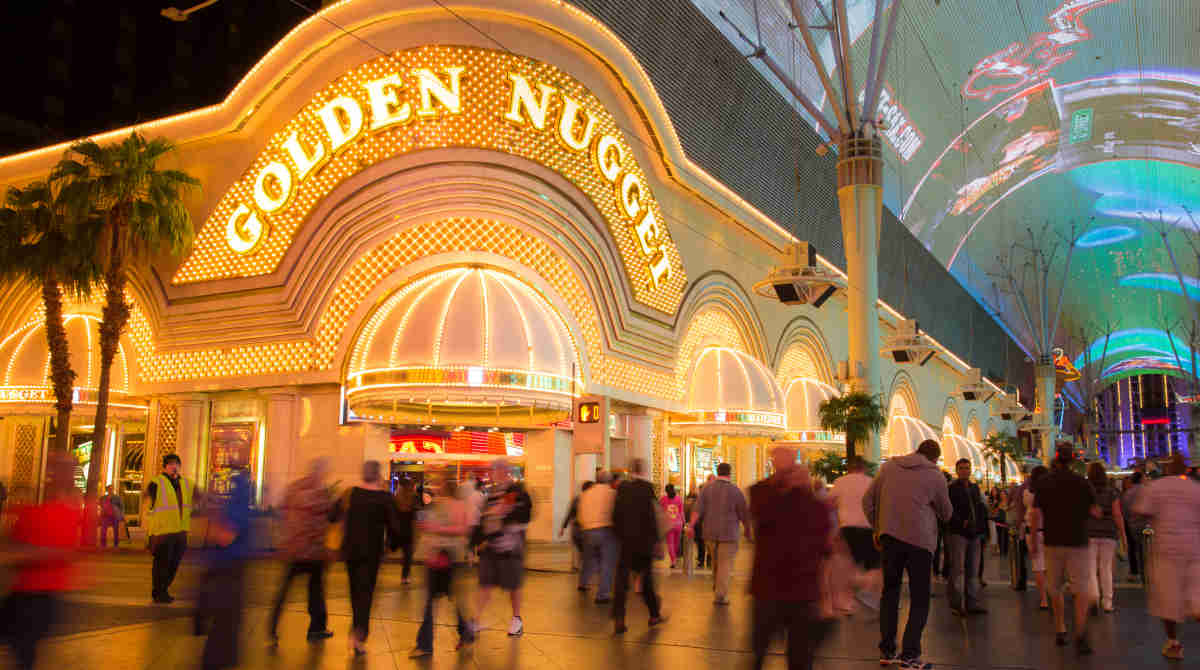 Unlike some of the places I listed thus far, Golden Nugget is a very well-known property, and one you will easily find as you explore the world-famous Fremont Street.
Golden Nugget is part of the "old Las Vegas" and one of the casinos you will surely want to visit even if you are not a poker player yourself.
The Golden Nugget poker room hosts 13 tables in total, which makes it less than friendly to tournament action, but just perfect for cash games.
You will usually find $1/2 and $2/5 games running at the Nugget, and the room itself is spacious, smoke-free, and outfitted with comfortable chairs that will not hurt you during those long sessions.
If you are ever Downtown and itching for some poker action, there is a game running at the Golden Nugget poker room at all times, guaranteed!
#10 – Red Rock Poker Room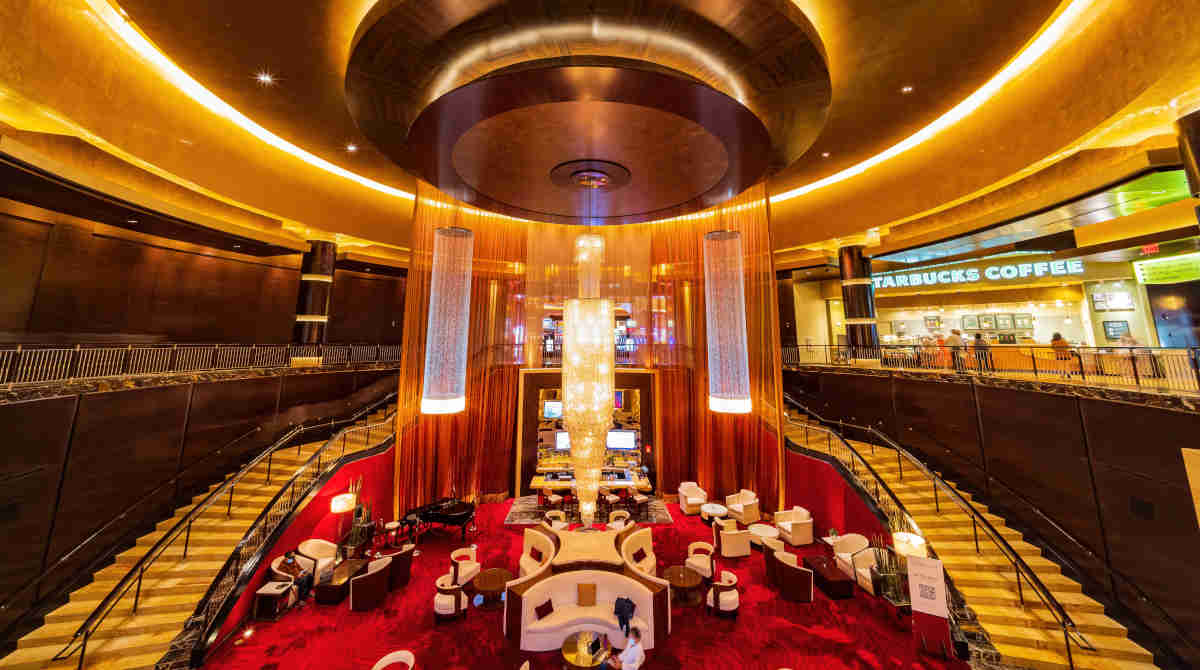 Another Las Vegas casino that's far away from the hustle and bustle of the Strip is Red Rock, and the poker room at this one is quite impressive.
Featuring 20 tables, 15 flat screen TVs, and non-stop poker action, Red Rock poker room is quite big even for Las Vegas standards.
If you are driving out to the casino, you don't need to worry about the cost of parking, as Red Rock offers free self-parking and plenty of other perks.
In fact, Red Rock can be a great place for poker players to book hotel rooms as well, as they come quite a bit cheaper than those on the Strip, while being only a short drive away from all the other action.
You will be able to play $1/2 No Limit Hold'em with just a $100 buy-in at any time, and $2/5 action runs at most times as well, making it a great place for tourists and aspiring poker pros alike.
#9 – Venetian Poker Room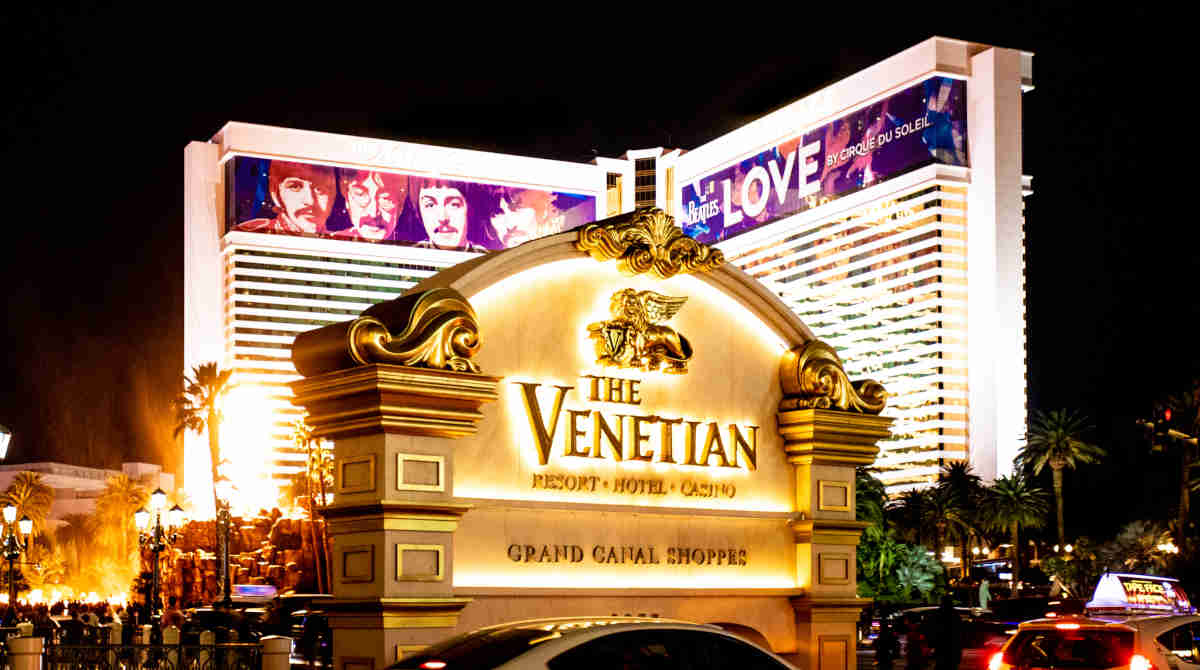 We are now getting to the good part of my list of best poker rooms in Vegas, as Venetian is a casino that truly has a lot to offer to poker players.
For starters, it is the first casino on this list that runs massive poker tournaments, especially during summer months, usually with affordable buy-ins and large prize pools.
If you are looking to play a poker tournament with a buy-in of up to $1,000, and play for upwards of $100,000 in prizes, Venetian poker room might be the place to look.
Cash game action at Venetian starts at $1/3, but $2/5 NL games, $1/2 PLO games, and even mixed games run in this poker room with some frequency.
You will find plenty of poker promotions at the Venetian as well, as the casino features high hand of the hour, random giveaways, and standard poker rewards all year round.
Perfectly situated, spacious, and with plenty of both tournament and cash game action, Venetian poker room is one that you should definitely look to visit during your Las Vegas trip.
#8 – Caesars Palace Poker Room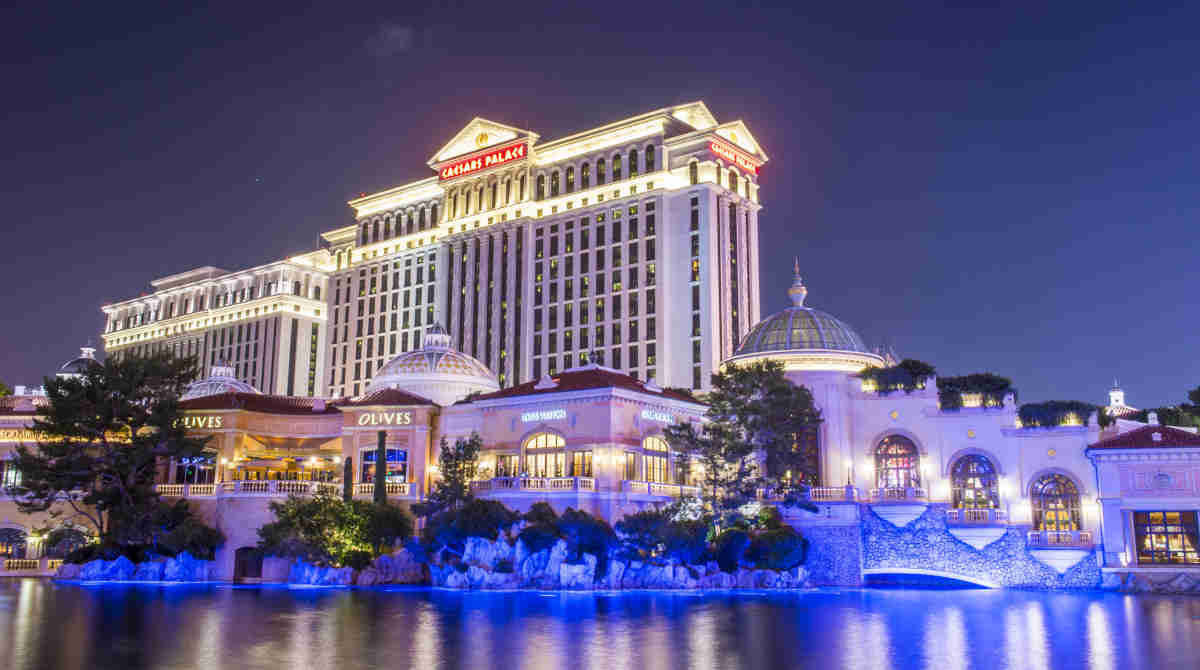 In number eight of my list of best poker rooms in Las Vegas, I decided to mention one of the most famous Las Vegas casinos out there, Caesars Palace.
Caesars Palace is an iconic Las Vegas property, and tourists from all walks of life come here to either roam the property and marvel at its beauty, gamble, or enjoy the numerous nearby nightclubs.
All this works out really well for poker players looking for action, as the influx of drunk tourists on weekend nights could hardly be better.
With $1/3 and $2/5 games running at most times, the Caesars Palace poker room is a great place to get your poker bankroll going without roaming off the strip.
In fact, it is surprising how few regs choose to play at Caesars Palace, which is probably a function of the $1/3 game having a $300 buy-in cap, and higher games not running too often.
And yet, if you are looking to crush some tourists and keep a steady win-rate without too many pros in the mix, low stakes games at Caesars Palace are one of your best bets.
#7 – Horseshoe Poker Room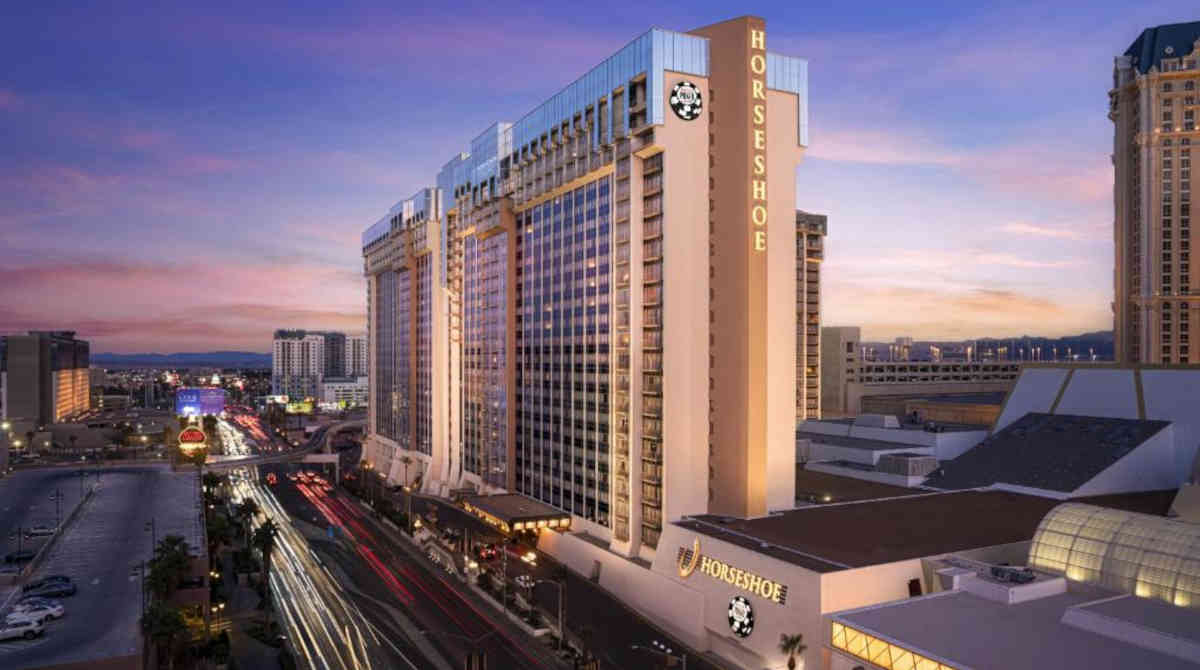 Horseshoe (formerly Bally's) Casino in Las Vegas used to not be much of a poker property, before it started hosting the World Series of Poker along with the neighboring Paris Casino in 2022.
All year round, Horseshoe poker room offers action, but it is during the summer that it truly shines and becomes the poker Mecca for the entire world.
Horseshoe poker room expands greatly during the summers and hosts multiple poker tournaments, along with plenty of cash games for those several hot months.
You will find daily tournaments running at the $200ish price range, WSOP events with buy-ins of up to $250k, and cash games in any form of poker you can imagine at the Horseshoe.
If you are going to visit Vegas between May and August, you should stop by the Horseshoe and check out the action there to get that complete TV poker feel.
#6 – Resorts World Poker Room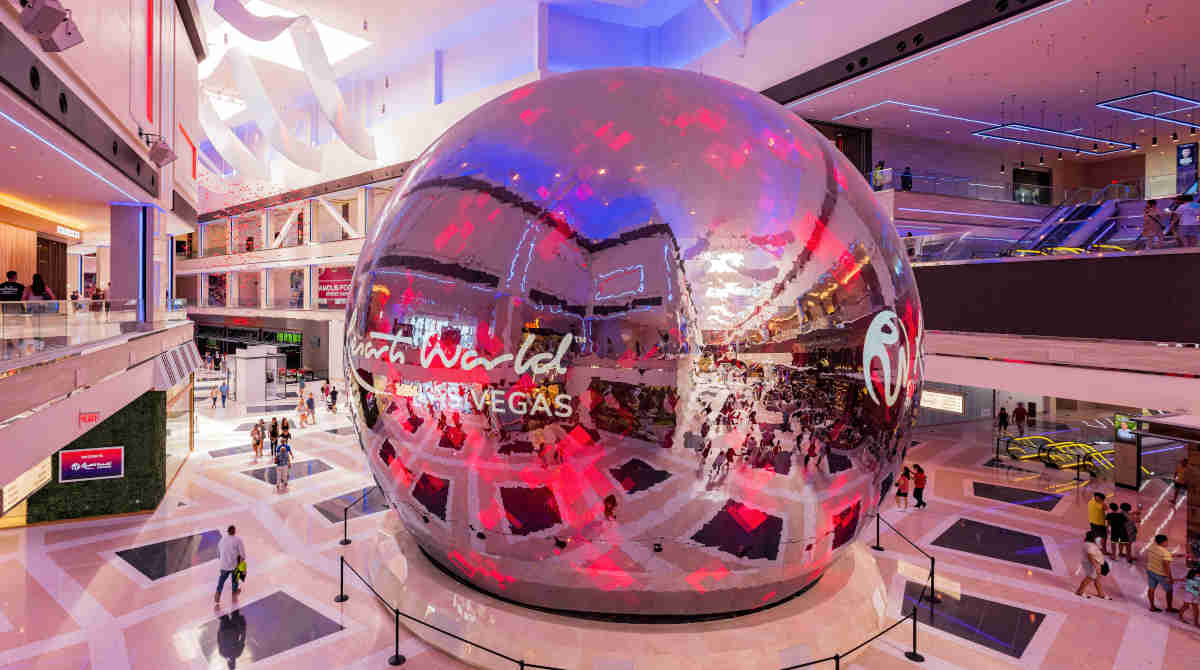 Unlike many other Las Vegas casinos that have been around for a long time, Resorts World opened its doors in 2021, and cost over $4 billion to build, and it really shows.
The casino is easily one of the classiest and most modern in the whole city, and the Resorts World poker room belongs on the list of best poker rooms in Las Vegas for many reasons.
The room features 30 poker tables in total, with beautiful interior, comfortable seating, and extremely helpful and friendly staff.
You will be able to play in three daily tournaments at Resorts every single day, as well as join $1/2, $2/5, and even some $5/10 NLH games most of the time.
Even mixed games run at Resorts, and quite a few of your favorite Vloggers play at this poker room regularly, making it a great place to play if you want a chance to show up in one of the most popular poker Vlogs out there.
Resorts World poker room is a place that offers luxury and comfort for a very reasonable price, and allows you to mix with the poker elite without having to bring those big bucks into play.
#5 – South Point Poker Room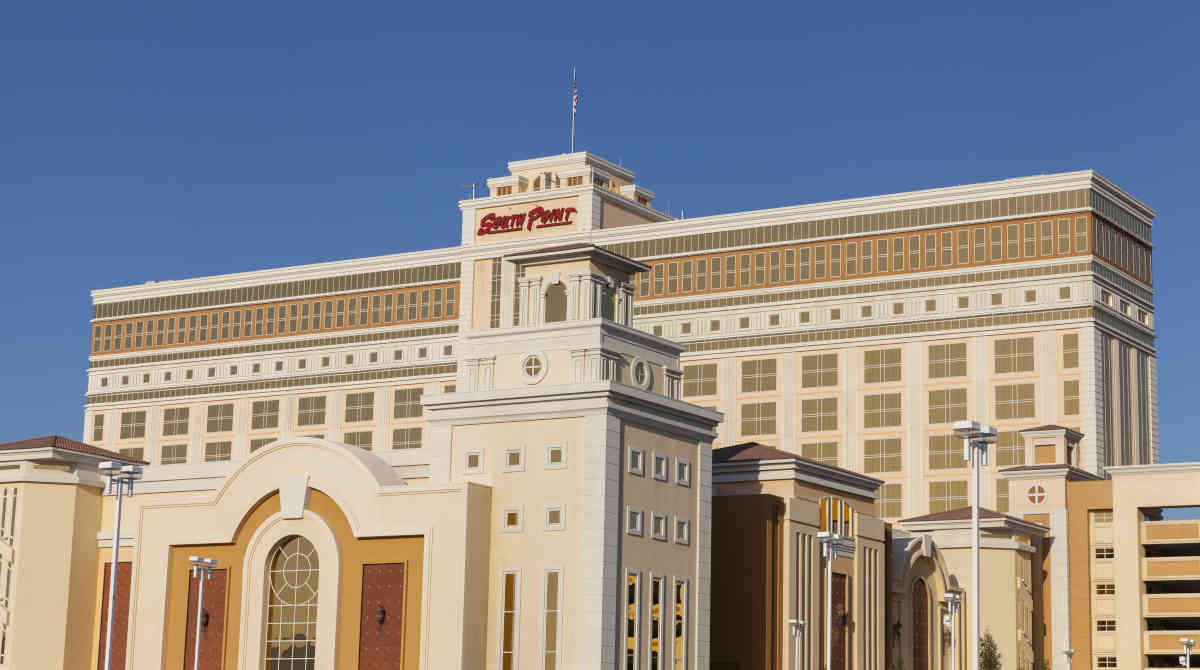 You probably imagined we were not going off-strip anymore for this list, but I would be making a mistake if I didn't rank South Point higher than most other properties.
South Point is a casino located well south of the most popular hotels and the main part of the Strip, and it is one that's been around for a long time. It is mostly frequented by locals and players staying at the hotel.
However, South Point poker room is quite amazing and the casino seems to really care about maintaining the poker action, which is why they offer more than most others in every sense.
South Point offers several poker tournaments every day, with buy-ins between $60 and $150, and prize pools that are definitely worth playing for.
On top of that, the poker room runs more promotions for both cash game and tournament players than most others, and the rake is on par with most other properties.
South Point poker room is quite massive, features around-the-clock action at $1/2 and $2/3 tables, and more promotional money is being given back than in any other place.
If you are a low stakes grinder and looking to build up a bankroll playing poker in Las Vegas, South Point might very well be the place to get started.
#4 – Orleans Poker Room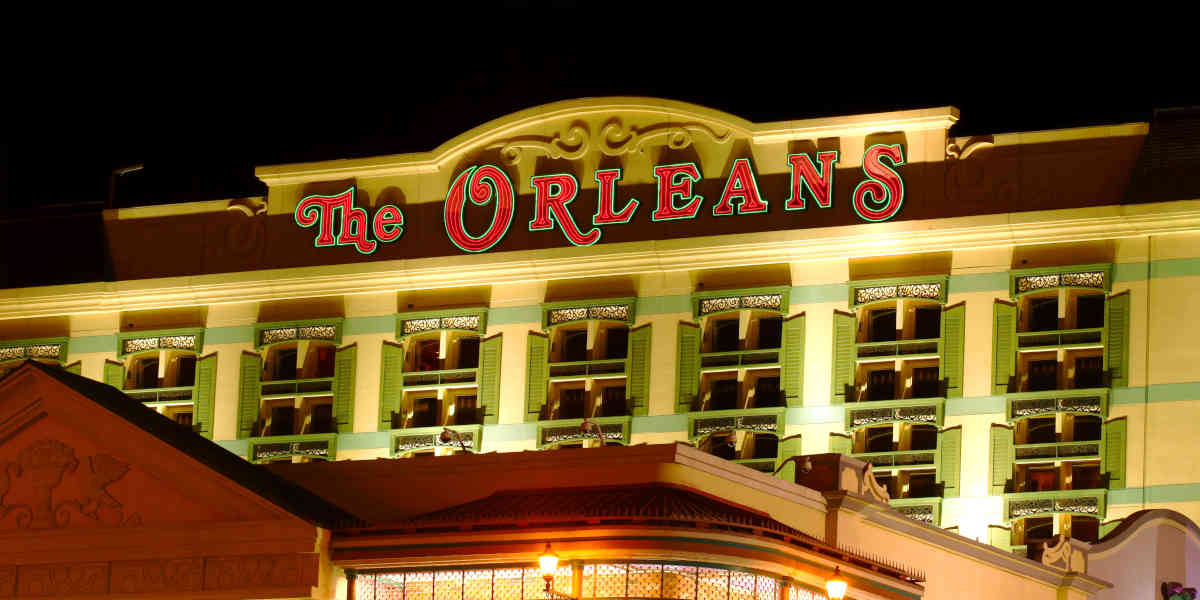 The Orleans is another Las Vegas property that's not exactly on the Strip, but it's close enough that you can take a quick Uber ride or the bus to get there in a few minutes.
The Orleans poker room features 34 tables in total, which is more than most casinos on the Strip, and there is action in this room at all times of day and night.
Orleans runs plenty of tournaments, both daily and seasonal, with buy-ins at a reasonable level, but guaranteed prize pools that make things interesting.
Cash game action at Orleans never stops, and whether you are looking for some quick $1/3 NLH action, or even some Limit Hold'em or Omaha 8, this is the casino to check out.
Orleans is a locals' heaven, as most tourists don't venture this far off the Strip. This is why you will feel like you are playing in a home game at times, with so many of the players knowing everyone else in the games.
Don't get me wrong, games at Orelans are great, the casino is cheaper than those on the Strip in every sense, you can get free parking, and there are very few downsides to playing in one of Las Vegas' biggest poker rooms.
#3 – Wynn Poker Room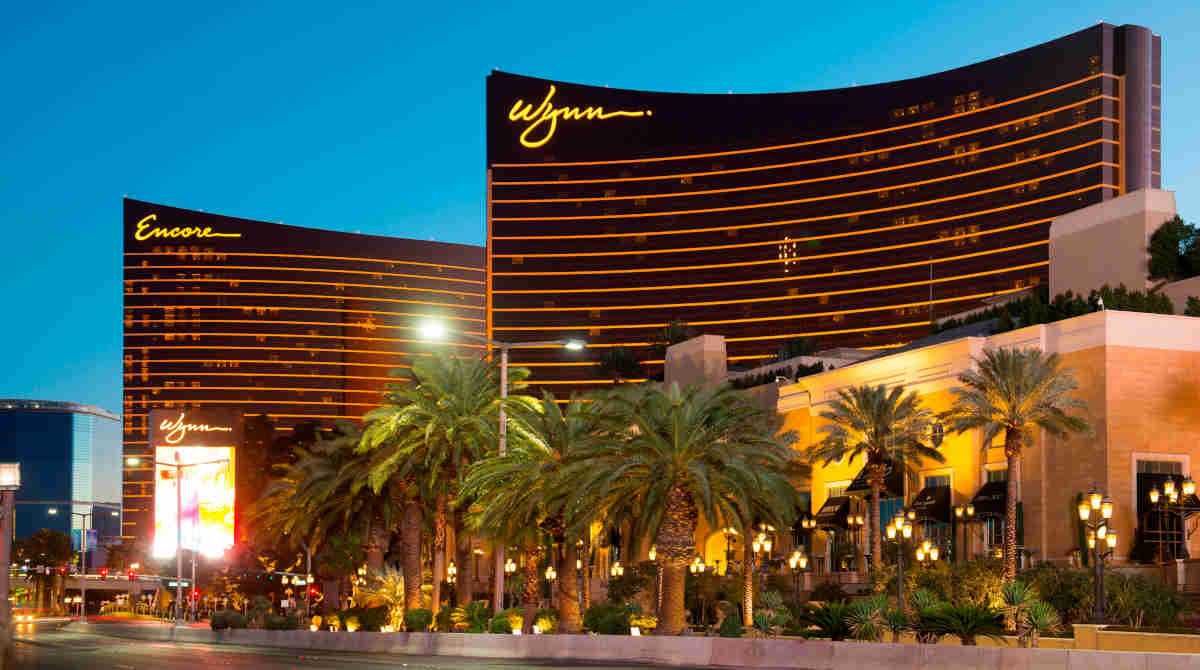 This brings us to one of the truly best poker rooms in Las Vegas in every possible way, the one at the Wynn/Encore property.
The Wynn is one of the most beautiful and luxurious casinos on the Strip, and they have a poker room to match that status in every way.
If you are looking for tournament action, Wynn poker room offers daily and seasonal tournaments, including some of the biggest tournament series in the city, with guarantees in the millions of dollars, multiple times every year.
What's even more, the cash game action at the Wynn is insane, with NLH games up to $10/20 running almost always, and plenty of mixed games and PLO running as well.
While other casinos I have listed here are all worth a visit, Wynn is one you don't want to miss by any chance, as you might just never want to play in another place once you finish your first session here.
#2 – Aria Poker Room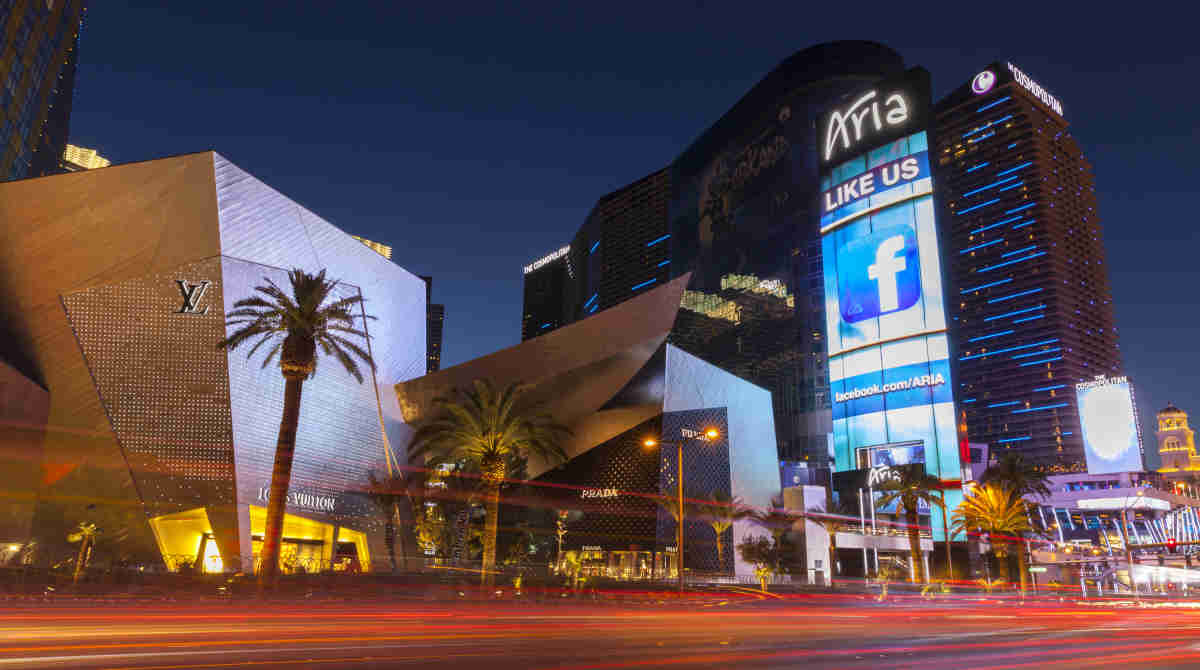 There are many reasons for Aria poker room making it to the second place on my list of best poker rooms in Las Vegas, and it is hard to argue against any of them.
For starters, Aria really established itself in the poker world when it became the venue for PokerGo Studio, the place where most of the high stakes action you see at PokerGo is filmed.
For this reason, Aria now attracts many of the biggest names in poker, and hosts high stakes tournaments and cash games for them, which makes it the place to go if you want to come across your poker heroes.
What's even more, Aria host an impressive range of cash games, and is the absolute best place for PLO fans, as many consider it the only place to really play PLO in Las Vegas.
Aria also runs daily poker tournaments with lower buyins, so you can jump into action for just $160, and get to experience the full allure of playing in one of the best poker rooms in the world.
#1 – Bellagio Poker Room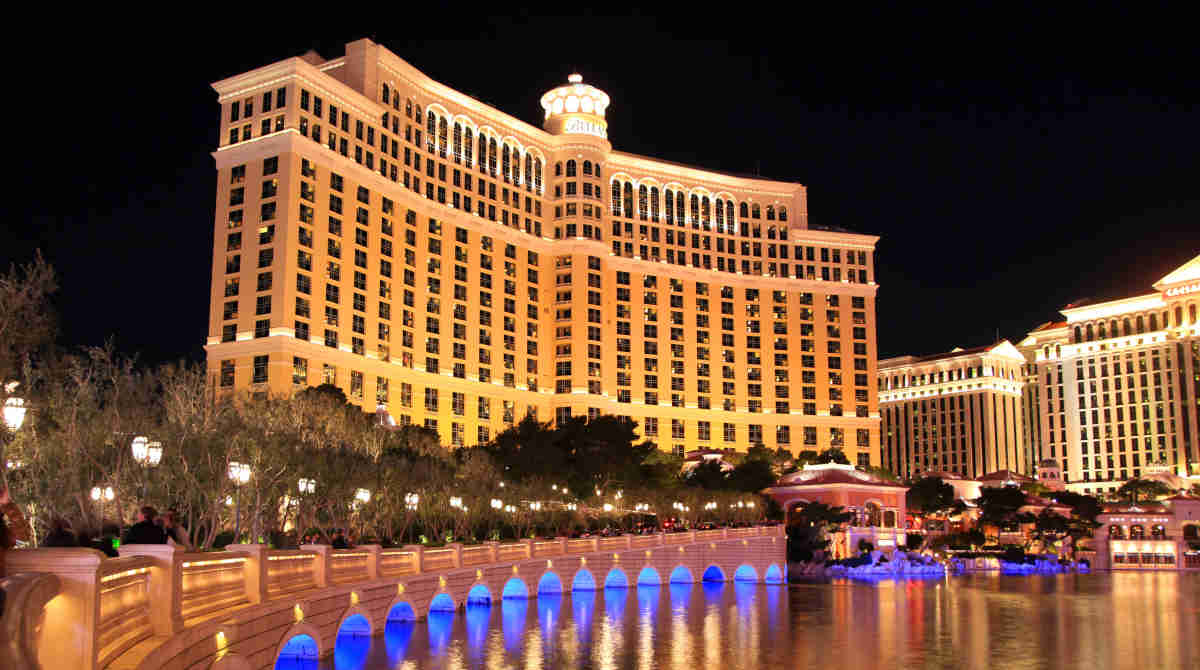 While the likes of Aria and Wynn have certainly been making a lot of headlines in recent years, Bellagio remains the most iconic casino for poker players in Las Vegas.
Hosting the world-famous Doyle's Room (now called Legends Room), Bellagio has been considered the workplace for many of the world's best poker players for decades.
The likes of Doyle Brunson, Phil Ivey, Mike Mattusow, Jennifer Harman, and Phil Hellmuth built their careers at the Bellagio, and the poker room remains just as relevant today.
While much of the high stakes action has moved over to Aria for NLH and PLO, the biggest mixed games in the world still happen at the Legends Room.
For the rest of us, Bellagio hosts cash game action on 37 tables, and despite not running tournaments on a regular basis, it is one of the best places to play in the city.
Bellagio is one of the few casinos where you will find mixed games of all sorts running across the stakes, and one that's willing to host any kind of a poker game if you can bring in enough players.
If you are looking for tournament action though, there are plenty of casinos within walking distance to Bellagio that you can play at, and come back to Bellagio to play some cash games once the tournament madness is over.