Aria Poker Room Review – Enjoy Las Vegas' State of the Art Casino
3 minutes
Last Updated: August 30, 2021
Despite only opening in 2009, the Aria Poker Room has become a favorite among Las Vegas locals and poker enthusiasts from around the world.
This should come as no surprise as the Aria poker room screams elegance and finesse.
Aria Poker Room Review
The Aria has very comfortable seating, an easy on the table felt, and is illuminated extremely well. While the poker room is not one of the biggest in Vegas, it is definitely one of the best looking for sure.
The Aria Poker Room is made up of only 24 tables, 18 standard ones, and 6 high-stakes tables.
You have even got 'Ivey's Room,' which is where the biggest game is.
Even though you may not be able to play in Ivey's Room, you can still feel like a VIP with Aria's chair massage service and other exclusives you get to experience while playing there.
Aria Poker Room Cash Games

We know that the Aria is famous for some nose-bleed stakes, but you do not need to be Daniel Negreanu to jump into a game here.
You will find poker cash games that suit the bankroll of the everyday person.
The poker room is paired with the Bravo app, so be sure to get that on your smartphone so you know which games have seats available so you can avoid wasting time waiting for a game.
For NL Texas Hold'Em, you can find table stakes such as:
$1/$3
$5/$10
$10/$20 and higher
In Limit Hold'Em you can play:
$4/$8
$9/$18
$20/$40
$40/$80 and higher
If you prefer PLO poker games, you will find games such as:
$1/$3
$2/$5
$5/$10
$10/$20 and higher
Omaha 8 or Better is another poker variant for you to indulge in, the stakes available to you are:
$4/$8 with ½ kill
$9/$18 with ¼ kill
$20/$40 with ½ kill and higher
7 Card Stud stakes:
$6/$12
$15/$30
$20/$40
$30/$60 and higher
Draw Games stakes:
$4/$8
$10/$20
$20/$40
$40/$80 and higher
Mixed Games stakes:
$4/$8
$10/$20
$20/$40
$40/$80 and higher
So, as you can see, whatever your bankroll, a game of choice, or skillset is, there's a game tailored for you for maximum enjoyment.
Aria Poker Room Tournaments
If poker cash games do not float your boat and you are a tournament crusher, then staying at the Aria is a wise decision.
With multiple daily tournaments for you to play in, there is no doubt you will be able to find the time to enjoy what is on offer.
Aria Casino Daily Tournament Schedule
| | | | | | |
| --- | --- | --- | --- | --- | --- |
| Time | Days | Game | Buy-in | Chips | Guarantee |
| 11am | F, Sa, Su | NLHE | $240 | 20,000 | $7,500 |
| 1pm | M, Tu, W, Th | NLHE | $140 | 12,000 | $5,000 |
| 7pm | M, Tu, W, Th | NLHE | $140 | 12,000 | – |
| 7pm | F, Sa, Su | NLHE | $140 | 20,000 | – |
Aria Poker Room Staff
In my one run-in while playing at the Aria, I found the experience very positive. Had no problems with any of the action, dealers, or floor rulings.
However, there are reviews out there that highlight unpleasant encounters with Aria staff.
I do tend to take these reviews with a pinch of salt because all it takes is one bad session for someone to think the world and his wife are against him.
Aria Parking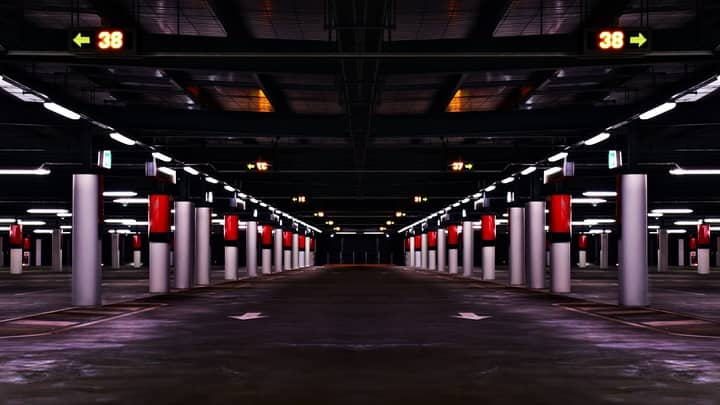 You will be pleased to know that the Aria has stepped away from charging for self-parking for the time being.
As a way to locals and punters through their doors, self-parking is free for the time being.
Also, if you are a Gold, Platinum, or NOIR member of the M Life Reward program, you can take advantage of complimentary valet services.
Aria Casino Games

While most of your time at the Aria will no doubt be in the poker room but giving the casino a miss would be a grave error. It would be like going on a first-time trip to New York and not seeing the Statue of Liberty.
With around 150,000 square feet of luxurious gaming space that consists of 145 table games and 1940 slot machines, this casino has what to offer.
It is a sure bet that you will find something to play that is right up your alley. Casino table games you can play at the aria include:
Craps
Roulette
European Roulette
Mini Baccarat
Crazy 4 Poker
Free Bet Blackjack
Casino War
Blackjack Switch
Big 6 and others.
Aria High Roller Experience

If slots are your thing, then be sure to make time for the SPIN High Limit Room, this is a unique gaming space that only deals in high-stakes.
When playing here, you have access to individual bathrooms, dining areas, and a slot team that will try to give you the best experience possible.
Prefer tables games instead and want to slip away from the hustle and bustle of a busy casino? Enjoy playing at the High Limit Lounge, where the stakes are high, and the cocktails are strong.
Aria Resort and Casino – What to expect and non-casino related activities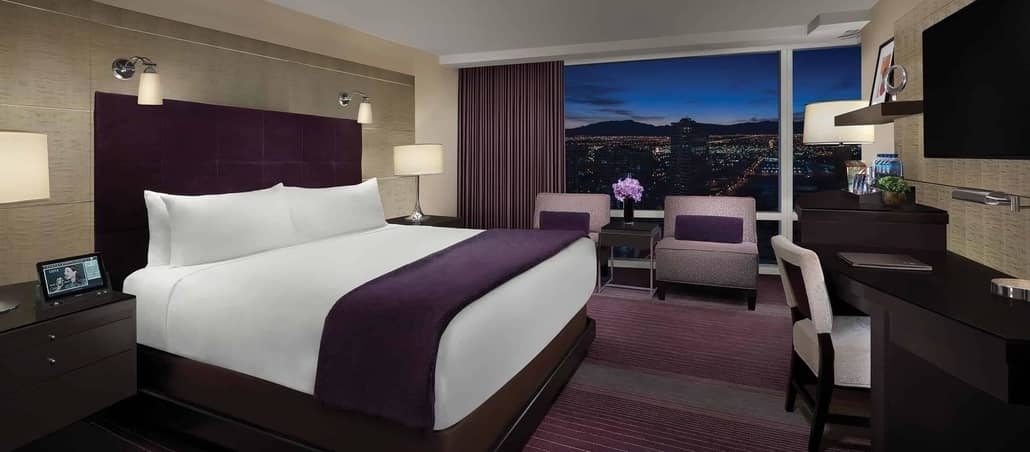 When you stay at a AAA Five Diamond-rated resort, you obviously expect only the best from the service.
The Aria is home to two hotels, the Aria Resort & Casino (Tower Suites) and Aria Sky Suites.
Collectively there are 4,004 guest rooms, which include 568 suites. If you are staying at the Sky Suites, then you will have your private entrance to access your room.
If you are amazed by the little things like me, then you will enjoy that all of the rooms have their touch-screen automation systems. You will be able to adjust curtains, turn off and on lights and electronics as well as being able to change the temperature.
Although not the most innovative features that exist in 2020, if you are first-timer, you will surely get a small kick out of this.
Tower Suites all have a living room, seating area and luxury bathroom amenities and the Sky Suites have all the above as well plus a wet bar, powder room and you even get complimentary luxury transportation from the airport to the porte-cochère (a porch where vehicles drop customers in plain English).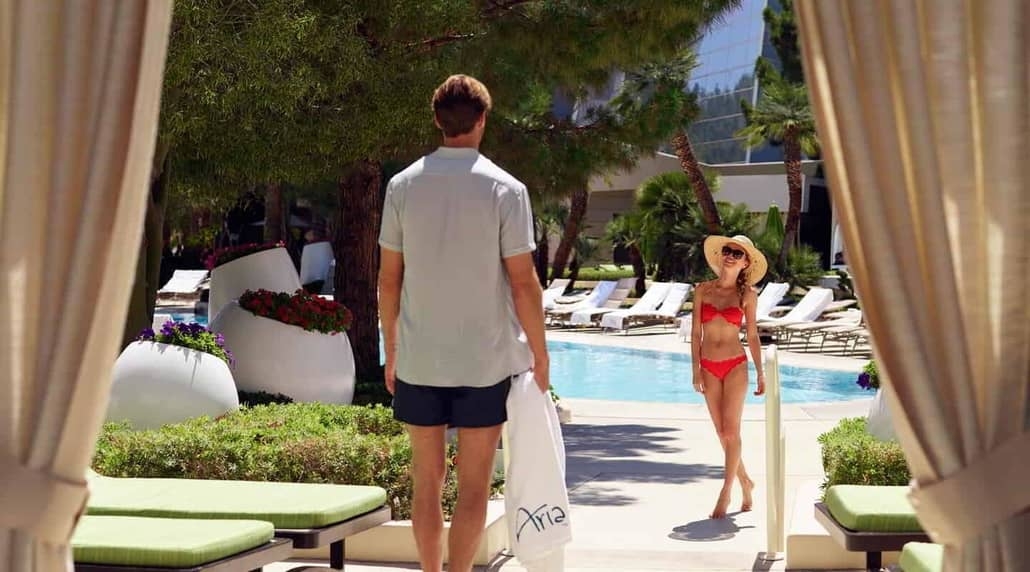 As a bonus, you will also have exclusive use of the Sky Suites Lounge and Sky Pool. So, if it is luxury that you want, the Aria will give you that in abundance.
But even for us average joes, we still get to enjoy some luxury of our own. As a guest at the Aria Resort & Casino, you have access to two primary pools, and if you are without children, you can enjoy some time in the adults-only pool too.
If you are an art aficionado, then you can enjoy the fine art collection, and for the gastronomy heads, you have the choice of eating at nearly 20 dining areas.
Some of the gourmet restaurants you can enjoy are:
Award-winning Chef Michael Mina's Bardot Brasserie
Jean Georges Steakhouse for Kobe A5 beef
You can also find some downtime in one of the nine bars and lounges, a spa, a fully serviced salon, a fitness center, and luxury shopping. Plenty for the better half to do while you take it to the poker streets.
Aria – Keeping You Safe Against Covid-19
As the Aria is owned by MGM which covers the likes of the Bellagio, there is the consistent seven-point plan across all MGM properties in Vegas
You can read the plan in full here, but here's the basic gist of things you can expect during your time at Aria.
All employees will have undertaken training programs to help identify guests who may be having health issues, and there is staff on hand to help guests who fall ill. Employees will have their own temperature checks too to make sure they're not transmitting the virus to any players.
You will be required to wear masks in public spaces in both indoor and outdoor setting.
For extra player protection, all employees will be wearing a face covering and other personal protective equipment should their role require so.
There will be social distancing when you are a guest at the Aria, guests are asked to keep at least 6 foot apart and when not possible, items like plexiglass barriers and face shields will be in place
There will be extra hand sanitizer stations, so after handling chips or the like, you will not have to look too far to sterile your hands. Routine cleaning has also been enhanced to help eliminate germs.
All your rooms will have air filters that are to industry-standard, or better, and employees will try to circulate as much outside air as possible.
You will be able to check in to your rooms via your smartphone to beat queues, should you require a service that needs a person to person interaction then that is still available for you as well.
Areia Poker Room Review – The Final Thoughts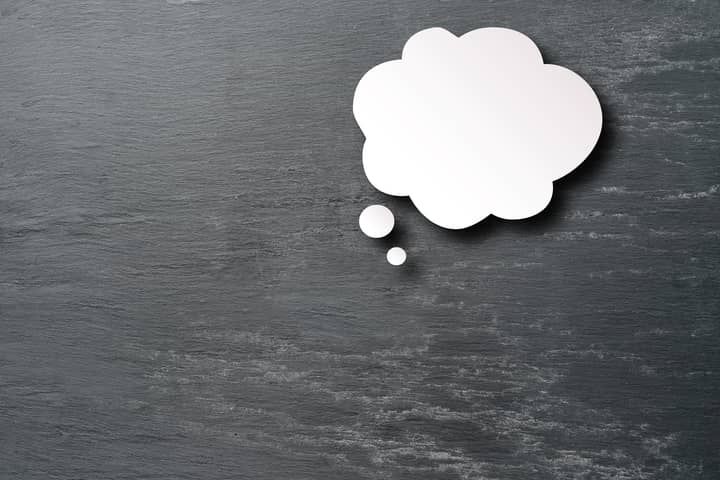 Overall, it is fair to say that you are spoilt for choice in what to do at the Aria, it is apparent that whatever you decide to do, you will be in beautiful surroundings.
What Aria does well is luxury without a hint of tackiness, which is often a line that is easily crossed.
Everything seems well thought out and deliberate, so nothing looks out of place.
If Las Vegas is on your bucket list, then to get the full experience of Sin City, a stay or visit to the Aria poker room is a must. No matter if you win or lose, you will have a great time either way which is always nice, and then can go to experience other local poker rooms.