Poker Tables – Pick The Best Option From Professional BBO Tables To Folding Tops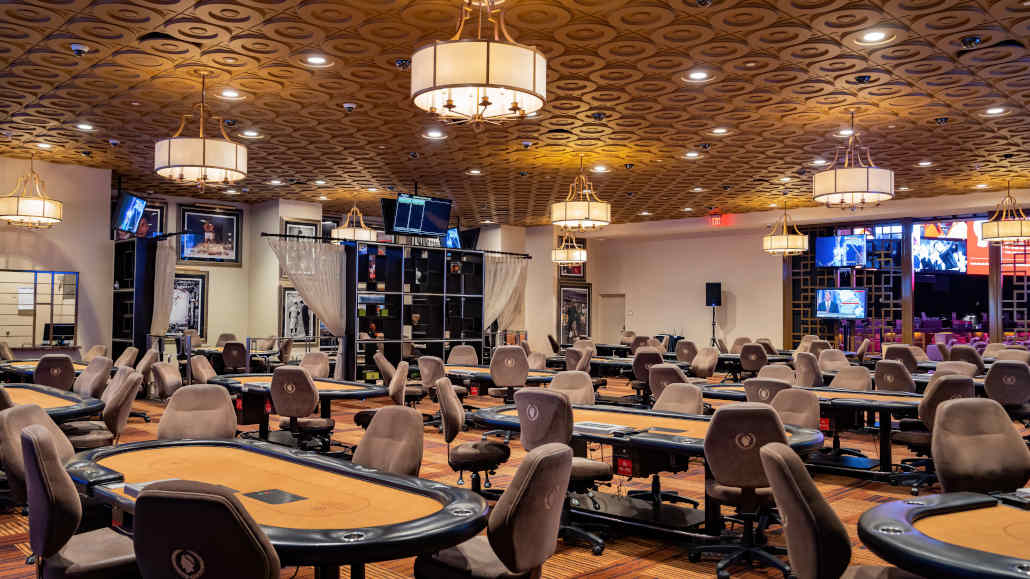 12 minutes
Last Updated: September 28, 2021
There is a lot that goes into setting up a perfect home game. You need nice cards, quality poker chips, and some drinks to keep the mood up.
But to move your games to the next level, you should first look into different poker tables out there and find the right one for you.
Choosing the best poker table for your game is no small task. There are easily hundreds of options to choose from, varying in size, shape, and, of course, price. That said, this should be at the top of the priorities list as the type of table you choose can make all the difference.
Obviously, most people are no experts on poker tables. You know you should get one if you want to have a serious and pleasant home game, but how do you choose from all the options out there?
This article is an extensive guide on everything you need to know about poker tables. By the time you're done reading, you should be a bit of an expert on the subject.
So even if you are used to playing online poker with friends, you might be able to help a friend who's thinking about setting up a home game for all of you to enjoy.
Choosing a Poker Table – Crucial Considerations
Before I move on to talking about different types of poker tables and price ranges, let's cover some basics. Before you set out on a mission to find the perfect poker table felt, you should take some time to consider your circumstances.
The first and the biggest one is the space.
Some people are lucky enough to have a garage or an extra room in their house they can use solely for the purposes of a home game. Most, however, don't have the luxury, so the table will often be situated in a living or dining room.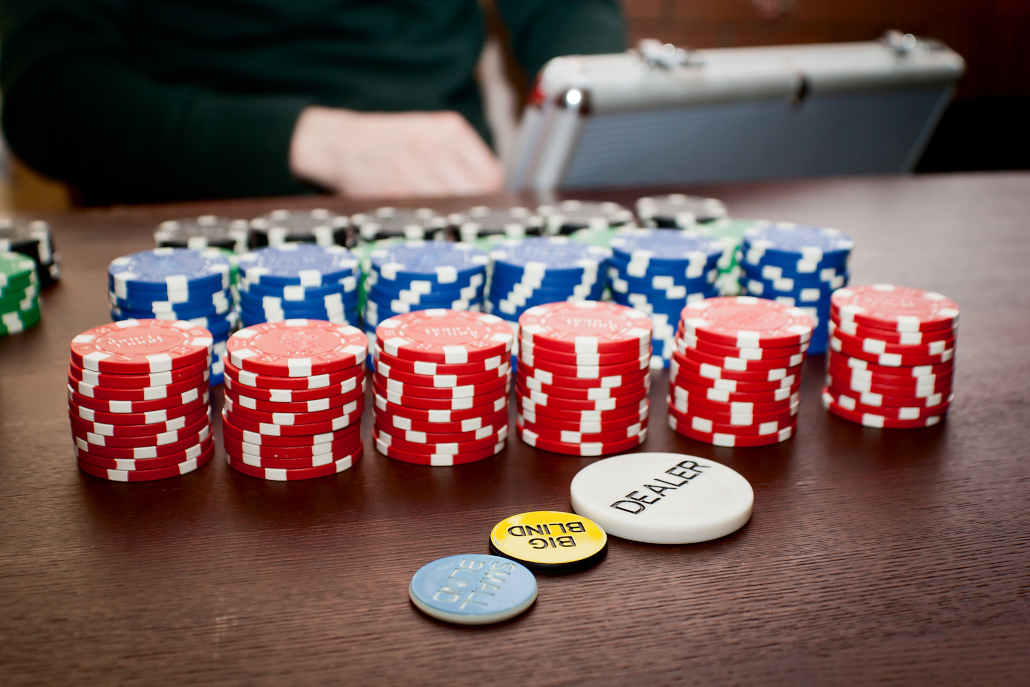 Take a moment to figure out how much space you actually have and decide if you want to go for a fixed setup or if a folding poker table or a poker table top might be a better option. We'll cover the specifics of each of these options in a moment.
Also, you should know how many people you plan on hosting.
A game with five or six players doesn't require a huge table, but if you want to play full ring, i.e., nine or even ten players, you'll need a sizable felt area.
While you can fit a bunch of people around a small table, it'll feel crowded and make the whole experience less enjoyable.
A serious game host knows they need to make people comfortable, so they'd stay for longer and kept playing. If you don't pick the right table, especially if it is too small, people will leave sooner as they'll be happy to get out of the crowded space.
This isn't to say everything has to be perfect.
There are space and money limitations, and most people don't expect a casino-like environment. However, with a bit of thought and some research, you can set things up pretty nicely without spending a ton of cash.
Different Types of Poker Tables' Options
Now that I've covered the most important aspects that come into play when choosing a poker table, it's time to get down to business.
You've thought about your specific requirements and limitations, and you have some idea of what you need for a perfect Texas Holdem or PLO game. But what are your actual options?
Fixed Poker Tables
These are tables that you see in most casinos. They are usually fairly large, sturdy, and, as the name suggests, fixed in one place.
Of course, you can still carry the table around, just like any other piece of furniture since it's not nailed to the floor or anything like that.
That said, once it's set up, it's not meant to be taken apart. It can't be folded or shrunk in any way.
A fixed poker table is the best option if you have a room reserved just for poker.
You can set up the table and the chairs and not worry about it. While demanding in terms of space, these tables are good because they are sturdy and can take some beating.
Excessive celebrations or tilt-induced punches won't cause them to collapse, and if you've ever hosted a home game, you know these are bound to happen.
Foldable Poker Tables
If you don't have a dedicated poker area and plan to host a game in a room that serves other purposes, folding poker tables might be your best pick.
Unlike fixed tables, these can be folded when you're done playing, and you can store them somewhere until the next game.
When folded, these tables don't take up much space at all, so it's much easier to find a place for them and not have them get in a way during your usual daily activities.
Foldable tables aren't as sturdy as the fixed ones, but if you don't buy the cheapest option, they'll do the trick for any normal game.
As long as your guests don't celebrate their big wins by climbing onto the felt and dancing on the tabletop, you'll be okay.
Poker Table Tops
One last option you have if you want to set up a poker home game, but none of the other two works are poker table tops.
Instead of purchasing the entire table, you just buy a foldable top made out of a baize or speed cloth and use it on an existing surface.
There are a couple of advantages to poker table tops.
The first and the most obvious one is that they're cheaper than actual tables, so if you're working on a tight budget, this is a good in-between solution.
The second advantage is that table tops can easily be rolled and stored when you don't need them.
The obvious downside is that you already need to have a table to which you can apply it. If you have a nice, big table and cover it with a poker tabletop, it can look pretty good, but it won't quite be the same as in the casino. Still, it beats playing on a regular table cloth.
Poker Tables by Shapes, Sizes, and Prices
If you do some research on poker tables, you'll quickly find out there are three basic shapes out there:
an oval poker table
a round poker table
an octagonal poker table.
The oval poker table is what you'll see in most casinos.
It's fairly long and rounded on the edges, and it's probably the first image that pops in your head when thinking about poker tables. It's the most "luxurious" option and the best one if you're planning on hosting a bigger game with six or more players.
A round poker table is not that common, and you'll mostly encounter it in private games.
Its main advantage is that it takes up less space than the oval one, so if you don't have too much room, it's a decent option. While you can find a big table occasionally, these are usually made for fewer players, five or six at max.
Finally, an octagonal poker table is quite similar to the round one but with sharper edges.
As the name suggests, this one is perfect for up to eight players, and some of them look pretty cool. If you want to give your home game a dash of uniqueness, it's an option worth looking into.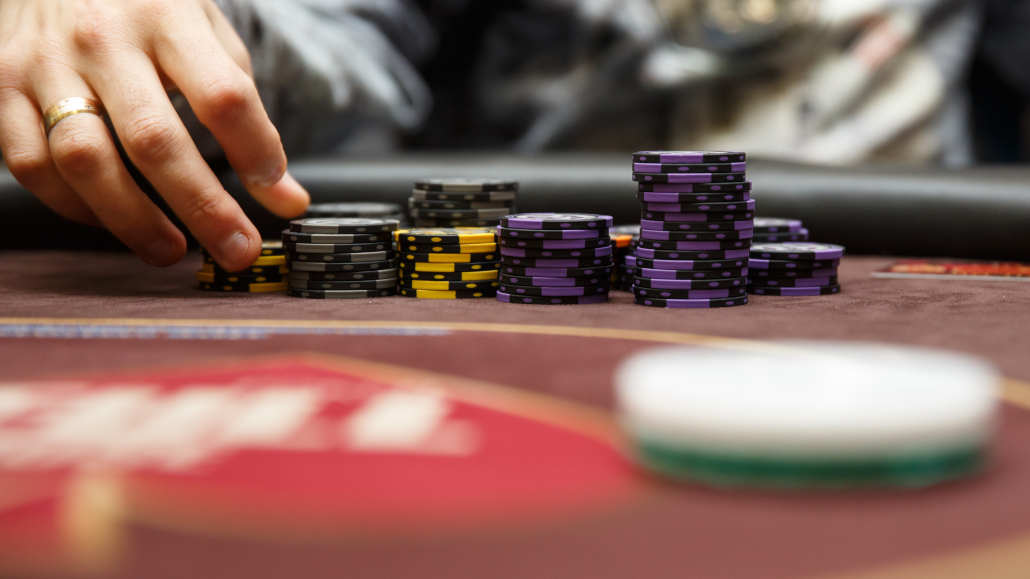 How Much Does a Poker Table Cost?
With technicalities out of the way, it's time to ask the important question. How much does a poker table cost, and is this a kind of an investment you can afford?
The answer to this question isn't very simple, as you can probably guess from everything I've covered up to this point. There are many different types of poker tables out there, which means the range of prices is quite extensive as well.
I will go into more detail on prices in the next section, where I'll also give you some recommendations for the best poker tables, but here's a quick overview of what you might expect:
Full-fledged (fixed) poker table – the starting price is around $700, while the top end can be $5,000 or more. But you can get a very decent and sturdy one for about $1,000 or so.
Foldable poker tables cost between $150 and $500. If you are going for this option, I would suggest spending at least around $250. You can get one for less, but you probably won't be too happy with the performance.
Poker table tops – these are the cheapest option. You can get one for as little as $15 – $20. There are also more expensive ones, going up to $150 or so. The price depends on the quality of the cloth (felt) and the overall design.
As you can see, getting a poker table solution for your home game doesn't have to be that expensive.
It depends on what you're looking for and what your expectations are. You can have some decent setup for as little as $20, and you can spend as much as a few grand if you're going for that real poker room feeling.
I can't speak to your particular requirements, but I will give you a small piece of advice here.
Don't go overspending for a poker table that you'll use for a few games, and then it'll just sit there collecting dust.
It really doesn't make much sense to spend big bucks on a quality table that won't be used.
On the other hand, if you've had a home game going for years and you're ready to take things to the next level, you're better off spending a bit more money right off the bat. If you go for a cheap solution and aren't happy with it, you'll just add extra costs and complicate things unnecessarily.
How to Choose the Best Poker Table for You
Now that we've covered all the important details, we can move on to the final bit – actually choosing the best poker table for you. Luckily, these days you can buy pretty much anything online, and poker tables are no exception.
You can find the one you like, pay for it, and have it delivered to your home in a matter of weeks or even days.
There are pretty much countless options out there, but from my experience, BBO poker tables are the best you can get for your money. The brand offers a great range of products, and there is something for every requirement and every pocket.
Premium BBO Poker Tables
If you're looking for some premium options and don't mind paying the extra charge, BBO offers a great variety of oval and rounded poker tables alike.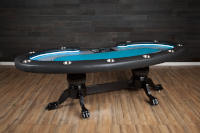 This is pretty much the best table money can buy. With futuristic looks and the LED strip on the inside of the table, it will turn your home games into an experience that even some real casinos can't match.
It will cost you a pretty penny, but it's worth it if you can afford it. It also comes with an optional dining top, so you can quickly turn your poker table into a regular one, bringing you the best of both worlds.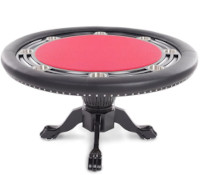 Check out the Nighthawk Poker Table if you prefer a round one but still want premium quality.
With 55 inches in diameter and the premium black gloss finish, this table will comfortably accommodate eight players. It's another more expensive option, but it will add a touch of style to your home game and will definitely have your guests wanting to come back for more.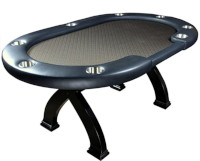 Another premium option for those lacking space or hosting smaller games, X2 Mini Poker Table can comfortably host eight players (including the dealer).
You can choose between variations with and without the chip tray, so you need to figure out if you're more concerned about the convenience or if you need more poker felt space.
Foldable Poker Tables
In case you don't need a premium poker table, don't have a budget for it, or a foldable poker table works better for your situation, we have a few suggestions that you're going to like.
Aces Pro Tournament Poker Table – buy here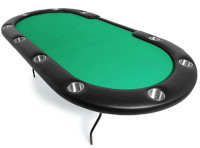 Although not the cheapest out there, the Aces Pro table from BBO is a great option if you're looking for a sturdy and spacious foldable poker table.
It can comfortably accommodate ten players and a dealer, making it a top choice for everyone looking to host larger home games, especially sit and goes. Strong metal legs can be easily folded, making it a very convenient choice if you lack space and can't have the table hanging in the middle of the room all the time.
Ultimate Jr. Folding Poker Table – buy here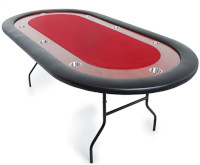 If you need a solid foldable table that you can trust but don't need as much space, the Ultimate Jr. Folding Poker Table is right up your alley.
Featuring foldable steel legs and a reinforced wooden frame, the table can accommodate up to eight players, making it a great choice for smaller home games.
Poker Table Tops
Finally, if you're on a really tight budget or simply don't require any of the more expensive solutions, there is a nice selection of poker table tops out there as well.
VIVOHOME Foldable Poker Tabletop – buy here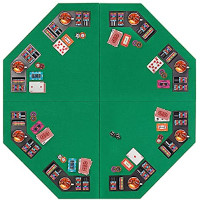 This simple tabletop is meant for games with up to eight players.
Designed using the four-fold technique, this top is very easy to handle and store once you're done playing, making it a great choice for anyone who really struggles with the space. Featuring an octagonal shape and quality felt, this table offers a nice feel and promises many enjoyable poker nights.
Gameland Texas Hold'em Poker Mat – buy here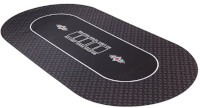 Made out of rubber foam, this foldable tabletop can be rolled up and stored pretty much anywhere. The rubber bottom of the top holds it safely in place and prevents it from slipping off the surface you place it on.
You'll even get a carrying case to go along in case you want to take your home game with you on the road.
Poker Tables Summary – To Buy or Not to Buy?
Having read this extensive article on poker tables, you should have a pretty good idea of what options are available to you and the advantages and disadvantages of these different options.
Ultimately, it's your decision whether you need a real poker table at all and what type fits your needs the best.
I'll wrap up by saying that a nice poker table really changes the whole home game experience.
For some reason, playing on the actual poker felt makes the game feel so much more serious than when you play on a plain old kitchen table.
Do you absolutely need a poker table to have fun? No. But having one will definitely help you have much more fun and fully enjoy the time spent playing poker, guaranteed!
With that out of the way, you might want to check an article about poker chip values and pick the right set to go along your new table!