Poker Chips Set – How to Choose the Best Option for You
14 minutes
Last Updated: February 27, 2022
Poker Chips Set – How to Choose the Best Option for You
Setting up a perfect home game isn't easy. There is so much to think about to make sure everyone's happy, and your game doesn't break up too soon.
In the myriad of different things, you have to consider, finding the right poker chip set is certainly high on the list.
Back in the day, home games were played using metal coins and paper bills, but this has been the thing of the past for quite some time.
If you're running a home game, everyone you invite will expect to play with poker chips. They're almost as important as a new deck of cards for your game to run smoothly and help players get in the zone.
But finding the best poker chips for your particular setup is a challenge of its own. You have to think primarily about what kind of a game you're running (tournament or cash game), as this will help you determine what kind of poker chip values your needs.
Then, you also need to consider the number of players and how many actual chips you need to have handy.
Once you've figured these things out, you need to decide what kind of quality you're happy with. From very simple and low-quality plastic ones to beautiful ceramic poker chips, the range of options will help you find the best that suits you the most.
All of them will do the job, but higher quality poker chips certainly help create a more serious atmosphere and get players more involved with the game.
Here are our top recommendations, and while we will earn affiliate commission on qualifying purchases, we only recommend what we believe are the best options. Take a look yourself.
BEST POKER CHIPS FOR TOURNAMENTS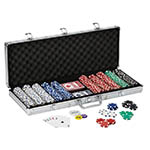 500 high-quality 11.5-gram chips without any values, so that you can easily adjust your structure based on the changing blind levels in your games. Create a top-notch MTT experience for everyone!
Also includes: chip case, card decks, dealer, and blinds buttons.
BEST POKER CHIP SET FOR CASH GAMES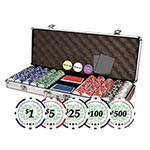 A poker set of
500 high-quality 11.5-gram chips with value numbers, so that you could make your cash game session a breaze and avoid any missunderstandings on the way. Play like the PROS!
Also includes: chip case, card decks, dealer, and blinds buttons.
BEST PREMIUM CERAMIC POKER CHIPS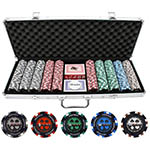 500 premium 13.5-gram ceramic poker chips with various denominations. Feel auhentinc casino expierence at your own home, and surprise your friends with high-stakes chips quality.
Also includes: chip case, card decks, dealer button, dices.
Getting The Best Poker Chips for Your Needs
Now that you know where to buy poker chips and what are some of the best options out there, you need to figure out what kind of setup will work best for your particular game.
Plastic Poker Chips vs Ceramic
To an experienced player, there is a big difference between plastic and ceramic poker chips, but a casual who's never been to a casino or a poker room may not appreciate this difference.
As the one organizing the game, you're in charge of figuring these things out and deciding just how much you should spend on setting everything up.
Ceramic poker chips are much more expensive than their plastic counterparts, but it is surely worth the investment.
Remember, you are not going to be buying these often, so it is better to pay a few $ more to get that quality fealing in your games, no matter which poker format you are planning to play.
Number Of Pieces In Your Poker Chips Set
You also need to figure out what kind of a poker chip set you need in terms of the number of chips.
If you're uncertain, I'd suggest going with the standard 500-chip package as this will cover the needs of most home games out there.
You don't really need a 1,000-piece set if you're only running a single-table game, and options with 200 pieces can leave you short on chips once the game gets deeper as the night moves on.
Blank Poker Chips versus Ones With Numbers
The final consideration is whether to go with blank poker chips or the ones that have imprinted or engraved values.
While blank poker chips do give you more freedom to assign them different poker chip values at will, I'd say that having values is a better option, especially for a cash game.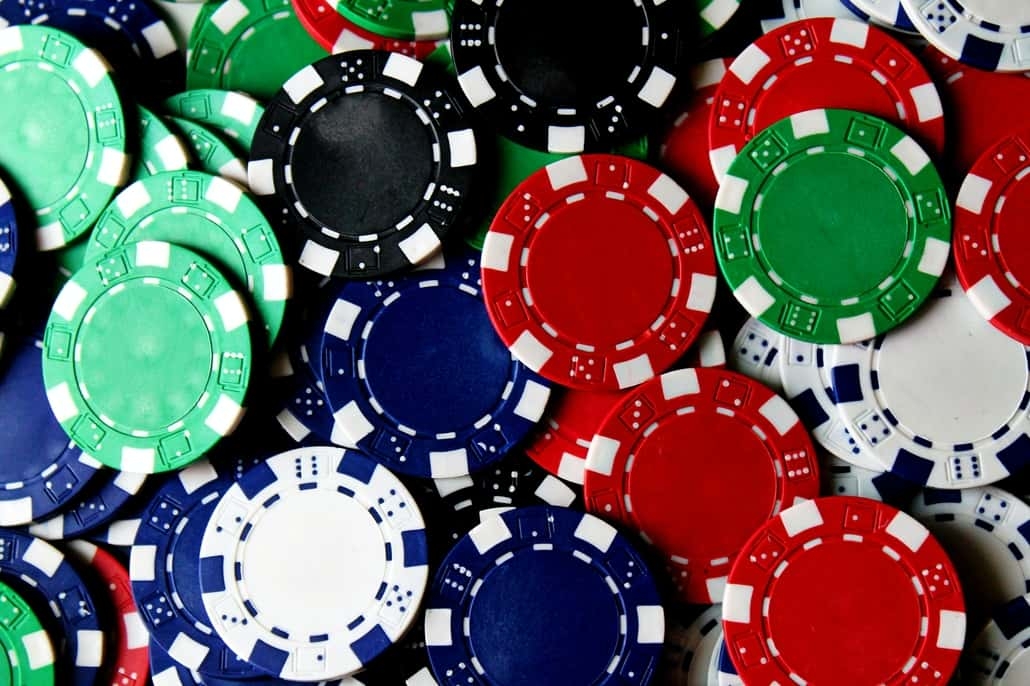 It's not really that difficult to remember values for several different colors, but you just know it will create some unnecessary problems every now and then.
Furthermore, if you run a game where new players join from time to time, it'll be much easier for them if there are actual poker chip values clearly visible on the chips.
If you're just running tournaments, though, maybe going with blank poker chips isn't such a bad idea.
Since you'll usually have poker software running on your computer to track the blinds, you'll also have an option to display chip values for different colors. In that case, players will always have a way to check out what a particular color is worth, and it inevitably gives you more freedom.
The Importance of a Poker Chip Case
Not all home games are created equal. Sometimes, you might be the only one hosting poker nights at your home or at a different venue that never changes.
Sometimes, however, your home game will move around as there will be a different player hosting it every time. Since it doesn't make much sense to buy ten different poker chip sets, you'll probably have to move the one set around.
This is why you need to think about a poker chip case as well when figuring out your options.
If you know there'll be a lot of moving around, you'll want a set that comes with a sturdy and easy-to-carry poker chip case.
Most poker chips come in aluminum cases that look like briefcases and are easy to carry around. Some of them even have small locks, which is quite handy as it removes the chance of the case accidentally opening and chips spilling all over the place during the transport.
If you're planning to move your game around a lot, you probably shouldn't go for a single option of 1,000 chips, either.
While this may seem convenient, most poker chip cases just aren't built well enough to last long in these circumstances.
This amount of chips is very heavy, and don't be surprised if the handle on your case just falls off at some point. And this isn't even considering the fact carrying 1,000 chips around is quite a physical effort.
On the other hand, if your game is fixed and you don't have the need to move chips from one place to another, you can always opt for a fine poker chip case that will add some class to your home game.
Transparent or wooden cube-shaped boxed look cool, and home games are about creating the awesome atmosphere just as much as they're about playing poker.
All of this may not seem like a big deal, but since you'll be dishing out some money for the chips as it is, you're better off thinking about all the options ahead of time.
It makes sense to pay a bit more for a set that comes with the kind of a poker chip case that you need right away than buying an option that doesn't work for you and banging your head against the wall to figure out an alternative.
Best Poker Chips For You
One of the first obstacles you may encounter is actually figuring out where to buy poker chips. If you're living in a major city, you might have some local options available to you, but even then, you are unlikely to find the best options.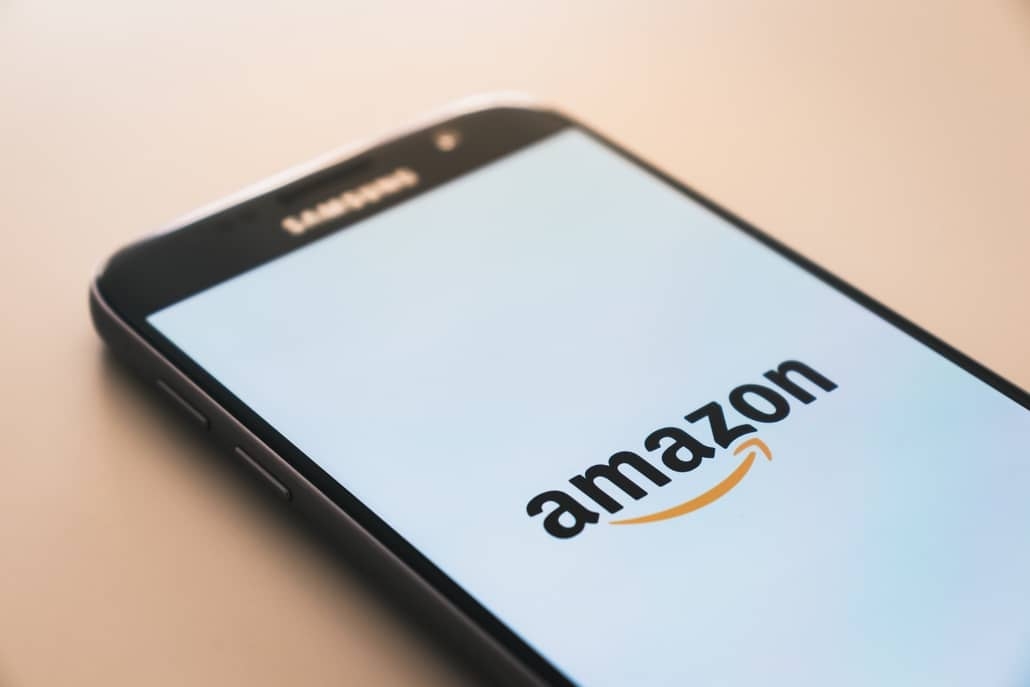 Luckily, you can find everything online these days, and there is a nice selection of poker chips that should do the trick for almost every poker game.
Fat Cat Poker Chips – (buy here)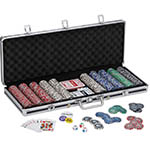 If you aren't particularly demanding, the Fat Cat poker chip set should do the trick. It features 500 11.5 gram chips stored in an aluminum case.
You'll get several different colors, but there are no poker chip values printed on the surface, so this is a multi-purpose set. It's probably better suited for tournaments than cash games, though.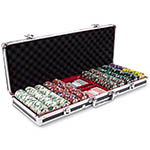 The Claysmith Gaming set is an option for those who want a more authentic casino feeling. It comes with 500 pieces of different colors with denominations from $1 to $5,000.
Weighing 13.5 grams each, they have a much sturdier feel to them, and you'll definitely enjoy playing with them more. You also get a sturdy aluminum poker chip case, a dealer button, and two packs of cards.
Da Vinci Poker Chip Set – (buy here)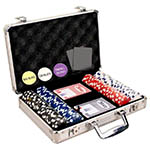 The Da Vinci poker set is a smaller set perfect for those just starting to experiment with home games.
It contains 200 poker chips of 11.5 grams, and it's quite similar to the above options. With no imprinted or engraved poker chip values, it can be used in different settings and for different types of games.
If you never had any poker chip case, you can test the waters with this small one.
Pro Clay Poker Chips – (buy here)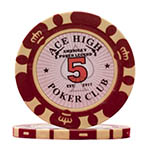 What a chip feels like in your hand really matters, especially for more experienced poker aficionados. With the Pro Clay poker chip-set, you can take things to the next level.
Packed in a reinforced leather case and made of composite clay, these chips feel really nice in your hand. You'll get 320 pieces marked with poker chip values from 1 to 1,000.
Trademark Poker Set – (buy here)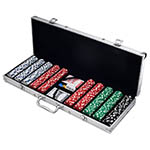 The Trademark Poker chip set is another solid option that helps you set up a nice poker night without breaking the bank.
The poker chip case made of aluminum comes with 500 standard 11.5 grams chips in different colors and with no chip values, so you can easily adjust it to work for various MTT stages.
You'll get two decks of playing cards, a dealer button, and blinds' markers as well.
JP Commerce Poker Chips – (buy here)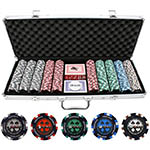 One of the coolest looking poker chip sets on this list, JP Commerce set comes with 500 chips in different colors and with denominations between 1 and 100.
Chips are somewhat sturdier, being 13.5 grams.
Since these chips has different denominations written all over it, they're clearly better suited for cash games than tournaments.
Brybelly 1,000 Poker Chip Set – (buy here)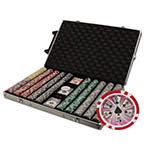 For those who require more, there is this very nice poker chip set from Brybelly. It contains 1,000 chips in several different colors and poker chip values ranging from 1 to 10,000.
These are 14 grams chips as well, so you'll get that professional feeling with this set. Chips are stored in a transparent poker chip case so you can show them off as well. Of course, this one isn't cheap, but if you run a serious home game regularly, it will be a worthwhile investment.
Best Poker Chips You Can Get: Taking Things to the Next Level
For some, home games are just about having a few friends over and playing some cards over a few beers. Some, however, take great pride in their games and want only what's best – including the best poker chips out there.
The options I've described so far will do the trick for a majority of people.
Once you figure out what kind of a game you want to run, you'll be able to find a perfect poker chip set without too much fuss and without breaking the bank.
But, if you want to make an impression, you can take things to the next level with custom poker chips.
Monte Carlo Poker Chips – (buy here)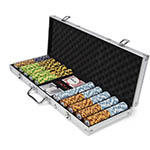 Monte Carlo poker chips are one of the best-known brands out there. These chips are quite expensive, and to get a full set, you'll have to be prepared to pay a fair bit of money.
In exchange, though, you'll get nicely designed 14-gram clay poker chips that look and feel great.
Each chip features a three-tone design, which makes Monte Carlo poker chips really leave an impression when stacked at a table.
You have a variety of different denominations to choose from as well so you can get just the right setup for your game, be it a tournament, a small stakes friendly game, or a high stakes table where serious money exchanges hands.
Milano Poker Chips – (buy here)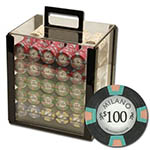 Milano poker chips are another great option for those who want to impress their players.
These clay poker chips also feature a multi-colored design and denominations ranging from 50 cents to $10,000.
With such a wide array of poker chip values, Milano poker chips will fit your needs just fine no matter what kind of a game you're running, and you will feel just like sitting in a real casino.
Collectible & Custom Poker Chips
In this day and age, poker chips have become more than just a tool used to play the game. You'll find many limited-edition, collectible poker chips out there as well.
Most people probably won't use these chips to set up a home game, but you could if you really wanted to.
If you're looking to make an impression on your friends, that ought to do it.
Harley Davidson Poker Chips

– (buy here)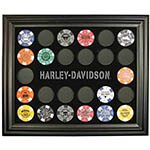 Harley Davidson is one of the biggest and best-known global brands that features heaps of different branded merchandise. Among other things, you'll find collectible Harley Davidson poker chips that both look and feel great.
Getting the full poker chip set to host a home game using these would cost a pretty penny, but having a home game played entirely with Harley Davidson poker chips would definitely get the word out.
Each chip alone can cost over $10, though, so make sure people aren't taking them home as memorabilia.
Nevada Jacks Poker Chips – (buy here)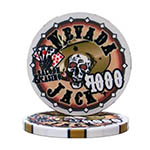 Another way to stand out and make an impression is by getting a poker chip set from Nevada Jacks.
Although it will cost you more than a more common set, it is guaranteed to improve the overall atmosphere in your game.
While you can get custom-made chips for your game, their most popular option is the Skull set, which really looks awesome.
These are casino-grade, ceramic poker chips in different colors with the image and poker chip values engraved in the chip. Stacking chips is always good, but stacking a pile of these chips is something else entirely.
Las Vegas Poker Chips – (buy here)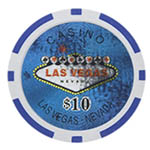 You can also get a variety of Las Vegas poker chips if you happen to visit. Some casinos will sell poker chips in their stores, and your players are going to love them.
These Las Vegas poker chips traditionally have standardized values, with the blue ones being $1, reds are $5, green chips are traditionally worth $25, blacks are $100s, purple poker chips are worth $500, and the orange ones often called pumpkins, are $1,000.
You can't go wrong with the style of Las Vegas, can you?
Poker Chip Ball Markers – (buy here)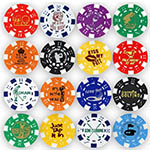 A trend among golfers as of late has been to mark their golf ball using a poker chip.
The industry has picked up on it, and there is now a variety of poker chip ball markers you can get.
You don't even have to play golf to want one of these is there are some pretty cool-looking poker chip ball markers that you may want to use a card-protector or your lucky charm.
Poker Chips – The Final Thoughts
Picking up the best poker chips for your particular home game is very important. Depending on the structure of your game, poker players will appreciate your effort, and real fans will enjoy the opportunity to play with clay poker chips instead of plastic ones.
It may not seem like a big difference, but having happy and satisfied players at a table is crucial for the longevity of your game.
Hopefully, this article has helped you figure out what it is that you need to pay attention to when picking poker chips and poker chip sets.
There is definitely a lot to consider, so take your time before you order your poker chips. Once they arrive, shipping them back can be a proper nightmare, and it's often not feasible, so you'll be stuck with a poker chip set you don't like.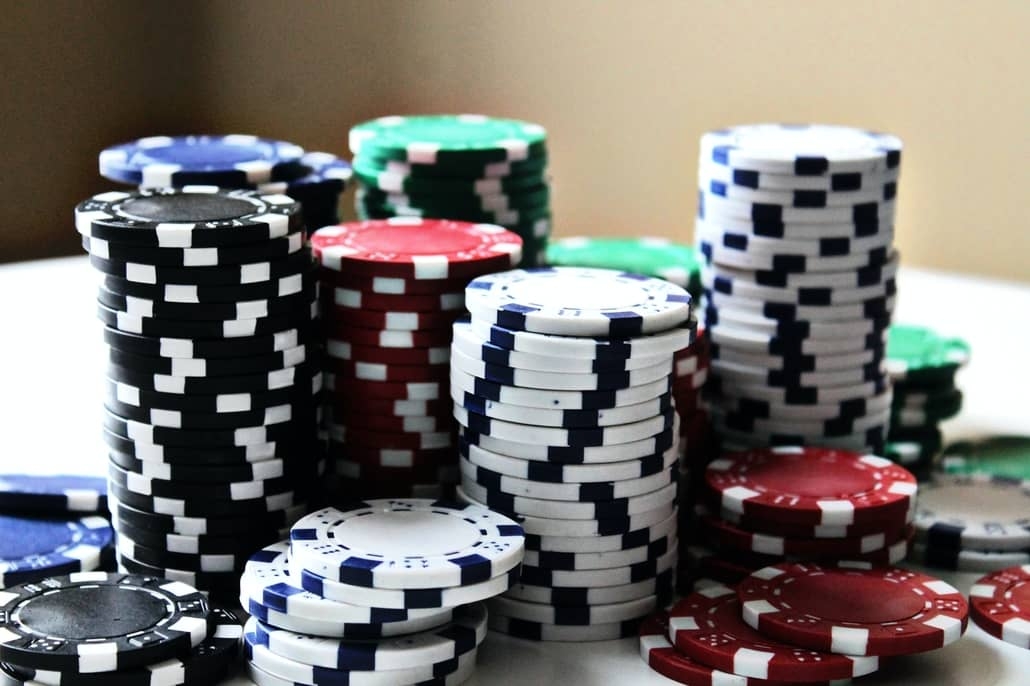 One final thing to think about when picking chips for your home game is that you probably don't want to buy a set that's available in a local store. Even if they're good quality chips, everyone in your game has access to them. The last thing you want is for the extra chips to start appearing at the tables, as this will definitely create a lot of drama.
It's nice to believe that everyone in your game is fair and honest, but a bit of caution goes a long way. And it does not matter if you are playing poker for a living or just recreationally, it is better to be safe than sorry.