Play Online Poker With Friends – How To Find The Best Option For You
Play Online Poker With Friends – How To Find The Best Option For You
One of the best things about poker is that it lets you play with people from all over the world, with never stopping action.
But sometimes, you just want to play online poker with friends and not have any strangers at the tables.
Many of those who regularly play poker in brick-and-mortar venues also take part in home games.
They don't do it for the lack of action but because playing poker with friends is a completely different experience focused more on relaxing and having fun than making money.
Setting up live games can be quite difficult even in the best of times as the people you'd like to invite may be living in a different city, country, or on a different continent altogether.
The solution to that problem is playing online poker with friends, and this article will teach you how to do it right.
These days, you have many available options when it comes to setting up private games. Whether you're into cash games or tournaments, you'll have no problems setting things up just the way you want them to be.
How to Play Online Poker With Friends?
You probably know how to play online poker in general. You log in to your favorite room, look for a table with an empty seat or a tournament with open registration, and jump straight in. But, how do you go about creating a game that only allows selected players?
What you'll need to do is create a private club or game on one of the popular platforms like PokerStars, 888poker, or partypoker. The process is quite simple and explained in detail in the article.
The main thing to know is that most private games will let you set them up as either real money or play money games.
So, you should decide depending on your particular situation.
Poker with friends for real money
If you want to play for real money, all players will have to make a deposit and only play with the actual funds they transfer onto the site.
This might not be an option for everyone, though, for any number of reasons.
Some of your friends might be living in an area that does not allow access to a certain room you want to use for your games. They might not have online banking options to deposit funds, or one of many other things can stand in the way.
If that is the case, you can try play money option instead of playing for real cash.
Play online poker with friends for free
If you go with the play money option, everyone can join the action as they can get free chips from the room, or you can distribute them as you wish as the club owner.
Of course, most people who enjoy poker need to have at least some money on the line for the game to be entertaining.
So, if you go with the play money option, you can always agree on the real money chip values and settle the score after the game.
This is probably the simplest way to play online poker with friends and have fun, but it also comes with some risks.
For this model to work, you'll need a group of people who are really trustworthy and stick to their word.
If a few players are constantly avoiding to pay what they owe, this can hurt the atmosphere of the games even if monetary amounts aren't that big.
Cash Games or Tournaments?
The first thing you'll want to figure out is whether you want to set up cash games or tournaments. This really gets down to what you and your poker friends prefer.
Tournaments are good because most apps will let you set them up with a free or play money buy-in, so everyone will be able to join.
Also, tournaments might offer more fun because of that competitive element that you don't get with cash games.
On the other hand, once you're out of a tournament, you're done.
This isn't great for those who bust out early as they'll have nothing to do while waiting for the game to finish.
Cash games are a more liberal option to play poker online with your friends.
You can never bust from a cash game. If someone gives you a poker cooler and stacks you, you can always get more chips and keep playing.
At the same time, if you're just playing for chips and not for money, people might not care about playing good poker and just play every hand, knowing they can always reload should they lose.
It's up to you as the organizer to figure out these things.
It depends a lot on who your poker buddies are and how serious they are about the game. The good thing is, you don't have to get it right on the first try. Learn from the experience and switch things around a bit for the next session if necessary.
So, with these initial tips out of the way, how do you actually go about playing free online poker with friends?
Play Poker With Friends via PokerStars Home Games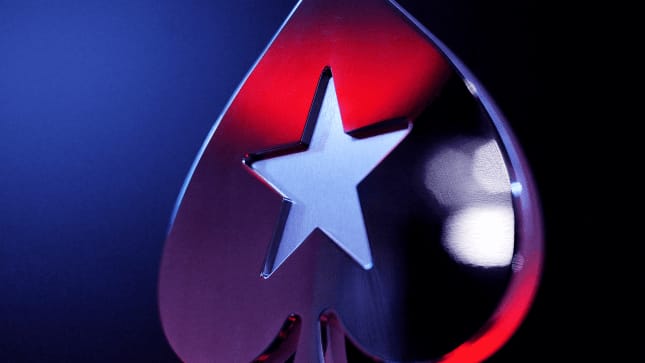 PokerStars remains the number one online poker provider worldwide – and for a reason. Their software provides everything a player could ask for, including a very convenient way to play poker with friends at no cost.
The feature is known as PokerStars Home Games, and it gives you a lot of freedom to create a poker game to your liking.
First of all, you can choose between cash games and tournaments. It's up to you if you want to play some poker hands over a short cash game session or set up a long tournament that will likely take a few hours to complete.
There are many options at your disposal, especially when setting up tournaments, as you can adjust starting stacks, level durations, and more.
PokerStars also lets you choose from many game variations besides Texas Hold'em, such as:
Omaha

(Omaha 8)
Badugi

Seven Card Stud

(Stud 8)
Deuce to Seven (Single and Triple Draw)
8 Game
Horse
All games can be played in real and play money formats as cash games and tournaments. The only exceptions are Omaha and Omaha 8 fixed limit cash games, which are only offered for play money.
Setting Up Your PokerStars Home Games Club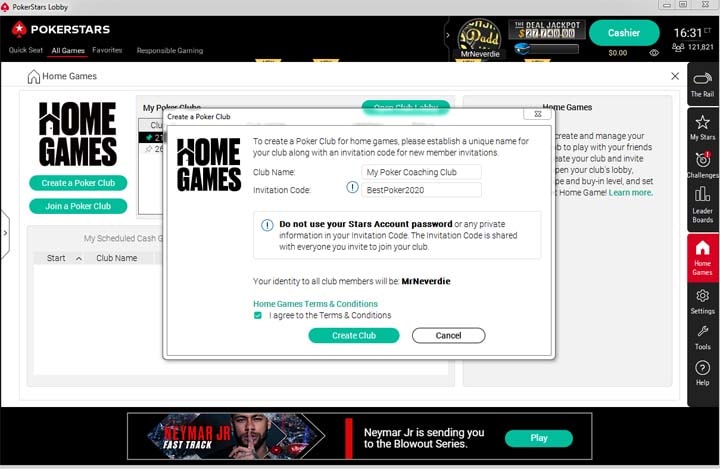 To be able to play poker with friends on PokerStars, the first thing you'll need to do is create your private club.
This is easily done via the "Home Games" button in the PokerStars client. Once you click it, it will open a new window where you'll be able to create a new club or join an existing one.
To create the club, you'll need to pick a cool name and an invitation code that you'll need to send to players you want to join the fun.
You'll also get a club ID, which will be sent to your email once the club has been created.
When inviting players, provide them with the Club ID to make it easier for them to find the club and the invitation code to grant them access.
Your club will be created immediately, and you'll be ready to start playing online poker with friends.
The club name is reviewed manually, so it can take a few days for it actually to appear, but that doesn't prevent you from setting up and playing games.
In your club lobby, you'll find several tabs giving you access to various options. The one you'll be most interested in is the one named "Manage Games."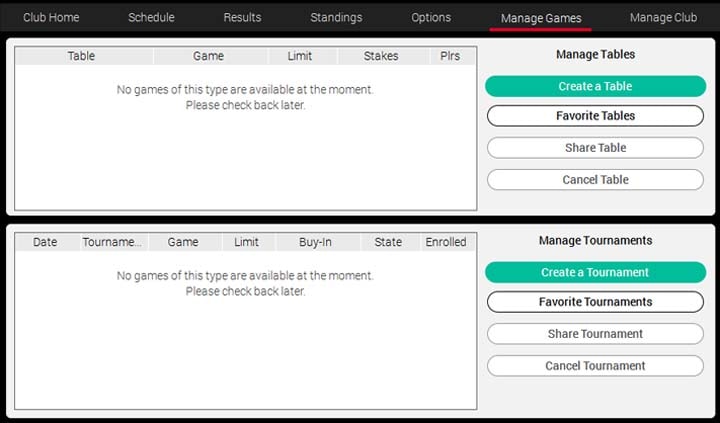 From this screen, you can set up any cash game tables or tournaments as you see fit.
For cash games, you can choose between real money games starting as low as $0.01/$0.02 and play money tables with minimum blinds of 50/100.
The number of seats depends on the particular game: 9, 6, or 2 for Hold'em, 8 for Stud, 6 for Five Card Draw, etc.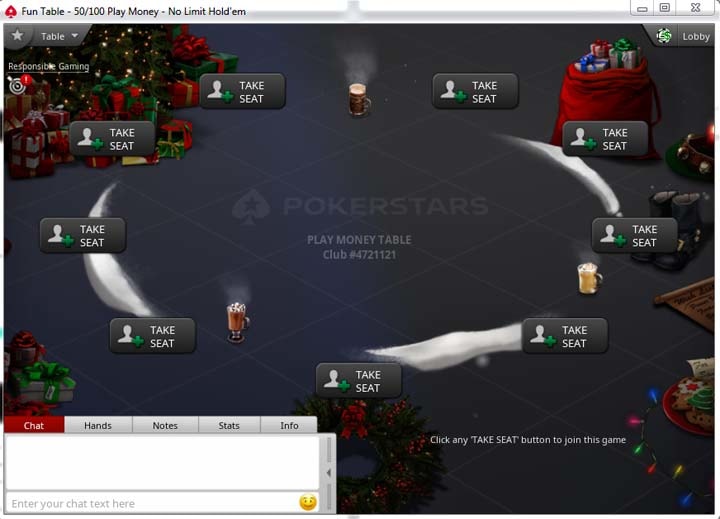 For tournaments, you'll have a great variety of options to set everything the way you want.
You'll be able to play poker with friends just the way you like it, and if you enjoy tournaments, you can set them up to be reoccurring events with a single click.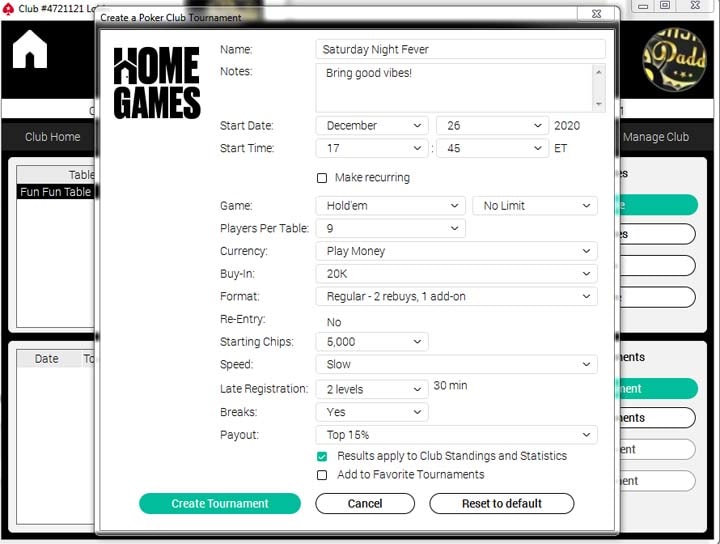 Once you create a cash game table or a tournament, you can easily share it with your Twitter followers with a single click, which is a very convenient option if you want to bring in some extra people and help your club grow.
How Do I Invite Friends to Join the Club?
Before you can play poker with friends on PokerStars, you'll need to invite them to join your club.
To do this, head over to the "Manage Club" tab and click on the "Invite New Members" green button.
This will provide you with a generic text you can copy to your clipboard and use in the email message (or whatever medium you choose to use) to invite your poker friends.
Of course, you don't have to use this message. You can write whatever you like but just leave the important bit in there:
The Club ID Number
The Invitation Code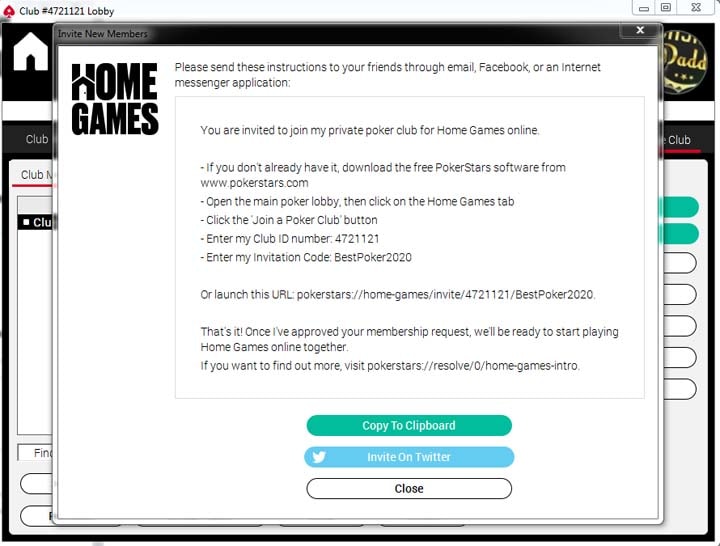 If you're sending out an invite via email, you can also include the provided link, which makes things a bit faster.
Clicking the link will open the PokerStars client and send the player straight to your club.
That's all there is to it!
You're ready to play free online poker with your friends as much as you want. It's worth mentioning that every time you create a new table or schedule a tournament, PokerStars will automatically send an email to all club members to let them know, saving you some time if you have a large club with a few dozen players.
Play With Friends via PokerStars App
PokerStars also offers a poker app to play with friends. Simply download the app to your device, and you'll be able to access home games.
This is a great function considering the nature of home games where many players are just looking to have fun and blow off some steam. They can hop in even if they're out and about, having a pint at their favorite pub.
Play Poker Online With Friends via 888poker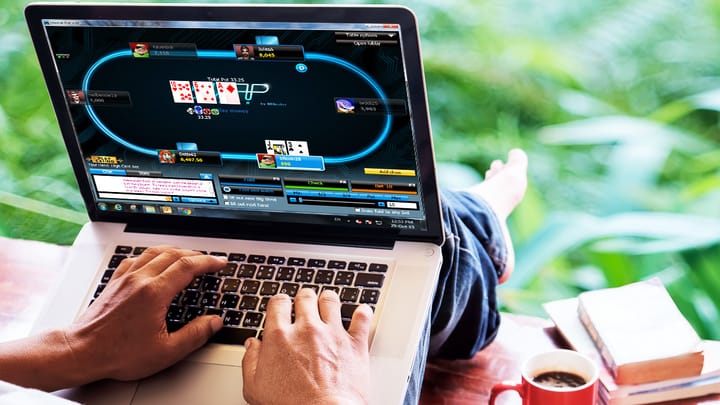 While PokerStars is probably the best option to play online poker with friends, it's not the only one. 888poker offers a similar feature, although it's not as advanced.
Setting up private games with 888poker is easy, and it shouldn't take you more than a few minutes to create a game to your liking.
You can choose between cash and tournaments, but 888poker is limited to just No-Limit Texas Hold'em.
You can only play with friends for real money on 888poker.
So, 888 doesn't give you as much flexibility, but it is still a decent option for most players as NLHE is the usual game of choice anyway.
That said, the fact you can't play for play money does make things a bit trickier and could be a limiting factor to some degree.
Setting Up a Private Game on 888poker
The process of actually setting up the game for you and your poker friends is somewhat quicker on 888 as you don't need to create a club. You can simply set up a game whenever you feel like it, which has its good and bad sides.
Having a club is a convenient option if you have a group of friends who want to play regularly as it makes things a bit easier to monitor and keep up with.
To start a private game on 888poker, simply navigate to the "Extra Games" menu in the 888 client and select the option "Play With Friends."
When you click the option, a new window will pop up, allowing you to choose between tournaments and cash games.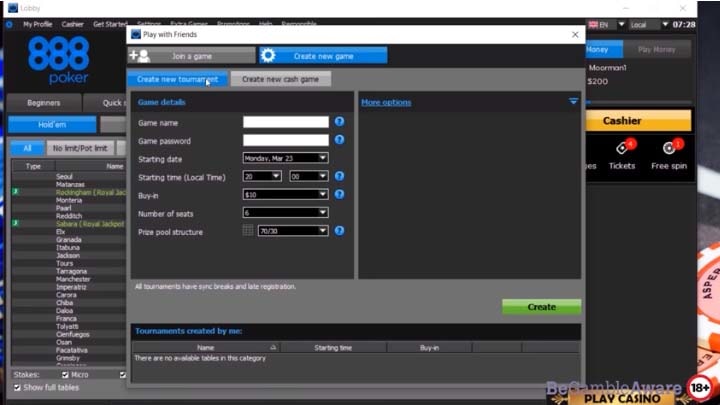 Tournaments can actually be set up as freerolls, i.e., requiring no buy-in, so that's a good alternative if not all of your poker buddies can make a real money deposit with 888.
You don't have as many options as on PokerStars, but you can:
select the date and time
choose from a few preset prize distribution patterns
set up the buy-in
and the number of seats per table
You'll also come up with the name for your tournament and a password. You'll need to provide this information to your poker buddies so they can join you.
The procedure is quite similar for cash tables.
Click on the "Create new cash game" button and input the information:
stakes
maximum buy-in
and the start time.
Give your table a name, set up the password you'd like to use, and you are good to go.
Inviting Your Friends to Play at 888
When your game is set up the way you want it, the final step is to invite some friends to join you for poker.
When you click "Create," a new window will pop up with all the important information about the game you've just set up:
Starting time
Buy-in / stakes
Table / game name
Password
Enter your email in the top field to send this information over to you. From there, you can choose how you want to invite your friends to play poker with you.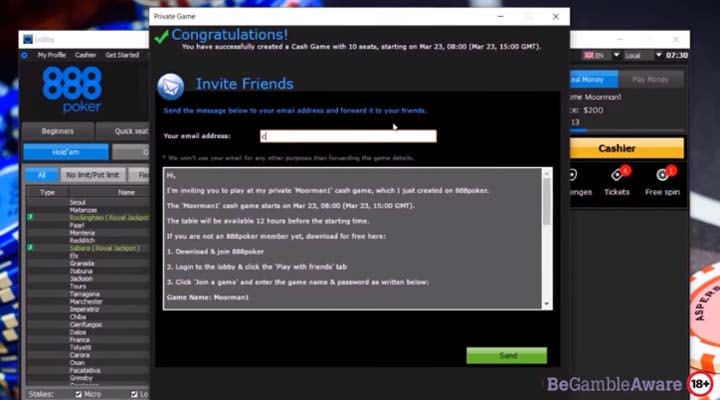 Send them an email invitation, let them know about the game via Facebook, hit them up on Viber or Whatsapp – it's up to you. Just give them the info they need (the game name and pass), and they'll be able to join.
Play on Your Phone
Due to popular demand, 888 has also extended its poker app to play with friends.
You can now access private games via the 888 mobile apps and play on the go.
So, you don't have to miss a poker session with friends if you're going out. You can do both!
Choose an Independent Poker App to Play With Friends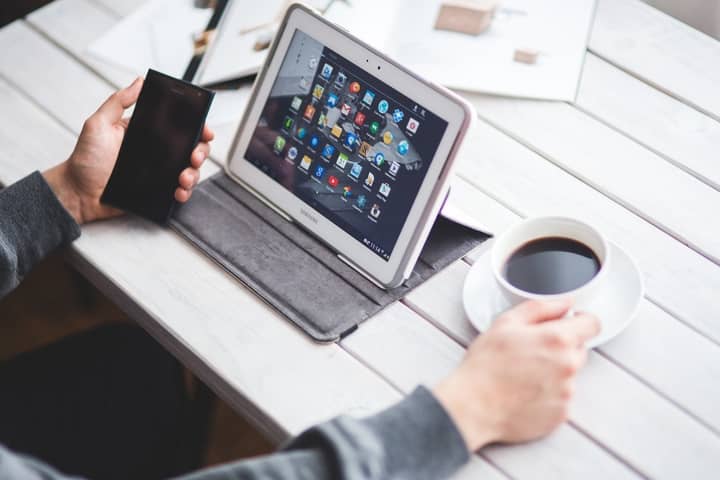 In addition to these big-name operators, you can also play free online poker with friends using one of many mobile apps out there. The poker software market has grown in recent years, so you have quite a few options to choose from.
Although they have different designs, all of these poker apps work on a very similar principle. They're free to use, require no deposits, and are designed to give you an easy way to play poker with friends.
A couple of names that come to mind are PPPoker and PokerBros, but there are others.
Basically, you can create your own poker club and only invite players you want to invite. No one else has access to your club.
If you just want to play with a few friends, setting up the club is usually free, but your options may be somewhat limited.
You can also pay a monthly fee to boost your status, which will give you much better options and remove many restrictions, allowing you to create better cash games and tournaments.
As the club owner, you're the one in charge of distributing poker chips. These apps don't take real money deposits, so you will have a certain amount of chips to work with and need to figure out how you want to deal with them.
If you throw an occasional game just for fun and there is no money involved, there is nothing to worry about.
However, if you want to add some skin to the game and somehow settle things after each game, it will be up to you as the club owner to figure it out.
There are some fairly large clubs on these apps with many players and almost non-stop action, but that's not the topic of this article.
If you want to play poker online with friends and 888 or PokerStars aren't viable options, you should look into one of these apps.
Even if you have to pay some money to make sure things run smoothly, it might be worth it as it allows you to set up home games that you and your friends are really going to enjoy.
How to Set Up a Private Club on PPPoker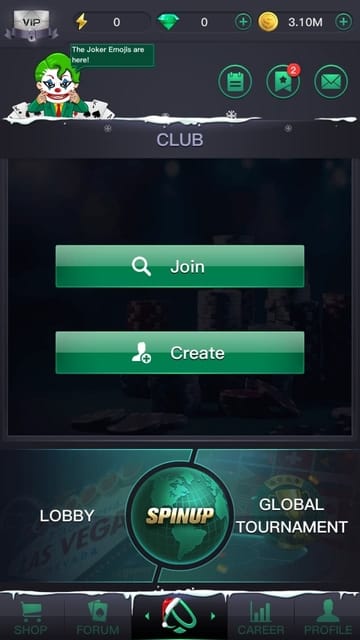 As explained, a majority of these apps to play poker with friends work in a similar fashion, so if you figure one out, you'll have a good idea of what to expect from any new ones.
Here's what the process would look like with PPPoker.
The first thing you need to do is download the app to your phone. You can do this by Googling the app name or looking for it in the respective store.
Since these aren't gambling apps, they aren't restricted, so you'll have no problems downloading and installing them.
Once that's done, simply create your player profile. With PPPoker, you don't even have to use an email to get the ball rolling. Just enter your user name and password you want to use, and you'll be good to go.
On the starting screen of the app, you'll see two green buttons under the heading "Club." If you want to create a new club of your own, tap the green "Create" button.
When you do this, a new screen will pop up, featuring your new club's information, which will have a random name assigned to it.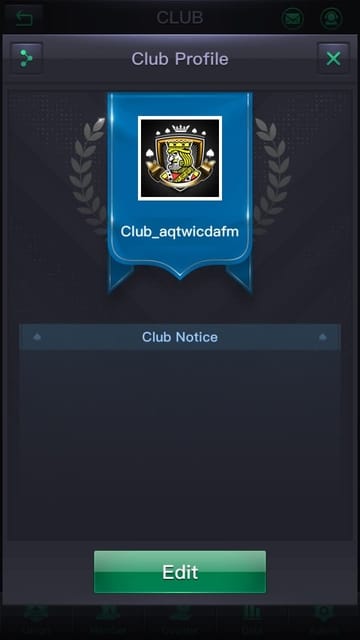 Tap the "Edit" button to access the Club Profile. Here, you can change the name of the club to whatever you want and input the description.
When you're done editing, tap "Save," and that's all there is to it.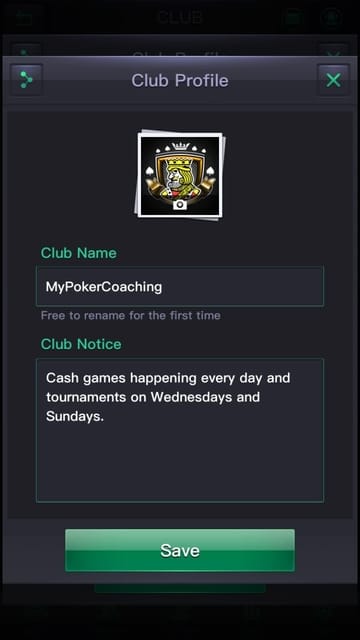 Your new club is set up and ready to go.
To play poker with your friends, they'll need to download and install the app as well and then search for your club by the ID number listed just below the club name.
Send them the ID so they can request to join, approve their request, and they'll be in.
As the club admin, you have quite a few options to set up cash games and tournaments to your liking.
Also, you're the only one who can issue chips to the players, and with the free club, you'll have 10,000 chips to work with.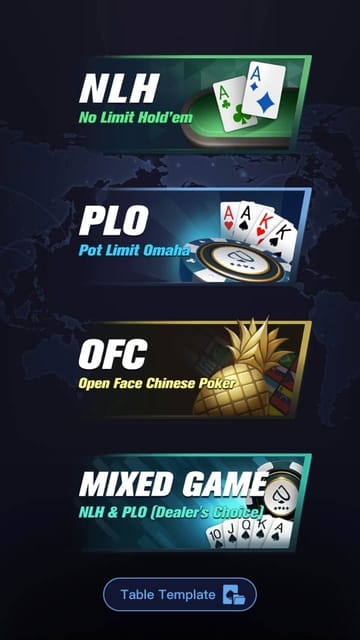 These are basically playing funds that players in the club will use to play cash games and enter tournaments. You have full control over these funds, so you can make sure everyone has an equal number of buy-ins to start with (if you're setting up a cash game).
If you want to throw a tournament, the app actually gives you a great number of options to make the game the way you want it to be.
You can set up starting chip stacks, level durations, rebuy and addon rules, late registration, etc.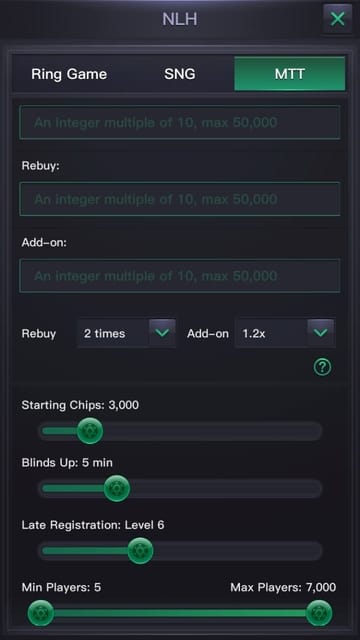 If you want to play poker with friends and do it primarily via phone, an app like PPPoker is probably the best solution.
You have all the options you could possibly need, and the list of game variations is constantly upgraded (NLHE, PLO, PLO5, PLO6, OFC, etc.).
The only slight problem that's present with PPPoker specifically is that the connection can sometimes be a bit shaky.
Every now and again, you might be disconnected for a few seconds for no apparent reason, which is a bit annoying but shouldn't influence the overall experience that much.
Summary: Have Fun Playing Poker Online With Friends
If you've been wondering how to play free online poker with friends, this article should answer all of your questions and provides actionable tips.
The ability to set up private games and only play the people you want to play is quite convenient.
Sometimes, you don't feel like chasing after good games or waiting in line to get your seat at a juicy table.
Sometimes, you just want to play some hands with your buddies, and that's all there is to it.
If you've been thinking about setting something up but just didn't know where to start, this article gives you all the info you need. The rest is up to you.
Get the ball rolling and send out some invites for the next game. In the meantime, check out some quality poker tips to get in shape and start your poker with friends tradition in style – by booking a nice win!