WSOP Free Chips: Find The Best Ways To Get Your Free WSOP Chips
8 minutes
Last Updated: September 2, 2021
The World Series of Poker needs no introduction. The largest yearly poker event gathers thousands of players every year, giving them an opportunity to compete for coveted golden bracelets.
However, if you want to feel the buzz and the excitement of the poker environment without actually going to Vegas or putting any money on the line, the WSOP app is your best bet.
This is an official World Series of Poker mobile app available for iPhones and Androids. You can download it for free from the respective store, and you don't need to deposit any funds to get started.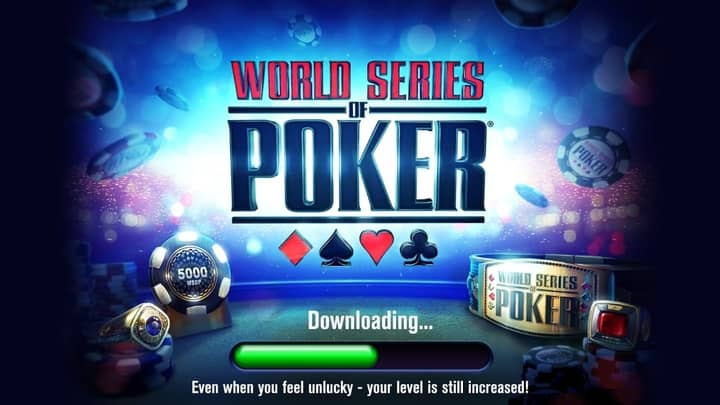 WSOP offers a free poker app based entirely on play money.
Chips you win playing on cash game tables and in tournaments are used to track your progress and can give you some bragging rights among your friends, but you can't exchange them for real money.
The WSOP mobile app does contain in-app purchases, and you can quickly boost your bankroll by buying more chips, which will cost you real money.
If you don't like the idea of spending money on virtual chips, though, don't worry.
There are many ways to get your hands on WSOP free chips, and you'll find out all about them in this article.
The design of the WSOP app is quite decent, featuring a lot of bright colors and flashy lights to bring out that Vegas feeling. However, pop-up ads constantly inviting you to buy more chips aren't nearly as fun, and it'll take you some time to get used to them.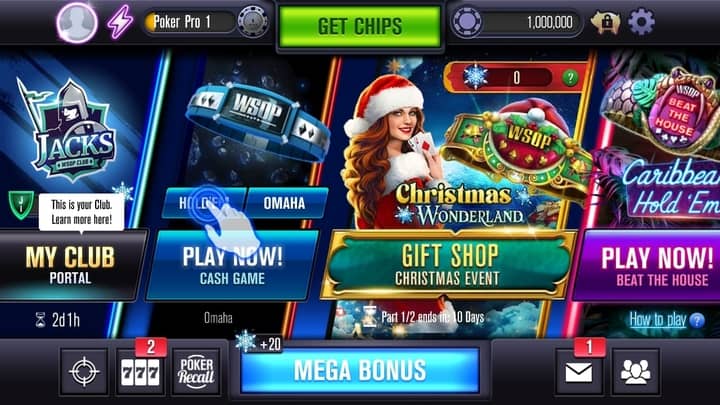 Overall, if you're looking to play some free poker, the WSOP app is a good choice as there is plenty of action at cash game tables and many different tournaments with progressive buy-ins and corresponding prize pools.
That said, many players find the idea of paying money to top up their virtual bankroll not so attractive. If you're one of these players, you've come to the right place because you'll learn about all the different ways you can get your hands on WSOP free chips without spending a single cent.
Free Chips for WSOP: Get Started with $1 Million WSOP Free Chips Promo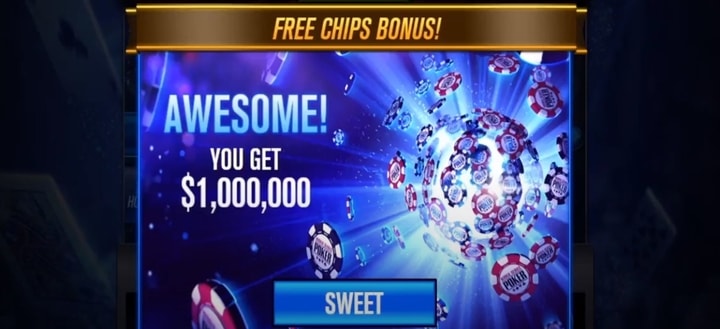 If you're a new player downloading and signing up for the WSOP app, you'll receive 1 million WSOP free chips to get you started.
All you need to do is install the app on your phone and register an account. The app offers two ways to go about this:
You can use your existing Facebook account to log in
Register via email
Using Facebook is definitely the easier and quicker option of the two, but if you want to keep your online poker identity hidden (for whatever reason), you can also use an email address.
Either way, you'll receive your $1,000,000 WSOP free chips to get you started.
This may sound like a lot, but it really isn't. The minimum stakes you can play on the WSOP.com app are 5K / 10K, which gives you ten standard buy-ins. The maximum buy-in is over 1 million, so it's really not a lot.
In terms of tournaments, it will get you into the first leg of the Champions Circuit with the buy-in of $250,000 chips.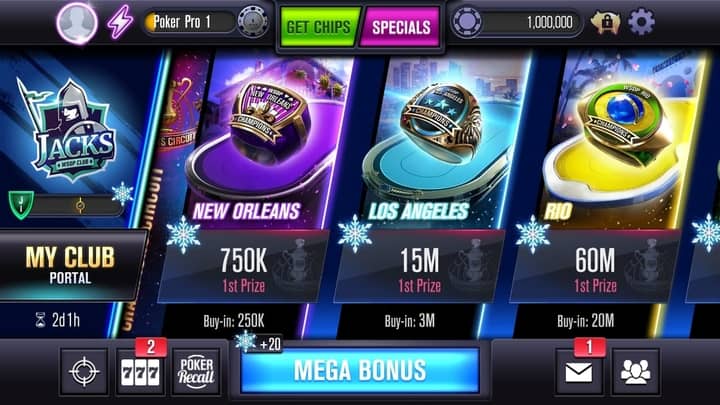 The next one will cost you $3,000,000 to enter, so, in addition to your efforts on the tables, you'll need some extra ways to get your hands on free WSOP chips.
Mega Bonus Wheel
After you claim your $1 million free WSOP chips, you can get more without having to put in any extra work.
On the home screen of the app, you'll see a red "Mega Bonus" button. It will take you to a wheel that you get to spin to receive your special reward.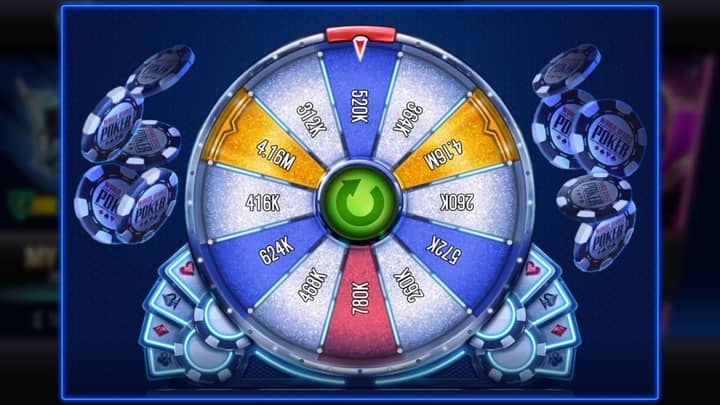 How many WSOP free chips you'll get from the Bonus Wheel is down to luck as there are different amounts on there, from a couple of hundred to a few million.
You'll receive a free bonus spin from time to time, and make sure to get it as this is a very nice way to boost your WSOP bankroll with no special efforts.
As you make progress and move up in ranks, prizes on the Bonus Wheel will increase as well.
Receive WSOP Free Chips Every Four Hours
You can get free chips for WSOP several times a day by simply logging into the app every four hours.
Of course, it also works if you're logged in for extended periods of time, as you'll receive your rewards regardless.
The amount of chips you'll get depends on your WSOP status, i.e., what club you're in.
There are six different clubs, and you progress from one to the next by being active on the app and playing in ring games and tournaments.
Of course, to progress through the clubs, you'll need to put in some serious volume of poker hands, but it's well worth your efforts.
As you move up and gain access to higher clubs, you'll have access to heaps of free WSOP chips, giving you a chance to build your bankroll much faster and play in higher stakes games.
These games don't just offer better rewards, but the quality of play is higher, so you'll probably enjoy the experience more.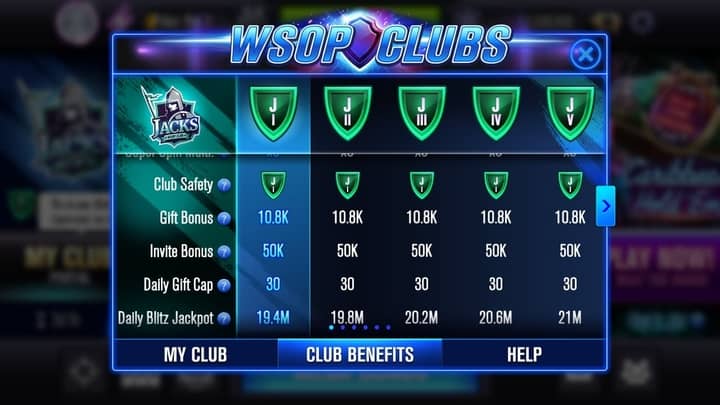 Invite Friends to Join
Another easy way to earn some free WSOP chips quickly is by inviting other players to join. If someone accepts your invitation, downloads the app, and signs up, you'll receive an instant bonus added to your account.
The amount you get is also dependent on your club status:
Get Free Chips for WSOP via Special Promo Codes
If you're really intent on boosting your virtual bankroll on the WSOP app, you can find a variety of WSOP codes for chips. These can grant you different amounts of free chips depending on the particular promotion, but there are quite a few floating out there.
When you find a WSOP free chips promo code, simply open the app and tap the green "Get Chips" button. In the window that pops up, you'll see the "REDEEM" button.
Tap it, input the WSOP promo code in the provided field, and you'll be good to go.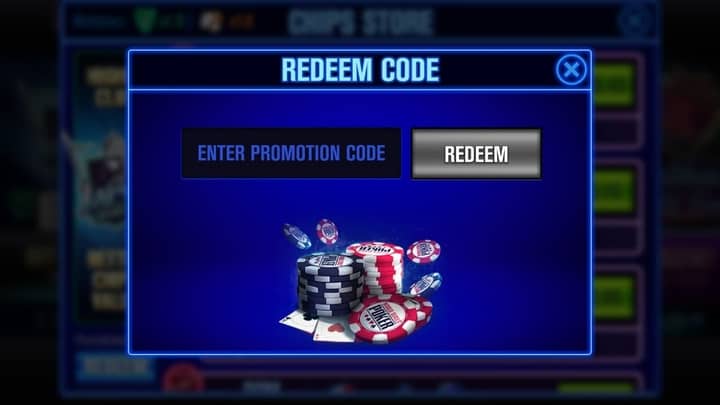 If the code is valid, your WSOP free chips will be added immediately.
If you're not sure where to start hunting for these codes, the WSOP app official Facebook page is a good place to start.
The page is regularly updated with any new promos happening at the moment, so you can be pretty sure you won't miss out on anything.
Receive Gifts for Even More Free WSOP Chips
A cool way to get some extra free chips for WSOP is through receiving gifts from your friends. The more friends you have, the better, as each of them can send you a daily gift.
The exact number of chips you'll get from the gift depends on your club status.
Your friends can send you daily WSOP free chips ranging from 10.8k if you're in Jacks Club to 54k if you're a member of Grand Masters.
Of course, if you expect others to send you chips, you need to return the favor in kind. Take a few minutes every day before you start playing to send gifts to your friends and boost their bankroll.
That will get your name on their "good" list.
If you do things right and create a long list of friends, this is one of the best ways to get heaps of WSOP free chips without too much hassle.
Complete WSOP Daily Missions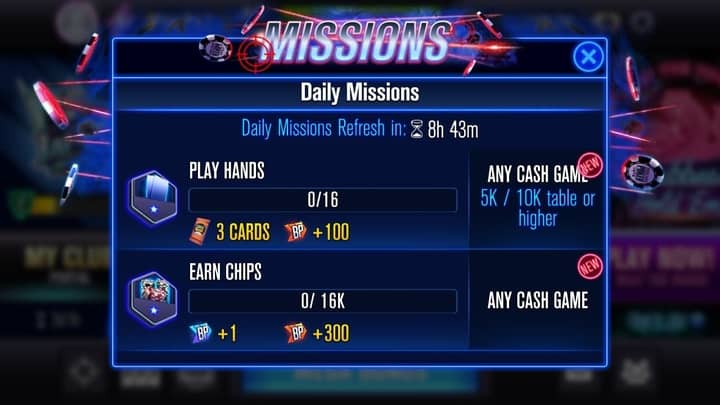 Every day, you'll have new missions waiting in your WSOP app. These are standard missions you'd expect to see in a poker app, like:
Playing a certain number of hands
Knocking out other players
Winning with a particular hand, etc.
Most of these you'll progress through as you play anyways, but you should always check the Daily Missions' area to see if there are some special tasks that require you to focus on them.
Completing Daily Missions is another great way of earning free chips for WSOP without damaging your overall gaming experience.
If anything, it will add to it as these missions give you particular goals to strive for every single day.
Play the Poker Recall Game for More Free WSOP Chips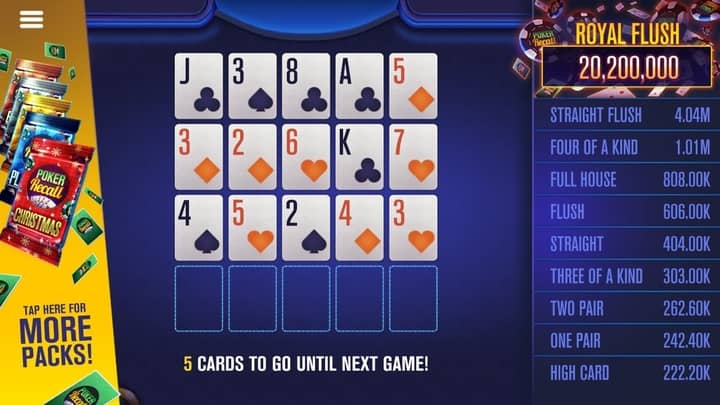 One final way to boost your bankroll on the WSOP app is by playing the Poker Recall game. You'll need to pick five from the total of twenty cards, and you'll receive free WSOP chips based on the poker hand rankings you end up with.
To be able to play, though, you'll need to gather these cards, and you will do this by completing missions and in many other ways.
You can also buy card packs for real money, but there is hardly anything free about that.
Summary – Get WSOP Free Chips Now
As you can see, there are many ways to get your hands on some free chips for WSOP without spending a single cent of your hard-earned money.
The 1 million WSOP free chips welcome bonus
Free chips every four hours
Receive gifts from other players
Use special WSOP codes for chips
Complete Daily Missions and play Poker Recall
Of course, most players will still want to accumulate chips and grow their bankrolls by actually playing because that's the fun part.
These methods to get free WSOP chips will simply give you a nice leg-up on your journey and help you get where you want to be quicker.
If you don't like any of it and want to grind your way up, just go for it. While it can be an uphill battle, you should be able to win quite a lot by following these simple poker tips and sticking to a basic strategy.