Wynn Poker Room – Play and Enjoy Legendary Casino in Las Vegas
11 minutes
Last Updated: September 7, 2021
Wynn Poker Room – Play and Enjoy Legendary Casino in Las Vegas
Images from wynnlasvegas.com
If the Wynn Poker Room were a person, it still wouldn't be old enough grab a beer or place a bet on a craps table, but in the 15 years since it opened its doors, it has quickly become an institution to locals and tourists who are looking to strike it lucky in Sin City.
I visited the Wynn on my first trip to Vegas in late 2018, and being a poker fanatic, the Wynn Casino and especially the Wynn Poker room were on my 'Vegas Bucket List,' and like a mother and father watching their child take their first steps, I was in awe.
With table games as far as the eye could see, vibrant flashing lights on slot machines, and the sounds of croupiers raking in chips from unsuccessful punters, the Wynn Casino gives you everything you expect from Vegas and more.
So, if you are like I was, a 'Vegas Virgin,' and you're debating where to play some Texas Holdem hands, stay or spend your money, this review will try to answer any questions and alleviate any anxieties you may have.
Wynn Poker Room – Where The Magic Happens
If you want to play some poker, should you try Wynn Poker Room or look further? Well, the answer is quite simple, and you should definitely give it a try!
The Wynn Poker room was recently refurbished in 2016, and now offer a luxury experience to everyone who plays there.
Providing respite and pamper to its players, if it's a game of cards you are after, I challenge you to find a more comfortable place than the Wynn Poker room.

Wynn Poker Cash Games
Firstly, it's absolutely huge. The refurbishment has allowed the Wynn to host 28 poker tables. So, whether you're after a low-stake cash game or prefer to play a little higher, there'll be a game to suit your needs.
Now, if the game you're looking to get into it is full, then you can use the Bravo poker app, it'll show you when a seat is available so that you can minimize waiting times.
On any typical day, you'll be able to take a seat at one of the 28 tables the Wynn Poker room offers:
$1/$3 or $2/$5 NLHE game, and when Vegas is at its busiest, higher stakes such as $10/$25 are available.
$1/$3 to $10/$25 Pot Limit Omaha games
Mixed games are available upon request
The buy-in caps are also well structured, so you can expect some deep-stacked cash games, the $1/$3 buy-ins are capped at $500, and you can sit down at the $2/$5 tables with a max of $1500.
Wynn Poker Tournaments
If cash games aren't your forte, the Wynn Poker room offers daily tournaments which are structured really well to ensure you get your tournament entry's worth when you play.
30-minute levels and options to re-buy and add-on gives every poker player a chance of getting a slice of mouth-watering guarantees the daily Wynn poker tournaments offer.
All daily Wynn poker tournaments start at noon and the buy-in changes throughout the days of the week.
Playing the Wynn Poker room daily tournament on either a Monday through to Thursday will cost you $125+$15.
Fridays and Sundays, the guarantee is $10,000, so naturally, the buy-in is a little bigger – entry is $180+$20.
Then on a Saturday, if you're feeling particularly lucky and have $200+$25 dollars spare, that'll get you a seat for the Saturday $25,000 guarantee tournament.
There is really a tournament for everyone at the Wynn Poker room, and they also host a variety of poker series!
The Wynn Poker Classic tournament series is always well attended as well as the new Wynn Winter Classic (why they didn't just call it the Wynnter Classic, I'll never know).
The last three poker tournament series (2020 The Wynn Spring Classic, The Wynn Signature Series & The Wynn Winter Classic) held at the Wynn Poker room has generated over $6million in guarantees which truly shows that the Wynn Poker room has it's players in mind.
So when visiting the Wynn Poker room for cash games or any Wynn poker tournament series, you're definitely not wasting your time by playing in this gorgeous room.
Wynn Casino Games
You could be worried your no-limit hold'em skills are a bit rusty and are wondering what other games are on offer.
If it's table games you're after, then the Wynn Casino lets you choose from a wide variety of options.
From Blackjack and Roullete to 3 Card Poker and Ultimate Texas Holdem, whatever your game is, the Wynn will have it covered.
And if you've got a hunch on a basketball game or horse-race, the Wynn has its own sportsbook where you can safely and securely make a wager.
Wynn Parking Las Vegas
A big question to players visiting any casino in Las Vegas, is "Where can I park my car?"
And of course, in typical fashion, the Wynn Casino thinks about the players and offers Wynn parking in several ways.
They have both self-parking and valet parking at the resort, which is 'complimentary for all visitors, without limitation.'
The valet parking service can have your vehicle ready and waiting for you, 24 hours a day, by calling valet prior before you set off for the day, so Wynn parking in Las Vegas has you well covered there.
Wynn Casino – all you need to know
The first question you may have: Why should I stay at the Wynn? But probably the better question would be – why wouldn't you want to stay at the Wynn?!
You come to Vegas to be wowed, and the Wynn Casino has the x-factor in abundance, and its five-star rating may even be underselling the value for money you get.
Depending on what season you go, the entrance is decorated to match the time of year. You'll notice tourists not staying at the Wynn come in to just look at the décor on display.
If you're like me and notice the little things, the attention to detail doesn't stop as soon as you walk through the doors. You can see the amount of effort that has gone into making sure nothing seems out of place and gives you the proper feeling of staying somewhere out of this world.
Whether you're a high-roller or on a budget, you'll be amazed at the luxurious rooms that the Wynn has to offer.

Even the most basic rooms available will have you believe you're living in a room of a palace: spacious, elegant, and regal, a hard balance to achieve without looking too tacky. I was wowed by most of the ordinary rooms, just imagine how far your dollars stretch if you decide on a room upgrade, I imagine it's worth every penny and cent.
You might be surprised that Wynn Casino can offer an amazing landscape as well. Situated at the north end of the Vegas, depending on which side of the hotel room your own each morning, you'll either be greeted with a view of the strip or a breath-taking view of the golf course and mountains. It is especially pretty as the sun comes up or sets.

You may feel uneasy that you must gamble every night in Vegas to have fun.
Let's absolve this rumor – if you don't want to be playing table games or slots 24/7, then that's absolutely fine. You're in Vegas to have a good time, so you do what you enjoy whenever you like.
The Wynn Casino boasts a plethora of activities that you can do that are completely unrelated to gambling.
If you're in the mood for a more slow-paced day, the spa on offer is a definite must-visit. With various treatments on offer from body treatments to hydrotherapy, your aches and pains will disappear after one of the therapists works their magic. And if somehow, you're feeling truly zen yet the steam rooms and saunas will put the cherry on the top.
If you're keen golfer as well, then the Wynn Casino is where you need to stay. Home to an 18-hole golf course and an escape to get some fresh air. And there's a waterfall to see on the final hole!

And if you're still not sold, the Wynn offers great shows for you to see. From its permanent 'La Reve' heart-stopping acrobatic show to live music and stand up comedy. The Wynn resort in Las Vegas offers something for all the family or for those who came to play poker.
And hey, if you feel like you've exhausted all your options on what to do at the Wynn, then the famous 'Welcome to Las Vegas' sign is just a short ten-minute trip away. Can you say you have been to Vegas if you haven't got your picture taken in front of this iconic landmark?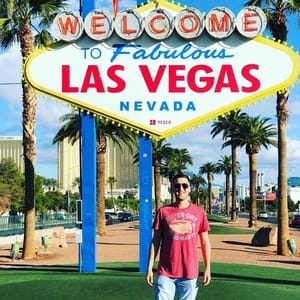 The food at Wynn Casino
If you're a fussy-eater or find it hard to choose what you'd like to eat, then eating at Wynn absolves you of all these fears. Your stomach will be satisfied throughout your stay.
You've seven fine dining restaurants to choose from that go above and beyond for any special occasion.
But even if you fancy something more casual, the Wynn offers eight restaurants for casual dining and five bars if you're just after something quick and light. See – I told you, you wouldn't go hungry.
One restaurant recommended to me was the SW Steakhouse. It has a reputation of being one of if not the best steakhouse in the city.

A different approach to classic American steakhouse is truly worth the visit, and if that doesn't sell it to you, the restaurant has what is known as the Lake of Dreams. A paradisiacal setting that displays a 140-foot waterfall and 1,500 trees.
The juxtaposition of being in a desert and seeing this is inspiring, so if you're usually surrounded by woodlands, and you're feeling a tad homesick, then this should put you at ease. Definitely on my to-do list when I return to Vegas.
The word legendary when describing something is now tossed around more than a football on a Sunday (thanks Neil Patrick Harris). But when attributing it to the Wynn Casino, legendary might not go far enough.
Will You be safe from COVID-19 at the Wynn?
Let's address the elephant in the room – a lot of holidaymakers and tourists have got COVID-19 on the brain and rightly so. Who wants to spend big money on a trip and then be stuck in their room quarantining?
Well, the Wynn Casino has gone the extra mile to ensure your safety. Releasing a 30-page document which you can read here, outlines their procedures in keeping colleagues and customers safe.
If you haven't got the time to sift through all that information, then let me summarise for you below;
The Wynn parking valet system has had a few tweaks to make sure you're not at risk. Regular sanitizing and using a one-use steering wheel cover to keep the transmission of the virus to a minimum.
You'll have your temperature taken – don't worry, it's completely non-invasive and takes less time than a spin on the roulette wheel.
All doors will open automatically, or an attendant will do it for you, so you don't have to worry about if the person who last touched the door washed their hands.
If you want to use swimming pools, then you need to make a reservation. This isn't too bad. You need to make a reservation for most things anyway, so it's hardly an extra ask on your behalf.
Are you worried about light-switches? Don't be. You can set the mood however you like using your voice with the help of an Amazon Alexa.
Staff will be wearing masks, and you don't have to if this is something you're not comfortable with. They are truly giving you freedom of choice.
There's a cleaning crew working around the clock 24 hours a day and 300 sanitizing stations, so if you feel the need to use one, there'll be a station just a card throw away.
Final Thoughts about Wynn Poker Room and Casino
If the above hasn't sold you on staying at the Wynn Casino, then you're just going to have to take the risk and believe me.
The Wynn provides an experience like no other.
Enough gaming space to make that could home a small village with restaurants that'll satisfy the biggest of hunger and top-rate service around the clock to make you as comfortable as possible, then there's nowhere quite like the Wynn Casino on the Las Vegas Strip.
If you are here for poker, you ale will be pleasantly surprised since the games are running almost around the clock, with plenty of tourists visiting Wynn poker room and trying their luck. So if you want to win even more, take a look at the best poker training sites, and you will surely find the action you are looking for in Wynn and probably will return to this casino again and again.