Poker Rooms in Texas – Your Ultimate Guide to Poker in Texas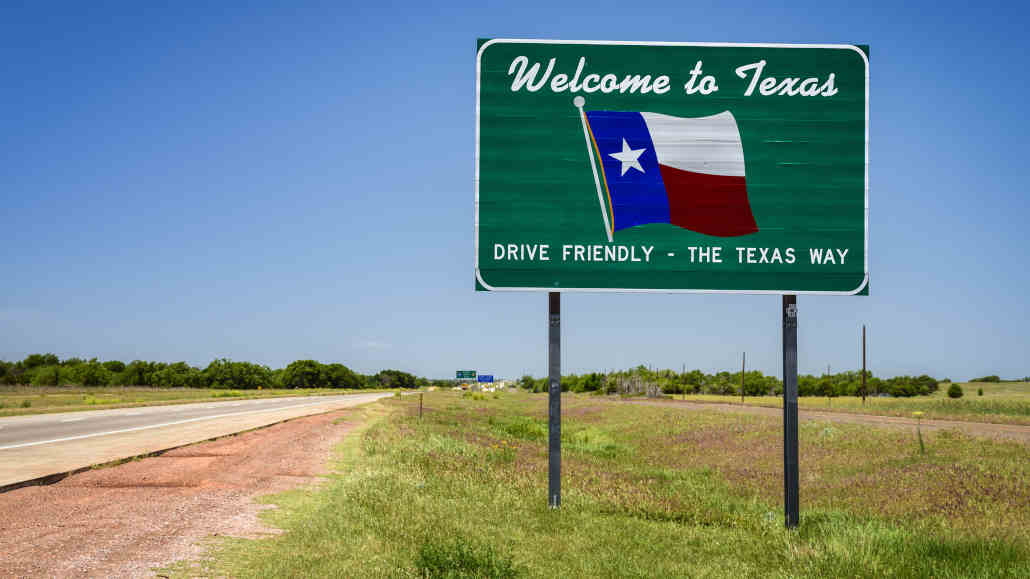 When someone mentions poker, thoughts of Las Vegas, Atlantic City, and Monte Carlo immediately spring to mind.
However, with Texas Hold'em being the most popular poker game these days, the connection to the Lonestar State is hard to ignore.
The state of Texas is home to some of the biggest legends of the game of poker, with the likes of Doyle Brunson, T. J. Cloutier, and Sam Farha leading that list.
Texas is a state that lives and breathes poker, so it probably comes as a surprise that casinos and poker rooms in the classic sense are not allowed under state law.
Yet, the only thing that's actually forbidden is taking rake from games, which potential poker room owners managed to work around and open quite a few poker clubs in Texas.
Today, the state is home to a great number of card rooms, all of them operating on the subscription model and not charging any actual rake from the poker tables.
With poker booming in Texas, I wondered about the best places to play in the state, so I did some research and found the very best poker rooms Texas has to offer.
This list may be a bit subjective, but if you visit any of the card rooms listed here, you will definitely not be sorry you took the time to do so.
Gambling Laws in Texas
Before I tell you about all the places you can play poker in Texas, let's take a moment to talk about the gambling laws in the state and what exactly makes gambling in Texas so interesting.
The fact is that, under Texas penal code, gambling of all sorts is considered a criminal offense.
The code details the types of gambling that fall into this category, and it basically includes all types of sports betting, all games with cards, dice, other gambling games, etc.
Yet, there is some leeway for those looking to gamble in Texas.
The biggest workaround is "gambling at a private place" and that no person receives economic gain from the results of the wagers made, other than the personal winnings.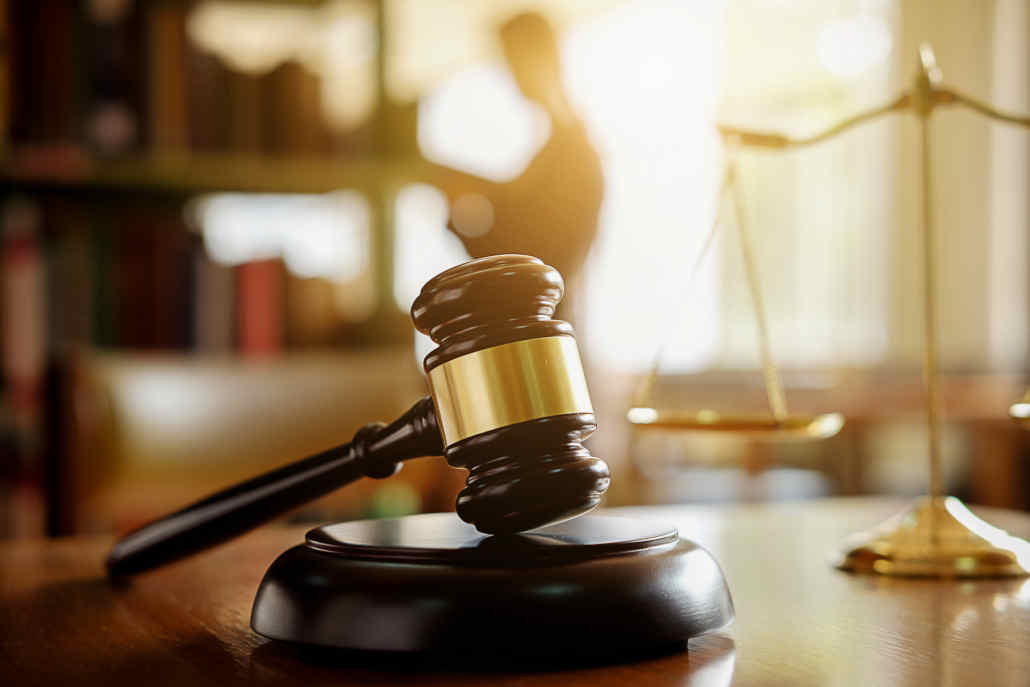 This is exactly the workaround that poker clubs in Texas are using to organize games. Housing a private and subscription-based model, these card rooms are technically not breaking the law.
Since you can gamble in a private place, there is nothing wrong with doing so in a private club either. If the tables don't charge any rake, the house really doesn't have a monetary incentive in the results of the poker hands.
This is the way live poker has been working in Texas for quite a while now and turned into a lucrative industry, although there has been no shortage of legal troubles for those involved with it.
Even some of the biggest card rooms in the state have had their doors shut due to this law, as I am going to discuss when I get to them on my list.
Without further ado, here are the best live poker rooms you need to visit the next time you are in Texas.
Texas Card House – Austin/Houston/Dallas/Rio Grande Valley
Officially considered the first card house in Texas, the Texas Card House is the biggest and most comprehensive poker club in the Lonestar State.
With four different locations in Austin, Houston, Dallas, and the Rio Grande Valley, Texas Card House also has more locations than any other club in Texas.
The rules of the Texas Card House are simple. If you want to play in the club, you need to pay a daily membership of $10, monthly membership of $30, or a yearly membership of $300, which is the best value.
Once you have paid this, you will get access to the poker area, where you will pay an additional $12 for every hour you spend at the tables.
If you do some quick calculations, this comes out to nearly nothing if you are going to be playing stakes $2/5 or higher, with only one or two blinds paid per hour of play.
Action at the Texas Card House is out of this world as well. All games play very deep-stacked and the fees paid fading in comparison to the value these games have.
With dozens of tables across the four properties, Texas Card House is able to host Texas Hold'em, PLO, Big O, and other cash games around the clock.
Along with these, a number of daily poker tournaments are also offered, with the ones in Dallas especially interesting in terms of size and guaranteed prize pools.
Texas Card House in Dallas, being by far the most active one, recently got into some trouble, as its Certificate of Occupancy was revoked by the government.
Yet, an appeal with the City of Dallas Board of Adjustments worked out, and the room stayed open, proving once again that poker in Texas can actually work within the law.
The Lodge – Austin
With more than 60 poker tables and massive gaming space, The Lodge is the biggest poker club in central Texas and the place to be these days.
Since being acquired by a trio of poker players/streamers/personalities, Doug Polk, Andrew Neeme, and Brad Owen, the place has become absolutely viral, with players flocking to play with their YouTube heroes.
The Lodge hosts the biggest monthly tournament you will see anywhere in the region, with a $500k guarantee and a $600 entry fee.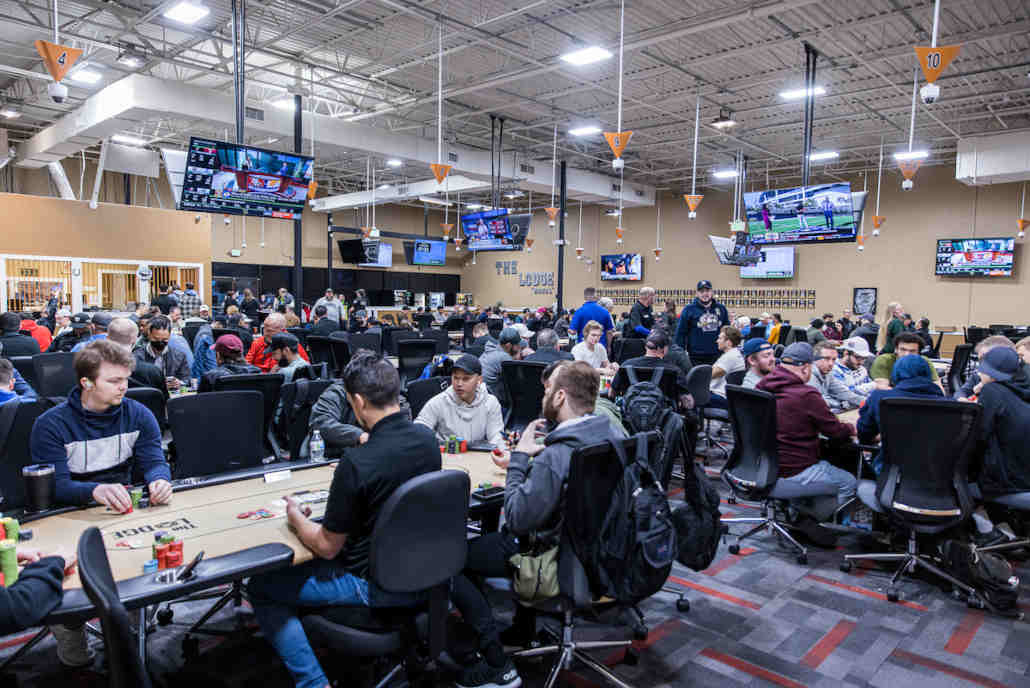 Image courtesy of thelodgepokerclub.com
The fees at The Lodge are lower than the ones at Texas Card House, with just $10 charged per hour of cash game play and membership options including $15 weekly, $25 monthly, and $200 yearly memberships.
At The Lodge, you will be able to watch sporting events, enjoy drinks with friends, play poker tournaments, and compete in cash games.
If you don't want to play the cash games, the membership fee is the only thing you will need to pay for full access to the club and its amenities, including soft drinks and the lounge area.
If the allure of playing with big-name pros like Doug Polk isn't enough, you should still come to The Lodge for the amazing access fees and plenty of wild action that never really stops.
Prime Social – Houston
One of the most popular clubs in Houston, Prime Social was just host to a massive Texas Poker Championship, which included a $2,000,000 guaranteed poker tournament.
At Prime Social, members must pay a $10 one-time membership fee, along with daily entry fees and a $12 club access fee per hour.
That said, Prime Social offers a very comprehensive experience, with an in-house restaurant and cocktail bar making it a one-stop-shop for anyone looking to have a good time.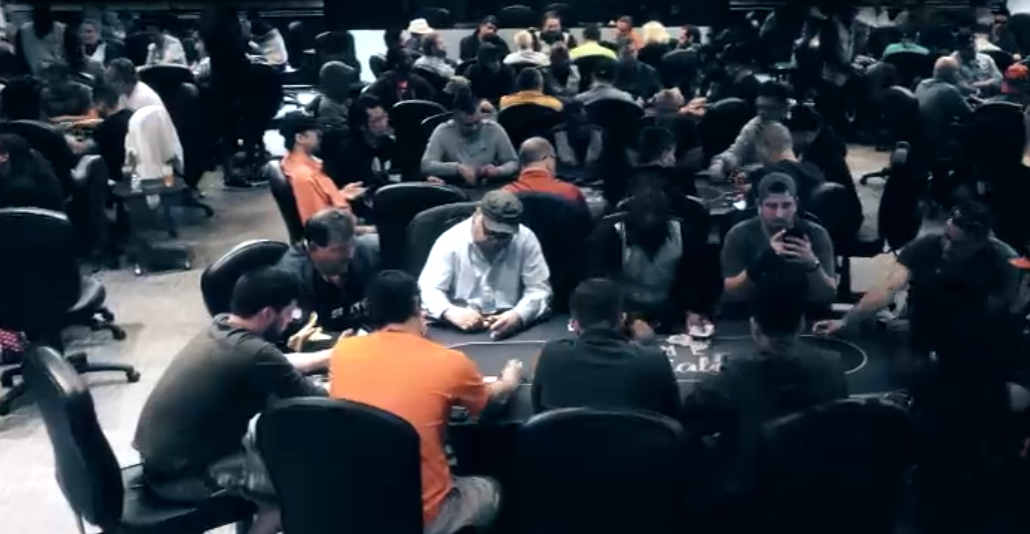 Image courtesy of primesocialtx.com
The daily tournaments, regular cash game action, and a pleasant atmosphere are all guaranteed at Prime Social, making it one of the best places to visit if you are a poker player in Houston.
There is never a lack of poker action at Prime Social either, with the room being one of the most active in the area.
52 Social – Austin
Another major poker club very close to The Lodge is 52 Social, a slightly smaller establishment that also offers great poker games and some extra services.
One major thing you will get at 52 Social that you don't get at The Lodge is dining, with the kitchen at 52 Social able to offer quite a few different meals, from soups and salads to burgers and steaks.
The rates at 52 Social are also somewhat lower, with monthly membership starting as low as $1 and the access fees for low-limit tables set at just $6 per hour. The bigger tables will charge you $10 per hour.
On top of the lower access fees, 52 Social will actually award you $1 in comps for every hour you sit at the tables.
This can be used for food and beverages when you accumulate enough, another nice little perk.
The kitchen and the cocktail bar definitely set 52 Social apart from some of the other clubs and make this place one that you may want to visit even if you don't plan on playing poker.
The club hosts a number of big-screen TVs for sporting events, and many guests come with their friends to enjoy food, drinks, and sports, even when not playing poker.
Gin Mill – Houston/Lubbock
With its original location in Lubbock in West Texas, and a brand new location in Webster, Houston, Gin Mill is another interesting poker club you will definitely want to visit if in the area.
Players must pay a one-time membership fee of $20 on their first entry and a daily membership fee of $5 in Lubbock or $10 in Webster.
On top of that, $6 is charged for using a poker seat for 30 minutes.
Like the other clubs in Texas, Gin Mill is considered a private club, which means it isn't open to the public and can thus host poker games for its members without charging any rake.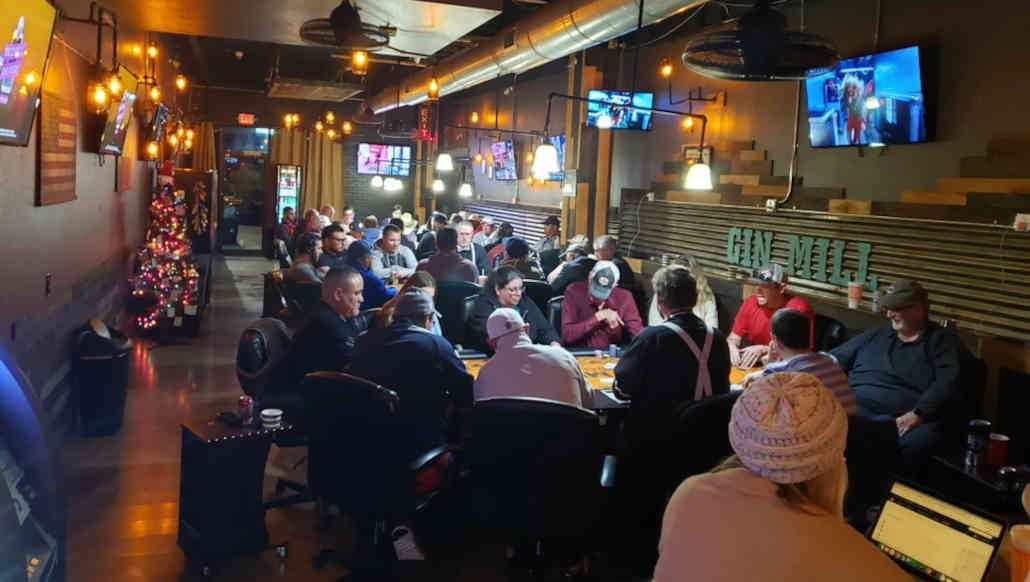 Image courtesy of www.ginmillcardclub.com
Gin Mill has a bit of an old-school vibe to it, which is exactly what they were going for. Both clubs offer snacks and light drinks to their customers, with the Webster property also selling alcohol and tobacco.
You won't get as much action at Gin Mill as you may in places like The Lodge or Texas Card House, but daily tournaments and cash games around the clock are still guaranteed.
If you find yourself in the Lubbock area, Gin Mill is the obvious choice. The Webster location is likely to grow and become a viable option for the residents and visitors of Houston as well.
Red Star Social – Austin
Another card house in Austin, Texas, Red Star Social is the new name for the former The Palms Social. Like other clubs, Red Star Social operates on a membership model.
The club may not be comparable to the likes of The Lodge in size and action, but it certainly has plenty of appeal.
For one, yearly membership at Red Star Social costs just $100, which means it's well worth paying for it if you live in the area, even if only to jump into the games when they are good.
The club access fee is $10 per hour but goes down to $9 per hour if you play 4 hours or longer, which should hardly be a problem for most poker players out there.
Red Star Social does not offer any in-house food but facilitates deliveries from six nearby restaurants and offers a generally pleasant and friendly atmosphere for all its visitors.
Shuffle 512 – Austin
Located in South Austin, Shuffle 512 is one of the best options for players in this area. The club was opened some four years ago and has a steady base of loyal players who play here daily.
As you probably guessed, Shuffle 512 is a social poker club, which means players need to pay a membership and club access fee to play, and no poker rake is charged.
At this club, you will pay a daily $10 membership or opt for a $30 monthly or $200 yearly membership to be able to enter.
Once you are in, the tables charge a $12 access fee per hour, which is slightly steep compared to some other places that offer similar games.
At Shuffle 512, coffee and water are free for all the members. Other drinks or food must be brought in by the members, which is fully allowed.
Sure enough, this club does not exactly stack up to the biggest clubs in Austin, but it is a very friendly place to play with some amazing games running every day.
Another thing that will greatly appeal to any casual player is the freeroll tournaments on Wednesdays and Fridays, which guarantee about $2,000 in prize pools.
The freerolls, and the daily $20 tournaments, are a great way to build up a bankroll if you are just starting out and looking to get some live poker experience.
Shuffle 214 – Dallas
With more than 30 poker tables at its disposal, Shuffle 214 is a sister room of Shuffle 512, and it is one of the best places to play poker in Dallas.
The club offers memberships on a daily, monthly, and yearly basis, with $10, $30, and $200 price tags, respectively.
The table access fee is $12 per hour, with the option to reduce this down to $10 per hour if you pay for 20 hours at a time.
Moving away from memberships, the most appealing thing about Shuffle 214 is the extensive calendar of poker tournaments, which run every single day in the room.
Texas Hold'em and Pot-Limit Omaha tournaments are on offer, with buyins for the dailies ranging from $100 to $400 for some really spicy poker action.
Like most other properties, Shuffle 214 offers free water and coffee for its guests and makes poker a truly social experience you can fully enjoy.
101 Poker Club – Houston
I wanted to finish this list out by mentioning the one poker club in Texas that's been in the media quite a lot, formerly known as 88 Social.
This poker room was famously owned by poker legend Johnny Chan, but an incident that cost quite a few members their money ended up with the club changing ownership and its name.
Now known as 101 Poker Club, the place is owned by Sanjeev Vora, a relatively well-known poker player in the area, who decided to buy the club when it fell on hard times.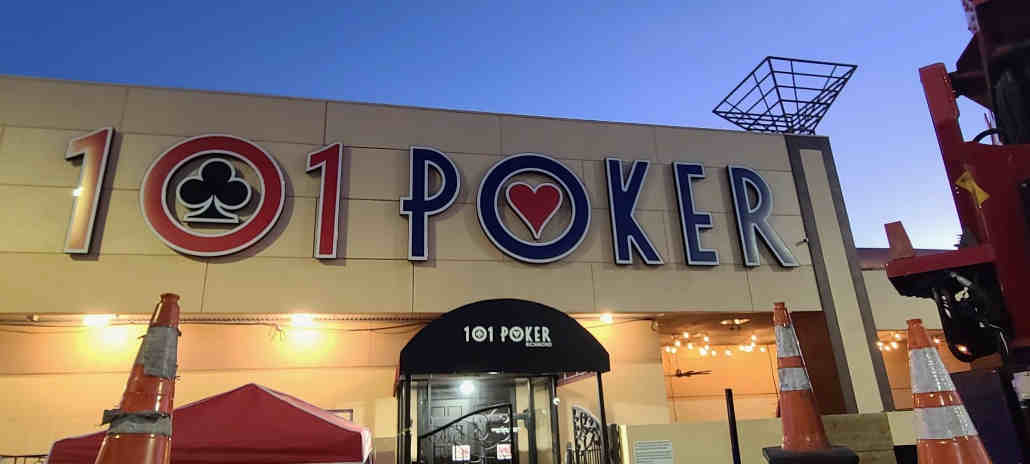 Players in Houston can now once again play cash games and tournaments at the old location, but with some new hope that things will run smoothly this time around.
The poker club's reputation seems to be restored, however, as the action is back to normal, and players come to play at Poker Club 101 every day, seemingly not worried about what came before.
Shuffle Up and Deal
Poker in Texas has never been more alive, and practically every club I have mentioned here launched at some point over the last five years.
This makes Texas the prime place for any hopeful poker pros looking to win big, as the games are softer than anywhere else in the world, the "rake" is lower, and there are plenty of options.
In many ways, places like Austin and Houston have turned into modern-day Las Vegas for poker players, with the games found here offering more value than the ones in Sin City.
If you were looking for a location for your next poker trip, I would highly recommend trying Texas and jumping into some juicy Bomb Pots, Texas Stand Up, or Big O games, all of which are thriving in the area these days!