Grosvenor Victoria Casino Poker Room – A Hot Spot in London
Located in the heart of London and a stone's throw away from the famous Paddington Station, the Grosvenor Victoria Casino, commonly referred to as 'The Vic,' is home to London's longest-serving poker room, which is why it's often referred to simply as 'The Poker Room.'
The Vic has one of the biggest and most renowned poker rooms in Britain and regularly plays host to some of the UK's and Europe's major poker series and events.
The most notable tournament series to take place here are the European Poker Tour (EPT) and The Grosvenor UK Poker Tour (GUKPT).
With over 30 poker tables and cash games, and daily tournaments on offer, the room attracts all kinds of players from beginners to high rollers and is a major hub for the London poker scene.
Grosvenor Victoria Casino Poker Room Review
As someone who has played in Grosvenor  (pronounced Grove-ner) on more than one occasion, I can vouch that the poker tables are of decent quality and comfortable to play at.
However, unlike most US establishments, you won't be finding a USB charging port embedded into your seat. Hence, make sure you've got a fully charged phone before you start any poker sessions.
The Poker Room also has its own VIP room, which is great news for those looking to play higher-limit Texas Hold'em cash games.
The room also has its own cashier cage for quick rebuys, a dedicated bar, and is conveniently located next to the casino's restaurant.
A couple of rules for those unfamiliar with Grosvenor poker rooms is that they have a strict no-phone rule, in the sense that you can't have your phone resting on the table.
Having a phone in your pocket is fine, and you can use it when not in a hand, but this is largely frowned upon from my experience.
Some other things to know include:
The Vic Poker Room is a non-smoking area, and this includes the use of e-cigarettes, which may be a surprise to some of you.
The dress code is smart casual.
Cameras are prohibited when in the gaming area, including mobile phone cameras.
Knowing these rules beforehand is useful as it will help you avoid any uncomfortable situations. Grosvenor Victoria may be a bit stricter than some other places, but the atmosphere inside the poker room is generally very nice and relaxed.
Grosvenor Victoria Casino Poker Room Cash Games
For most of the UK's poker rooms, No Limit Hold'em is the game of choice, and the Vic is no exception to this.
However, you will be able to enjoy much more than just Hold'em here. Other poker formats spread at The Poker Room include Pot-Limit Omaha (including 5 and 6-card) and Dealer's Choice games, which run if there is enough interest.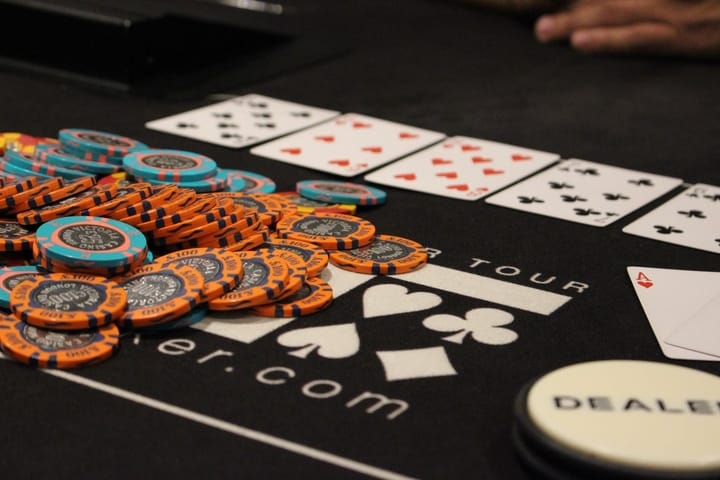 Variations offered in the mixed games' format (dealer's choice) include:
With cash games on offer 24 hours a day, seven days a week, getting into a game should be no problem at any time of day or night.
The most common stakes played here are around the £1/£1 to £1-£3 mark, which is to be expected. However, if you are looking for higher-stakes games, you'll be able to find those as well.
It should also be noted that even the lowest stakes games play deep, with max buy-ins capped anywhere from 200 to 500 big blinds at their respective stakes.
Cash games you can play at The Poker Room are:
No Limit Hold'em
£1/£1, Min-Max buy-in: £40 – £200
£1/£2, Min-Max buy-in: £80 – £400
£1/£3, Min-Max buy-in: £120 – £1,000
£2/£5, Min-Max buy-in: £200 – £2,500
£5/£10, Min-Max buy-in: £400 – no max
£10/£25, Min-Max buy-in: £1,000 – no max
£25/£50, Min-Max buy-in: £2,000 – no max
£50/£100, Min-Max buy-in: £5,000 – no max
Pot Limit Omaha 4/5/6 card
£1/£1, Min-Max buy-in: £40 – £200
£1/£2 deep stack, Min-Max buy-in: £150 – £1,000
£2/£5, Min-Max buy-in: £200 – no max
£5/£10, Min-Max buy-in: £400 – no max
£10/£25, Min-Max buy-in: £1,000 – no max
£25/£50, Min-Max buy-in: £2,000 – no max
Dealers Choice
£1/£3, Min-Max buy-in: £120 – no max
£5/£5, Min-Max buy-in: £200 – no max
£5/£10, Min-Max buy-in: £400 – no max
£10/£25, Min-Max buy-in: £1,000 – no max
As you can see, the poker room spreads all sorts of stakes, so whatever type of game you're looking for, you'll be able to find it here.
Rake at the Vic
Rake in the UK is a lot higher than what you are probably used to if you are a US-based player. In the £1/£1 No-Limit Game, the poker rake is 10% and capped at £5.
Stakes from £1/£2 through to £2/£5 are at 5% capped at £10, and then the higher limits are charged by the half-hour.
The rake at lower limit games can eat into your win rate, which is a problem for local players, but if you are a tourist, it's probably not a major concern to you.
Grosvenor Victoria Casino – Poker Room Promotions
If you are local and apprehensive about The Vic becoming your headquarters, the Poker Room runs what is known as the Loyalty Rake Race.
The top 100 raked cash game players throughout a six-week period will be automatically entered into the tournament with an estimated prize pool of £70,000.
Those who rank from 101 – 200 can enter for £165, but only 50 tickets are available for players in that bracket.
Other promotions at The Poker Room vary, but usually, you'll find certain high-hand promos. For example, if you make Quads with XYZ, you'll receive a pay-out, and there's also a progressive bad beat jackpot in play.
Grosvenor Victoria Casino – Poker Room Tournaments
As well as the deep-stacked and action-packed cash games, The Poker Room offers a variety of daily tournaments with buy-ins starting at as little as £30.
Big blind antes are in play in all regular events, too, which helps speed things along as no time is wasted in figuring out who hasn't paid their ante.
There's no typical weekly schedule like you would have seen in most live poker room reviews on this site, so the best way to find what tournaments you can play when you are in town is to check out their website or simply visit the room.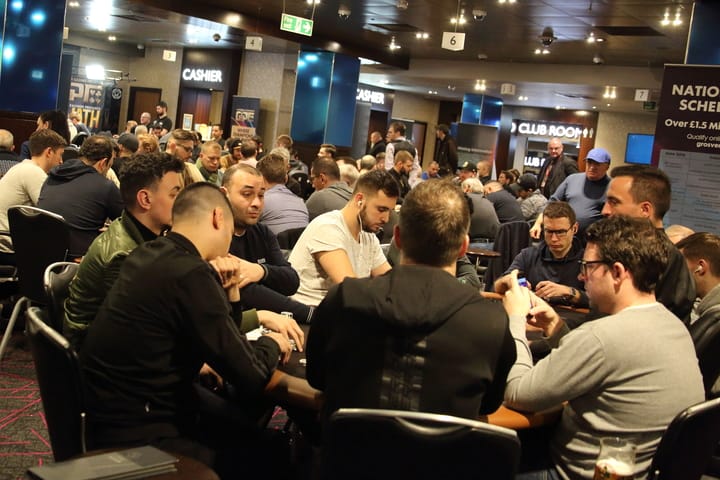 As well as daily tournaments, there are regular monthly events such as the £500 and £1,000 8-max. You may be surprised to see when checking out their schedules that Omaha events are on offer as well as bounty tournaments and Win the Button No Limit Hold'em.
The Grosvenor Victoria Poker Room Major Events
The Poker Room has regular bigger buy-in events throughout the year, such as the GUKPT and The London Deep Stack events. There is also the 25/50 series which takes place on average once every three months, and each series guarantees to pay out at least £50,000 in prizes.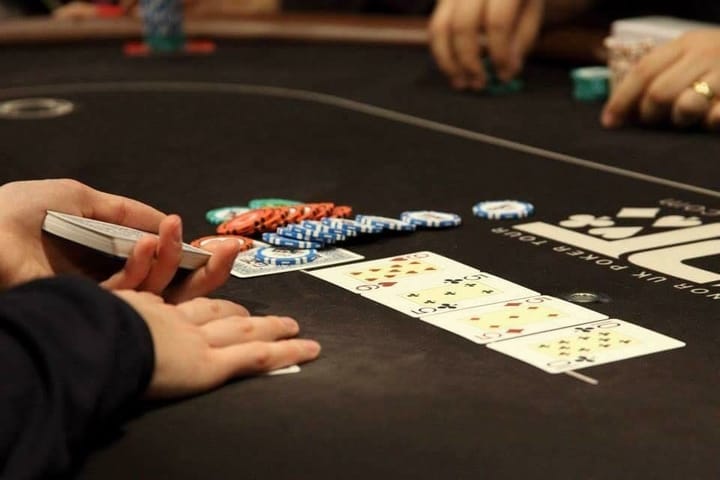 Parking at Grosvenor Victoria Casino
The Grosvenor Victoria Casino poker room has its own car park, and it is complementary, which is good news for those who drive in London. Then again, why would anyone want to drive in London? Trust me on this one, use the public transport available to you, it is way less hassle.
Grosvenor Victoria Casino Games
Whether you are a casino floor novice or an experienced casino-goer, there's plenty of choice of games for you to play. Like The Vic Poker Room, the gaming floor is available to you at all hours of every day.
Slot Machines
For those who like to play one-armed bandits and electronic games, you'll be pleased to find out there's plenty of jackpot video slots for you to indulge. The casino also hosts 70 electronic roulette machines, so you can avoid the hustle and bustle the traditional roulette table brings.
Table Games
If the live action is more your thing, you'll find plenty at Grosvenor Casino. The venue spreads a variety of popular casino games such as:
Super Stud Poker
Baccarat
Dice
Casino War
You'll find the Grosvenor Casino Victoria features a nice range of stakes across its tables as well, so you'll be able to have some fun and experience some excitement without breaking the bank.
Grosvenor Victoria Casino – Keeping You Safe Against Covid-19
Under current lockdown restrictions in the UK, the Vic is closed. However, once they're open for business, which should be soon now, measures you can expect to see are:
Non-invasive temperature check
Mandatory mask-wearing by team members and patrons
A bottle of hand sanitizer will act as the button
Mandatory hand sanitizing when coming back to the table after leaving for any reason
Of course, depending on how things develop, some of these measures might not even be in place or could become redundant. Things in the UK and worldwide are slowly but surely going back to "old" normal, so fingers crossed.
Final Thoughts on the Grosvenor Victoria Casino Poker Room
Although far from the glitz and glamour you would expect from an iconic Las Vegas casino like Caesars Palace, The Poker Room at The Vic is a must-visit if you are in the nearby area.
This British poker institution has been home to some of the biggest names in UK poker. With games running around the clock and some extremely deep cash tables, even at the lowest stakes, players can expect sizeable wins that would make any trip worthwhile.
The casino itself has stood the test of time and offers players a variety of games to play after a long session where you can sit back and relax with a beer as you watch the roulette wheel spin or ponder over some new poker tips to incorporate into your next session.