Best Las Vegas Casinos – Play Poker And Enjoy Your Time on the Strip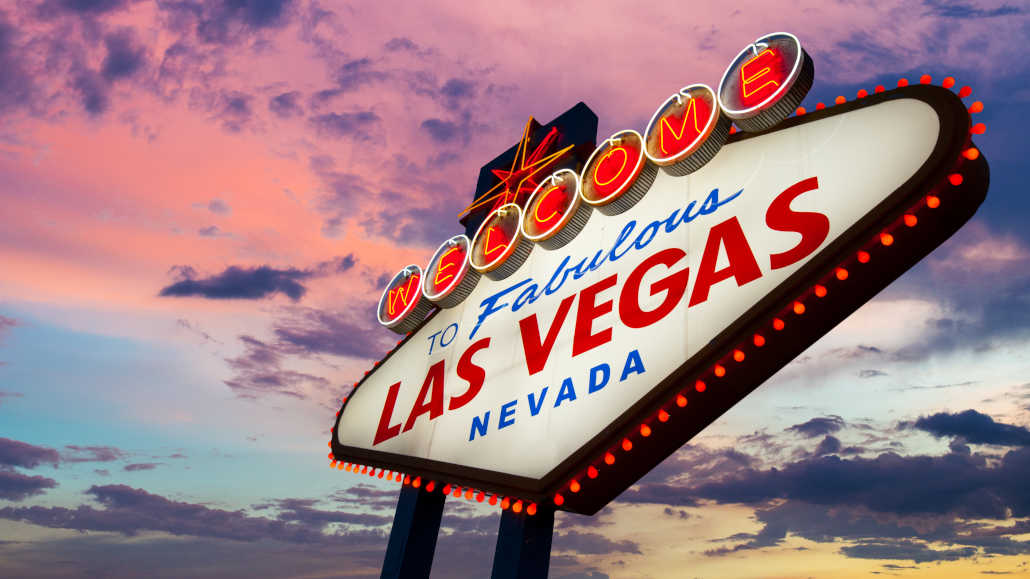 22 minutes
Last Updated: September 29, 2023
If you're looking to have fun gambling, whether it's poker, roulette, blackjack, slots, or any other game you can think of, there is one destination that always comes to mind first – Las Vegas.
With dozens of casinos opened around the clock, the fun never stops in Sin City if you know where to look.
Visiting this city in Nevada is every gambler's dream. For poker players, Las Vegas is the prime destination as it offers some of the best tournaments and cash games you can find anywhere in the world.
But, if you were to find yourself in the city tomorrow, where should you go first?
This article is an in-depth Las Vegas casino guide that should tell you all you need to know. From the best places to play poker to top venues for those looking for high-stakes table games, it will answer all the questions you may have about Las Vegas casinos and provide you with a roadmap for your trip.
Best Las Vegas Casino Venues for Poker Players
With this lengthy introduction out of the way, it's time to get down to business and look at some of the best casinos in Vegas. In the first part of this Vegas casino guide,
I'll look into the best spots for poker players and hopefully give you a good idea of where you can find the kind of action you're looking for.
Aria – One of the Most Iconic Las Vegas Casinos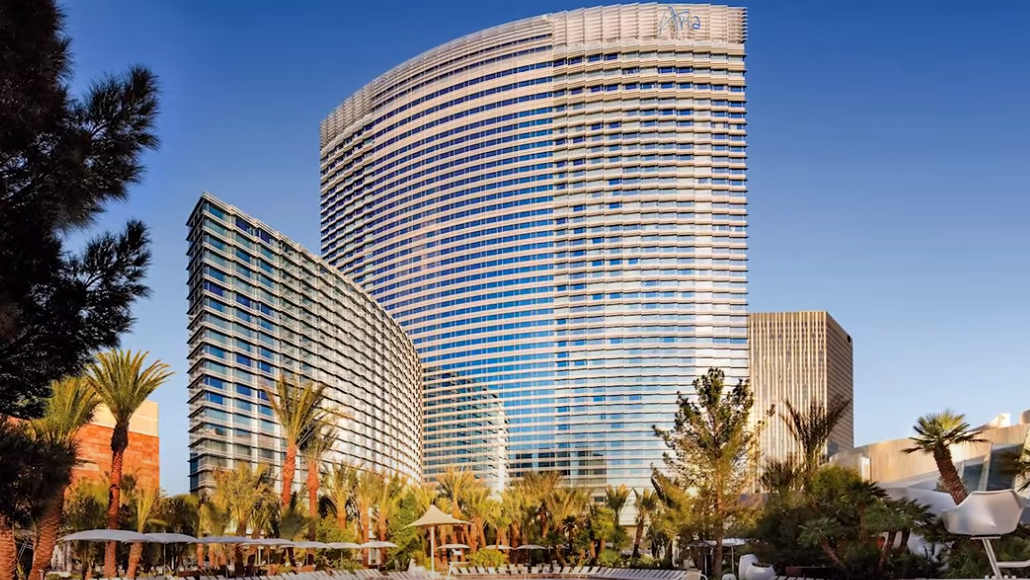 There are many Las Vegas casinos with great poker rooms, but Aria Resort & Casino is definitely near the top of any list. The venue owes a lot of its popularity to the fact it's become the hub for streamed poker events and cash games, gathering some of the best players in the game.
The Aria poker room features 24 tables, and poker players can even get exclusive room rates if they decide to stay at the venue. As for the action, there is something for everyone, regardless of your preferred stakes and game type:
NL Texas Hold'em: from $1/$3 to $10/$20+
Pot Limit Omaha: from $1/$2 to $10/$20+
Limit Hold'em: starting at $2/$4
Omaha 8: from $4/$8
Seven Card Stud
Draw Games
Mixed Games
The availability of certain games will depend on demand, of course, but you can be pretty sure that NLHE and PLO action is non-stop.
If tournaments are more your cup of tea, the room features regular events throughout the year. Of course, with the whole COVID-19 situation, things may be a bit shaky still, but things are slowly getting back to normal in Las Vegas.
The poker room represents just a small fraction of what this Las Vegas casino has to offer. Aria provides all sorts of gaming entertainment across the board, so if you ever need a break from poker, there are plenty of options.
Slots' fans will find thousands of machines featuring a wide range of stakes. Whether you want to play for big bucks or just have some fun betting pennies, the casino has you covered.
When it comes to table games, the offering is no less impressive. You'll find pretty much everything you can think of on the floor, including:
Roulette
Craps
Pai Gow Poker
Baccarat
Casino War
Ultimate Texas Hold'em
Three Card Poker
If regular bets don't cut it for you, Aria is one of those Las Vegas casinos also offering the High Limit Lounge. Stakes here are high, but you can expect royal treatment as well.
Read our full review of Aria poker room and casino.
Bellagio – One of the Best Casinos in Vegas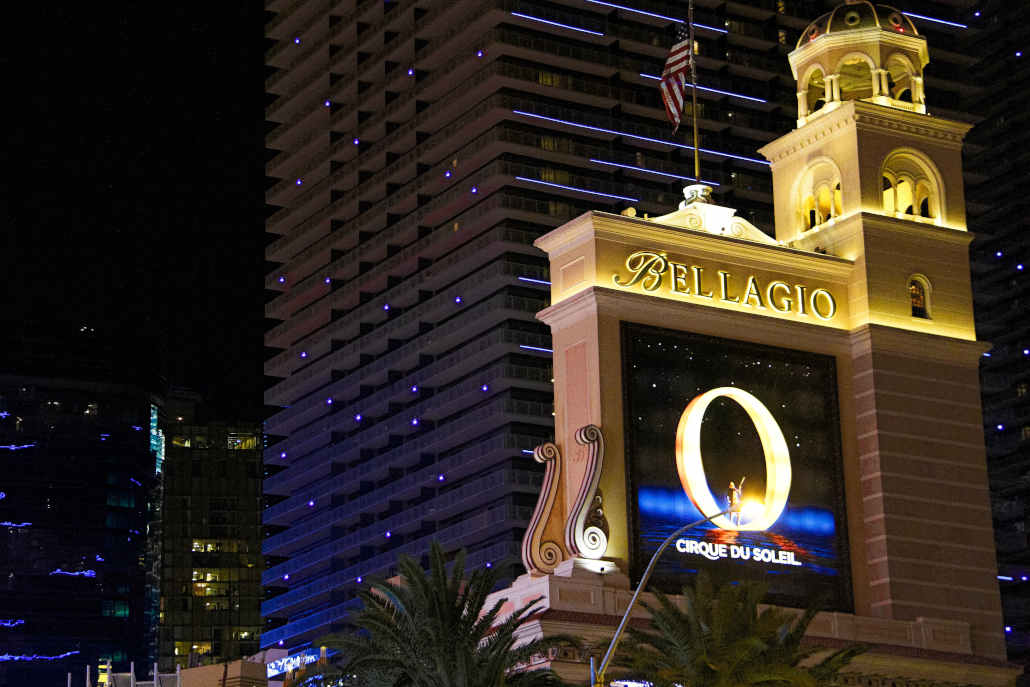 Perhaps the most famous Las Vegas casino that has been featured in many poker movies, Bellagio represents another great destination for poker players. One of the legendary Las Vegas resorts, this venue covers everyone's poker needs, and you'll have no problems finding plenty of action around the clock.
The Bellagio poker spreads over 7,000 square feet and features 40 tables, plus two high-stakes areas.
This Vegas casino is also home to legendary Bobby's Room (now known as the Legend's Room), the place hosting some of the highest stakes games in the world and regularly gathering legends of the game like Doyle Brunson, Phil Ivey, and many others.
Of course, No Limit Hold'em is the main game, and the action starts at NL $1/$3. You'll regularly find games as high as $10/$20, and when there is a demand, the casino will spread higher games as well. If there are enough players to get the game going, stakes are not a problem.
On top of Hold'em, Bellagio also features:
PLO
Limit Hold'em
Mixed Games
During normal times, the room also spreads daily tournaments and hosts major events, including World Poker Tour. If it's the tournament action you're looking for, Bellagio won't disappoint.
The floor of this Las Vegas casino hosts more than 2,300 video slot machines, which is enough to satisfy even the most demanding of players. The venue regularly hosts slots tournaments as well, offering big prizes up for grabs (sometimes even exceeding $1,000,000).
Like most Las Vegas casinos, Bellagio also offers a variety of exciting table games across various limits. There is the Club Prive, which is the venue's high limit section for those players looking to up the antes.
As for the games, you'll find roulette, blackjack, baccarat, Let It Ride, Pai Gow, Three Card Poker, craps, and more.
Both Aria and Bellagio offer an opportunity to get involved with the unique M life Rewards program. Depending on how much and how high you play, you can earn valuable rewards, including free meals, room discounts at all Las Vegas resorts in the program, priority check-in, and much more.
Check out this detailed review of the Bellagio poker room.
Venetian – One of the Most Beautiful Las Vegas Casinos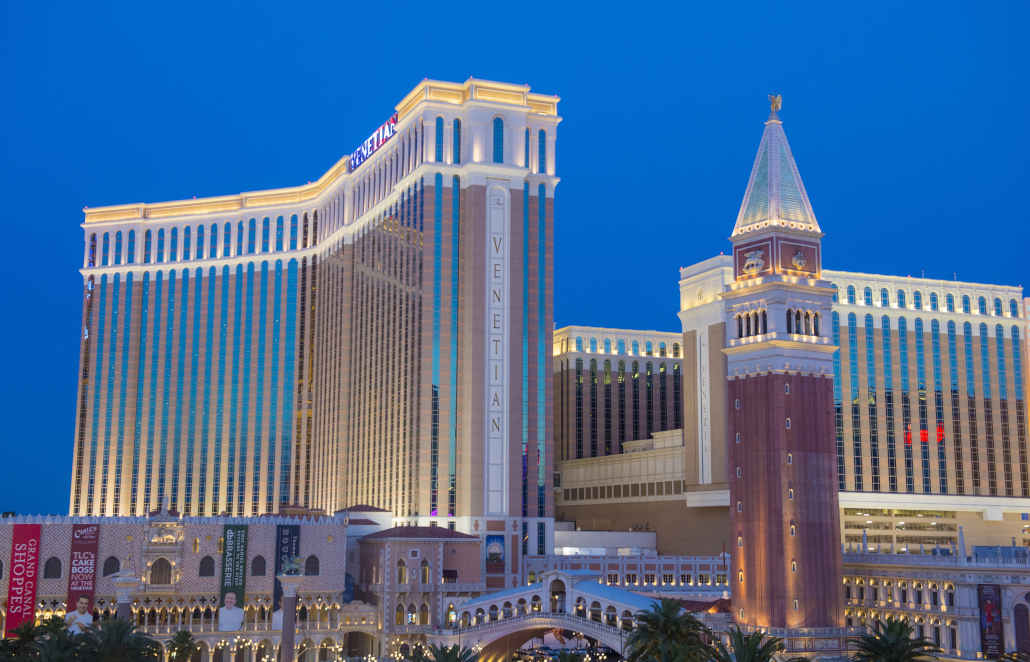 Venetian has become one of the best-known Las Vegas casinos for many reasons, but its unique style is probably the first thing that comes to mind. Designed to resemble the Italian city of Venice, it features gondolas, canals, and many other details that will take you on an exciting trip through space and time.
The striking architecture isn't the only thing this Vegas casino is famous for, though. Venetian also features a top-quality poker room offering a lot of action for cash game and tournament players alike.
At the moment of writing this Las Vegas casino guide, the Venetian Poker Room is open between 9:00 am and 3:00 am every day due to COVID-19 precautions.
Players will find a variety of options, including No Limit Hold'em, Pot Limit Omaha, and Omaha 8. The minimum stakes are somewhat higher than in most other venues, so this is a good place to visit if you're looking for some bigger action.
Venetian is also a great destination for those looking to try their hand playing tournaments. Prior to the pandemic, the room used to host daily events, with buy-ins ranging from $200 to $1,600. This venue is also home to the popular Deep Stack Extravaganza series, which takes place several times a year and offers some very good guarantees ($1,000,000+).
If you're looking for some other gambling action besides poker, this Las Vegas resort doesn't disappoint by any stretch of the imagination. The selection of slots is excellent, and Venetian even hosts special Buffalo Zones for those players looking to exclusively play hugely popular Buffalo slots. Although they've been around for a while, these games seem to remain as popular as ever.
For those looking to play for big money while enjoying their privacy, there is the High Limit Salon. Here, you can bet up to $5,000 per spin, and the convenient self-pay feature allows players to enjoy their action without interruptions.
The table games' area features well over 200 games for you to try your luck with, including the high limit salon with over 60 tables. Although it is currently suspended, Venetian also offers free table games' school, teaching people how to play games like roulette and blackjack.
If you decide to play here, make sure to get a card and become a part of the rewarding Grazie Rewards program. As you accumulate points and make your way through the tiers, you'll unlock benefits such as exclusive hotel room rates, special promotions, priority slot service, and much more.
Find out more in our comprehensive Venetian Casino review.
Caesars Palace – Top Las Vegas Casino for Poker Players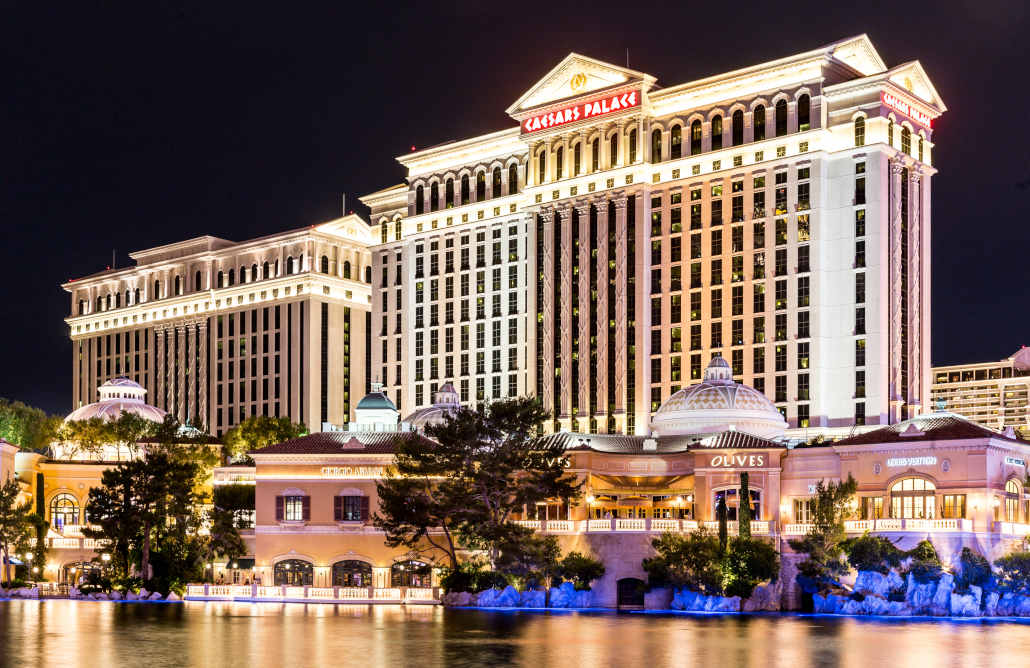 Located at the very heart of the Las Vegas Strip, Caesars Palace caters to all your poker playing needs. The 4,500 square feet poker room features 18 tables, so it's not as big as some of the other options in the city, but you won't be disappointed.
The Caesars Palace poker room features a modern design and provides a comfortable gaming experience across the board. Keeping up with the times, Caesars offers charging stations at every seat, so you don't have to worry about running out of juice for your electronic devices.
Plus, this Las Vegas casino is so conveniently located that every other venue on the strip is nearby, so you can easily switch locations if you ever feel like it.
Games you'll find inside the poker room include:
No Limit Hold'em
PLO & Omaha 8
Seven Card Stud
Mixed Games
This poker room focuses more on lower stakes action, so you'll find plenty of $1/$3 and $2/$5 tables. Of course, when there is a demand, there will be higher-stakes games running as well.
Caesars Palace is a great pick for tournament fans as well. The room hosts a rich daily schedule of events with modest guarantees. These won't get you rich, but it's nice to know there is a Vegas casino that runs smaller tournaments pretty much around the clock.
Buy-ins stand at $100 and $150, with $1,000 and $2,000 guarantees. With 20-minute levels, these are fast-paced tournaments, but with at least four of them taking place every day, if you bust from one, the next one is usually just a few hours away.
Being one of the most famous Las Vegas casinos, Caesars Palace offers more than just a nice poker room. Fans of electronic games will find a great range of slots, video poker machines, and other RNG games. With stakes ranging from $0.01 up to $500, everyone can enjoy their gaming experience the way they prefer.
The casino doesn't disappoint in the table games' department, either. You'll find the venue spreads games like baccarat, blackjack, and roulette, alongside casino poker options such as Texas Hold'em Bonus Poker, Pai Gow, Let It Ride, and Three Card Poker.
Of course, like other Las Vegas resorts, Caesars also features its own rewards program. Benefits are quite similar to what you'll find with other operators. That said, there is no law preventing you from joining as many loyalty programs as you want. To make the most out of your time at Las Vegas casinos, you should do just that as there is plenty of free stuff you'll be able to pick up along the way.
Discover more details about the venue in our in-depth Caesars Palace review.
Wynn – One of the Best Las Vegas Casinos for Poker Tournaments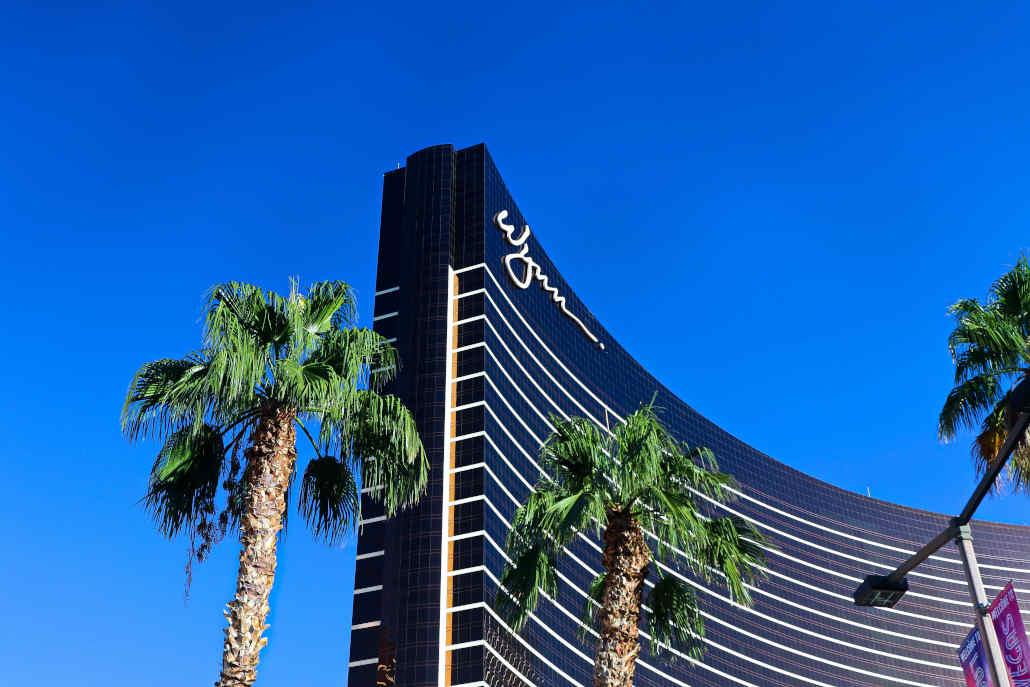 Wynn is another Las Vegas casino that offers a great experience for those looking for some poker action. The modern poker room features 28 tables, all of them equipped with USB chargers.
Spread across the room are a few dozen large-screen TVs, allowing you to keep up with the latest sporting events while waiting for the next hand.
Poker action is always good at Wynn. The room is open around the clock, so you can come in and grab a seat whenever you feel like it.
While cash games are available at all times, this poker room is better known for its tournaments. There is almost $100,000 in guaranteed prizes up for grabs every week in daily tournaments. Daily events are only suspended during larger series held at the venue.
For dailies, buy-ins range between $200 and $300, with individual guarantees from $10,000 to $25,000 or more.
If you're looking for even bigger prizes, Wynn is a home to many major events as well. The Wynn Fall Classic is an excellent example of this, featuring millions in guaranteed prizes up for grabs. In 2021, the Main Event alone featured $3,000,000 guarantee for a $3,500 buy-in.
To find out more, check out our detailed Wynn poker room review.
Like all major casinos in Las Vegas, Wynn offers a variety of slots and casino games besides poker. Players have many options to choose and across a great range of stakes.
The casino floor features more than 1,800 slot machines, and denominations go up to $1,000. There are many popular games on offer, so slots fans' will definitely feel at home.
Of course, if you just want to kill some time while waiting for your tournament to start, you can play for a few cents per spin as well.
In terms of table games, Wynn offers your standard variety of the most popular picks, such as craps, roulette, and, of course, blackjack.
Golden Nugget – Legendary Las Vegas Casino Off the Strip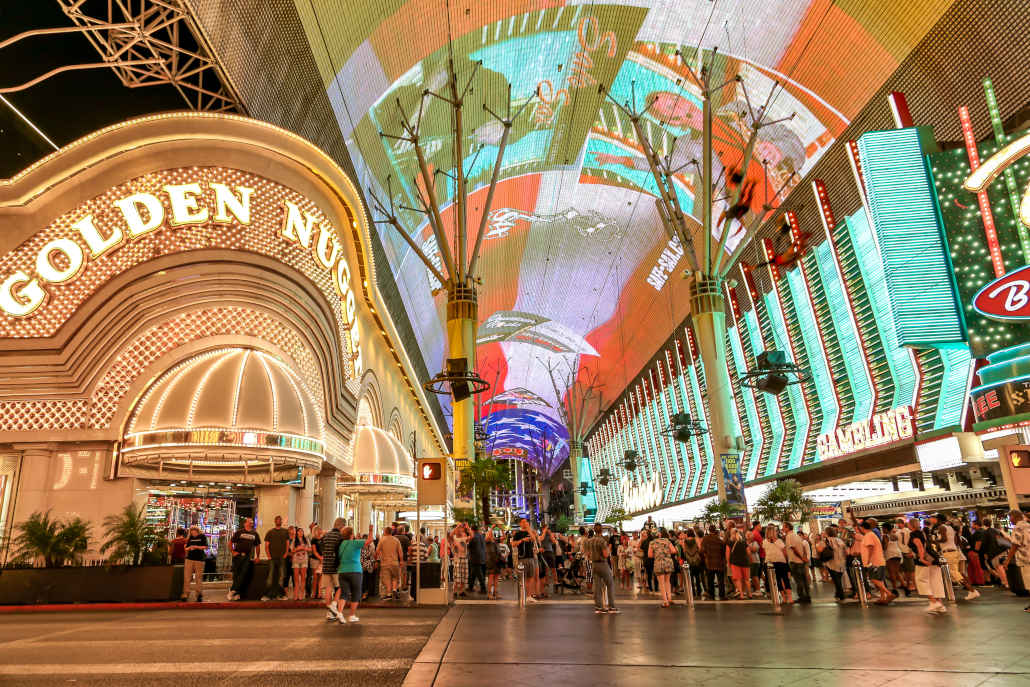 Although located off the Strip, Golden Nugget definitely belongs to the group of legendary Vegas casinos. Its fame was only perpetuated by the fact it served as the venue for epic poker shows such as High Stakes Poker and Poker After Dark.
While the poker room inside the casino isn't as big as the ones found on the Strip, it's still a very decent option for the players, especially the ones looking for some lower-stakes action. There are 13 tables inside the room, which offers a very comfortable setup.
As for the games on offer, Golden Nugget mostly spreads just No Limit and Limit Hold'em. Unlike most Vegas casinos, though, you can find yourself some $1/$2 action (instead of $1/$3), so if you're really serious about your bankroll management, this gives you some wiggle room.
During regular times, the Golden Nugget poker room also hosts daily and weekly tournaments with very affordable buy-ins ranging between $50 and $125. There are also various promotions going on, giving you all the more reason to play here.
Like most downtown Vegas casinos, it may not be filled with tourists as much as the properties on the Strip, but you should still be able to find some very good games.
The selection of other gambling games offered at Golden Nuggets isn't far behind what's offered by other best Las Vegas casinos. The venue is home to more than 1,000 video slots, featuring some of the most popular titles and a variety of big progressive jackpots.
In the table games department, you'll find options such as baccarat, roulette, blackjack, craps, and much more. The variety of stakes is quite good, so whether you're a casual player or a high roller, you'll feel at home.
Golden Nugget is situated on the famous Fremont Street in Las Vegas, and if you want to check out what the city has to offer once you move away from the Strip, this is one of the best places to start your adventure.
Find more info in this comprehensive Golden Nugget review.
Other Best Casinos in Las Vegas
If playing poker isn't very high on your list of things to do in Vegas, or you simply would like to do some more gambling while in the city, there are a bunch of casinos you could visit. The list of Vegas casinos is definitely too long to be covered in just one article, but here are a few more picks well worth mentioning.
MGM Grand – One of the Best Casinos in Vegas for Small Stakes Action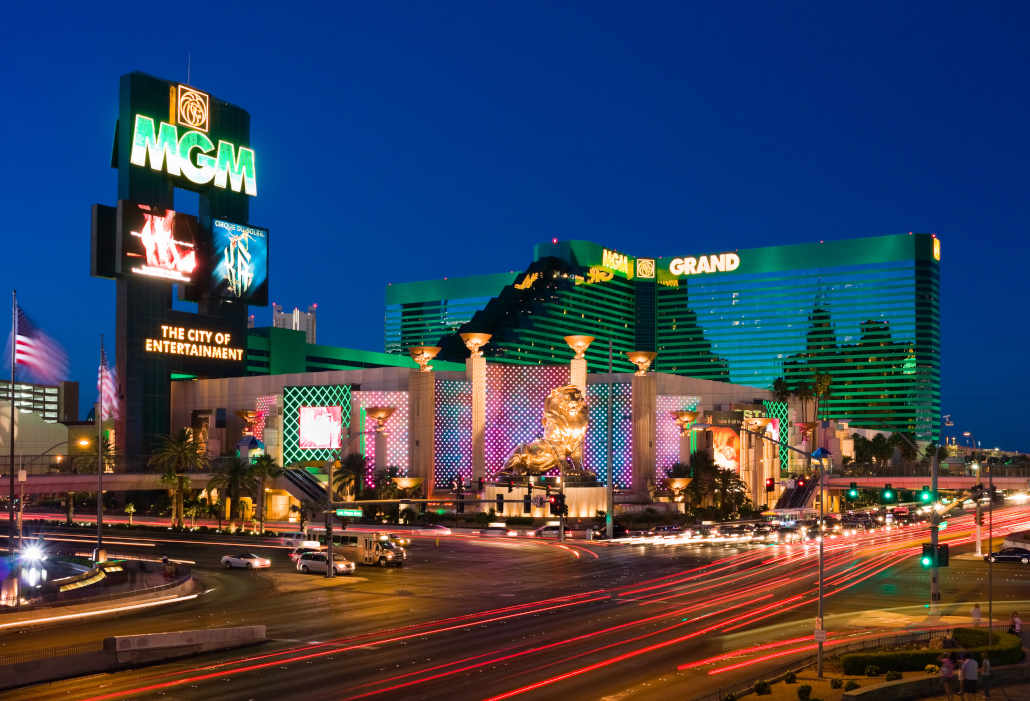 Owned by the famous MGM Resorts International group, MGM Grand Las Vegas casino represents an excellent choice for all players. This venue hosts a poker room as well, and the casino is often dubbed the $1/$2 No Limit Hold'em capital of the world. All the clues you need are right there.
While the low stakes' action is quite lively at MGM Grand, poker isn't in the focus of this particular venue. That said, if you're looking for different kinds of gambling fun, you'll find plenty of that right here.
The casino floor hosts thousands of slot machines, including everyone's favorites such as Heidi's Beerhouse and 88 Fortunes. Denominations range from $0.01 to $1,000, so MGM Grand caters to everyone's expectations with regards to stakes. If you're looking to play some big spins, this casino has you covered.
At MGM Grand, you'll also find a decent variety of progressive slots, giving you a chance to turn your Las Vegas trip into a life-changing experience if you catch that one lucky spin.
The range of table games is equally as impressive. This Vegas casino features a wide array of options, including:
Roulette (American and European)
Blackjack
Craps
Pai Gow
Let It Ride
Baccarat
The casino is also a member of the M life Rewards program, so you can take advantage of all the points you collect at Aria or Bellagio here as well.
To top it all off, MGM offers a number of top-quality restaurants and bars, so if you feel hungry or thirsty after a long night of gambling, you'll have plenty of great options to choose from. From burgers and pizza to more "classy" options, you have everything you need inside the resort.
Downtown Grand Hotel & Casino – Different Las Vegas Casino Experience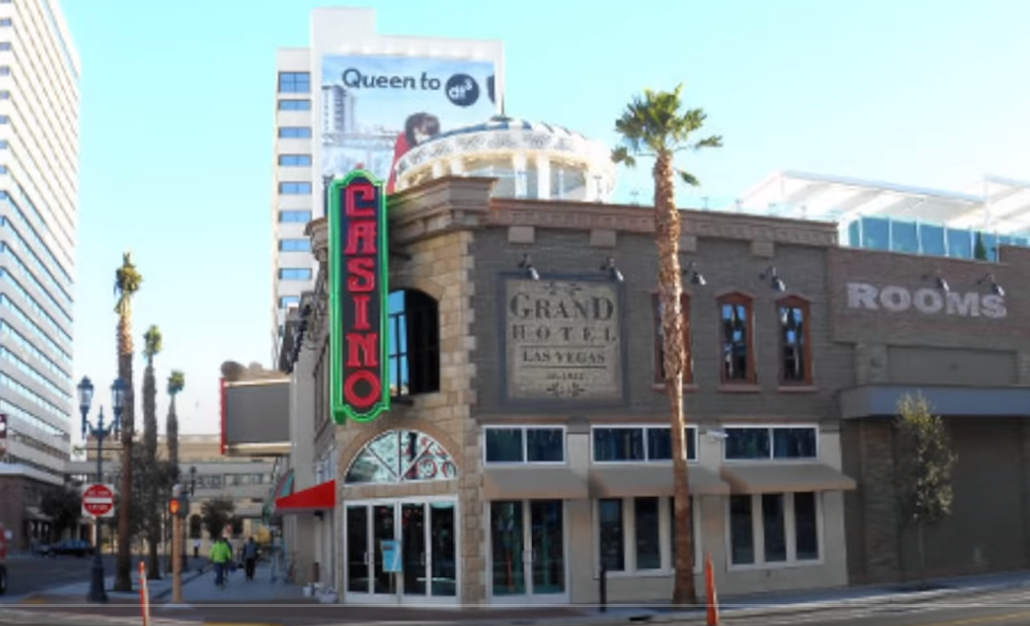 Situated just off Fremont Street, Downtown Grand Hotel & Casino is another great place to visit if you want to experience the feeling of downtown Las Vegas and get away from the Strip. This venue doesn't offer a poker room, but there is still plenty of reason to check it out while in town.
You'll find well over 300 different slot machines on the casino floor, which may not be that impressive compared to the Strip properties. On the other hand, this place provides a calmer and more intimate atmosphere that some players will definitely appreciate.
Denominations vary from $0.01 to $25, so unless you're a big-time high-roller, this should be more than enough to keep you going.
As mentioned earlier in this Las Vegas casino guide, slots in the venues located off the Strip tend to pay better. So, if you want to give yourself the best chance of actually hitting a big win, playing at a place like Downtown Grand is probably a good idea.
As for the available slots, some of the most popular games on offer include the Buffalo series, 88 Fortunes, Tarzan, Dancing Drums, games from the Link series, and Money Roll.
The table games area may not be as big as at better-known properties, but you won't lack options, either. You'll find all the popular games, from roulette and blackjack to baccarat and various casino poker games.
The Downtown Grand Rewards program is quite generous, and it will give you access to free and matched bets, branded casino apparel, gift cards, complimentary meals, and much more.
All in all, if you're looking for something slightly different in Las Vegas, check this venue out. You won't be disappointed.
Excalibur – Best Las Vegas Casino for Poker Beginners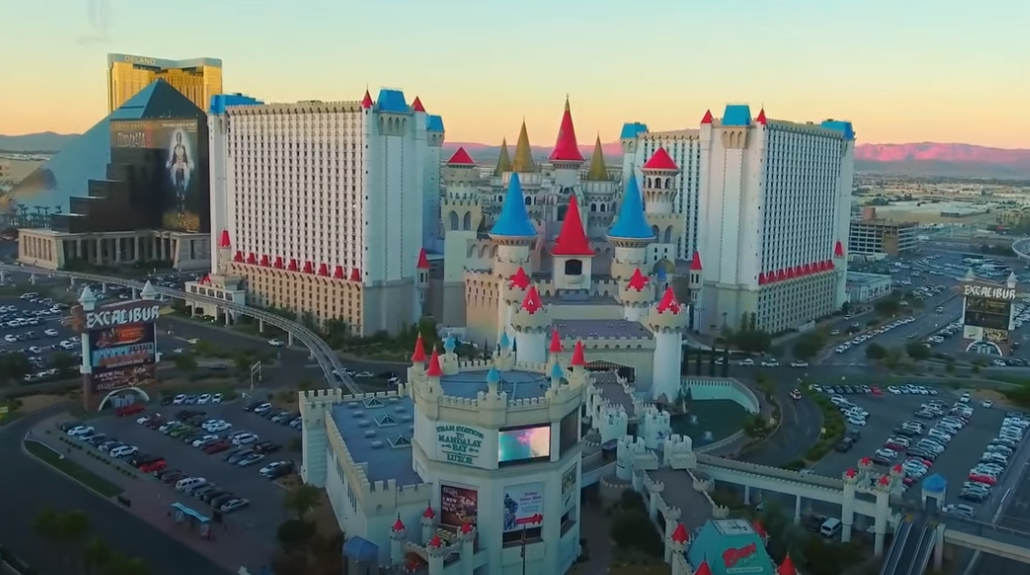 Another Las Vegas casino owned and operated by MGM Resorts International, Excalibur is an interesting place you should check out during your stay in the city.
Although it doesn't come up as the prime destination for poker players, this venue actually has a decent poker room, especially for those looking for some lower-stakes tournament action.
Namely, there are four tournaments every single day, featuring buy-ins in the $40 – $50 range, making this a great place for poker beginners looking to get some experience under their belts.
The room also offers different promotions, giving you a chance to win some extra cash when your aces are cracked, or you suffer a bad beat or a poker cooler of a different variety.
Finally, Excalibur also features a completely free Texas Hold'em school, so if you're completely new to the game, you can learn all the rules and some basic strategies here. You can then apply your newly acquired knowledge in some real-life tournaments that are super cheap to enter, especially by Las Vegas standards.
In the slots' department, this Vegas casino offers a solid selection of games, with stakes going up to $100, which should be more than enough for most players. If you have higher requirements, though, check out some of the other casinos in this guide.
When it comes to table games, Excalibur offers your standard variety of games, so you should have no problems finding what you're looking for.
This is also a great place to visit if you want to experience some table games action without breaking the bank. You'll find blackjack tables where you can play at just $5 a hand, which is very reasonable, and if you apply proper blackjack strategy, you should be able to play for a while even on a very limited bankroll.
Overall, Excalibur is probably one of the more player-friendly places you can find on the Strip. While all Las Vegas casinos are naturally in the business of making money, this particular venue puts a lot of emphasis on making sure players have a fun and memorable experience even if they don't have a massive gambling budget.
Las Vegas Casino Guide – Things to Know
Before I move on to specific venues, let's briefly talk about gambling and Las Vegas casinos in general. There are some things you should keep in mind when traveling here, as they'll apply pretty much across the board.
Vegas Casino Freebies
You may have heard stories about things being free in casinos in Las Vegas, but how much of it is true, and what free stuff can you expect to get?
Well, to begin with, drinks (alcoholic and non-alcoholic) are free in most Las Vegas resorts and casinos. This is a decades-old practice that was started by Benny Binion and slowly became the modus operandi of most venues in the city.
However, free doesn't mean you'll be showered with cocktails just because you are there. Some of these casinos have thousands of visitors every day, and you're just one of them. If you want to make sure you never run out of drinks, make sure you tip the waitresses, and they'll make sure not to forget about you.
Why should you do it if it's free? You don't have to by any means, but good luck getting your refills.
It's also worth mentioning that, if you enjoy more expensive drinks, you can ask for them, but make sure to leave a more generous tip. You'll still be getting a great deal because these drinks would probably cost you five or six times as much if you were actually paying for them.
If you want to get even more free things, such as free meals or play vouchers, you can get these at most Las Vegas casino spots. However, you'll need to sign up with the casino and get your player's card. Make sure to use the card every time you play, and you'll be accumulating your loyalty points that can be exchanged for various goodies.
And to answer the question that might be popping up in some of your heads – no, using your player's card will in no way influence your chances of winning.
First of all, those practices would be illegal and wouldn't fly in regulated Las Vegas resorts. Secondly, all the "freebies" have already been accounted for in the business plan. Casinos don't need to increase the house edge on any of their games to cover the cost of your meal.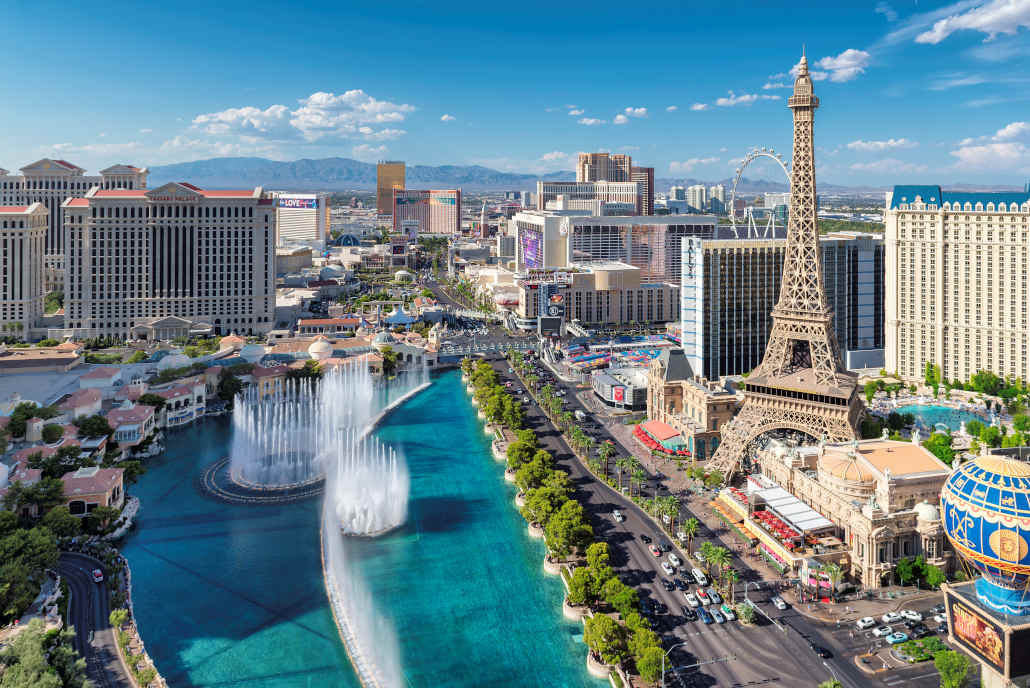 Resorts Fees Are Real & You'll Have to Pay Them
One thing that many people don't know about when visiting Las Vegas resorts are the resorts' fees. These are additional charges that you'll have to pay for your time spent at the venue and they're often not advertised.
These extra charges are for the use of facilities such as swimming pools, saunas, gyms, etc. The funny thing is, you'll have to pay the full price even if you're visiting during winter and the pool isn't even open, or the gym is being renovated.
As annoying as it may be, there is really no way around paying these fees, so you might as well save your nerves for the battles worth fighting.
Downtown Casinos Offer Better Winning Odds
When you think of Las Vegas casinos, you probably have the image of the famous Strip in your head. And that's definitely where the best action is. This is where all the tourists come and where all the fun things happen.
But, if you're looking to give yourself the best chance of winning, downtown casinos are a better choice.
Since they don't get as much foot traffic as the venues on the Strip, these casinos have decided to lure in players via other means. Their electronic games, video slots primarily, usually have the Return to Player (RTP) a few percentage points higher than what you'll find at the famous spots.
Is 2% or 3% extra worth it? That's entirely up to you to decide. These Vegas casinos don't offer the same kind of glitz, although some of them are quite nice. It really boils down to what you expect of your Vegas trip.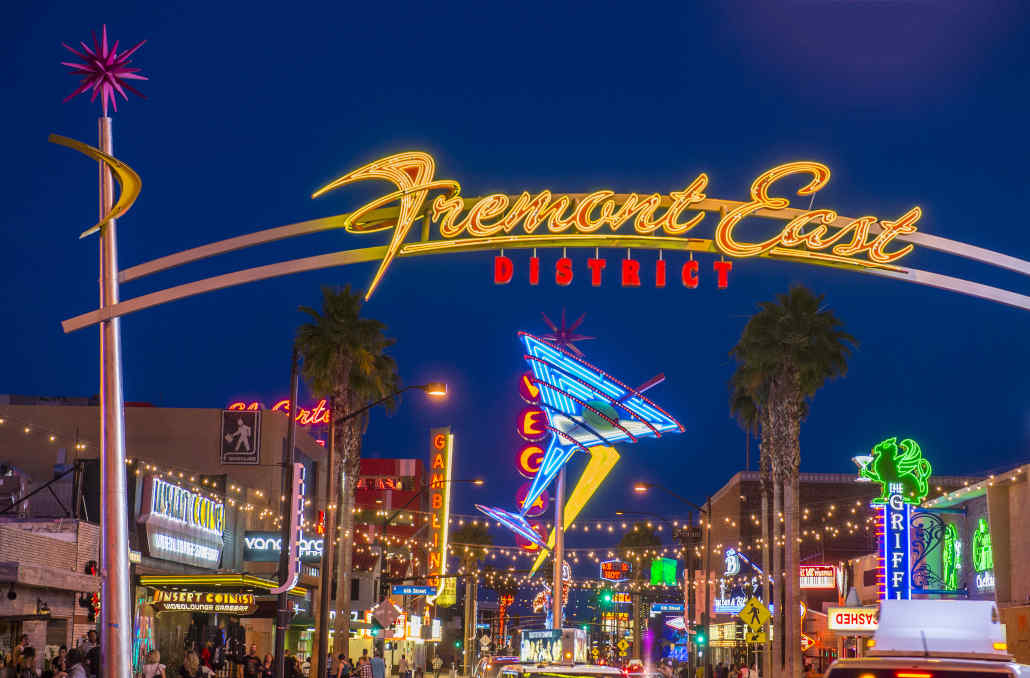 Las Vegas Casino Guide: Summary
Regardless of how many guides you read, nothing can really prepare you for your first Las Vegas visit. It is truly a city like no others, and if you love poker or gambling (or both), you'll find much more than you could've dreamed of.
This Las Vegas casino guide should give you some ideas on where to go first and what you can expect in terms of stakes and games on offer. Of course, things change all the time in Sin City, so you should always ask around once you arrive to make sure if what you're looking for is still there.
The best Las Vegas casinos have a lot to offer but don't be shy to check out some of the smaller venues located off the Strip as well. As mentioned a few times, you might be pleasantly surprised by what you'll discover, and you'll definitely improve your winning odds.
Now that you have all the information on the best Las Vegas resorts and casinos, there is just one thing left to do. Start saving some money and planning for your trip. While it likely won't be a cheap affair, it will almost certainly be an experience you'll carry with you for the rest of your life!