Venetian Poker Room Review: Roll Back the Years at This Iconic Place
10 minutes
Last Updated: September 7, 2021
Venetian Poker Room Review: Roll Back the Years at This Iconic Place
An absolute behemoth of a casino, The Venetian in Las Vegas, is the second-largest resort in the world, behind its sister hotel, The Venetian Macao.
The resort opened just before the millennium turn in 1999 and cost a fortune of $1.5 billion to build.
Since then, the Venetian has reigned supreme on the strip, looking down on many of the resorts, even as established as Wynn poker room or Bellagio casino.
With two grand casinos and a luxurious poker room, guests at The Venetian stay and play in style and comfort.
The Venetian Poker Room

The Venetian Poker Room is one of the larger on the strip. It hosts over 30 tables, which are all immaculate with comfortable seating.
Currently, the Venetian poker room is open from 9 am to 1 am and is supported by the bravo poker app, which allows you to see what games, tournaments, and promotions are running.
So, if a juicy game starts developing, you can find out wherever you are in Vegas and make a quick trip there.
I must warn you, there have been recent complaints about the rake at the Venetian.
If you want to win in cash games, then maybe play elsewhere since the rake is insane with 10% capped at $6 with an additional $3 taken out for promotions. This is applied to the $1/$3 and $2/$5 cash games.
The Venetian Poker Room Cash Games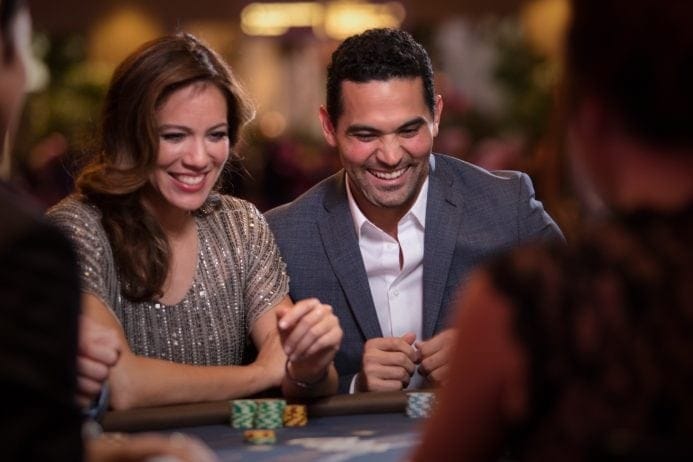 Despite the Venetian poker room size, the variation of poker games that run regularly or occasionally is quite disappointing.
$1/$3 NLHE and $2/$5 NLHE always run with buy-ins capped at $300 and $1000 respectively, $5/$10 runs occasionally
$1/$2 PLO and $2/$5 PLO run occasionally and at busier hours
$4/$8 Limit Hold'em runs rarely
The Venetian Poker Room Tournaments
The Venetian Poker Room runs two daily tournaments every day except on a Friday. Tournaments begin at 12:10 pm and 6:10 pm, and the solitary Friday tournament commences at 12:10 pm.
All tournaments have around 3 hours of late registration.
Buy-ins vary from $125 to $340, and all tournaments have guarantees.
In total, there's $60k in prize pools each week, at least that is!
To the credit of the Venetian poker room, the tournaments are well structured. All have decent enough starting starks and blinds, so you can play around a bit rather than being stuck in a game of shove or fold.
Monday Tournaments
12:10pm: $150 buy-in, 15k starting stack, 30 minute blinds, $4k gtd
6:10pm: $125 buy-in ($25 bounty), 15k starting stack, 20 minute blinds, $2k gtd
Tuesday Tournaments
12:10pm: Same as Monday's
6:10pm: $200 buy-in ($50 bounty), 12k starting stack, 30 minute blinds, $4k gtd
Wednesday Tournaments
12:10pm: Same as Monday's
6:10pm: $125 buy-in, 20k starting stack, 20 minute blinds, $2k gtd
Thursday Tournaments
12:10pm: Same as Monday
6:10pm: $125 buy-in ($25 bounty), 15k starting stack, 20 minute blinds, $3k gtd
Friday Tournament
12:10pm: $200 buy-in, 15k starting stack, 30 minute blinds, $10k gtd, optional $100 add-ons at first and second break
Saturday Tournaments
12:10pm: $340 buy-in, 24k starting stack, 40 minute blinds, $12k gtd
6:10pm: Same as Wednesday
Sunday Tournaments
12:10pm: $250 buy-in, 20k starting stack, 30 minute blinds, $7k gtd
6:10pm: Same as Wednesday

Venetian DeepStack Series
The DeepStack Poker Series is The Venetian's flagship poker festivals and probably the best place to play some poker hands while you are there. While these events are ongoing, the daily tournaments, as described above, are suspended.
There are three DeepStack series each year:
Venetian DeepStack Showdown Poker Series
Currently, underway at the time of writing (Oct 2020) it is expected more than $400k guaranteed in prize money across 18 events. Buy-ins vary from $125-$600.
Venetian DeepStack Extravaganza Poker Series
This series begins in the latter of October, going into November. Over $1.6 million guaranteed in prizes with buy-ins $200-$1600 across 52 events.
Venetian DeepStack Championship Poker Series
Canceled for 2020 due to Covid, but in 2019 more than $24 million in prize money was generated.
The jewel in the crown of The Venetians DeepStack series saw a staggering 136 events with buy-ins from $200-$5000 last year.
Venetian Parking
Credit where credit is due, The Venetian is the industry standard when it comes to parking.
Guests at The Venetian can park in one of their two complimentary self-parking garages.
Even complimentary valet parking is a courtesy to all guests. You do not need to qualify by having a certain member status on their reward scheme like other establishments on the Strip.
The Venetian Casino Games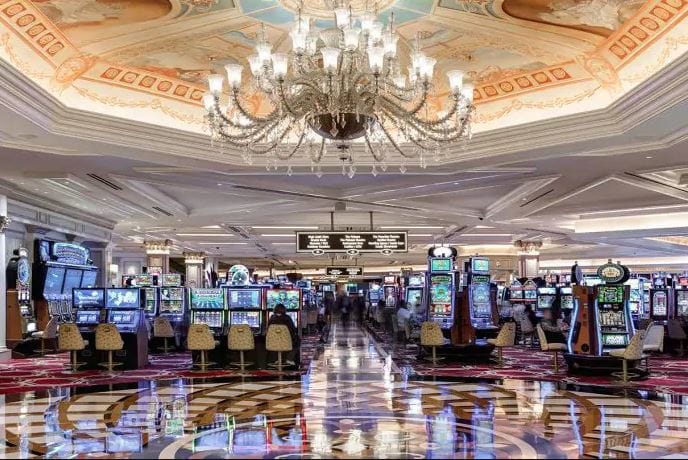 Not my favorite casino on the strip, but still exemplary none the less. The Venetian and Palazzo casinos still ooze luxury, even if you are just taking it easy playing on the penny slots.
Slots
Both casinos at The Venetian have been said to have the best selections of slots to play. Of course, that is subjective, but you'll have to find out for yourself.
There's over 1000 slots to play at The Venetian and more than 900 at The Palazzo. Players can earn rewards after becoming a member of Grazie (loyalty program).
The Venetian is always trying to innovate their slot machines, and this can be seen when playing one of their featured slots such as:
Ghost Busters 4D
Game of Thrones: Fire & Blood
Lord of the Rings – Rule Them All
Buffalo Slot Zones
High Rollers can also play in their private lounge, the High-Limit Salon, where you can make wagers of $5000 a spin on one of the 100 slot machines that fill up the room.
Table Games
On the 120,000 square foot of gaming space, there's over 225 gaming tables and a further 60 in the high roller lounge. The games on offer to you are:
Baccarat

(Various Types)
Craps
Roulette
Crazy 4 Poker
High Card Flush
Mississippi Stud
Let It Ride
If you are unfamiliar with any of the above, you can easily familiarise yourself with each game before going or even ask the dealer for some tips.
The Venetian Resort and Casino – What to Expect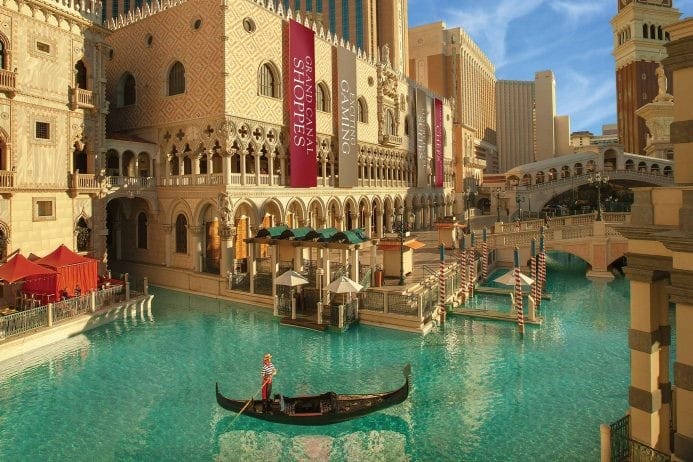 Inspired by Venice, Italy, the Venetian has multiple architectural replicas of landmarks you'd find in Venice. You get to see the:
Palazzo Ducale
Piazza San Marco
Piazzetta di San Marco
Lion of Venice
The column of Saint Theodore
St Mark's Campanile
Rialto Bridge
It'll be no surprise to you as well that the rooms and suites at the Venetian far exceed expectations. Across the two hotel towers, there are 4,049 rooms that you can stay out, venturing from deluxe rooms to grand suites.
Whether you want to keep it casual or go all out, there's a room or suite that'll satisfy any desires you have.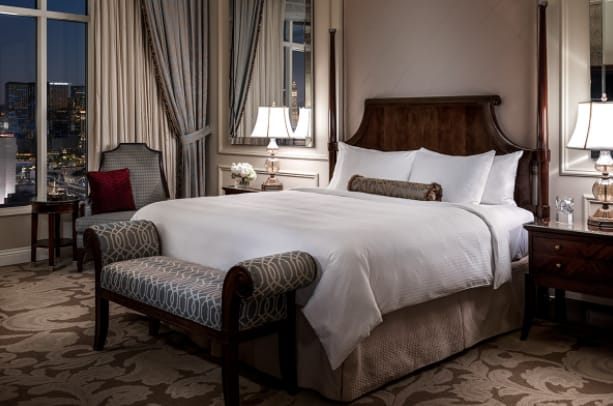 The typical room is larger than that of other Vegas hotels and resorts, but this does come at a premium. But I'll tell you what, it'll be worth every dollar and every cent if Las Vegas is on your bucket list.
Now to discuss my second favorite thing in the world after poker, its food!
The Venetian hosts some of the best restaurants you can find in America, let alone Vegas.
With plenty of signature restaurants and celebrity chef eateries, including Lorena Garcia and Thomas Keller, over several cuisines, I promise you won't go hungry while you are a guest.
The Venetian has three signature restaurants and plenty of other great dining options, but these are the ones that stand out from the crowd in quality and price. However, the three that I will name are:
Mott 32 – Asian Fine Dining (Strip Restaurant of the Year – Desert Companion)
Matteo's Ristorante Italiano – One of the top Italian restaurants in Vegas inspired by Northern Italy
Majordomo Meat and Fish – Steakhouse, Asian and Seafood all under one roof, Majordomo is the new culinary adventure of Chef David Chang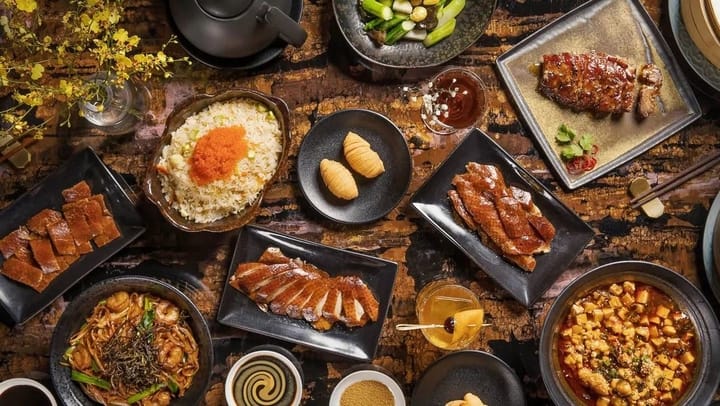 Another great place to get a mention is Black Tap Craft Burgers and Beers, a fun place for some great ales and casual dining.
The Venetian – Things to Do
With top-class nightlife, must-see shows, and mesmerizing relaxation facilities, whether you live life in the fast line or prefer to take it slow, there's plenty to keep you occupied when you are not at the poker table.
Some amenities you can enjoy while you stay at The Venetian include:
Nightlife
Tao Nightclub
Kamu Ultra Karaoke
Electra Cocktail Club
Rosina Cocktail Lounge
The Dorsey Cocktail Bar (My favorite pick!)
The Cocktail Collective
Shows
Atomic Saloon Show
ZZ Top (April 2021)
Pools & Spas
The Venetian Pool Deck
The Palazzo Pool Deck
The Aquatic Club
Pool Cabanas
Canyon Ranch Spa & Fitness
If taking it easy by the pool is your idea of heaven, then there are no real other choices for you than to stay at the Venetian.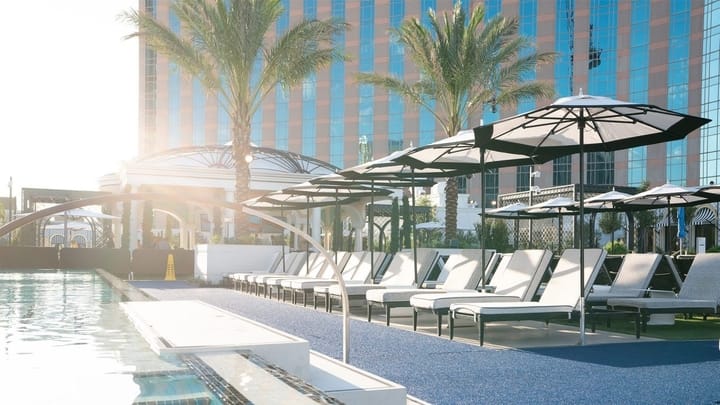 It is home to by far the best pool on the strip and has been recognized as such with winning the Luxury Lifestyle: Best Luxury Spa Resort in Las Vegas award.
Nightlife amenities are also a top draw. My favorite spot that I experienced while I had a nose around The Venetian on my last Vegas trip was The Dorsey Cocktail Bar.
If you like refinement, coziness, and stiff cocktails, then there's no better place to get one down the hatch.
Of course, there's also the famous Venetian Gondolas, which is a must. As cliché as it is, no stay at the Venetian is complete unless you take a ride on one of these as you explore the Grand Canal.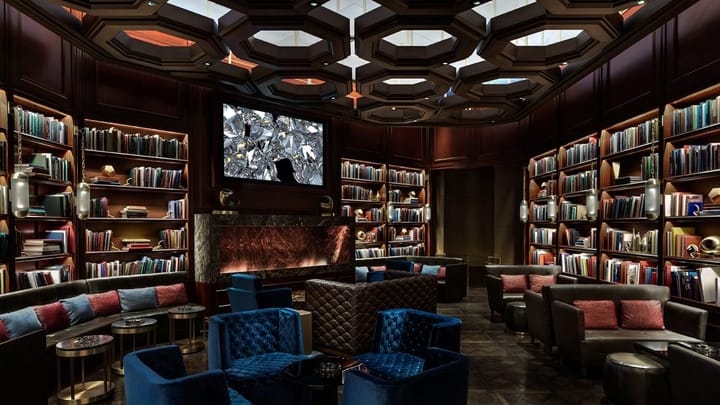 Venetian Controversy
With a lot of us more conscious of where we spend our money, it would only be fair to tell you that The Venetian has had its run-in with the law.
In 2004, The Venetian paid out $1 million to settle a gaming complaint where it was alleged that a prize draw for a new Mercedes-Benz had been rigged to a regular casino high roller. And in 2013, the US Department of Justice received a payment of $47.4 million regarding "alleged money laundering activities."
The Venetian was also widely criticized by some prominent names in the poker community in the fall of 2019.
In its Lucky Shot Series, six of the seven events had what we were called 'Total Prize Pools' instead of the usual 'Guarantee' that we see.
For example, the $250 No-Limit Hold'em event had a $150,000 Total Prize Pool. The fine print wording explained that once the prize pool had been hit, any monies collected after would be the sole possession of the Venetian Poker Room and not go into the prize fund.
This is extremely bad hence the uproar that followed.
If you are more in the know of what goes on in the world of poker, you'll be aware that the patriarch behind the Venetian Resort is billionaire Sheldon Adelson. The 87-year-old is largely disliked amongst the community for his continuing support of keeping online poker in the US illegal and lobbying against other forms of online gambling.
This means that the millions of Americans who want to play online poker must continue to play on unsafe and unregulated sites where people's money is not properly protected.
I'm not going to tell you how to think or where you should spend your money, but it would be disingenuous of me to only parlay the positives about this establishment without highlighting some of the more unsavory issues that surround the Venetian casino and its founder.
The Venetian – Keeping You Safe Against Covid-19
The Venetian has created their 'Clean Commitment' to keep team members and guests as safe as possible while they stay. Their new cleaning measures are stated to exceed their usual high standards, and the measures in place meet or exceed CDC requirements.
As the state of Nevada has made wearing face coverings mandatory in public areas, guests are entitled to free masks, which can be obtained at every entrance into the resort and casino.
All team members are wearing FDA-approved masks
There are thermal scanning stations in all entrances to identify people who could carry the virus, and cleaning on high touch areas has also increased.
Physical distancing is in place as best as possible. Each guest will get their own Venetian Clean kit in their suites, including relevant personal protection equipment such as more masks, hand sanitizer, and sanitizing wipes.
You can find a more comprehensive briefing from The Venetian here.
Venetian Poker Room and Casino: The Final Thoughts
There's no taking away how breathtakingly beautiful the resort is, the team members were polite and courteous in my experience, and the customer service on top of that was sublime.
The casinos and poker room are that enjoyable that you kind of feel dirty going back to your local poker room and less pristine gambling environments.
There's plenty of non-casino related activities, which can make memories for a lifetime.