TwoPlusTwo NVG Poker Forum: Are You Missing Something Good?
TwoPlusTwo is the biggest poker forum there is. Gathering seasoned pros, members of poker media, casual players, and fans of the game all in one place, it is the go-to place for all things poker.
The online poker scene may have changed significantly over the years, but TwoPlusTwo has always managed to keep its place at the top.
While forums or Reddit might not be the best place to learn strategy, there are many different topics you can explore, and the NVG poker sub-forum is by far the most frequented section of the site.
If you're wondering what NVG stands for, it's an acronym for News, Views, and Gossip, so you should have a pretty good idea of what to expect inside.
In all honesty, though, if you've never checked out this place before, you'll likely be surprised by the number of threads inside. From all the standard news and announcements about various tournaments and events to juicy gossips, the TwoPlusTwo NVG poker forum section has it all.
One of the best things about the NVG poker sub-forum is that threads rarely get deleted, so you can go years back and find anything you might be looking for.
Brief History of Two Plus Two and NVG Poker
Two Plus Two Publishing was launched back in 1998 by Mason Malmuth to publish quality poker books produced by numerous high-profile personalities from the poker niche such as Mason himself, David Sklansky, Dan Harrington, and many others.
The TwoPlusTwo forum launched as a place where everyone who enjoys poker could gather and talk about the game. Most likely, not even Mason knew just how popular this forum would become over the years, becoming a proper household name in the poker world.

Besides the NVG part, there are many other sub-forums. The most popular ones being BBV (Brags, Beats, Variance), the Strategy section, and the Marketplace.
Of these, the BBV is easily the most entertaining one, containing countless stories of insane poker feats, epic matches, and funny anecdotes from well-known players and random users alike. So if you have some time to spare, this might be an interesting read as well.
TwoPlusTwo NVG Poker in a Nutshell
Two Plus Two is an open forum, which means that pretty much anyone is allowed to post answers in existing threads and create their own in most sub-forums.
The News, Views, and Gossips is one such sub-forum, which gives it interesting dynamics and makes it a place where you can find heaps of information about poker. Some of the usual stuff you'll find on the sub-forum include:
News about current and upcoming tournaments and winners
Announcements & reviews of new poker sites
Regular online high stakes reports
Movies & books reviews and discussions
News on popular poker podcasts, streams, etc.
General news from the poker world
In a nutshell, the TwoPlusTwo NVG poker section is truly the one-stop for all the information about online and live poker you could possibly need, well maybe apart from the actual strategy.
If there's been an event of any significance within the poker community, the odds are – someone's going to post a thread about it.
2+2 NVG Poker Sub-forum isn't a News Site
All this being said, TwoPlusTwo isn't a traditional news site like PokerNews, for example. By default, threads are listed by the last reply, so if someone commented on a thread from a year ago, it might pop up on the first page.
It can be a bit of a pain if you're looking for the info about a recent event, as you might have to go through several pages to find what you're interested in.
Luckily, Two Plus Two Poker does offer a variety of filters and search options you can use to narrow things down. If you're looking for information about a particular player or event, for example, you can use the search function to filter threads and posts that mention that particular term.
Being an old forum with a well-established user core, TwoPlusTwo does have a certain core of unofficial contributors. Some users take it upon themselves to inform the rest of the community about important happenings, and these people are an important part of the 2+2 NVG poker section.
The Good, the Bad, and the Ugly from NVG poker on TwoPlusTwo
Over the years it's been in existence, the NVG Poker branch has seen its fair share of colorful threads, and this sub-forum has certainly done a lot to help the poker community in many ways.
One of the most recent threads that got hundreds of replies, for example, deals with the Mike Postle cheating scandal and provides all the information about the event that had quite an impact on the poker community.
Then, there are many threads dealing with high-profile players. These threads represent an excellent resource for poker fans who want to keep up with their heroes.
If you want to know where they are, what they've been up to, and how poker gods have been treating them – this is where you'll find your answers. These are usually called NVG poker 'containment' threads like the one on Daniel Negreanu.
NVG has also kept a record of many epic matches over the years, like the one documenting a challenge between Doug 'WCGRider' Polk and Ben 'Sauce' Sulsky. Reading these threads can be a lot of fun as they contain a lot of info from the years-long gone, and you can read about the early-day struggles of some of the best players around.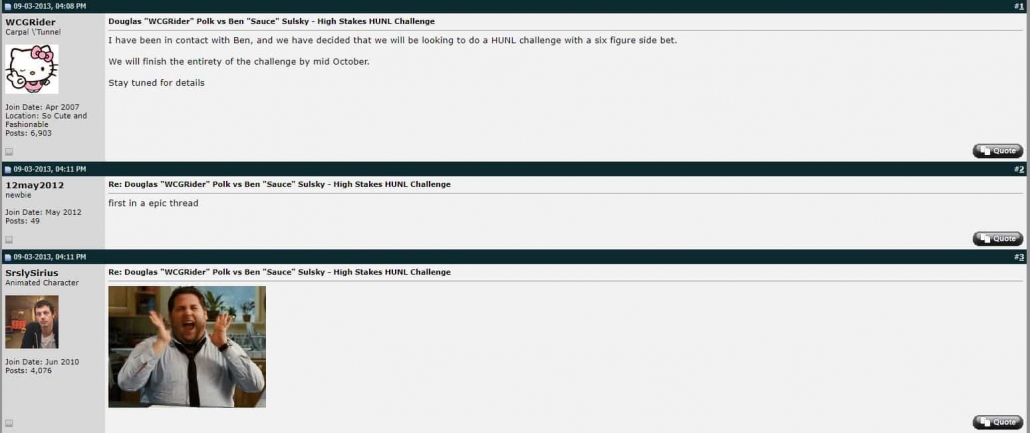 Taking Things on NVG Poker Section with a Grain of Salt
Although NVG Poker is the ultimate resource for the poker information, you'd be wise to take certain threads that pop up with a grain of salt.
It has happened that people have used this sub-forum as a tool to out certain members of the community, accusing them of cheating, stealing, and scamming.
Sometimes, these accusations turned out to be true; sometimes, however, they amounted to nothing more than lies and fabrications.
Hidden behind the anonymity of the internet and screen names, some people will have their own hidden agenda to try and ruin someone's reputation. And TwoPlusTwo moderators can't know what's true and what's not right off the bat.
What I'm trying to say is that if you come across some big drama thread in NVG poker, you should probably wait with forming your opinion. If there are legitimate accusations, the original poster will usually offer some kind of proof to back his or her claims.
Didn't realize how much I missed online poker forum drama til Fiilsmies accused Linus of cheating in NVG.

— Sam Greenwood (@SamGreenwoodRIO) September 11, 2019
It creates interesting dynamics, as members of the TwoPlusTwo Poker forum have some degree of responsibility as well. It has happened over and over that the community came together to put an end to a scam or help someone clear their name after being unfairly accused of something nefarious.
SUMMARY: YOU DO NEED TWOPLUSTWO NVG POKER TO KEEP UP WITH THE WORLD
I guess not everyone would agree on this point, but I do think it's fair to say that TwoPlusTwo has helped shape the poker world of today. The NVG poker section, in particular, has played a great role in this process as many use it as their starting point when looking for information about the game.
The best part about it is – if something goes under the radar and you feel it's worth mentioning, you're free to make your thread about it. In fact, some of the biggest threads in NVG have started from small posts that seemed fairly irrelevant.
Of course, I have to mention one more time that you should not be looking to learn poker by hitting the forums. Instead, you should check one of the training sites, but the 2+2 NVG section can be a great resource to keep up with what happening in the poker world.
The bottom line is, the poker community is big and scattered all over the world. Two Plus Two poker forum offers a place where everyone can meet, talk, exchange their views, and share the information with no restrictions. And you just can't beat that!