Casino Helsinki – The Best Place To Play Poker In Finland
Casino Helsinki – The Best Place To Play Poker In Finland
Finish poker players are well known for their aggressive style and had plenty of success in the worldwide arena, so it would be a shame not to visit the only casino which is offering poker in Finland if you happen to find yourself there.
A recent study suggests that the vast majority of the Finish adult population enjoys gambling and engages in some games on a regular basis.
This is obviously a good thing to know and a big indication that you could find some juicy games on the road. While you are very likely to find Finish players in tournaments all over the world or sitting in one of the online poker apps, Helsinki is the place to start looking.
Casino Helsinki is located in the capital city as the name suggests, and is probably the only area where you can legally play poker, so I want to discuss it a bit further.
Is poker legal in Finland?
Playing poker in Finland is perfectly legal as far as you stick to regulated sites and official casinos, the only problem is that there aren't as many to choose from.
Another popular alternative is private home games, which is very popular in this country but of course falls into grey waters since it is not regulated, nor very safe if you do not know who you are playing. Just like everywhere in the world, it exposes you to additional threats, so pick it carefully if you decide to join.
Online poker is also unregulated in Finland, so just like with home games, you want to take precocious when choosing where to play.
A good rule of thumb is to stick to well-known and established poker rooms, so you should pick ones that are regulated or visit Rizk Casino if you want to have some fun online.
If you are ever uncertain about the game that is offered either live or online, better stay safe than sorry and stick to licensed options.
Casino Helsinki – what you can find
The good news is that Casino Helsinki offers cash games every single night, and you can find both NLHE and PLO games running. Mostly you will be limited to playing standard stakes of €1/1 to €5/€5 for both of these, but sometimes the action heats up, and you can find higher games on offer.
It is worth mentioning that the rake is 5% and capped at €10 per hand, so these games are not the cheapest in the world, but neither is the worst option.
On top of that, you will have a chance to win a Jackpot while playing poker in Helsinki Casino, with much higher odds than in other places. To qualify for payout in Texas Holdem, you need to lose with a full-house of AAAKK or a better hand according to the official poker hand rankings.
Compared to the requirement of losing with a straight flush in other casinos, you have a much higher chance here. Of course, you still need to use both of your cards to make the combination, but that is a standard rule.
So whenever you play a hand with six or more players, and the action goes to the turn, €1 will be deducted to the "Bad Beat Jackpot" until someone actually hits it.
One of the recent payouts was in excess of 38k euros, so this surely adds some excitement in the game, and you probably much rather lose when you have a monster than take down the pot.
MTTs in Helsinki Casino
As for the tournaments, they also have quite a constant action and offer tournaments every week and even have a leaderboard for regular players. If you are a local or staying there for an extended period of time, this might add some thrill in the mix since you will be able to compete for added prices based on how well you do in regular tournaments.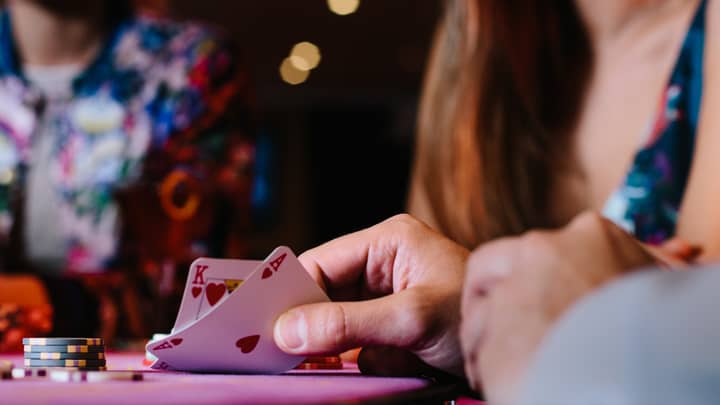 Casino Helsinki also organizes a bigger international series where you can find higher buy-in tournaments:
Helsinki Freezeout – tournament week held annually in January.
Midnight Sun Poker – tournament week held annually in June.
Fennia Grand Slam – tournament week held annually every fall.
Pokerin SM – Finnish national championship event held annually in October-November.
In these series, you can find tournaments ranging from €400 to €1000 and €2000 Main Events, so these are the ones that can offer you a bit more action with a suitable buy-in range for many players.
All in all, Casino Helsinki is a great place to play some poker and spend some quality time, so you should visit this place if you ever be close to this destination. Just remember, stick with playing solid preflop ranges to avoid being run over aggressive Fin players.
Famous Finish Poker Players
Without a doubt, the most famous poker player from Finland is Patrik Antonius, who had tremendous success in the highest cash games in the world and tournaments alike. He has been a regular in Poker After Dark, High Stakes Poker, and other shows where he got quite a following to himself.
A former tennis player and model is even referred to James Bond of poker some of the time and is holding 1st place in Finish all-time money list, which is hardly a surprise to anyone.
His biggest score came in 2018 when he finished 2nd in Macau's Super High Roller Bowl and took home a total of $ 3,153,551.
Another well-known player is Juha Helppi, which is second in the list with almost $8 million in winnings. The list goes on and on since there are many great Finish players, and it seems all of them rise the ranks with extremely aggressive playing style, which makes them tough opponents.
It seems that female poker players are also enjoying the action and stick to similar strategies at the tables. This hand alone is worth thousands of words.
Conclusion: Playing Poker In Finland
As you see, Finland does not offer many places to play poker officially, but you can find plenty of cash games and tournaments in Casino Helsinki to enjoy your time.
With an added thrill of one of the best Bad Beat Jackpots I have ever seen and an exceptionally fun games that aggressive locals are ready to offer, this is a great place to play some poker.
If you happen to find yourself in Helsinki during your trip or go there with a different business, make sure to visit Helsinki Casino, and I am quite sure you will not regret it.