Scotland's David Docherty Triumphs in Record-Breaking Irish Poker Open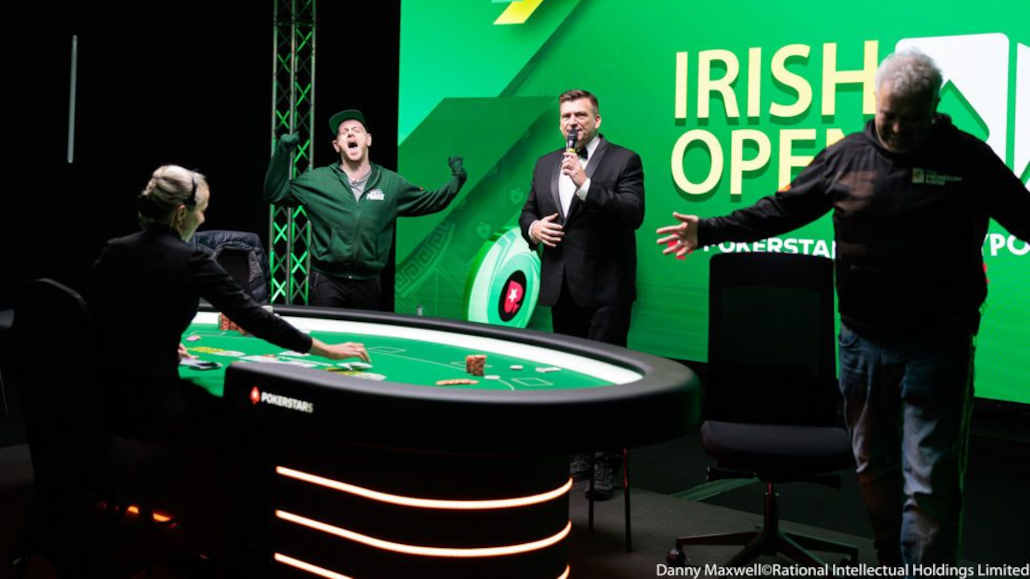 5 minutes
Last Updated: November 6, 2023
The first-ever PokerStars sponsored Irish Poker Open came to an end on April 11, with Scotland's David Docherty booking a win in the Main Event and taking home €365,000 for his trouble.
This win takes his lifetime tournament winnings to over one million dollars.
On his path to the biggest win of his career, Docherty beat a record-breaking field of 2,491 players, all of whom entered the €1,150 Irish Open Main Event with the same dream.
The Irish Open Main Event concluded a generally well-run festival of poker that went on for a full week, with numerous side events and high rollers attracting thousands of recreational players and super-pros alike.
The largest ever Irish Open brought together players from almost 60 countries, with the UK and Ireland accounting for some 60% of the number, and international visitors covering the other 40%.
These numbers were reflected in the Main Event final table as well, as players from Greece, Moldova, and Finland made their way to the final nine to represent the rest of the world.
While the poker side of things was certainly the highlight of the week, numerous off-the-felt activities.
A Corn Hole night, Beer Pong competition, and live music events all made the atmosphere complete, with PokerStars and Paddy Power acting as main sponsors for these side events.
The 2023 Irish Open was the most successful to date, both in terms of numbers and player satisfaction, once again proving why it's considered one of the best poker festivals in Europe.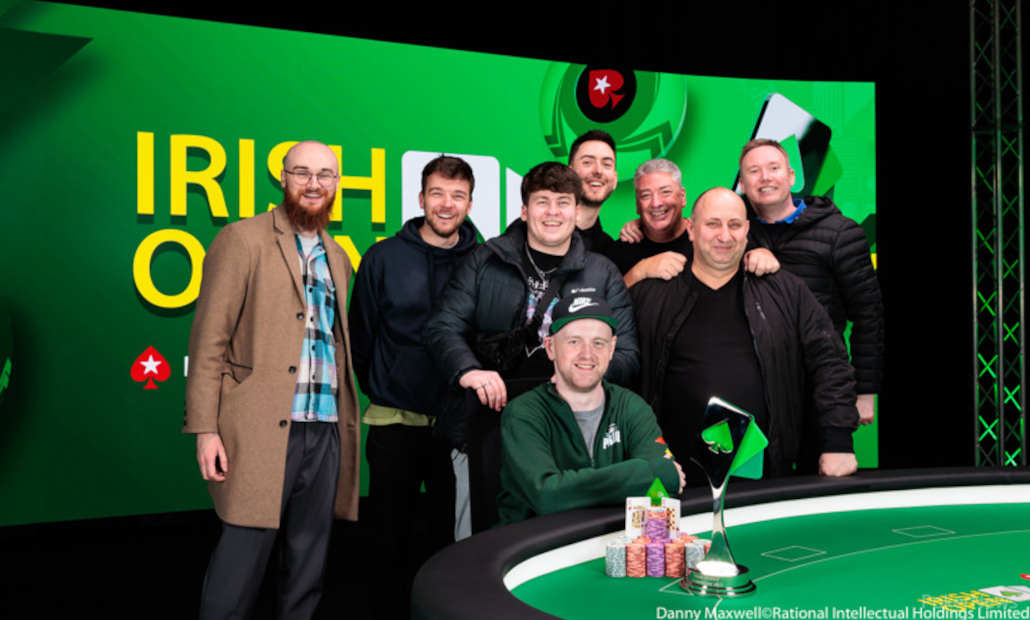 Record-Breaking Main Event Title Goes to Scotland
The 2023 Irish Poker Open Main Event ended up breaking quite a few records and becoming the largest ever poker tournament played in Ireland with 2,491 entries in total.
Each of these entries cost €1,150, creating an eye-watering prize pool of €2,428,475, with €365,000 of that money reserved for the eventual champion.
As play dwindled down to the final nine players, a mixed field of British, Irish, and European players remained, with no representatives of other parts of the world, despite 5% of overall entries coming from the US.
First three players to bust included Finland's Henri Ojala (€43,500), England's Carl Shaw (€56,500), and Moldova's Eugeniu Barbos (€73,500), all collecting fine paydays but falling short of the top prizes.
One of Ireland's most decorated players, Andy Black, who has won more than $5 million in his tournament poker career, was the next to go, with a payout of €95,500 for his fifth-place finish.
7-2 = the worst hand in poker

6-2 = the Andy Black 👇 #IrishPokerOpen pic.twitter.com/qfiULrIStS

— PokerStars LIVE (@PokerStarsLIVE) April 11, 2023
Tom Waters from England was the first player to cash for more than €100k, with his fourth-place finish good for €124,500 in prize money.
Greek Panagiotis Mavritskakis fell just short of heads up play, as he busted out in third and collected his €161,500 payout.
This left the PokerStars qualifier David Docherty heads up with Ireland's own Declan Rice, whose previous recorded tournament cashes were all very modest in comparison to this one.
Docherty, who qualified for the Main Event for just $109 at PokerStars, managed to double down through his opponent, who had dominated much of the final table, and bring it home for the first major tournament title of his career.
ICYMI, this is how David Docherty took down the @Irish_PokerOpen Main Event.

He defeated a field of 2,491 entries, winning the beautiful 🏆 and €365,000. 👏 pic.twitter.com/dbYA9FaIew

— PokerStars (@PokerStars) April 11, 2023
The Scottish player added €365,000 to his tournament record and broke the million dollar mark on Hendon Mob.
His opponent took home €228,700 for his second-place finish, adding it to some $20k won in poker tournaments through his lifetime.
Benny Glaser Conquers the €5k Luxon Pay High Roller
While the €1,150 Main Event was the highlight event of the Irish Open, the €5,000 Luxon Pay High Roller was another event that made quite a few heads turn.
The highest buy-in event of the festival attracted 84 entries in total, creating a prize pool of €389,025, with quite a few big names in the field.
By the time play had come down to final two, it was tournament legends Benny Glaser and Roberto Romanello who were left standing, providing the exact kind of finish one would expect from an event like this.
Glaser, who had gone down to a very short stack at one point, managed to climb his way back and eventually defeat Romanello in a single poker hand of heads up play, taking home €106,980 and yet another tournament poker title to add to his cabinet.
Congratulations @BennyGlaser on taking down the €5k Luxon Pay Championship at the @Irish_PokerOpen!

Benny takes home €106,980 after defeating a field of 84 players. 🏆 👏

Runners-up were 🥈 Roberto Romanello for €76,055 and 🥉 Waheed Ashraf winning €49,795. pic.twitter.com/05Cn3mxOEH

— PokerStars UK & IRE (@PokerStarsUK) April 6, 2023
Glaser went on a deep run in the Main Event as well and ended up busting on the final table bubble, taking an unfortunate beat to finish tenth for just €25,750 and a near-miss on another six figure score.
Will Kassouf Stirs Up Drama
The 2023 Irish Open was an extremely well-run operation overall with very little drama surrounding it, but on the final night of the action English player Will Kassouf ended up in the center of attention once again.
Kassouf, who is best known for his table antics and his legendary 2016 WSOP Main Event run, was accused of "going south" or leaving the table with his chips after playing an all-in pot, before the dealer could collect the chips and put them in the pot.
The hand in question happened at the €1/2 6-Card PLO tables, where Kassouf was apparently all-in for some €250 on the flop against two players. After losing both boards, the player was accused of having left the table with his poker chips in hand.
Will spoke on the incident, adamantly claiming that he took no chips off the table and that he left the table to speak to his friends after realizing he had lost the pot.
What to Expect from the Irish Open Moving Forward?
The 2023 Irish Open proved that the festival is an extremely appealing one to both local and visiting players, breaking all previous records for poker tournaments in Ireland and many records for poker tournaments in this buy-in range in general.
With PokerStars now being one of the main sponsors of the Irish Open, we can expect even more qualifiers to make their way to future iterations of the festival and some more success stories like the one of David Docherty.
While we will have to wait a full year to see how the 2024 Irish Poker Open performs, PokerStars has plenty of opportunities to win seats in other poker tournaments in Europe and beyond for the coming months.
So, head on over and check out the active qualifiers, grab your poker bonus, and see if you can repeat Docherty's success at a tournament stop you find the most convenient.