Dogs Playing Poker – Learn the Story Behind the Iconic Art Masterpiece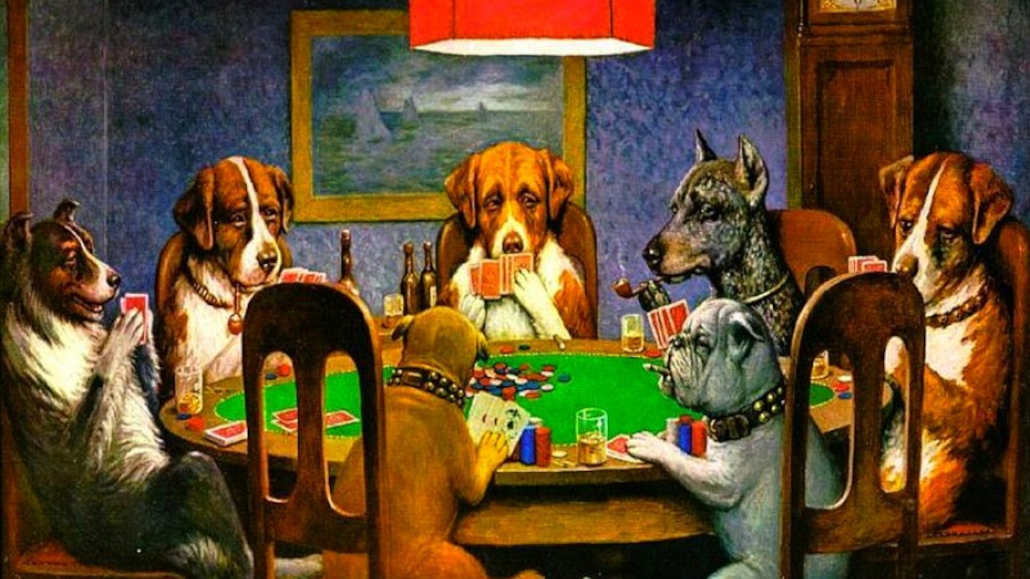 5 minutes
Last Updated: September 7, 2022
You have probably seen a picture showing dogs playing poker and smoking cigars at some point in your life, and if you are a poker player, you have probably seen it more times than you can remember.
However, like most of us, you probably don't know that "Dogs Playing Poker" doesn't refer to only one painting but a whole series.
In this article, we will be telling the story about the original Dogs Playing Poker painting and how it went from being used as a marketing poster to one of the most recognizable paintings in the world.
The Most Famous American Artist You've Never Heard Of 
The man responsible for the painting that has become a part of pop culture is Cassius Marcellus Coolidge.
As you can see from the title, he is considered the "most famous American artist you've never heard of" in American art circles.
Coolidge was born on 18 September 1844 in Antwerp, New York. When he was just a baby, his family, who were Quakers, moved to Philadelphia, where he spent his childhood.
Since he had no formal education or training in art, he worked "normal" jobs that included banking, journalism, and working in a pharmacy before finally becoming a full-time artist.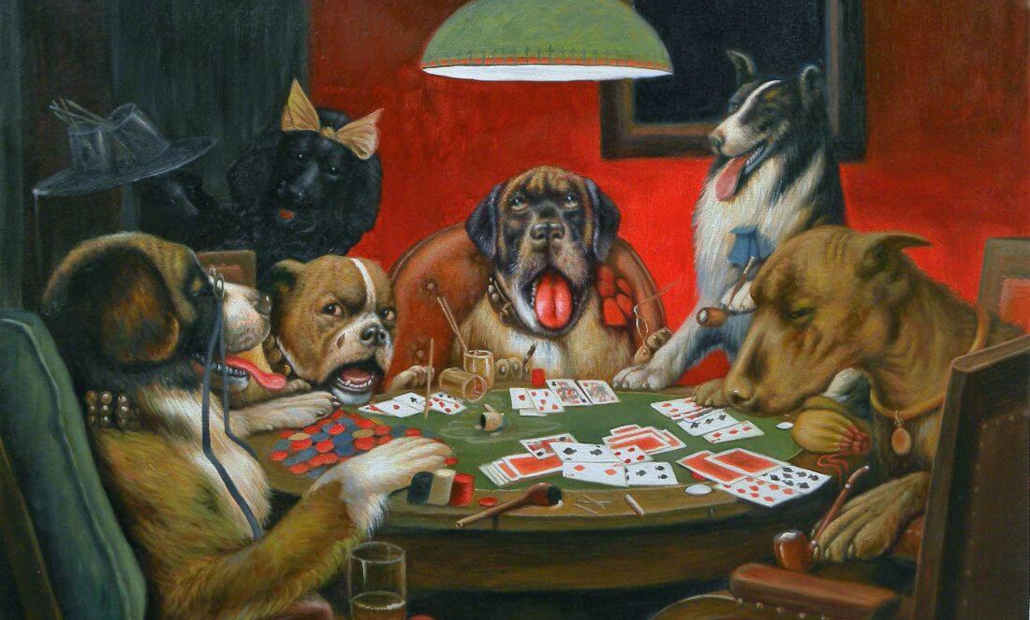 When he was only 20 years old, his talent for creating out-of-the-ordinary illustrations allowed him to sell his work to multiple magazines.
At this point in his career, it was already clear that his passion for creating out-of-the-ordinary illustrations would be enough for him to make a living as an illustrator.
One of his main gigs was creating "comic foregrounds," large paintings with holes cut out so that people could place their heads and pose for pictures. These paintings are primarily used at fairs, carnivals, and tourist destinations.
The Original Dogs Playing Poker Series 
Not a lot of people know, but the Dogs Playing Poker original painting is not one piece but a whole series of paintings. There are 18 different paintings depicting dogs playing cards.
Coolidge painted the first original Dogs Playing Poker painting in 1894. This piece is called Poker Game.
Although it is not sure where he got his inspiration from, some compare this piece with the works of Sir Edwin Landseer, who painted Laying Down the Law in 1940.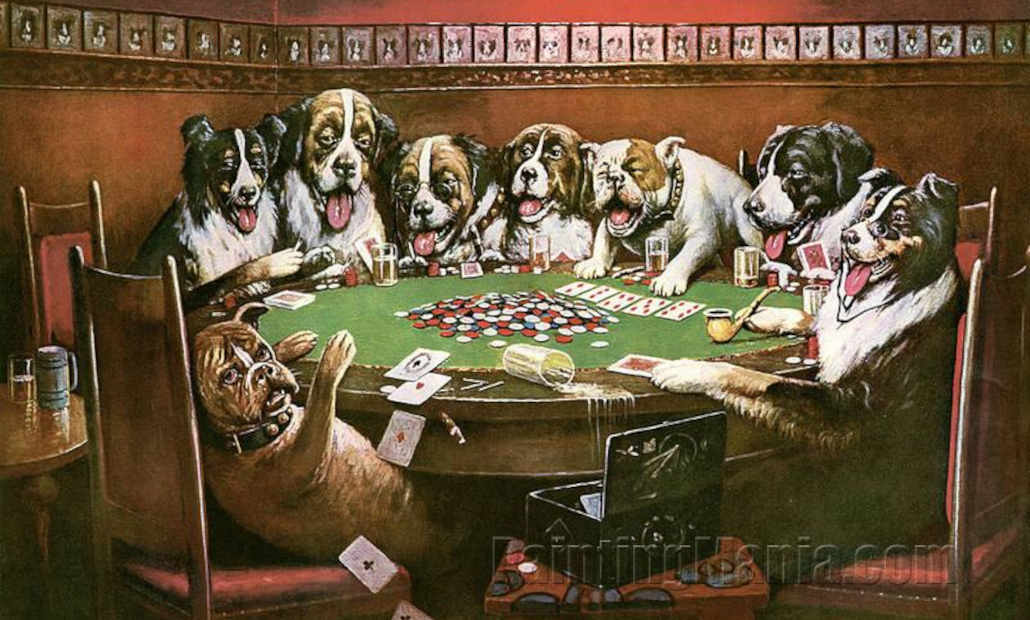 Most of the similarities between these two works come from the fact that both authors depicted dogs in human situations, although Coolidge's work is much more comical.
Other famous authors who depicted card scenes in their works include Paul Cézann, Michelangelo Merisi da Caravaggio, and Georges de La Tour. However, none of the authors replaced humans with dogs in their paintings.
Almost ten years after Coolidge painted his piece Poker Game, he was commissioned by Brown & Bigelow, a company from Minnesota, to paint 16 more oil paintings.
He made paintings for the company from 1903 to 1910. His work was used to create prints, calendars, and promotional posters, as well as to advertise cigars.
All 16 paintings that Coolidge did as commissioned work feature humanized dogs in some capacity.
However, only 9 of those depict the man's best friend sitting around a poker table playing cards. Some of the work includes dogs playing football, going on a road trip, and even performing jester for a royal couple.
The paintings used for calendars proved to be most in demand, and this resulted in the Dogs Playing Poker series finding its way into a lot of homes around the country.
The original Dogs Playing Poker series consists of the following paintings:
Poker Game (1894)
A Bachelor's Dog – reading the mail
Bold Bluff – poker (originally titled Judge St. Bernard Stands Pat on Nothing)
Breach of Promise Suit – testifying in court
A Friend in Need (1903) – poker, cheating
His Station and Four Aces (1903) – poker
New Year's Eve in Dogville – ballroom dancing
One to Tie Two to Win – baseball
Pinched with Four Aces – poker, illegal gambling
Poker Sympathy (1903) – poker
Post Mortem – poker, camaraderie
The Reunion – smoking and drinking, camaraderie
Riding the Goat – Masonic initiation
Sitting up with a Sick Friend (1905) – poker, gender relations
Stranger in Camp – poker, camping
Ten Miles to a Garage – travel, car trouble, teamwork
A Waterloo (1906) – poker (originally titled Judge St. Bernard Wins on a Bluff)
Looks Like Four of a Kind (1910)
A Friend in Need
The painting that most people, especially poker players, know under the "Dogs Playing Poker" name is a piece that Coolidge painted in 1903, called "A Friend in Need."
This painting shows seven dogs at the table playing poker. All of the dogs have almost human-like facial expressions, and they smoke cigars or pipes and hold whiskey glasses.
The most popular painting in the series got its name from the fact that it depicts a dog (bulldog) who is giving another dog an ace under the table while the rest of the table remains seemingly clueless.
Up to now, the original painting was never auctioned. However, based on the prices of other paintings from the collection, it is valued in the millions.
Another very popular painting from the series is "A Bold Bluff," painted the same year as "A Friend in Need."
This piece shows a dog (Saint Bernard) making a bet and leaving his opponents guessing if he has a strong poker hand or not.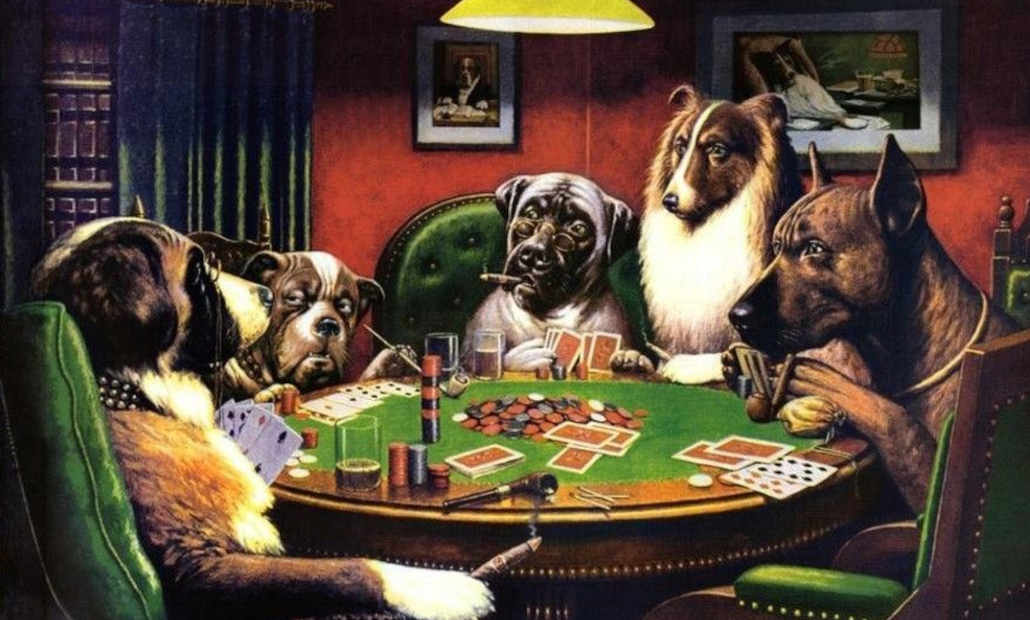 In the "Waterloo" piece, it is argued that the same dog is depicted winning a big poker hand and taking all of the money from the table.
These two pieces were sold at the Doyle New York's Dogs in Art auction in 2005 for a total of $590,400.
Ten years later, Coolidge's first ever "Dogs Playing Poker" painting from 1894 called "Poker Game" was sold for $658,000 at the Sotheby's New York sale, which is to this day a record for a painting from this series.
Dogs Playing Poker in Pop Culture
The paintings from this series have become iconic over the years, thanks to TV and other media. Coolidge's work has been referenced in popular TV series such as the Simpsons, Cheer and Parks, Tree House of Horror, The Mansion Family, and Two Dozen & One Greyhounds.
The original Dogs Playing Poker painting series has also been mentioned in one way or another in shows such as Law & Order, That 70s Show, Finder, and Family Guy.
The big screen has also paid its respect to this iconic masterpiece in movies like Hudson Hawk, Looney Tunes: Back in Action, Around the World in 80 Days, and The Accountant.
In addition to this, the original Dogs Playing Poker painting can now be found on every possible piece of promo material, including t-shirts, coffee mugs, and calendars.