Fedor Holz Beats the Odds to Win in HU Challenge vs. "Limitless"
3 minutes
Last Updated: September 17, 2021
The short but electrifying heads-up skirmish between Fedor Holz and Wiktor "Limitless" Malinowski has been completed. Holz managed to beat the odds and come out on top in the end, finishing the challenge $90,000 to the black.
The duo played around 1,600 hands of Texas Hold'em over four separate sessions, with the final session taking place on March 13.
While this is a very small sample, it's a big win for the German, especially as he was going into the match as an underdog. "Limitless" is a high stakes pro specializing in heads-up, while Holz has always been an MTT player, first and foremost.
The whole challenge was filled with tension from the get-go, as Holz called up Malinowski on one of his earlier statements, where he said he could beat Fedor any time and playing drunk, no less. And when Fedor called, "Limitless" was quick to respond, and the match was agreed.
Throwing the Gauntlet
It was on February 24 that Fedor decided to call out Malinowski on the challenge he issued previously on one of Joe Ingram's podcasts. Fedor's challenge came while Wiktor was playing another heads-up match against Stefan Sontheimer, so Holz wanted to play before Stefan "took all of Wiktor's money."
Before Stefan takes all your money Wiktor @Iimitless2, let's play. Zoom and drinks. pic.twitter.com/shStb8OEsa

— Fedor Holz (@CrownUpGuy) February 24, 2021
Despite of his match against Sontheimer not going the best, Malinowski was quick to respond to young German's challenge, even offering to play him and two of his best students at the same time.
Once the gauntlet was thrown, there was no going back for Holz, but he was clearly confident enough in his own abilities anyways. While Fedor may not be a HU specialist, he was convinced he could hold his own against "Limitless" in an intoxicated state, which was one of the stipulations of the challenge.
Let the (Drunk) Fun Begin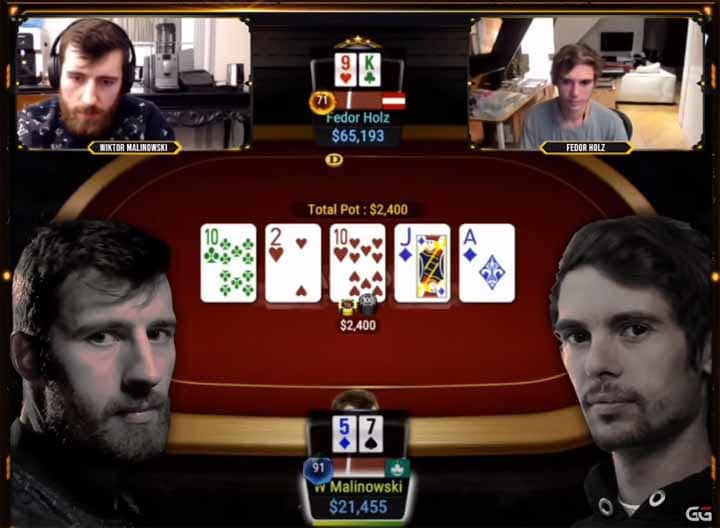 After some more back and forth, the two agreed to play four sessions of $100/$200 on GGPoker, the room that Fedor Holz is an ambassador for. Every session would last 400 hands at least streamed live with a 30-minute delay.
Of course, Malinowski also had to keep up his promise of drinking while playing the German.
The German was going into the match as an official underdog. After all, the Polish pro spent last several years focusing exclusively on high-stakes cash games and having some notable results on the virtual felt.
But, Fedor didn't let any of this deter him, and the match proceeded as agreed, with the first session taking place on March 5, streamed live on several YouTube and Twitch channels. It wasn't as big of a thing as the Negreanu vs. Polk grudge match, but the skirmish still managed to attract quite a few eyeballs.
It was a fun match to watch as both players were on a Zoom call for the duration of each session, so viewers weren't limited just to the commentary. Wiktor and Fedor talked to each other between and during the hands, adding a new dimension to an online poker challenge.
Was it the alcohol, bad variance, or something else, Fedor managed to book the win in the first three of the four sessions, having the advantage of $160,000 going into the final stretch.
In the last session, "Limitless" managed to turn the tables of Holz and win $70,000 back. However, it wasn't enough for the full comeback, so when all the hands were in the books, the German finished with $90,000 more than he had when the match started.
Small, but Significant Victory
With such a small sample of poker hands and with Fedor only taking four and a half buy-ins from the Pole, it's hardly a crushing victory. Yet, it's an important one for Holz, who managed to silence those who claimed he stood no chance.
Doug Polk was one of those, stating that although "Limitless" was probably overrated, he'd still make a quick work of Fedor.
Although there's been some trash talk before and during the challenge, it seems both players have already moved on. After all, the final result probably didn't have too big of an impact on Malinowski's bankroll, and given the circumstances of the challenge, it's hard to read too much into it.
What's more important is that challenges such as this make up for great content, and it would be nice to see more of the same moving forward. After all, there is no such thing as too much high-stakes poker action.