Foxwoods Poker Room Review – The Largest Casino-Based Poker Room In The World
Opening its doors as a bingo hall in 1986, Foxwoods Resort and Casino has evolved into a gambling behemoth in the Mashantucket, Connecticut area. The Foxwoods Poker Room opened its doors to poker players in 1995.
A stable now for poker players in the region for 25 years, Foxwoods opened its new and improved poker room in March 2006.
Foxwoods Poker Room has held multiple World Poker Tour tournaments. In addition to this, the venue is a popular destination for the World Series of Poker circuit events so you will always be able to play a poker hand or two when you visit this place.
So tell me why you would not want to stay and play poker in a room that is held with such high esteem by the echelons of the poker industry.
Foxwoods Poker Room Review – You name it, they got it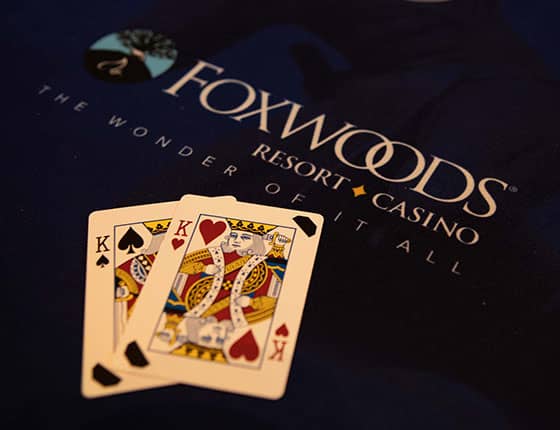 If you have been to the Los Angeles' Bicycle and Commerce Poker Rooms you already know how big they are, Foxwoods Poker Room is bigger!
And what's great about Foxwoods is that they run nearly every poker game variant you could think of!
Of course, you have your classics like No-Limit Hold'Em and Pot-Limit Omaha, but you can also play games such as Stud, HORSE, Razz, and other mixed games too. If you want it, they probably got it!
On top of this, you also have the daily poker tournaments and poker series that run regularly at this US poker institution.
Foxwoods Poker Room also gets lauded from poker players all over as being one of the most comfortable rooms to play in.
You would think that a poker room that hosts 100 tables in its main room and a further 50 tables upstairs specifically for poker tournaments would be a little cramped, this is definitely not the case at Foxwoods.
On top of having ample space, Foxwoods Poker Room receives regular praise for its comfortable chairs, big windows, and plenty of bathrooms within close proximity of the poker rooms.
Another bonus is that there is an automated sign-in process, so you can avoid having to waste time and wait in large queues to check-in.
However, there is negative feedback because Foxwoods Poker Room does not see the need for chip runners, so you may have to find yourself going to the cashier cage yourself to top up your stack.
Not the end of the world, but it's a convenience that we take for granted in other gambling establishments.
Also, if you are a high-roller and looking to play at the highest limits, security will be a concern for you, no doubt. No fret, though, as safety deposit boxes and a high-stakes lounge are available upon request.
Surprisingly as well in this day and age, Foxwoods Poker Room does not allow for the use of mobile phones at the table. A definite positive as this keeps the game going and the action flowing.
Foxwoods Poker Room Cash Games
With poker cash games running every second of every day, the action is not hard to come by at Foxwoods Poker Room.
Whether you're a low-stakes $1/$2 player or a VIP looking to play nosebleed stakes of $150/$300, then you are in luck, as whatever your bankroll you'll find a game to sit.
The most popular poker cash games you will find at Foxwoods Poker Room include:
$1/$2, $60 minimum, $300 maximum
$2/$5, $300 minimum, $500 maximum
$5/$10, $500 minimum, $2000 maximum
$10/$25, $1000 minimum, no maximum
$25/$50
$1/$3 spread
$1/$5 spread
$5/$10
$10/$20
$20/$40
$75/$150
$150/$300
$20/$40 OE
$40/$80 OE
$75/$150 OE
$100/$200 HOE
Limit Hold'Em
$2/$4
$4/$8
$5/$10 Kill
$10/$20
$20/$40
$50/$100
Higher limits available upon request
Omaha 8/OB
$4/$8 Half Kill
$5/$10 Kill
Higher limits available upon request
That is a hell of a lot of choices that the Foxwoods Poker Room gives cash game players, and the variety on display shows you that you will never get bored playing.

Rake
I am not sure what the two worst aspects of poker are, having to pay poker rake or having to listen to someone's bad beat story for the millionth time. Maybe I should remember my headphones more often when I play so that I can avoid this.
Nonetheless, when we play poker in the casino, we will always pay a rake, and in all fairness, Foxwoods Poker Room is not too bad with what they take out the pot.
The rake at Foxwoods Poker Room depends on what stakes you are playing at for example;
Lower to mid-stakes games rake ranges from $1 or $2 post-flop up to $4.
Higher limits – rake is time-based, and you're looking at being charged usually between $8 to $10 per 30 minutes.
Foxwoods Poker Room Tournaments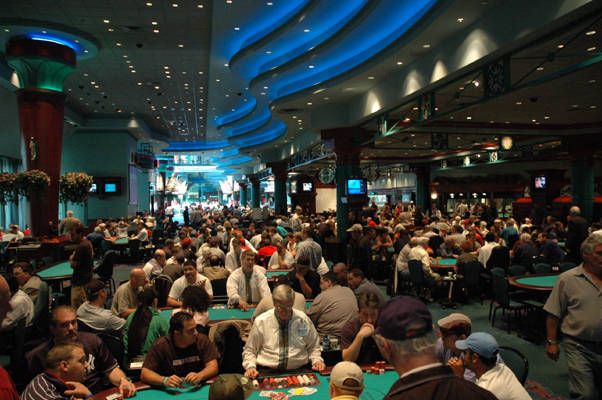 As already stated, Foxwoods is home to some of the poker industry's biggest names like the WPT and WSOP. But do not despair as there are a plethora of poker tournaments for you to sink your teeth into if the WPT or WSOP is not in town.
Like most other casinos that run poker tournaments, there are weekly NLHE poker tournaments in Foxwoods room.
Like most other casinos that run poker tournaments, there are weekly tournaments that poker players can look to play. With buy-ins varying from $120 to $180, they're easy enough on the wallet so that any poker enthusiast can enjoy getting in on the action.
The weekly tournaments at Foxwoods are:
12K Tuesday
Buy-in: $120
Starting Chip Stack: 35,000
$12,000 GTD
Start Time: 6pm
Wednesday Night Poker
Buy-in: $120
Starting Chip Stack: 25,000
$15,000 GTD
Start Time: 6 pm
Friday Night Poker
Buy-in: $160
Starting Chip Stack: 20,000
$5,000 GTD
Start Time: 6 pm
Saturday Morning Tournament
Buy-in: $180
Starting Chip Stack
$8,000 GTD
Start Time: 11pm
Saturday Evening Tournament
Buy-in: $140
Starting Chip Stack: 30,000
$5,000 GTD
Start Time: 5 pm
So with $45,000 guaranteed from Foxwoods poker tournaments throughout the week, if you manage to run up a stack, there's a strong chance that you are in for a tasty payout. And with the buy-ins suitable for a wide range of players, you are likely to be playing some weak players that you can capitalize on. Something to keep in mind when booking your next poker trip.
Foxwoods Poker Room Parking
If you are familiar with my reviews, then you know I detest paying for parking, thankfully Foxwoods Resort and Casino offers free parking in their four covered garages.
Not only that, but complementary valet services are also available at the Grand Pequot Tower, Great Cedar Hotel and the Fox Tower lobbies!
Also, there is a complimentary shuttle service to Two Trees Inn, Lake of Isles, and the Mashantucket Pequot Museum – so save the petrol and get on board with this free transport!
Useful Foxwoods Poker Room information
The Foxwoods Poker Room management and floor staff have a good reputation from poker players all over. This is due to the vast experience and confidence that comes from their long history as being a safe haven for poker players.
Check out Foxwoods Poker Blog
Starting in 2010, Foxwoods has been running a popular blog that has amassed over five million views.
It is a fountain of information that is available to you within a matter of seconds.
If you want to find out about any event since its inception, that is the place to look. Every event, poker rules, payouts, and results are noted here – have you got what it takes to win a poker tournament where your triumph will be recorded for other players to see for years to come?
Promotions and Jackpots
Like many Casinos and those of the like, Foxwoods has their own rewards card program. By earning points, you can receive special comps that can be used on a variety of things such as gas for your car, discounted hotel rooms, and restaurant comps.
You will also be glad to find out that Foxwoods Poker Room has re-implemented their Bad Beat Jackpot.
To qualify, a player needs to lose with Quad 8's or better. At the time of writing this review, the Hold'em Jackpot stands at $115,020 – wouldn't it be nice to get a piece of that!
Foxwoods Casino Games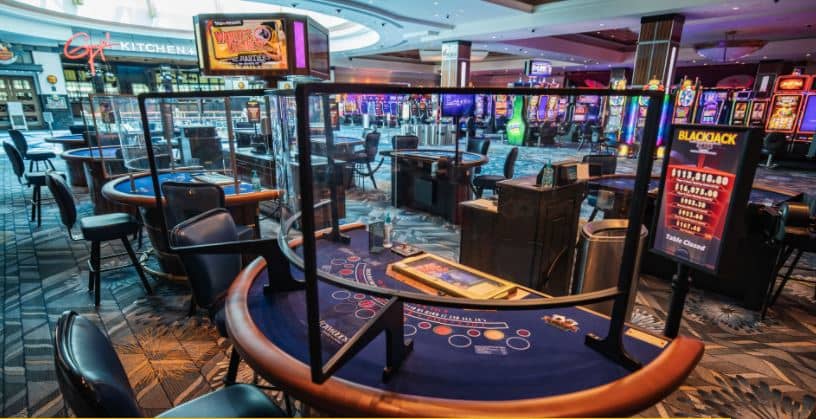 If you are staying at Foxwoods Resort and Casino, then you will have the opportunity to play at; not one, not two, not three but four casinos!
The Fox Tower, Grand Pequot, Great Cedar, and Rainmaker casinos make up the 340,000 square feet of gaming space, and you have a world of choice of games to play.
Craps
Roulette
Pai Gow (Tiles)
Crazy 4 Poker
Let it Ride
Criss Cross Poker
Multi-Action Blackjack
And to make things more interesting, like in some online casinos, there are also progressive jackpots for casino table games like blackjack, Baccarat and Three Card Poker too – some of which, at the time of writing, have jackpots of over $100,000!
The last two players to win the progressive blackjack jackpot won over $350,000 collectively – now how are you going to get a slice of that if you don't go?
Long sessions on the poker felt, and table games can be quite tiring, so you can always kick back and take it easy on the slot machines, the biggest decision you will have here is choosing to play one machine out of the 5,500 that Foxwoods Casino has to offer.
And if you are with a party of people, you can have a relaxing time at the Bingo hall. This is not the ordinary bingo either your grandmother might play either; there are high stakes events and even payouts of $1,000,000!.
Foxwoods Resort and Casino – Hotel Information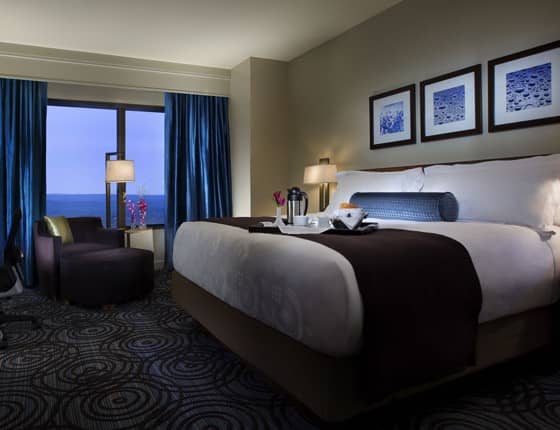 Across the four hotels that make up Foxwoods Resort and Casino, there are 2,224 guestrooms as well as a whopping 47 restaurants and three bars.
Guests tend to agree that The Fox Tower is the most luxurious of all the hotels you can stay at Foxwoods, but all other hotels have merit in their own right. The Grand Pequot Tower and Great Cedar Hotel are more central and are livelier, so if you enjoy the hustle, then these would be the ideal places for you to stay.
As you could already guess, with 47 restaurants, the dining options for you vary from quick bites to having a fine dining experience.
You could quite easily grab breakfast at Einstein Bros. Bagels with the left-over change in your pocket and then enjoy fine cuts of meat at David Burke's Prime restaurant. So whatever your taste buds are telling you, there will be something for you to sink your teeth into.
Foxwoods Resort and Casino – Non-casino related activities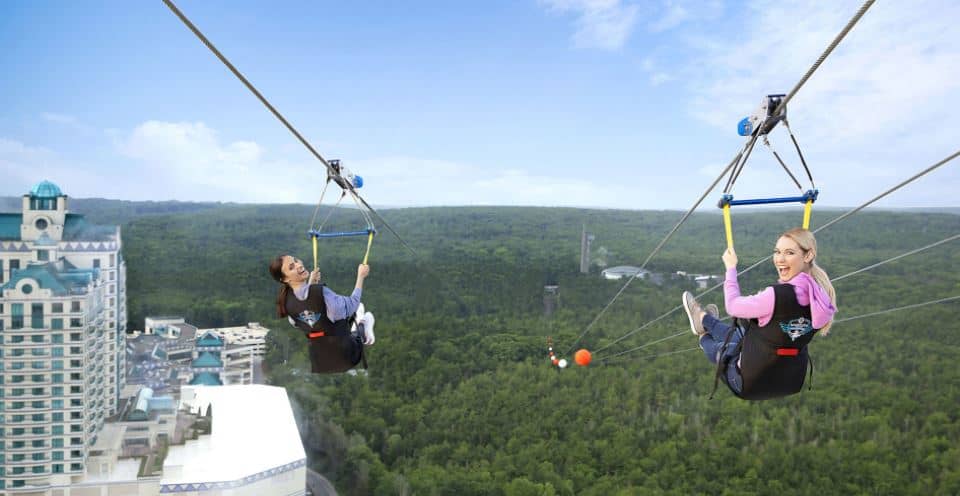 I always find with these grand resorts that you will always find something to do that you never expected, and Foxwoods does not disappoint. If you fancy a day not in the casino, then there's plenty of activities to do that you can explore. You can choose to do:
Foxwoods Drive-In Cinema
Monza World-Class Karting
Tree House Arcade
Pequot Trails
HighFlyer Zipline (opening soon)
Ready Glaze Fire
High Rollers Luxury Lanes (Bowling)
Spellbound escape rooms
Hologate Virtual Reality
Topgolf Swing Suite
Mashantucket Pequot Museum
XD Dark Ride
Now, if these high-octane activities are not your style and you prefer life in the slow lane, then you can kick back and relax at one of three spas that Foxwoods offers.
Foxwoods Casino – Keeping You Safe Against Covid-19
Foxwoods main goals are your safety, security, and comfort. Living in a Covid-19 world, there are a few precautions in place to keep everyone safe.
Your experience at Foxwoods may differ from before if you have been there, but as ever, their team is committed to giving you the best experience you can have.
Upon arrival, you'll get a non-invasive temperature check, score a temperature of 100.4 degrees Fahrenheit, or over, then you will not be allowed entry onto the premises.
They are limiting their capacity to 25% to ensure social distancing, and all guests and staff are required to wear face masks – a small price to pay for a safe and fun-filled trip.
In the casino, there are extra precautions in place for table games.
Table game seating is limited to four players, plexiglass shields in place too
Hand sanitizer is available at all table games and pit areas
Sanitizing wipes will be provided to guests
The poker room is closed until further notice
Additional disinfecting measures in place
Foxwoods Poker Room – The Final Thoughts
Foxwoods Poker Room should be on the bucket list if you are a poker player, just to say you have played at the largest poker room in the US as well as one of the most historic.
Foxwoods Casino will look after you throughout the duration of your stay and will no doubt ensure you have an amazing time while you're a guest.
If you here to play poker, then you can rest assured you will find plenty of games with various limits and even formats like Stud or Razz that you are not likely to find in other places. So if you want to take it seriously, better be prepared or even join a poker training site before visiting that destination.
Its stylish, lavish and with plenty of other non-casino related activities to do, it is without a doubt that a stay here will be remembered for a very long time.