GGPoker Loyalty Program Breakdown – All You Need to Know About Fish Buffet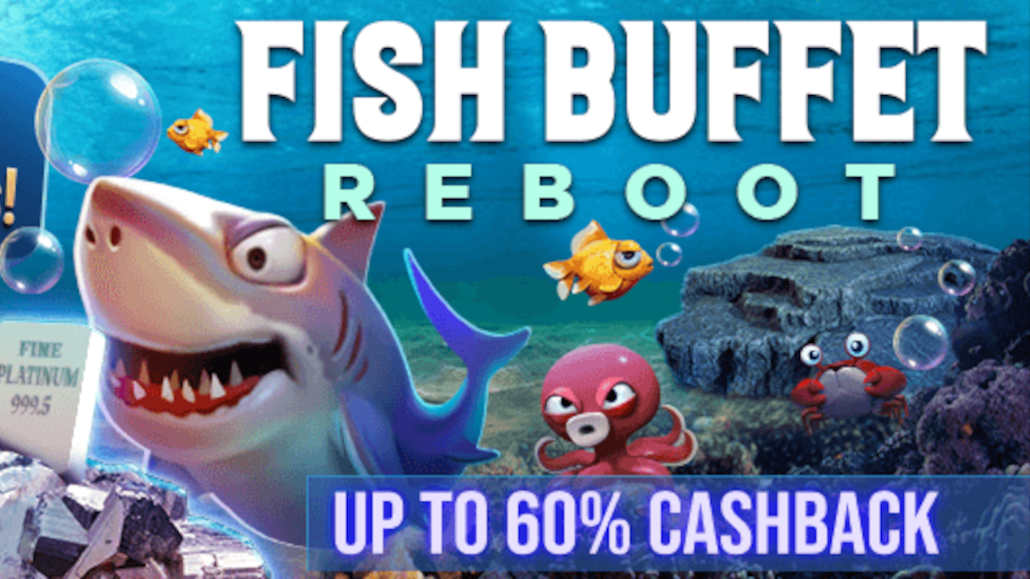 7 minutes
Last Updated: February 2, 2023
GGPoker launched as a brand new online poker platform in 2017 and has since achieved the impossible; it dethroned PokerStars as the number one online poker room in terms of traffic and active players.
Yet, the two online poker giants are both continually showing amazing numbers, and the competition remains stiff, which is great news for the players, who get rewarded handsomely by both operators.
Today, I am going to go deep into the GGPoker loyalty scheme called Fish Buffet, and I am going to teach you exactly how it works, what you can expect to get from it, and just how much rakeback you can expect when playing at GGPoker.
Whether you are a micro stakes grinder or a big-time poker pro, this article will help you understand how Fish Buffet works and what rewards you will get for the amount of rake you generate.
GGPoker Loyalty Program: Fish Buffet in a Nutshell
Earn an average of 100 FPs for $1 in rake
Climb through 8 Fish Buffet loyalty ranks
Spin the wheel of fortune at the end of the month
Achieve yearly Platinum levels for fixed cashback
Get up to 60% in fixed cashback with GGPlatinum
FPs are awarded based on the PVI rake distribution model
Collecting Fish Buffet Points
To get anything from the Fish Buffet loyalty scheme, you will need to generate some Fish Buffet Points (FPs).
As you probably guessed, FPs are generated every time you play real money poker and pay some rake. While there are some subtle differences between game types, you can generally expect 100 FPs for every $1 in rake or tournament fees you pay.
Note that GGPoker also reserves the right to award points at varying rates depending on player behavior, playing style, and deposit history, all of which are related to the operator's attempts to make the online poker ecosystem friendlier for recreational players.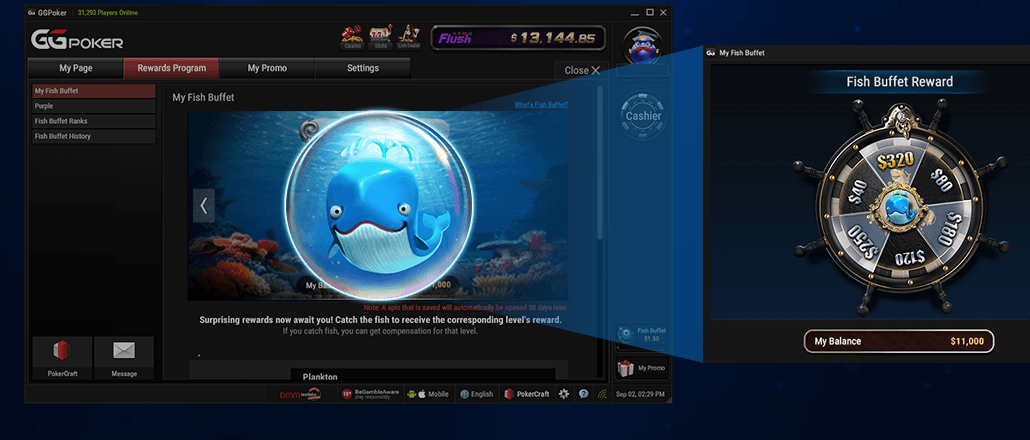 This is great news for the recs who play on occasion and can expect slightly higher returns, but not necessarily great news for the pros who can get slightly hurt by this scheme.
It is also worth noting that players who also enjoy casino games will get rewarded with FPs when they play at the operator's casino as well.
At casino games, you will get a single FP for anywhere between $0.67 and $16.70, depending on the game you play. Games with high RTP rates will award lower amounts of FPs.
Fish Buffet Levels and Ranks Explained
Unlike the VIP schemes of many other online poker rooms that can be fairly straightforward, GGPoker's Fish Buffet scheme is quite complex.
As such, it can take some deciphering to fully comprehend the scheme and what you can expect to get back, as well as how exactly you are supposed to reach each of the levels and ranks.
In total, Fish Buffet offers eight different loyalty levels, each of them named after a particular group of sea creatures.
As you level up, you will turn from measly plankton into a dangerous shark.
The most loyal of players can even transcend the whole fish association and be given the rank of GGPlatinum, reserved for the most elite players out there.
Each of the levels (except Plankton and GGPlatinum) comes with multiple ranks, which you can advance through by gaining certain numbers of FPs over a 30-day period (shorter for lower ranks).
On top of all the regular levels, the GGPoker loyalty scheme also offers special Platinum levels, which give you a guaranteed weekly cashback as opposed to the regular cashback, which is paid out by spinning a wheel of fortune for your award.
I will discuss the details of how you get your rakeback from Fish Buffet a bit later, but for the time being, let's take a look at the Fish Buffet levels and ranks and the average % of cashback you can expect to get each month in the following table: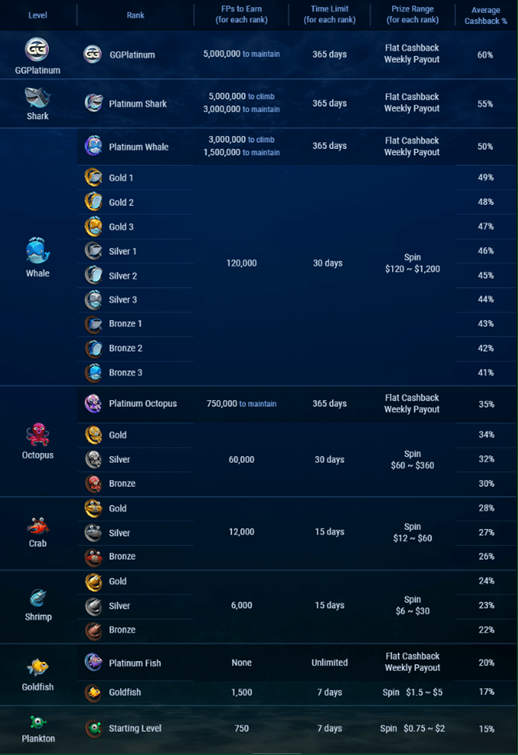 As you can see, each of the Fish Buffet ranks requires you to accumulate a certain number of FPs in a given time frame in order to reach them. Once you reach a rank, you will keep it for 30 days. If you don't maintain the same rank or climb the ladder, you will start to go down the ranks.
As long as you remain on the regular monthly ranks, you will receive your cashback at the end of the month through a spin of the wheel of fortune.
The average cashback you see listed in the table is the average amount of rake you will get back through the spin. Yet, you may get way more or way less depending on your luck, which is more attractive to recreational players and less attractive to professional poker players.
For those looking for a steadier rate of cashback, yearly Platinum ranks represent an ideal solution.
The first Platinum rank you can achieve is Platinum Octopus, which requires 750,000 FPs in one year (average of $7,500 in rake paid) and pays a fixed rate of 35% cashback.
The second Platinum rank is Platinum Whale, which requires 3,000,000 FPs to achieve (an average of $30,000 in rake) and 1,500,000 FPs to maintain and pays a fixed rate of 50% cashback.
The third Platinum rank is Platinum Shark, which requires 5,000,000 FPs to achieve (an average of $50,000 in rake) and 3,000,000 FPs to maintain and pays a fixed rate of 55% cashback.
The fourth Platinum rank is GGPlatinum, which requires 5,000,000 FPs to maintain and pays a fixed rate of 60% cashback.
If you clear all lower ranks within a year, you will become GGPlatinum. You will need to generate 5 million FPs per year to maintain that rank and keep receiving 60% in fixed cashback.
It is worth noting that all these percentages and numbers are based on the average amount of FPs each player receives for their rake, which is not the real number every player receives because of the operator's Player Value Index rake system, which I will go into next.
GGPoker's Player Value Index Explained
Player Value Index (PVI) is the rake distribution system used by GGPoker to determine which players get more or fewer FPs for the rake they pay at the tables.
Unfortunately, the PVI formula is not fully disclosed, which means you can't know exactly how many points you will get for your play.
What you can know, however, is that regular players who play a solid style of poker, make few deposits and withdraw winnings, and show other signs of being professionals receive fewer points than recreational players who often deposit, rarely withdraw, and play a weaker style of poker.
The point of PVI is to preserve the poker ecosystem and ensure that recreational players have a good experience, so beware of this if you are a grinder yourself.
While the average amount of FPs players gets at GGPoker per $1 in rake paid is 100, you may get just 50 or even 30 FPs for a dollar of rake if you crush your games for a high win rate.
All in all, GGPoker offers one of the more rewarding and interesting loyalty schemes you'll find in today's online poker environment. If you don't have an account as of yet, sign up, grab your welcome bonus, and start collecting your Fish Buffet rewards!
GGPoker Loyalty Scheme FAQ