Jonathan Little Hand of the Week – Patrik Antonius Makes a Sick River Call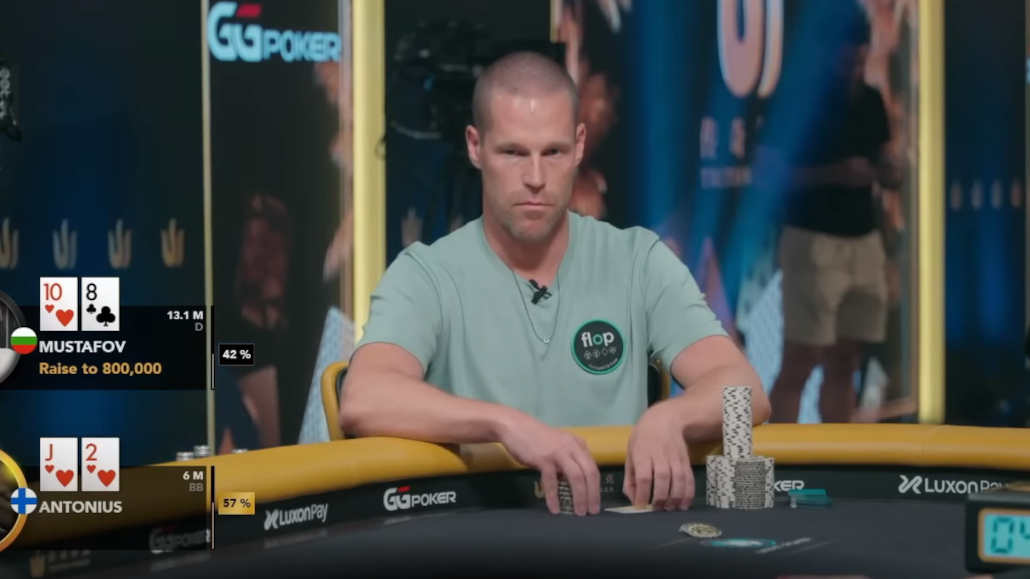 3 minutes
Last Updated: November 5, 2023
If you want to increase your edge at the tables, make sure to get your FREE 3-day pass and check Pokercoaching.com.
…
The hand I'll be looking into today features none other than the legend himself, Patrik Antonius, playing in a $25,000 Triton Poker tournament.
The tournament is down to three players, and there is $825,000 for the winner!
The action starts with Fahredin Mustafov, sitting on 14 million in chips, raising to 800,000 from the button (playing 200k/400k/400k) with 10♥8♣. Antonius, with six million in his stack, defends his big blind with J♥2♥.
Defending your big blind with this hand is fine in this scenario, as you really can't afford to fold suited hands, even the ones as bad as J-2.
Your opponent's range should be very wide, and you're getting great odds. Of course, you'll have to navigate some tough spots later in the hand, but you pretty much have to see the flop.
The Flop
The first three cards are 7♥6♣2♣, giving Patrik a bottom pair and Mustafov a gutshot straight draw with two overs.
Antonius checks, as he should, with his pretty much entire range. Mustafov, on the other hand, will want to apply the maximum pressure given his hand and ICM implications, and he starts by betting the flop for 700,000.
Patrik makes the call, which is completely standard here. Check-raising doesn't accomplish much, and his hand is far too strong to fold.
The Turn
The Q♥ on the turn is a very interesting card as it gives Antonius a flush draw to go along with his bottom pair. He checks once again, as there aren't very many hands containing a queen in his range.
Mustafov continues his aggression and bets for 1.4 million. Unlike Patrik, Mustafov does have a fair number of queens here, as he would c-bet flop with many of those hands regardless of the flop.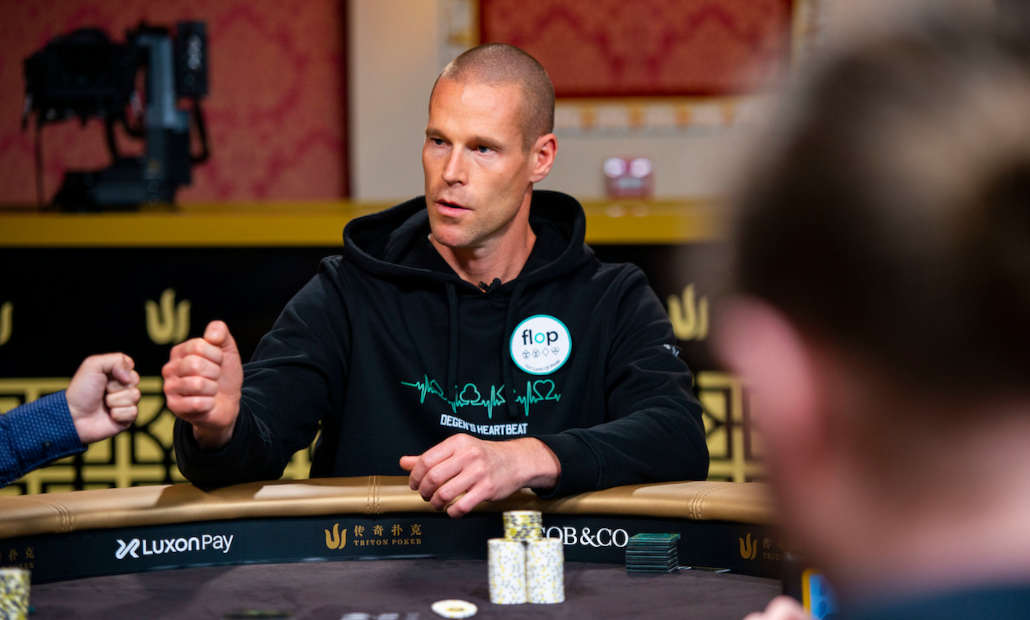 Image courtesy of triton-series.com
The 1.4 million sizing is fine, although I might go a bit smaller, so to give myself a bit more room to jam on the river and give my opponent more reason to fold.
Many people seem to think that shoving or folding are the only two options here, but calling is perfectly reasonable, and that's exactly what Patrik does.
By check-calling, you give your opponent every opportunity to bluff, and in this kind of situation, many of their bluffs will have very low equity. You want to keep them in with these types of hands, which is exactly why Antonius goes for the check-call line.
The River
The final card is A♦, and Patrik checks for one last time. For Mustafov, on this scary board, all-in is the most logical move. He should be betting much wider than just an ace, as he can go for value with queens and even sevens.
Patrik doesn't have many (if any) aces in his range, as these hands he would probably shove before the flop, given he started the hand with only 15 big blinds.
Applying this logic, Mustafov will also have quite a few bluffs in his range, and as a bluff candidate, a ten-high hand is a pretty good one.
That's exactly what happens, as Mustafov shoves and puts Patrik to the test for his tournament life.
Antonius takes a long time to think about this spot – but ends up making a call! So, how was he able to get to the right decision in this extremely difficult spot? Check out the video above for the final thoughts on this exciting hand!