Red Chip Poker Review – Is It The Best Option For You?
There are many poker training platforms, all of them promising you pretty much the same thing: to make you a better player. And, many of them do deliver on this promise but to a different extent and at different costs.
I always try to approach every training platform with an open mind and present the good and the bad, which should help you make up your mind. That's exactly what you can expect from this Red Chip Poker review as well.
Created by James 'SplitSuit' Sweeney, Red Chip Poker is a rather comprehensive coaching platform that offers training materials for all levels of play. From complete beginners to advanced players, there is a lot of knowledge to be found inside.
Red Chip Poker Coaching Structure
To start at the top, RedChip Poker features a simple but elegant website that's pretty easy to use.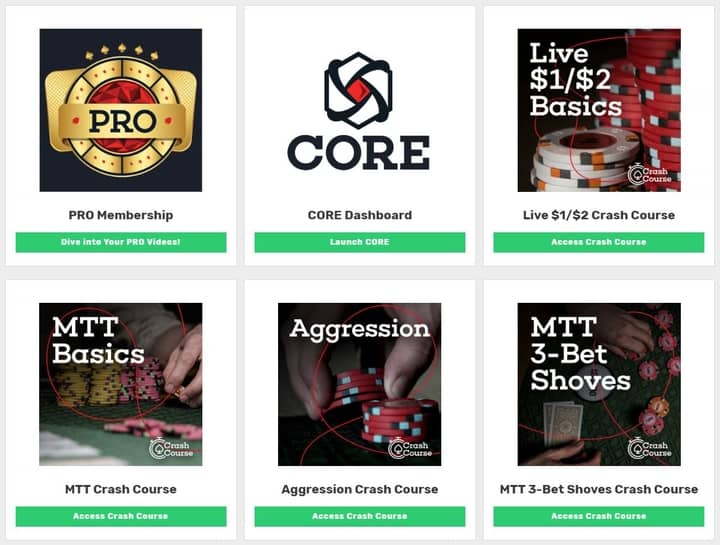 After spending a few minutes at Red Chip Poker, you'll quickly realize there are several large areas of the platform. These are different training segments aimed at different players.
I'll quickly go through them right here so that you can immediately know what you can expect to find inside each of them.
CORE
As the name suggests, Red Chip Poker CORE is aimed primarily at those new to the game. It starts with some very basic ideas and concepts and then elaborates more on them in the later videos.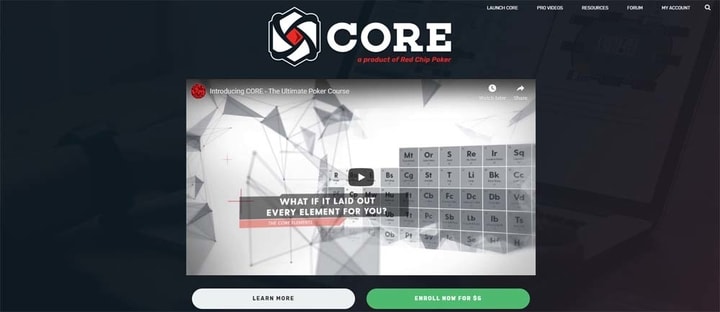 Those who have picked up poker just recently or feel they need to work more on their fundamentals should start here. Not only will it help you build a solid understanding about poker, but it will also give you strong foundations for learning advanced strategies later on.
Crash Courses
Crash courses are designed to address particular subtopics in more detail, i.e., 3-betting, GTO strategy, aggression, etc. These cover specific areas of the game and represent an excellent resource if you want to focus on a certain segment instead of the general strategy.
This is a part where you can learn much more advanced strategies and high tune your game, so it is suitable even for experienced players.
Pro Videos
The pro videos library contains group coaching sessions from Red Chip Poker members and various coaches who are knowledgeable on the topic covered in that particular session.
Like crash courses, these are designed to address particular in-game issues and strategies but revolve more around members' questions and experiences.
RedChip Poker CORE
Now that I've given you the general overview of the program, it's time for this Red Chip Poker review to take a better look under the hud.
I'll start with the first segment, which is Red Chip Poker Core. As explained, this is a sort of a beginners' poker course, but it does cover some of the more complex concepts later on, giving you a very solid foundation.
The CORE program of RedChip Poker is presented by James 'SplitSuit' Sweeney and Adam 'W34Z3L' Jones.
The course is split into three different levels, each one further divided into several segments, such as Math, Betting, pre-flop and postflop play, ranges, etc.
SplitSuit kicks things off slowly and helps guide the player from very basic concepts to more complex ones, which is very convenient for newer players.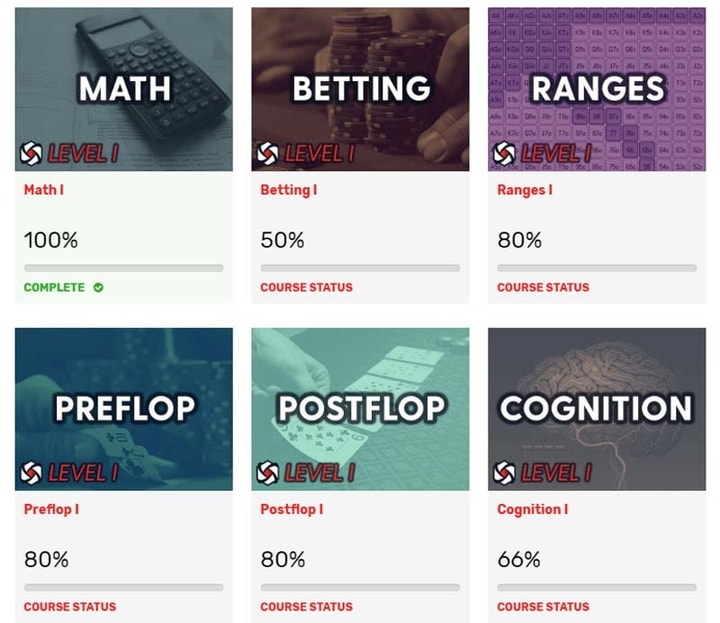 Take a look inside to find out more!
Most lessons contain a video as well as a short written overview.
I recommend taking a couple of minutes to read the text before watching the video because you'll have a much better idea of what topics are going to be covered, making it easier to keep up.
At the end of each lesson, there is also a short quiz you can take to see if you understood and adopted the main concepts.
Doing these quizzes isn't just useful, but it's also entertaining as it will let you see how you did compared to other members.
RCP CORE – Level 1
In the videos contained in Level 1 of the CORE program, you'll primarily learn about basic poker concepts with regards to:
Math
Betting
Hand ranges
Preflop & Postflop
Cognition (mental game)
It is the first level of what's meant to be a beginners' poker course, Sweeney and Jones have done a pretty good job of taking things one step at the time.
What's nice about this course is that it doesn't assume your previous knowledge (beyond rules of poker games) and starts at the beginning.
So, the math section covers some basic principles like expected value, pot odds, equity, implied odds, etc. At this stage, the course doesn't force any complex ideas onto you. It just defines and briefly explains these basic ideas, preparing you for the future steps.
The same applies to the betting section, which starts by explaining the importance of position (and what being in position means in the first place), moving on to stack-to-pot ratio (SPR), value betting and bluffing, correctly sizing your bets, etc.
Once again, these videos and articles go into detail of explaining the reasons why certain bet sizes work (or don't work) in certain situations.
It helps you to understand the underlying reasoning for your actions instead of just learning things by heart.
In Ranges 101, you'll learn about the range matrix, i.e., the visual representation of hand ranges that's essential to advancing your poker knowledge.
This part of the course also teaches you how to turn these visual representations into percentages, so next time you hear someone is opening 15% of their range, you'll have a much better idea of what that means.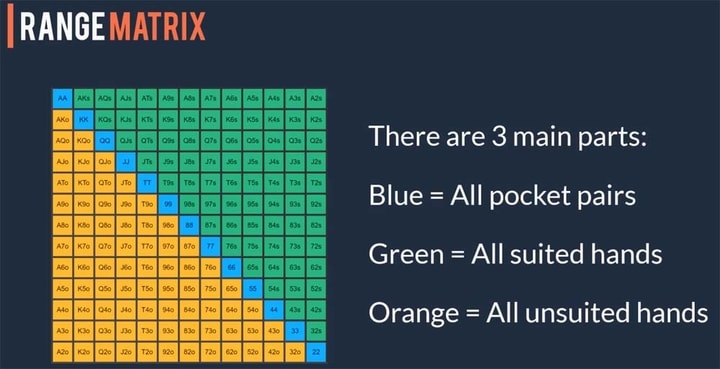 Beyond this, you'll learn about how to determine your opponent's ranges and acquire some valuable hand reading skills.
In Preflop 101, you'll learn about general thoughts that go into the pre-flop decision-making process, get ready-made opening ranges, and find out what you need to know to estimate your opponents' ranges properly.
In this section, lessons will often refer to earlier discussed concepts such as EV, equity, and pot odds, so this is where things start to come together.
In the Postflop section, the course discusses flop dynamics, different types of flops, and how to determine what cards are good (and not good) to value bet on.
These lessons will start to prepare you for the actual game as you'll begin to understand the finer intricacies of Hold'em and start to think out of the box.
Finally, before moving on to Level 2, there is the Cognition 1 module. I like the fact that even in a beginners' course, SplitSuit has found it important to address the mental side of poker.
In about two hours-worth of materials, the course discusses what it means to play poker professionally, how to go about improving your game away from the tables, and what practices you can adopt always to perform close to your optimum.
Red Chip Poker CORE – Level 2
Lessons contained in Level 2 of Red Chip Poker CORE are more advanced and can be valuable to more experienced players as well.
For those who started at the first level, concepts discussed in this module represent the continuation of ideas discussed in previous lessons.
The module has pretty much the same structure as the Level 1 except that there is no Betting section. This is probably because that all important betting considerations have been covered pretty well in the earlier lessons.
Sections in this module are generally longer, taking a few hours each to complete, as James Sweeney and Jones take you on a long learning path where all the main concepts that were touched upon previously are now discussed in detail.
So, for example, in the math section, you'll learn what exactly expected value is and what it means to make +EV decisions in a hand.
You'll find out much more about implied and reversed implied odds, hand combos, and fold equity.
At this point in the Red Chip Poker CORE course, you'll be given some formulae and convenient tools to make some of these calculations easier.
However, with all that, this is where things start to get more serious, and this is where you'll need to put in some work if you're truly set on becoming a good player.
In the Ranges' section, things get more serious as well. You're no longer thinking just in terms of static ranges but more in terms of frequencies and balancing.
You will learn how to exploit your opponents' tendencies and how to protect your range by properly balancing your value hands and bluffs. (SplitSuit has a separate course about hand reading which could come in very handy)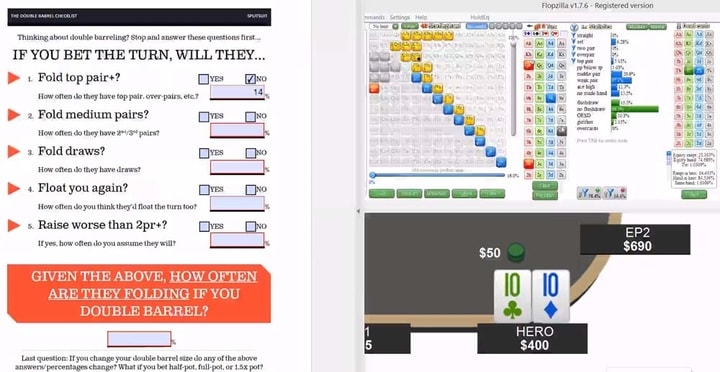 This section also discusses things such as capped and polarized ranges. You've probably heard these poker terms before, but if you haven't studied poker up to this point, you may not have a clear idea of what these expressions mean.
Leave to 'SplitSuit' and 'W34Z3L' to clear the air. After going through this section, you'll be well equipped to modify your starting ranges and will develop a deeper understanding of why certain hands are better than others in various areas.
The Preflop II section of CORE is very extensive. It covers ideas of:
Pre-flop raising
Effective stacks
Limping
Iso-raising
Pre-flop maneuvering (including straddles)
3-betting
4 & 5-betting
As you can see, things get much more elaborate in the second module. You start slowly, with some pre-flop basis, but now the course takes off and addresses some of the core strategies you'll need to master to play good poker before the flop.
Not surprisingly, the Postflop section is even more extensive, as this is the most complex part of the game.
Continuing on the basic ideas discussed in Level 1 lessons, the course dives deep into a whole range of crucial concepts such as:
C-betting
Planning your lines ahead of time
Barreling
Bet sizing after the flop is out
Making river decisions
Every single of these categories features several subcategories, which makes it very easy to adopt the new information and expand your poker knowledge.
You'll learn some very solid c-betting principles, find out what kind of hands you can bet thin for value on the river, how to navigate multiway pots, and much more.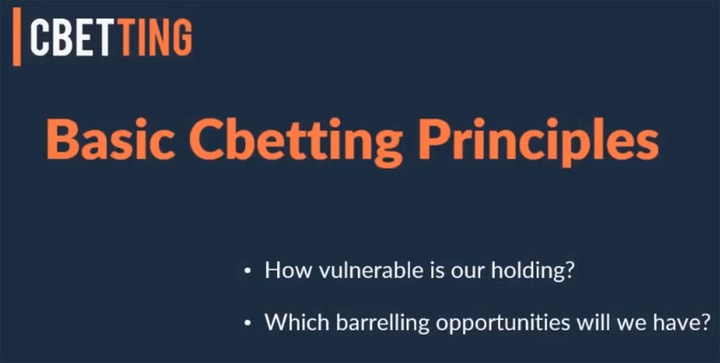 Finally, the "Cognition II" section goes even more into the meta-game territory.
Lessons in this module will teach you how to profile players quickly, how to build and utilize your table image.
So you should be able to make strategy changes on the fly based on the newly acquired information. Once you master the fundamentals, this type of knowledge can make a big difference in your overall profit, especially in live games.
RedChip Poker CORE – Level 3
The Level 3 of RedChip Poker CORE contains the analysis of hands posted by the members. It includes all sorts of situations and hands from live and online environments in both tournaments and cash games.
Every hand is analyzed in a short video as well as a written article, so there is a lot of information to be collected here.
What I feel makes this particular section even better is that all key concepts discussed in the videos are linked to their respective lessons.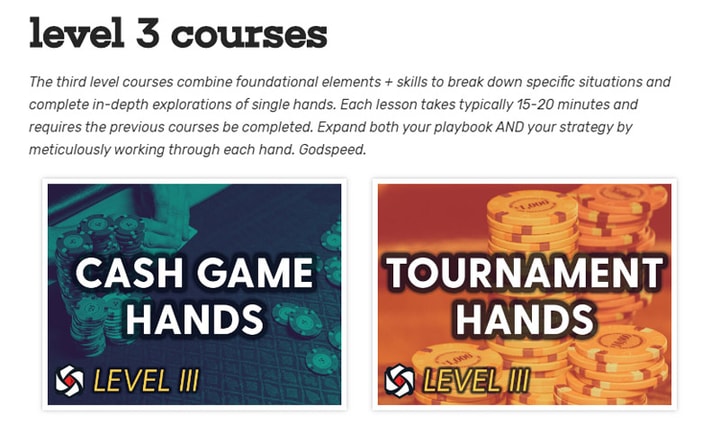 So, for example, if a hand in question involves a pre-flop 3-bet and a donk bet lead on the flop, you'll have links to lessons covering these topics.
If you feel like something isn't clear, and there is the link to a more in-depth explanation right there, you'll probably click through and check it out.
RCP CORE Summarized
So, when all these things are considered, how good of a resource is RedChip Poker CORE? I'd say it's a very good coaching program for new to intermediate players looking to get better.
The structure is very nice and gradual, so you don't feel overwhelmed at any point. Of course, things get more complex as your progress, but that's just the nature of poker.
The quizzes at the end of each section are a nice touch as well.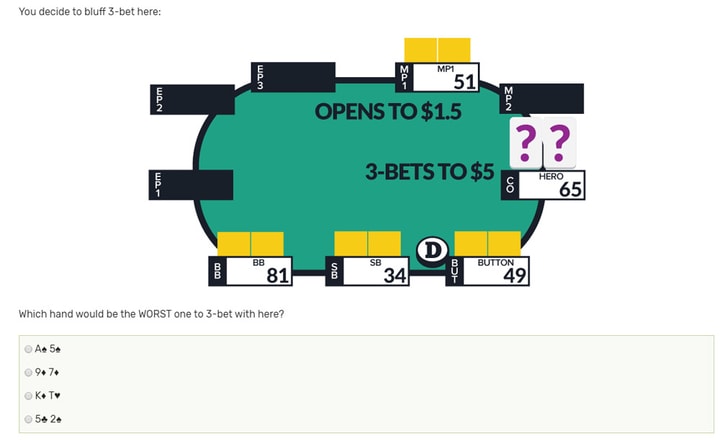 While their teaching value may not be that big, there is an incentive to get questions right as most people are competitive and will want to rank high on a leaderboard.
Also, if you don't get the questions right, you'll know that you need to go back to the content and can instantly fix your leaks.
The only thing that some may not like about RDP CORE is that it's not too GTO heavy, which I seem is important to understand from the get-go.
But being one of the most cost-effective options for new players, Red Chip Poker is something you should definitely consider if you are starting in poker.
Red Chip Poker Crash Courses
While CORE is arguably the fundamental segment of the site, this Red Chip Poker review would not be complete without looking into other segments.
I spent a lot of time going through the RCP Crash Courses area, and there are some valuable lessons in the mix.
GTO Crash Course
I mentioned GTO earlier in the review, and clearly, folks at RCP are aware that this is the latest trend in the game. So, the GTO Crash Course represents the latest addition to the collection, which is taught by Doug Hull, Ross Glover, and Andrew Brokos.
It is a 9-video series that explains GTO poker strategy concepts, starting from the very basics. The course explains what GTO is in general, how it works, and what the underlying math is. Then it moves on to poker and continues to discuss the idea of GTO in depth.
It is a very theory-heavy course, and it's much different from most of what you'll find inside CORE. There isn't much to say about that, though. GTO isn't "fun," but it is an important segment of the game, so you might want to power through it.
MTT Crash Course
If you're looking to up your game in multi-table tournaments, then this Red Chip Poker MTT Crash Course is just what you need.
With 20 videos covering different topics, from establishing your pre-flop ranges to ICM strategy, you'll learn a lot of MTT-specifics from this series.
One thing that might have been done a bit better with this one has to do with the structure.
Videos aren't set in a sequence where you go from first to last. Rather, you have lessons on different topics, and it's kind of up to you how you decide to go through these.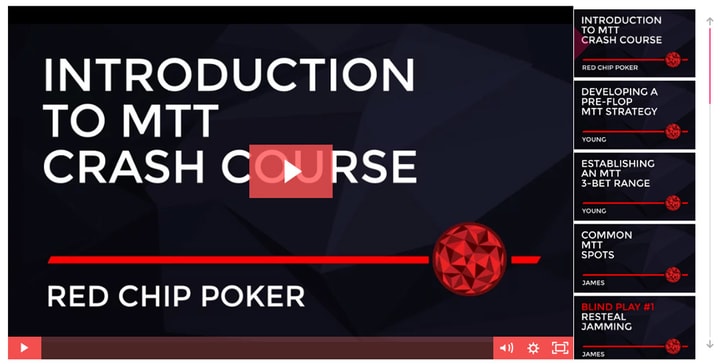 That said, this MTT Crash Course covers pretty much all important topics, such as early-stage strategy, playing at various stack sizes (10bb, 20bb), calling shoves, adjusting your strategy for the knockout and bounty tournaments, etc.
So, if MTTs are your scope of interest, you should watch this one.
MTT 3-bet Shove Crash Course
This particular 6-part series could be observed as a continuation of the MTT Crash Course, although you don't necessarily have to watch that one first.
As the title suggests, it is a course focused on 3-betting in tournaments specifically, and learning these strategies can be very powerful as it will make you a force to be reckoned with at the tables.
These videos are divided by different positions, so it is very convenient to follow, and you even have a video focusing on 3-bet shoves at different stages of a tournament.
To properly understand and follow these strategies, you'll need to understand ICM strategy implications, and once again, you are given a link to those lessons in the CORE section.
Ben Hayles hosts this series, and it will teach you the importance of aggression in MTTs and STTs alike as well as other vital MTT considerations.
Live $1/$2 NLHE Crash Course
I'm always happy to see an online poker coaching course offering something for live players as well, so discovering the Live $1/$2 NLHE Crash Course during my Red Chip Poker review was pretty awesome.
As the name suggests, this is a course aimed at live cash players, and although it is geared towards a specific stake, it can be applied to a variety of games baring maybe the highest levels.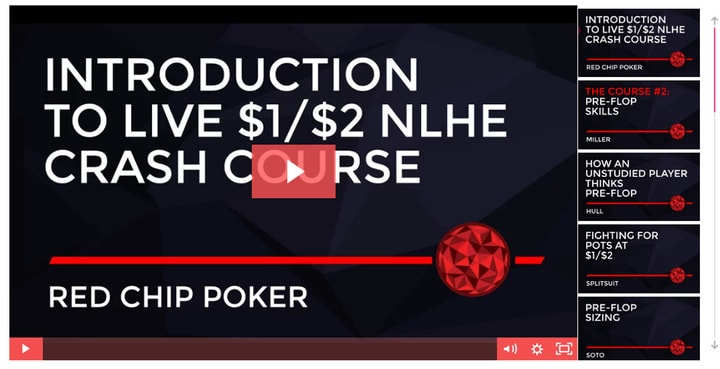 Live poker has many specific elements that aren't necessarily found in online games or aren't as pronounced. This series manages to capture many of these while still explaining a very solid and easy-to-follow fundamental strategy that should help you make a lot of money in live games.
Some of the specific topics are particularly interesting. For example, how does an unstudied player think before the flop?
This isn't something you'd find as useful in online games, but in a live setting, you'll deal with many players whose knowledge of the game is very basic.
They'll think about poker and approach it in a manner that's significantly different from yours, so understanding this aspect could be a life-changing thing.
All in all, there are 11+ hours' worth of materials in this course, and if you play live frequently, this series is well worth your time.
Aggression Crash Course
Unlike the rest of the courses, the Aggression Crash Course by RedChip Poker is more of a general one, talking about the importance of aggression for winning poker.
You hear it all the time – good poker is aggressive poker, but what does that really mean?
If you watch this series, you'll know exactly what it means. Presented by several RCP coaches, like Split Suit, Jones, and Mike Gano, each video covers a particular topic that relates to aggression.
You'll learn more about the value of squeezes, improve your play in 3-bet pots, find out when to fire multiple barrels as bluffs and for value, and much more.
If you feel like you need to be more aggressive at the tables, but you don't know where to start, check this one out.
RCP Poker Crash Courses Summarized
If you're looking to improve in a specific segment of the game, I'd say these courses are a great way to go about it. Of course, if you find one relevant for you.
Of course, more is always better, and I would like to see additional topics added to the list, which would make this program even more beneficial. That said, new courses are added fairly regularly (like the recent GTO Crash Course), so you have a good chance to find what is relevant to you.
What's more important is that all the lessons are well presented and offer a great amount of information on particular topics.
So, by watching these, you'll be able to significantly improve your game in various areas covered in them as long as you take enough time to understand and adopt the concepts and ideas.
Red Chip Poker Review – Pro Videos
The final segment of the Red Chip Poker platform is the RCP pro videos.
You can get access to the full library of all previous vids as well as the ability to attend all future coaching seminars, so this is great value for serious players who are always looking to improve certain segments of their game.
There are more than a dozen videos readily available on the site, discussing topics such as:
Hand reading
Playing from the blinds
C-betting
Exploiting regs
Playing against LAGs, etc.
As already mentioned, these videos have a different vibe to them as they're basically coaching seminars looking at hands submitted by members.
So, these are quite valuable to continue building on fundamental concepts learned in the CORE series and crash courses.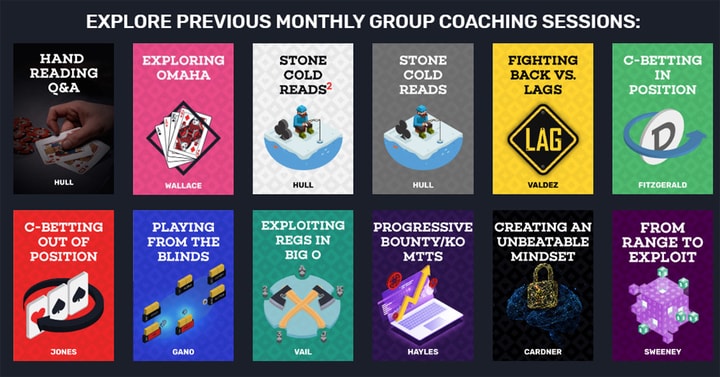 Take a look inside to find out more!
A new seminar is held once a month as well, and you'll be able to attend it personally or watch the video later on if you can't make it if you opt for the Pro option.
This may not be necessary if you're just starting and looking to build some basic knowledge of the game, but as you progress, having access to these lessons can be quite valuable.
RCP Additional Resources: Forum, Free Software & More
I will wrap up this Red Chip Poker review by going over some additional resources that you'll also get when you sign up.
On top of all the content that I've already discussed, the RCP platform offers a variety of software tools readily provided, such as:
Simple EV calculator
EV spreadsheets
Fold equity calculator
Spreadsheet for all flop textures, etc.
You'll also find good recommendations for paid poker software that you might want to use. Once again, not all of this may be relevant if you're starting up, but Red Chip Poker isn't geared just towards novices.
While their CORE program is primarily for new players, the rest of the platform is designed more for experienced players looking to make it.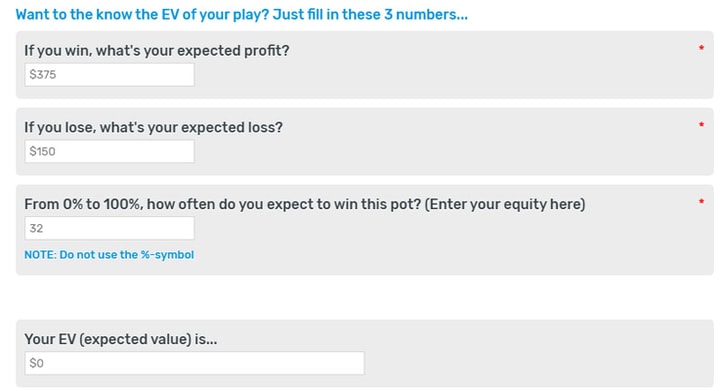 Finally, there is also a very active forum where you can discuss everything and anything related to poker, including all the lessons, quizzes, etc.
All the coaches take an active part in these discussions, so if you have a question or need a certain situation clarified, they'll gladly offer their assistance.
Value for Money: How Good Is SplitSuit's Red Chip Poker Platform
After all this, it's time to make the final verdict. How good is Red Chip Poker? What kind of value for money do you get when you sign up?
In my opinion, the CORE program is very good for beginners, since all the important concepts are explained in detail, and it takes you one step at the time.
As for the rest, available materials are definitely of high quality. It is clear that a lot of work has been put into every single crash course, and every one of them provides a wealth of information on the topic.
The number of these crash courses and topics they cover could be better, but once you join, you'll have access to anything that comes out in the future.
Finally, the fact that you're able to communicate with the coaches and ask them questions about anything (in the comments and on the forum) adds a lot of value as well.
It makes the whole learning experience much more interactive and engaging and also pushes content creators to deliver their best work.
As for the pricing, you can get the CORE program for a $5 a week option and see how you like it.
If you're serious about becoming a better player, paying $50 a month to have access to PRO version and all the features of the platform, including all crash courses and monthly sessions, is not a high price to pay!
Pros:
Nice, user-friendly platform
Very good CORE program for beginners
Quality crash courses on important strategy topics
Strategy forum with coaches actively responding to players
Monthly coaching sessions for pro users
Variety of cost-effective membership options
Cons:
The number of crash courses could be better
Courses could do with bit more structuring