Wind Creek Poker Room Review (Sands): Play Poker in Pennsylvania
10 minutes
Last Updated: August 30, 2021
Once known as the Sands Bethlehem Poker Room, the Wind Creek Poker Room is one of the major destinations for poker just outside of Philadelphia.
With the chance to stay, dine, and play poker, there is no doubt you can have a good time at this destination.
We've all been through the run of the mill this year, so if you are looking for a quick weekend away exploring what the great city of Philadelphia has to offer and play some poker, then staying at the Wind Creek Bethlehem Hotel and Casino is surely a no-brainer.
You may be surprised that Wind Creek is only around 80 miles away from New York too, so if you are a Philly or New York native, the Wind Creek Poker Room is closer to you than Atlantic City!
Wind Creek Poker Room Review

With poker running all hours of every day, the action is not hard to find at the Wind Creek Poker Room.
With Philadelphia only around an hour away, city-escapers, locals, and tourists populate this room, which is great for new or non-regular players as it is now less likely you'll be surrounded by a table full of sharks.
Since the poker room's name change from Sands Bethlehem, the poker room has been moved next to the Molten Lounge.
This has upset some players as the number of poker tables that once populated the room has reduced from 37 tables to 26.
This was to make more space for more blackjack tables, which some players say has resulted in the room being extra loud at peak times. One player even went as far as saying, 'it's the noisiest room outside of Planet Hollywood.'
Nonetheless, the Wind Creek Poker Room has a comfortable, smoke-free environment, it is not Las Vegas levels of luxury, but it does the job adequately.
There are USB ports in each of the seats, which means you can charge your phone or tablet.
Nineteen 55-inch state of the art televisions displays all the poker information you would need from the room. The TV's also give you a chance to follow whatever sports bet you may have on at the time too!
Players can take advantage of the tableside dining, which is offered every day.
You also get a complimentary beverage service.
Games run smoothly with automatic table shufflers, and there's a massage service should you find yourself tense after facing another poker cooler on the felt.
Wind Creek Poker Room Cash Games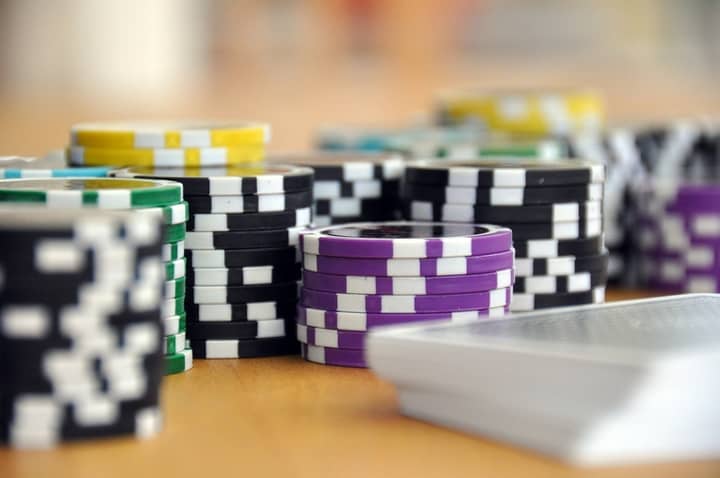 Cash games are Wind Creek Poker Room's bread and butter, which make up most of the games.
Smaller games always run, and high stakes games run when there is a demand for it.
Players can enjoy playing various games such as No-Limit Hold'em, Limit Hold'em, Stud, and Omaha.
This is nice, as it means you can break up Texas Hold'em monotony with some other poker variations.
The games you will find to play on any given day/night include:
$1/$2 No-Limit Hold'em
$1/$3 Pot-Limit Omaha
$2/$5 No-Limit Hold'em
$5/$5 No-Limit Hold'em
$3/$6 Limit Hold'em
And when there is demand, you could jump onto a table playing:
$5/$10 Limit Omaha 8 or Better
$5/$10 No-Limit Hold'em
$10/$25 No-Limit Hold'em
So, whatever your bankroll or game of choice, there's no doubt that you'll be able to find a seat at the table and have a great time.
The $1/$2 No-Limit Hold'em games are known for their action and the variance that brings. With buy-ins capped at $300 at this stake, it plays deep, which means some big pots can occur for those playing low stakes games.
Wind Creek Poker Room Promotions
The most enticing thing about Wind Creek Poker Room is the bad beat jackpot, and this is only available at the lower stake games.
This is because the $5/$10 games pay for their rake differently, so do not qualify for this jackpot.
If you are unfamiliar with the term bad beat jackpot, it is basically a prize that is paid out when one player loses with strong poker hands like quads to a straight flush, for example.
The hand's loser will take the biggest slice of this, but the winner will also get a cut.
Those who happen to be sat at the table at the time all get a piece as well!
Of course, there's all the terms and conditions that come with this, such as needing both hole cards to play, but you can find all this out once you sit down at the tables.
In terms of comps for playing, the Wind Creek offers players the chance to earn anywhere from $0.70 to $1.05, which is what you would expect from most card rooms in the United States.
It's nothing to shout home about, but I suppose it is better than nothing.
Wind Creek Poker Room Tournaments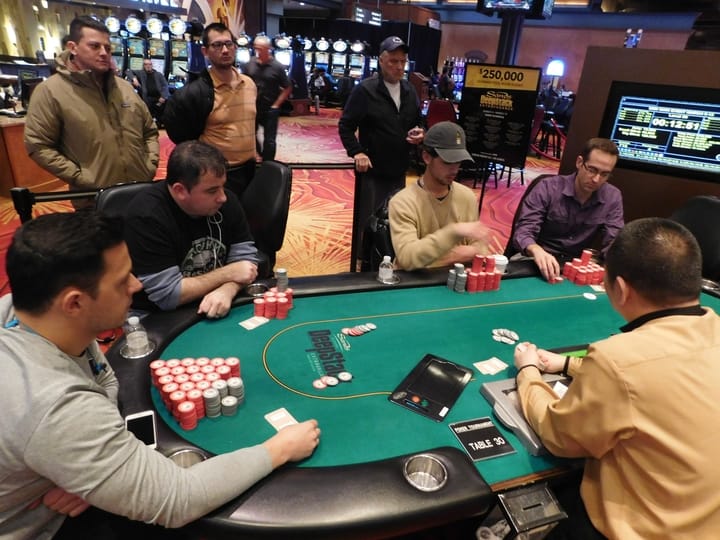 Despite having 26 tables, poker tournaments at Wind Creek Poker Room are often an afterthought, but they run on most days of the week.
A usual poker tournament schedule at Wind Creek Poker Room looks like this (all tournaments are No-Limit Hold'em):
Sunday, 11:15am: Buy-in $250 (includes $100 bounty), 15,000 starting stack, 20 minute blind levels
Monday, 11:15am: Buy-in $75 (includes $25 bounty), 10,000 starting stack, 20 minute blind levels
Tuesday, 7:15pm: Buy-in $100, 15,000 starting stack, 20 minute blind levels, $2,500 guaranteed
Wednesday, 11:15am: Buy-in $75, 20,000 starting stack, 15 minute blinds for the first ten levels, 20 minute blinds from level 11.
Friday, 11:15am: Buy-in $150, 25,000 starting stack, 25 minute blind levels
Bigger tournaments do run on occasion, with the best-known event of 'Wind Creek Bethlehem's $200,000 Poker Tournament.'
Sands Poker Room Staff
The team members are well thought of by poker players. The dealers are described as social, which is great for new players entering the game and creates a fun atmosphere that helps bring the action.
Drink and food service are what you would expect. So, all things considered, the Wind Creek Poker Room is inviting, fun, and social. Exactly what you need after a long week of working!
Wind Creek Parking (Sands parking)
As with most hotels and casinos, self-parking is free, with valet parking available at a price.
There are 3,300 spaces at the self-parking garage with a further 1,400 spaces at their surface lot, so there is plenty of parking options available to you while you are visiting Wind Creek Hotel and Casino
Wind Creek Casino Games

The Wind Creek Casino is an impressive sight to behold, the total gaming space is a massive 183,000 square feet, which is bigger in area than three American football pitches combined, so there's plenty of space for you to get lucky.
The casino scores highly for its cleanliness and customer service, with many reviews saying that the team members are kind and go the extra mile for you.
However, one shortcoming is that the casino is quite a walk from the main hotel itself. For some of you, I'm sure you won't mind the opportunity to stretch your legs after a poker session, but it is just a heads up and something to consider.
There are also some great casino promotions, such as their weekly $40,000 slot tournaments. Each week, 12 winners are selected from each drawing and play in a 3-minute slot tournament.
Prizes vary from $5,000 cash to multiple free slot play prizes too, so if slots are your game, keep an eye out on the Wind Creek Gaming Promotions Page.
Slots

There are a plethora of slot machines, new and old, available to you at Wind Creek Casino. Their slot machines range from 1c to $100, and all machines accept cash bills/notes to add credits while you play.
You have a wide range of unique game themes, with several having massive progressive jackpots.
Couple this with the promotions we covered above, and a night on the slots could make for some ludicrous wins!
Table Games

When you step into the casino, there are table games are as far as the eye can see with almost 200 table games for you to unwind at. The gaming choice is something that would rival many Las Vegas establishments, which is extremely high praise.
Table games you can find at the Wind Creek Casino are:
Roulette
Caribbean Stud Poker
Craps
Criss Cross Poker
Free Bet Blackjack
Let it Ride Stud Poker
Mini/Midi Baccarat
Pai Gow Tiles
Big six
Sic Bo
Texas Hold'em Bonus
So, as you can see, there is a lot on offer. Whether you see your favorite casino game or notice something new and you are curious, you'll find the right table game for you at Wind Creek Casino.
Wind Creek Hotel and Casino – What to Expect

After a long session in the pit, you'll need somewhere to rest your head and recharge the batteries before another day of poker and casino fun.
The Wind Creek hotel rooms score highly for cleanliness and comfortability, arguably the two most important aspects when looking for a hotel room.
However, I personally find the décor a little outdated, but this is completely subjective, and not everything needs to be over the top.
The most basic rooms are a respectable 400 square feet in size, with the most luxurious room (Chairman's Suite) approximately 1,600 square feet.
All rooms have free wireless high-speed internet access, which is ideal if you are on a working trip.
If you are not feeling the hustle and bustle of a restaurant or buffet, you can enjoy some culinary delights with the impressive in-room dining service.
Dining at Wind Creek

Whether you are looking for something more upmarket or looking to indulge in something sweet, there's plenty of dining experiences for you to choose from.
The crown jewel for food at Wind Creek is Emeril's Chop House, which won the Wine Spectator Best of Award of Excellence 2019.
This has the feel of your typical American steakhouse, but it is so much more than that. A creative menu that goes beyond the usual standards makes this a fine place to eat.
Guests can find more casual dining at Burgers and More by Emeril, Chopsticks, and the Steelworks Buffet and Grill.
A favorite of many who visit Wind Creek often is 'Signature Cakes and Pies' – which help make any occasion that bit sweeter!
Wind Creek – Things to Do (non-related casino activities)

The amenities at Wind Creek include Shopping outlets, Steel Magnolia Spa & Salon, and the Kids Quest & Cyber Quest.
The outlets are well regarded and with brands such as Coach, Tommy Hilfiger, Michaels Kors, and more, give you the chance to spruce up your wardrobe or purchase a gift for someone special.
The Kids Quest area gives you time to play some classic arcade games with your children if you are taking them with you, it's a nice touch that I'm sure many families will be thankful for.
Nightlife

There are three nightlife areas – the primary destination is The Molten Lounge. With live entertainment every night.
Coil and Vision Bar are some other great spaces to put on some dancing shoes and get a drink too.
Fitness
If you have found yourself over-indulging on some of the delights on offer, you can work up a sweat and burn some calories in the pool or at the fitness center.
Wind Creek – Keeping You Safe Against Covid-19
Due to the pandemic, not all of Wind Creek is open, most notably its poker room and the Molten Lounge remaining closed for the time being.
As well as this, to enter Wind Creek Hotel and Casino, you will be required to wear a mask. This includes their Team Members too.
Regular cleaning and deep cleaning have been advanced. The casino gaming floor is deep cleaned every night to ensure player safety. Upon arrival, you will also have a non-invasive temperature check. Physical distancing is in place, and smoking has been banned from the casino floor.
Wind Creek Poker Room and Casino – The Final Thoughts
Overall, there's not much at fault at Wind Creek.
The poker room is sizable and offers plenty of action for both poker cash games and tournament players.
You will find various poker formats in the poker room, so you won't need to always stick just with Holdem.
The casino floor enhances the overall experience, giving you the chance to play multiple games while staying.
Rooms are spacious and clean, albeit maybe a bit behind the times in decoration.
With some great eating spots, you'll be comfortable throughout your trip.
Amenities such as shopping outlets and nightlife are nice non-casino related activities to enjoy and help break up the time you are not in the pit.
So, if you are in the Philly area and itching for a game of cards, you'll be naïve to overlook this fine poker room.