Free Online Poker Sites – Have Fun and Play Texas Hold'em Games for Free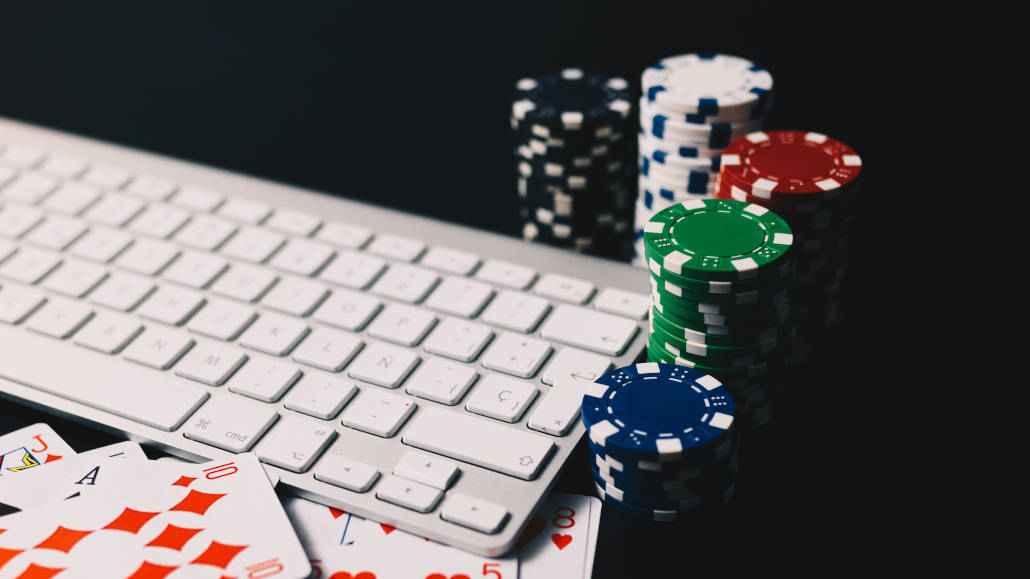 Poker is a game that's generally played for real money, and some say that playing it without real monetary stakes doesn't make any sense.
However, Texas Hold'em and other forms of poker can be perfectly entertaining even without any money on the line if you are a true fan of the game.
Fortunately, there are plenty of free poker sites out there for you to enjoy and have fun without risking a single cent.
These online sites offer free poker games and a chance to learn poker rules before you jump into real money games. Without further ado, let' see the top 9 of the best free online poker sites you can find today, and if you stick to the end of this article, we will share the pros and cons of such games.
9. World Poker Club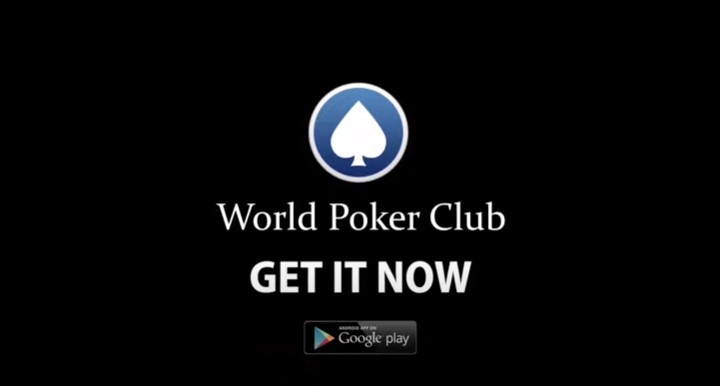 The World Poker Club mobile poker app is a free online poker app that offers a fairly mediocre poker experience but has one special feature that made me have to put it on this list.
You can play at the World Poker Club from your Android or iOS phone or tablet, and the app will allow you to make quick actions at the tables by making double taps, slides, and other gestures that represent particular poker plays such as fold, check, or all in.
The company behind the app would do well to create higher-quality poker software to support it, as the app has some real potential with its gesture feature.
As it stands, World Poker Club does not have enough players to be close to the top of this list, nor does the software provide the kind of experience you want to see from a top-class app. Nevertheless, I recommend you try World Poker Club, even if just to have some fun with the unique gestures system.
8. Scatter Hold'em Poker
If you are looking to have some fun and not compete against other players necessarily, Scatter Hold'em Poker is an app that will let you play against the computer in a fun mix of poker gameplay and fantasy games.
Instead of sitting at a Texas Hold'em table for hours and folding out the junk hands, Scatter Hold'em Poker allows you to enjoy classic poker games like 5 Card Draw in a completely new way.
You will use your play money chips to play poker against the computer, accumulate achievements, solve missions, and advance through levels like you would in so many mobile arcade games available in the mobile app stores these days.
The game offers a ton of customization options as well, making it possible to change your avatar, the deck colors and designs, and the background you are playing on.
While this is far from a classic free Texas Hold'em app, it is a game that will appeal to the players who like beating the computer and reaching the highest levels in games like Candy Crush or various arcade card games.
7. 247Poker.com
If you are not quite looking to play poker against real players and just want to cool off and unwind without any stress, 247Poker may be just the place for you.
Unlike the other best free online poker sites on this list, 247Poker is not a platform that pits players against players, but rather one that will put you in a ring with five AI players who will try to take you for everything you've got.
Of course, no real money changes hands here, and you will be playing against the bots simply for practice.
That said, if you are a novice player, playing against these AI players may be a great way to learn how to think about the game.
The 247Poker platform is definitely not as visually pleasing as some of the others on this list, and since you will be playing against the AI, I can't compare the toughness of the opposition to the other site.
You will get to choose between easy, medium, and hard AI difficulties, and I recommend starting at the lower difficulties if you are new to the game or trying to beat the toughest AIs if you are already a seasoned player.
6. Replay Poker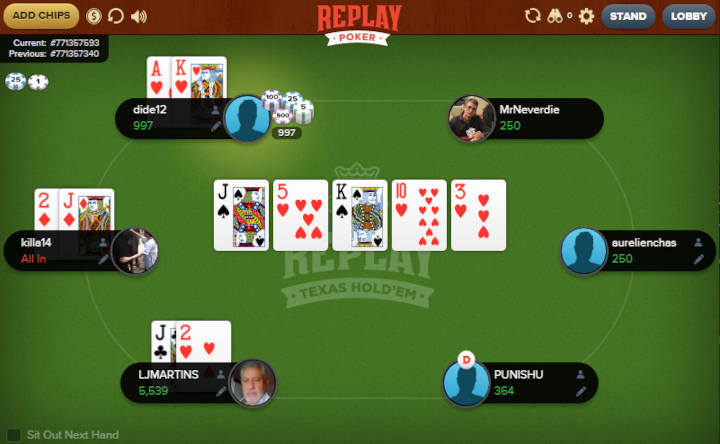 This free-to-play online poker platform offers an instant play version and a downloadable desktop app but no mobile app at this time.
Replay Poker may be a free online poker app, but it runs on software that resembles the very best of real money online poker sites like PokerStars or Party Poker.
You can enjoy various games and stakes at Replay Poker, with cash games being the main focus of the platform and an occasional tournament also available.
Alongside free Texas Hold'em poker, you can also play Pot Limit Omaha, Omaha Hi/Lo, and Royal Poker, which is a unique poker variant that only features high cards (tens through aces), making for a very action-packed atmosphere. If you want to learn more about PLO and figure out the best Omaha starting hands, this is a great place to do it.
Replay Poker has been around since 2005 and has been one of the most popular play money poker platforms for the entire period.
Not only does it not require any monetary risk to join and play on, but it also features an entertaining achievements system, private ring games, and much more for free money poker players to enjoy. Check out our Replay Poker review if you want to learn more about this platform.
5. Global Poker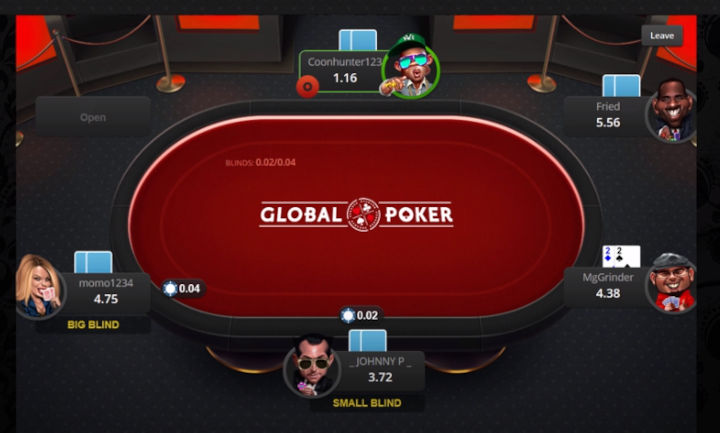 If you live in America and you want to play some online poker, Global Poker might be just the right place for you. While technically Global Poker is a free online poker site, it offers a mode of play where you can actually win some real money.
The Global Poker platform itself is quite high-end, as you may expect from a site that will expect you to put up real money to play the games.
At Global Poker, you will use real money to purchase Gold Coins, which are a proper play money currency without any monetary value.
However, every time you purchase Gold Coins, a corresponding amount of Sweeps Coins is also awarded.
The Sweeps Coins can be used to play at special Sweeps tables, and the coins can be converted back to cash via WorldPay, making this a technically legal way to play real money poker just about anywhere in the world.
Is this legal? Absolutely! Global Poker has been increasing in size and value over the years, and the Sweeps Coins are one of the main reasons why.
The platform is also very safe and can be compared to the major poker sites in this aspect as well, as few player complaints have ever been filed against the operator.
Of all the free poker sites out there, Global Poked definitely provides one of the best experiences, and it offers Texas Hold'em, Omaha, and even Crazy Pineapple tables at a variety of stakes.
4. PlayWPT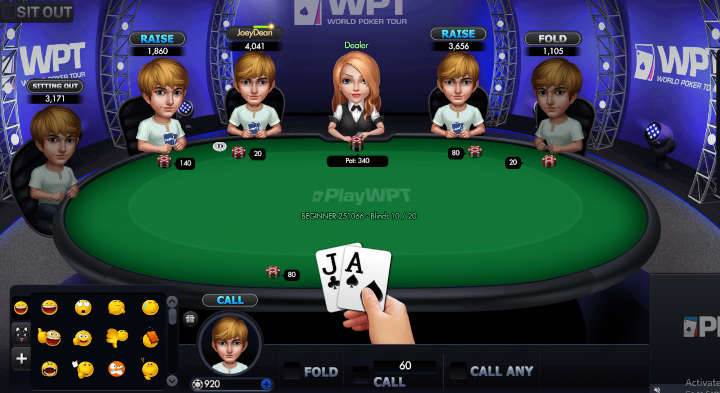 The WPT was one of the early tournament series that helped bring poker into the mainstream, launching back in 2002 and showing the world that everyone could become the next poker champion.
Today, the WPT tournaments are not as popular as they used to be, but the PlayWPT online poker platform allows players to compete at free online poker with no risks.
The platform mimics real money poker sites quite well and offers a high-quality experience even to players who are used to playing on the top sites.
The PlayWPT poker platform features extremely sleek and modern graphics, with unique player avatars, running commentary from the WPT legends Mike Sexton and Vince Van Patten, and cut scenes from the iconic WTP tournament broadcasts over the years.
The game also allows you to play in different virtual locations, representing the different WPT stops, which is another nice touch that adds to the overall atmosphere.
At PlayWTP, you will start with $25.000 in play chips, and plenty more can be added at a reasonable price through the app's store or by winning at the tables against some pretty soft competition.
3. PlayWSOP.com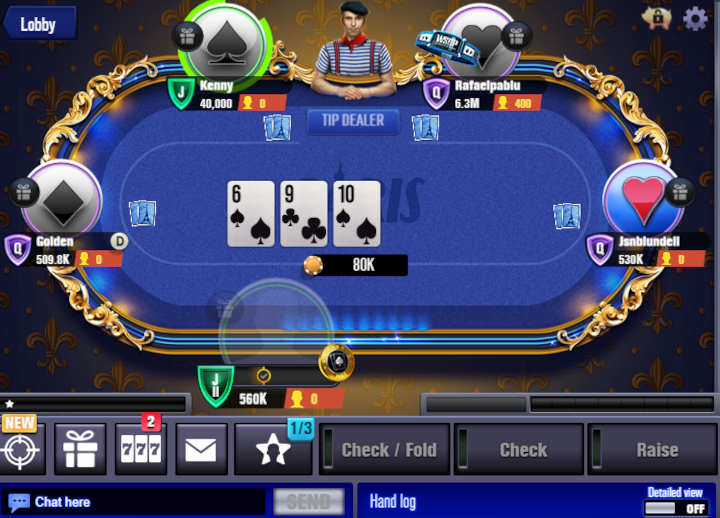 The WSOP brand is probably the biggest one in the entire poker industry, and the vast majority of poker fans were introduced to the game by watching live episodes or reruns of the various WSOP events.
While real money WSOP Poker is available to players online in some parts of the world, players from everywhere can enjoy free money poker at PlayWSOP.com.
PlayWSOP is a unique online platform that allows players to enter free online poker cash games and tournaments under the WSOP brand.
The app itself can be connected to social accounts, such as your Facebook or Google account, and WSOP free chips can be obtained upon signing up as well as through various other methods.
Free Texas Hold'em is not the only game on the platform either, as free Omaha games are also available in the cash game and tournament format.
Players can enjoy playing for various virtual stakes, and if you happen to run out of chips, you can purchase more for small amounts of real cash in the operator's store.
If you don't want to spend real money to play free poker, you can stick to the lower stakes and build your play money bankroll all the way up to the heavens.
2. Zynga Poker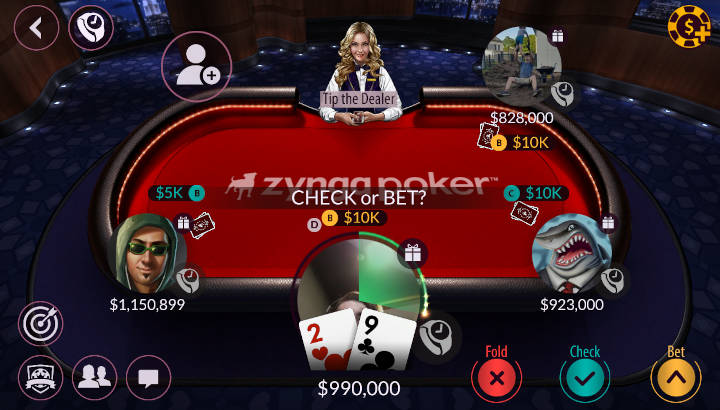 Zynga Poker is by far the biggest and most visited free online poker site in the world. The massive social poker game is available through Facebook and a standalone app available on PCs and mobile devices alike.
However you choose to access it, you will most likely log in to Zynga Poker with your Facebook account, and this massive social network has popularized the game for the most part.
At Zynga Poker, you can play cash games, sit and goes, and spin & wins, all perfectly imitating the real money poker sites that are available these days.
The app is partnered with WPT, one of the biggest brands in the world of poker, and as such carries even more weight and credibility among poker players.
All action on Zynga Poker is played for free money, but the chips can be bought once you run out in the in-app store, which offers many options for players looking to play various stakes.
The software itself is pretty advanced, although those who are used to playing on premium poker platforms will notice it is slower and less smooth than those top sites.
Regardless of any downsides, Zynga Poker is the one place you can guarantee to find action around the clock and at all free money stakes available, making it the ultimate place to go and unwind, with a strong social element present in the game that allows you to compete with your friends and peers actively.
1. PokerStars Play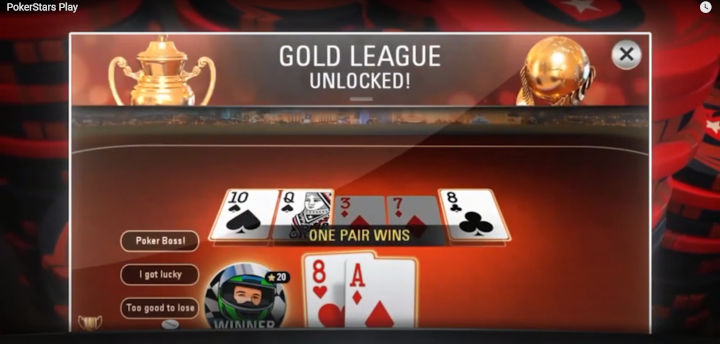 PokerStars have been the number one online poker platform for many years and one of the industry leaders ever since the earliest days of the poker boom. While they focus their business on providing real money poker games, free money poker is also a part of the business model.
At PokerStars Play, a desktop and mobile app that you can run on practically any device you choose, non-stop play money games are available in all poker variants and formats.
Unlike most other free poker sites that offer only Hold'em and sometimes Omaha, PokerStars Play also allows you to enjoy poker games like 7 Card Stud, 5 Card Draw, 2-7 Triple Draw, 8 Game, and many others.
Featuring probably the best online poker software in the industry, PokerStars Play is the ideal place to enjoy some free poker action without taking any risks.
As you play at PokerStars Play, you may also get awarded with real money bonuses, free tournament tickets, and other valuables to use in the real money room if you are eligible for real money play.
While many free poker sites are available and listed on this page, PokerStars Play is easily the best one out there and the one with the most variety and the best software for all devices.
As such, it is my number 1 pick for anyone looking to play free online poker with friends or random players worldwide.
Play Money Poker Pros and Cons
If you are not sure whether free money poker is for you, I have listed out some of the main pros and cons that you may want to consider before you make up your mind.
Playing at free poker sites for fun may not be as exciting as playing for real cash, but it is a great early learning experience that many of the world's best pros started with some years ago.
Furthermore, free poker can be a great hobby that doesn't ever need to grow into anything else. If you simply enjoy playing poker for fun money, there is nothing wrong with that.
Pros
High-quality poker apps are available
There is no risk involved
Compete with your friends
Accumulate play money for bragging rights
You may win some real prizes if you do very well
Cons
You can't win real money regularly
Many opponents don't take it seriously
You may think you are better than you are
Considering all of these, I would recommend approaching play money poker from a slightly different perspective than you would real money games.
Expect many opponents to be spewing chips, not caring about the results, and don't take your wins or losses too seriously.
After all, play money games exist primarily for fun, and the results don't really matter too much.
That said, if you are looking to learn the game seriously, you might want to check these poker tips for beginners even before jumping into these games.