Replay Poker Review – Is It Worth Your Time?
I've been playing poker for well over a decade now and if there's one thing that I've learned over the years, is that the game rarely makes sense unless there is something of real value at stake.
Still, some players seem to enjoy playing the poker just for the competitive aspect and are fine with staking play money instead of actual currency, and Replay Poker is a testament to this.
First launched in 2005, Replaypoker is probably one of the most popular destinations for those looking to play with no monetary risk involved.
The site hosts only play money games, and you can't win or lose any actual cash. That said, you are free to spend money buying these virtual chips to top up your balance, but you don't get to cash out, so your actual poker chips value is zero, no matter how much you have.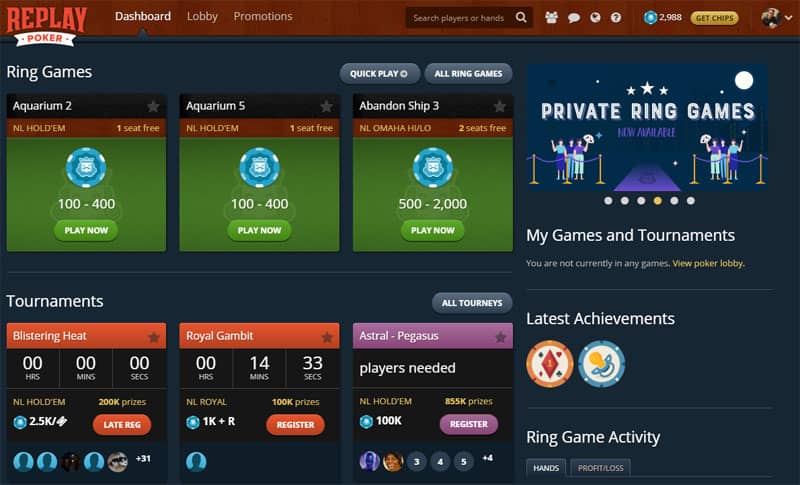 When I first visited the site, I was quite surprised by the number of players at the tables.
They seem to attract quite a few players across different stakes for a play money-only room, and their tournaments aren't a ghost town I thought they might be.
So, there is some action going on, and you can play some poker here pretty much around the clock.
The goal of this Replay Poker review, though, is to try and answer if this is actually worth your time, and if the time spent playing here will help you become a better player.
Replay Poker at a Glance
It's easy enough to create your Replaypoker account. Simply head over to the website, click the Register button, and fill in the small form.
You only need to share your email and pick your username as this isn't a real money site.
You don't have to give up any of the other personal information, and you won't need to verify the account by sending in any documents.
So far, so good.
As soon as you receive the email and click the confirmation linked contained inside, you'll be ready to jump into action.
Replay Poker will start you with 2,500 chips, and you can reload with more chips whenever your balance goes below 500. You'll also receive extra chips for every consecutive day you log in.
The fact of the matter is, you don't need to spend any money to play here if you don't feel like it.
You can always top up your play chips back, and if you play every day, you'll get a fair bit of extra chips in daily rewards.
The problem is, if you want to play the game that even remotely resembles real poker, you'll need to play at pretty high stakes, and for that, you need a lot of chips. I'll come back to this later in this Replay Poker review.
Replay Poker With Pretty Solid Software
One doesn't expect much from the poker software used for a free play site. However, Poker Replay manages to surprise in this particular aspect.
There are quite a few nice options available, designed to create a more pleasant experience.
It's important to note that Replay Poker doesn't require any downloads.
Their platform is completely web-based, so you can play from your browser. As long as you have your username and login, you can easily get onto the site from pretty much any computer and start playing.
As for the customization options you can access in the settings section of your account, these include:
Four-color deck
Auto top-up feature
Auto rebuys
Switch auto-posting blinds on and off
Disable player chat
You can also switch between different languages: English, Russian, Swedish, Dutch, Chinese, Spanish, Portuguese, and more.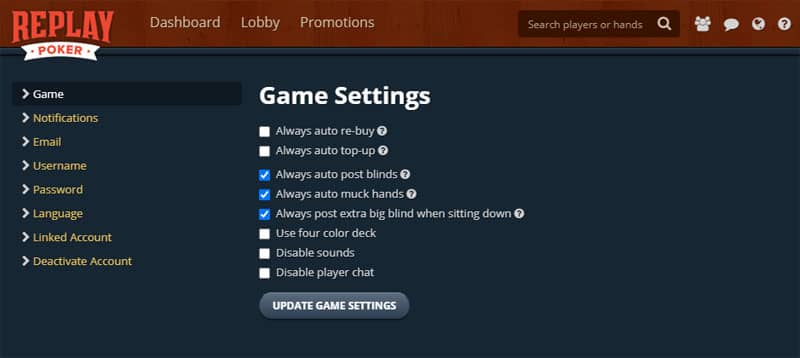 So, software creators have definitely put in some effort into this, and the range of customization options is quite impressive.
The actual tables do look a bit barren, though.
You can't turn blind options on and off for the individual table, and you only get the basic betting options and a slider that could be better.
The limitations of web-based solutions possibly cause some of the shortcomings, but once you get used to it, it's okay.
Actual games run pretty smoothly, and I haven't noticed any particular glitches or delays, which is more than I can say for some other free money platforms.
Replay Poker has done a very decent job in the technical department, and they won't bother you with any adverts while you play, which is another big plus.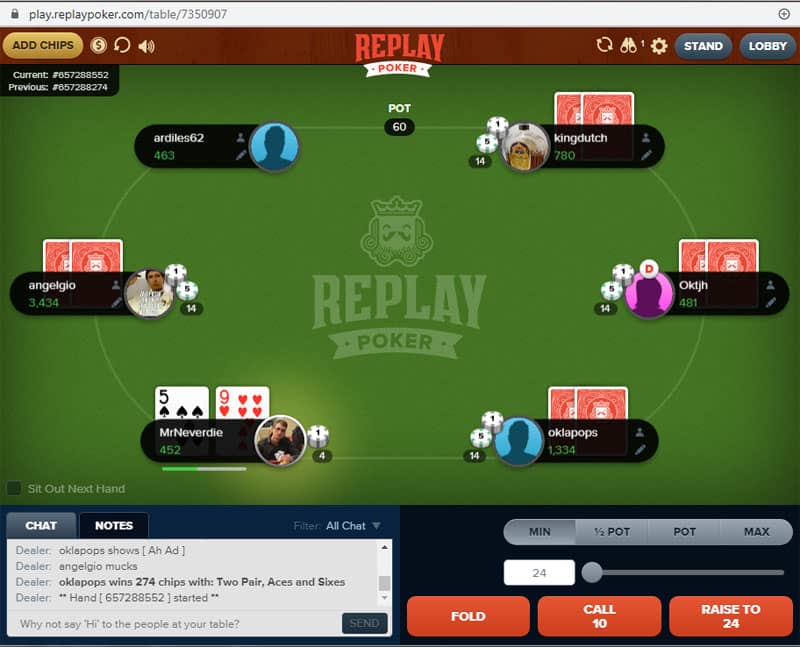 You can also fire up multiple tables at once without any problems. Each table will open in a new window, and you can arrange them across the screen however you like.
I found multi-tabling at Replaypoker to be quite enjoyable as well, at least as far as technicalities are concerned.
Stats & Hand Histories
Despite being just a play money site, Replay Poker has put in quite a bit of effort to build a serious platform that offers a lot of what even some of the real money competitors don't have.
First of all, you have a clear breakdown of your poker stats at any point in time.
Simply head over to your account menu and click on statistics to get a full breakdown of your play with the information such as:
Total number of hands played
Flops seen (while in blinds and in non-blind positions)
Pots won (at showdown and with no showdown)
You don't have access to this kind of information for other players, and there is no inbuilt HUD of any sort to help you while playing, so it is far from the likes of Poker Tracker 4 and similar tools you can use in real sites. Still, this is very nice info to have and can help you analyze your game.
Replay Poker also lets you take notes on the players, so if you do play here regularly and especially at higher stakes where you meet the same players frequently, it's a useful feature.
You can go through these notes even when you're not playing as they're all stored on the site.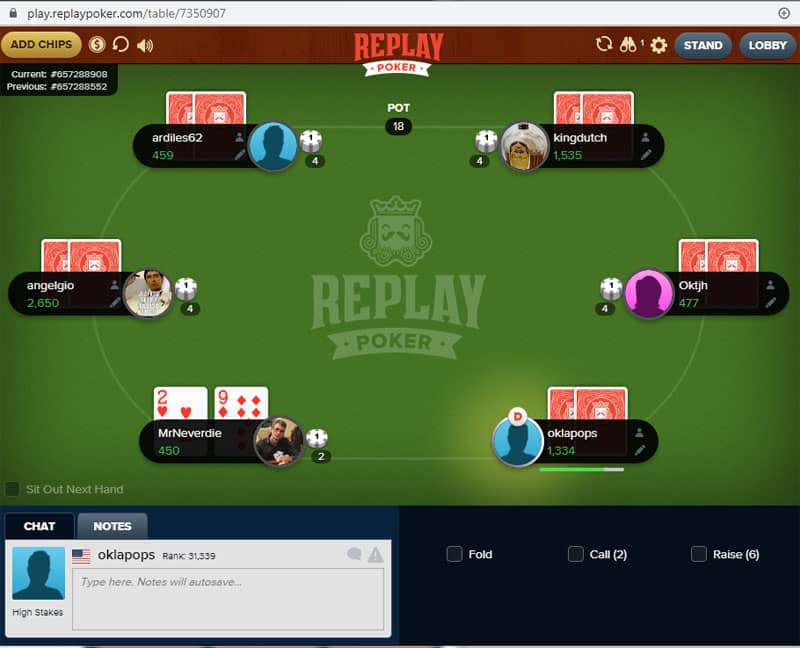 You can also access all of your latest poker hands on the site, and there is an option to save any hands you find particularly interesting for later.
So, once you're done with the sessions, the software will let you review all of your hands and sort them by date, pot size, etc.
If any hands stand out, you can save them to review later whenever you have the time.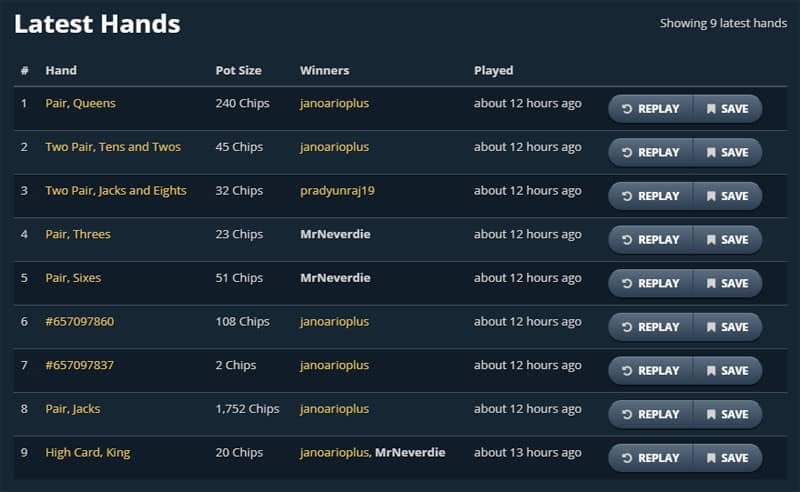 Mobile Play
While the Replay Poker site doesn't have a mobile solution that can compare to PokerStars, the company has certainly made a lot of headway in recent years.
If you want to play on your phone or tablet, you can do so by going over to the site, logging in, and firing up some games.
The mobile client is entirely web-based, so you don't need to download any apps. There aren't any advanced features, and it may not be the best mobile poker app out there, but it does the job, especially if you're content playing just one table.
Game Selection at ReplayPoker
Another nice surprise was the fact that you aren't limited to just Texas Hold'em games at Poker Replay.
The site also hosts Omaha and Omaha Hi-Lo tables as well as Royal Poker.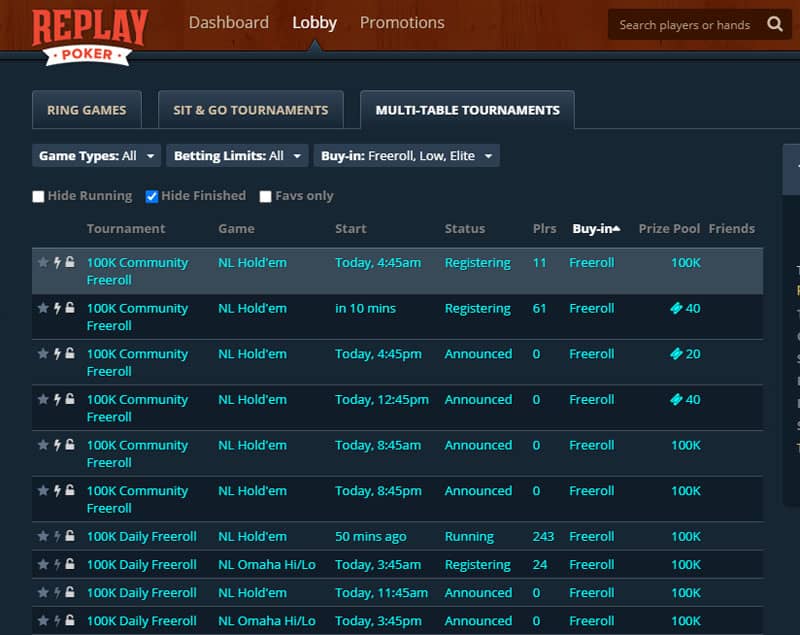 I haven't had a chance to play Royal before, but it's basically an even shorter version of the Short Deck Poker as only 10s and better are left in the deck.
You can play ring games, sit and goes, and multi-table tournaments (MTTs) in terms of game formats.
For ring games, stakes start at 1/2 and go all the way up to 500,000/1,000,000.
MTTs start at 500r and 1,000 freezeouts and reach dizzy heights of 5,000,000+ buy-ins.
There are also quite a few freerolls every day, giving you a chance to boost your bankroll further without buying chips.
The Replay Poker software comes through once again when it comes to finding games and stakes you want to play. A very clean lobby is divided into three main sections (MTTs, ring games, SNGs) and includes filters for:
Game type (Hold'em, Omaha, Omaha Hi/Lo, Royal)
Betting limits (no limit, pot limit, fixed, or mix)
Buy-in range
Game state (full/empty tables, registering MTTs, etc.)
For tournaments, you can get much more information by double-clicking the event you're interested in. This will open a new window which will let you know about the rake, prize distribution, available rebuys, add-ons, etc.
However, I couldn't find the blind structure in the lobbies. A small lightning sign next to the tournament name will let you know if it's a fast or regular speed event, but that seems to be all the info.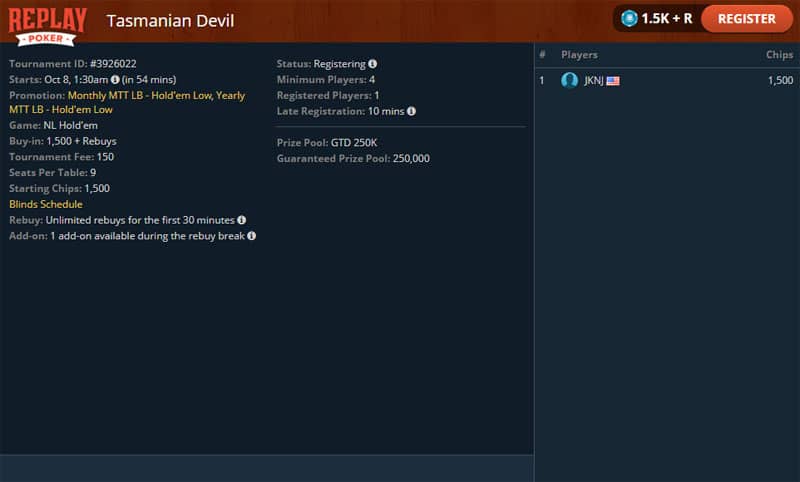 So, although there are some shortcomings, the game selection at Replaypoker is quite solid.
With several game types and a number of different stakes to go through, you have many options available to you, and you can slowly build your poker bankroll all the way up to the nosebleeds if you so choose.
Leagues & Competitions
The team behind Poker Replay has clearly put in some effort into creating a platform that keeps players interested and engaged.
There is a variety of MTT and SNG leagues and competitions for players to take part in for a chance to win free chips and, of course, show their skills.
Regular MTT leaderboards (weekly, monthly, and yearly)
Regionals MTT leagues (Asia, Europe, America, and Oceania)
Gemstone leagues
For those who prefer sit and go, there are various leagues across all different buy-ins.
There is a rather complex system in place for calculating leaderboard points as well, so this is clearly something folks over at Replay Poker have polished over the years.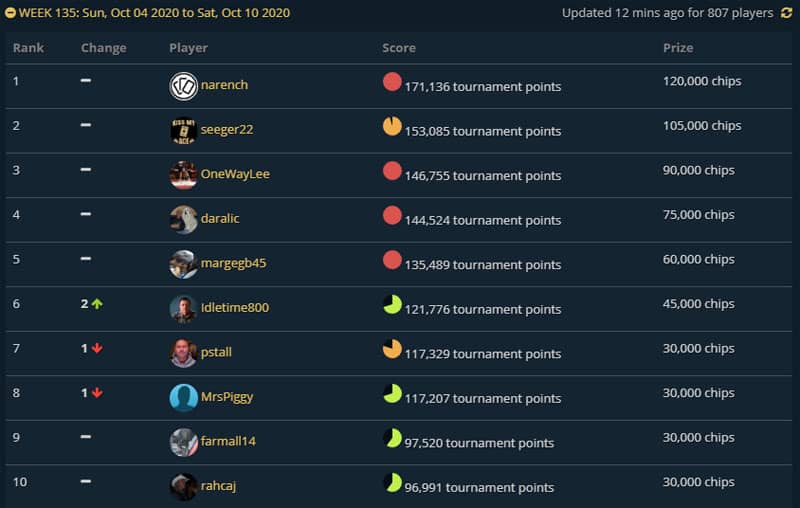 Private Cash Tables
Another nice touch by Replaypoker is the ability to create your own cash tables and make them private.
So, if you want to play an online game with your friends without any strangers jumping in and out, you can set up a game with stakes you like and only invite people you want to play with.
The whole process of creating a private table is very simple, and when you're done, you'll get a link that you can share online via social media platforms or private chats.
Only the people that have the link will be able to see the table and get a seat.
The Elephant in the Room: Quality of Play at Replay Poker
From the technical standpoint, Replaypoker has done a nice job, but they can't control how players decide to play once they join the site – and that's probably one of the biggest issues that all free play poker rooms have to deal with.
With the exception of a small minority, most players who join the site don't care about free chips.
You basically get an infinite bankroll, so you don't have to worry about going bust.
To be fair, Replay Poker did try to at least somewhat address this issue by putting time limits in place so that players wouldn't just go all in every hand, reload, and try again. You can top up as follows:
The First 2,500 chips after you follow bellow 500 is awarded instantly
If you bust, you'll have to wait 10 minutes to get 2,000 chips
20 minutes to get 1,500 chips after that
30 minutes to get 1,000 chips if you bust again
40 and 50 minutes for the next two 500 reloads
60 minutes for every next 500 reload
But even with all this, playing at lower stakes can be very frustrating if you know Texas Holdem strategy or quite pointless if you're trying to learn the game.
You can pretty much forget about bluffing as players will call you down to the river with queen-high and similar trash hands.
Since they have nothing to lose, why would they fold? If they lose, they can always just reload.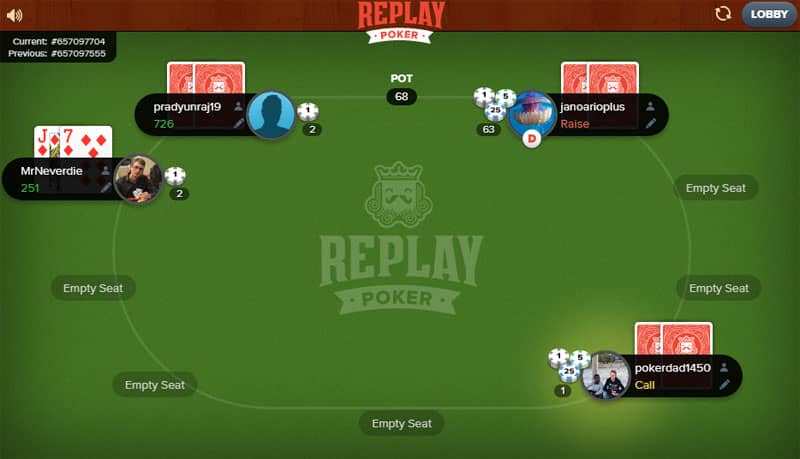 A good player can easily beat these games by playing straightforward ABC game and going for the maximum value with their big hands.
For a novice, these games are just a waste of time, and they aren't a good representation of what real poker games are like.
You won't see all players going to the flop and then four of them sticking around to the river even at stakes as low as 2NL.
These things just don't happen in real money games these days.
So, if you were to try and "hone your skills" at Replay Poker low stakes and then moved on to a real money site, it's safe to say your bankroll wouldn't last long.
You won't find such crazy action in any real games, and players most definitely will not give you their stacks with a single over-card to the board.
So if your goal is to learn, you can have more value by simply reading an article such as the best poker tips for beginners, than playing in play money games.
Once you reach the highest of stakes, you'll finally get to see some actual poker being played as these players do have something to lose, but definitely not sooner.
To build the bankroll to be able to play at stakes like 50,000/1,00,000, they either had to spend countless hours grinding lower limits or spend money to buy chip packs.
Either way, these players won't be as happy to put their chips on the line with absolute air. This isn't to say that you'll be up against top poker minds, but the level of play resembles that found at an average NL10 or NL25 real money table.
Getting to High Stakes at Replay Poker: Is it Worth It?
So, to get some actual learning value from Replay Poker, you'll need to get to pretty high stakes. There are two ways to go about this. The first one is by grinding smaller stakes and playing tournaments and gradually moving up.
This will take a lot of your time, and you won't learn much about poker in the meantime.
Even if you get your hands on some outside resources like the best poker training programs and try to implement some real strategies, these won't work. Players' decisions at low stakes are too erratic to make any real strategies viable – other than waiting for big hands and betting big for value.
How can you define your ranges in a game where players will happily call any two cards before the flop and don't fold to your bets no matter what?
The other way is to purchase chips from Replay Poker and immediately have the bankroll for higher stakes where you can play in games that make some sense.
But to get where you really want to go, you'll need to spend a fair bit of money. Right now, these are some of the chip packs available for purchase:
65,000 chips for $4.99
140,000 chips for $9.99
1,250,000 chips for $49.99
3,250,000 chips for $99.99
Now, if you buy a few million chips, you can probably jump into some games where players actually respect your raises, but I'm really not sure it's worth your while.
You'll learn more about the game by depositing that same amount of money with a real money poker room and playing at the lowest of stakes – 2NL and 5NL.
The quality of play is much, much higher in real sites, and you'll be able to win some real cash in the process.
If you decide to buy some poker chips, Poker Replay accepts several major credit and debit cards (Visa, Amex, MasterCard) and PayPal, so you shouldn't have any issues there.
The little popup window where you need to enter your payment information doesn't inspire too much confidence, but that could well just be a visual thing. So far, there have been no reports of any players being overcharged or charged several times on the same purchase.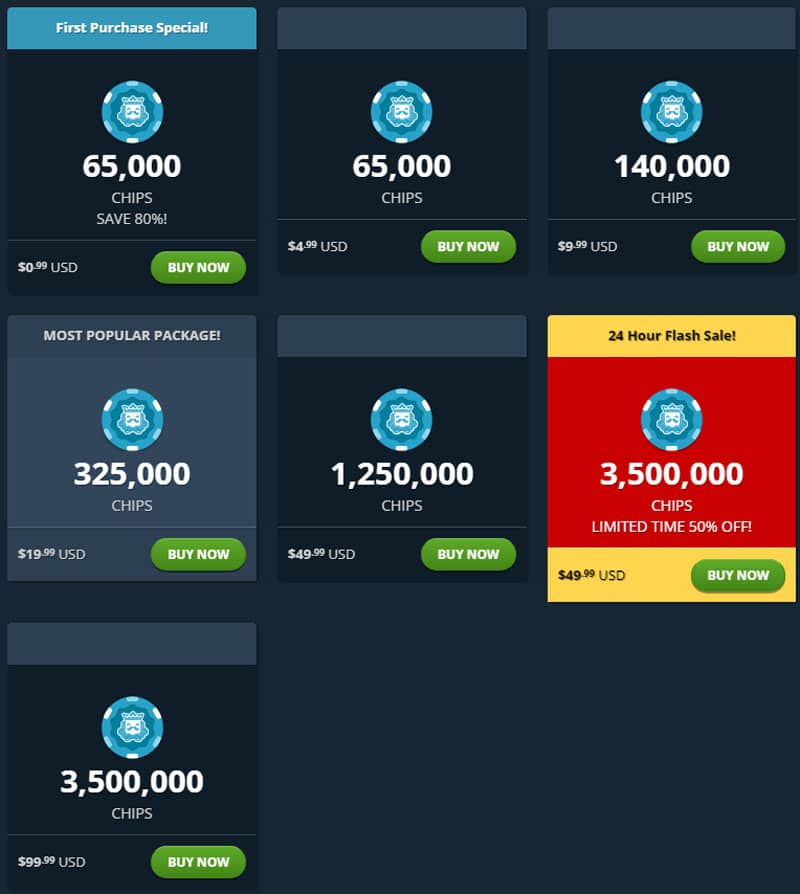 Summary: Is Replay Poker Good For You?
I've tried my best to be completely honest and fair in this Replay Poker review. There is definitely a lot to love about this room.
They've done an excellent job with the software. I know some real money places that offer browser tables, and they aren't nearly as good in terms of quality.
The variety of competitions and leagues is pretty awesome as well. It really adds that competitive note and creates some motivation for players to take things seriously even if there is no real money at stake.
That being said, I don't see it as a place for any serious players, at least not long-term.
First of all, playing poker without any tangible prizes tends to get old after a while. Love it or hate it, but that's just the nature of the game. It's just like playing in a Strip Poker game, you probably do that not because of poker the part.
Secondly, play at lower stakes is simply atrocious, and you really can't call it poker.
It's just people clicking buttons, many of them probably without even knowing the rules of the game, let alone anything else about it.
And if you're going to invest time or money to move up the stakes and get to play in games that do resemble good poker, why not do it on a real money site?
If, however, for whatever reason you can't access any real money sites or play for real money is something you just don't want to do, then Replaypoker is a pretty solid alternative.
Just don't expect to learn much by playing here. It's good entertainment, but it's not the way to learn proper poker since play money and real money games are two completely different things.