PartyPoker Cashback: How Much Value Can You Get?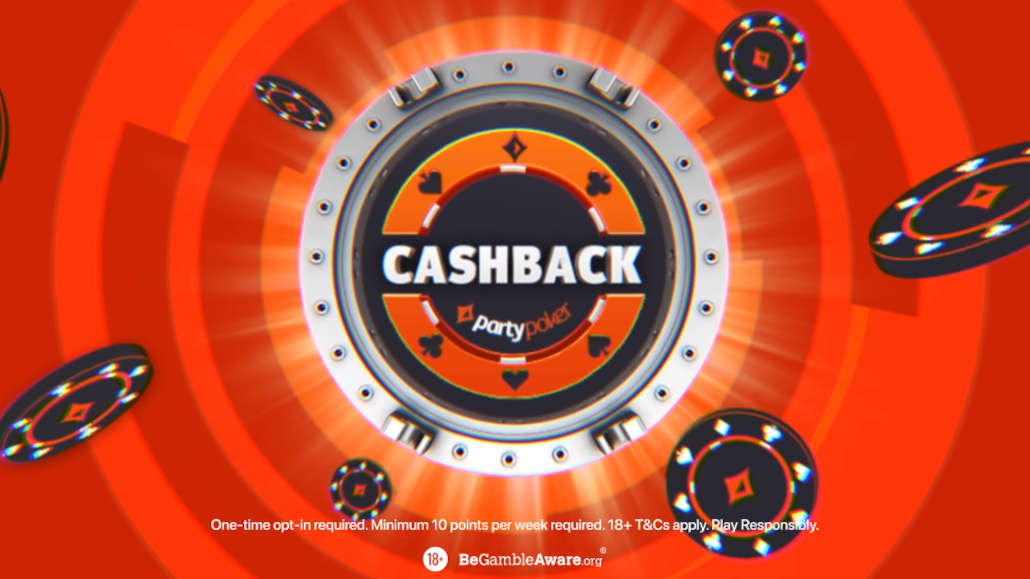 4 minutes
Last Updated: November 6, 2023
Player loyalty is the one thing that's been rewarded by iGaming operators since the early days of the industry, and it continues to be so in one way or another.
While the days of massive rakeback percentages may be behind us, there are still online poker operators that offer a lot of money back, and the PartyPoker app falls into that category.
PartyPoker Cashback is the name for this popular operator's loyalty scheme, which awards cash prizes every week without any wagering requirements or other nuisances.
Playing real money poker at PartyPoker will get you your weekly Cashback guaranteed, and you can easily end up earning 33% Cashback and other online poker bonuses through the program.
Here are the quick highlights of the PartyPoker Cashback, as presented by the operator:
Earn real cash – No bonuses, wagering requirements, or other restrictions
You get your cashback payment automatically every Monday
Cashback is restarted weekly, no VIP levels
Boosted points available every week
How to Start Earning with PartyPoker Cashback
Like any other online poker loyalty scheme, PartyPoker Cashback is pretty easy to get into, and there are very few requirements you will need to meet to start earning.
Just follow these simple steps, and you will be earning Cashback every time you play at real money tables:
Opt-in for Cashback while playing
No need to opt-in multiple times; once opted-in, you will remain so
Earn your first 10 Points to receive the weekly Cashback
Receive variable points depending on the game you play
Your cash will be available in your balance on Mondays
The first time you play at PartyPoker, don't forget to opt-in for Cashback so you can get started. However, this is a one-time thing and you won't need to do it every time you play.
Once opted-in, you will generate Cashback each and every week. The more you play, the more Points you will earn, and the more these Points will be worth.
Let's now take a look at how Points are earned at different types of poker games.
Earning Cashback Points at PartyPoker
The secret to releasing maximum Cashback at PartyPoker is to play as many hands of real money poker as possible, with certain games earning you more than others.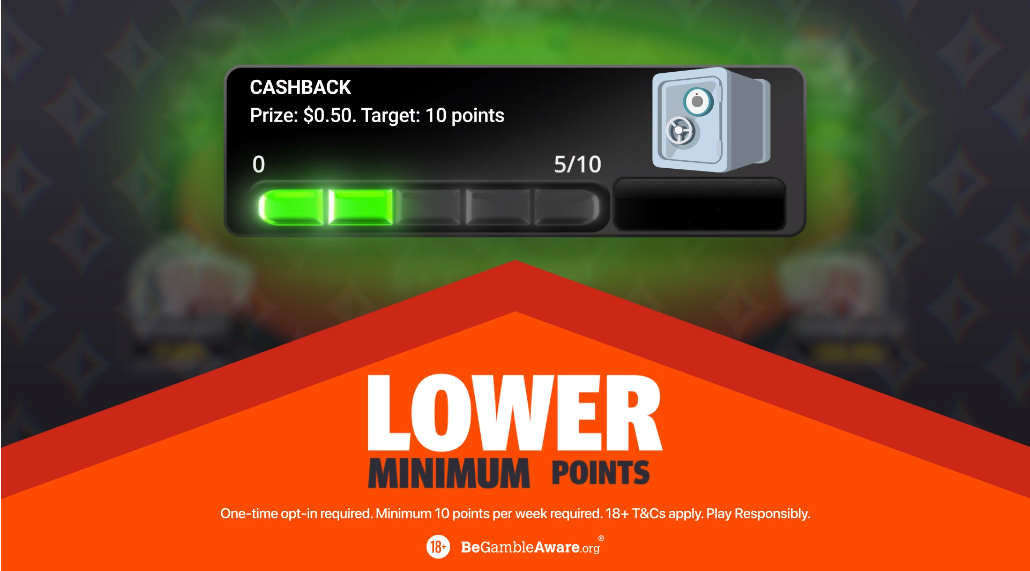 You will receive a minimum of 2 Points for every $1 in rake or fees you pay at the room. However, this number can go as high as 4, while certain promotions can boost it even further.
Here is a quick rundown of the rate at which Points are awarded in different game types:
MTTs: Earn 2 Points for $1 in tournament fees
SNGs: Earn 2.5 Points for $1 in tournament fees
Spins: Earn 2.5 Points for $1 in tournament fees
High Stakes Cash Games: Earn 2 Points for $1 in rake paid
Regular Cash Games: Earn 3 Points for $1 in rake paid
Fastforward: Earn 4 Points for $1 in rake paid
As you can see, PartyPoker awards players playing cash games, and especially their trademarked "fastforward" cash games, more than players playing other formats.
You can earn up to 4 Points for every $1 you pay in poker rake at the tables, which will end up paying quite the return via the Cashback program.
Note that additional "player boosts" are also available every week. Players will be selected by the operator to get boosted. If you are boosted for the week, you may earn 50% or more extra points every time you play real money poker that week.
For example, if you were playing with a 50% boost, you would be earning 4.5 Points per $1 playing regular cash games or as much as 6 Points per $1 playing fast-forward tables.
Earning Cashback for Your Points
You now know how to earn your Cashback Points and which game types earn you the most. This still doesn't answer the question of how much money you can expect to get for your troubles.
PartyPoker awards Cashback according to a fixed table, which indicates how many Points you need to earn to get each reward.
Here is the Cashback table in full:
| | |
| --- | --- |
| Points Earned | Rewards Earned |
| 10 | $0.50 |
| 20 | $1 |
| 30 | $1.50 |
| 40 | $2 |
| 50 | $2.5 |
| 60 | $3 |
| 70 | $3.5 |
| 80 | $4 |
| 90 | $4.5 |
| 100 | $5 |
| 150 | $7.50 |
| 200 | $10 |
| 250 | $15 |
| 300 | $18 |
| 350 | $21 |
| 400 | $24 |
| 450 | $27 |
| 500 | $30 |
| 600 | $36 |
| 700 | $42 |
| 800 | $48 |
| 900 | $54 |
| 1,000 | $60 |
| 1,200 | $96 |
As per the table, you can earn $96 in returns for every 1,200 Points you earn in a week. This translates to $300 in rake paid at fastforward tables or $400 in rake paid at regular cash games.
This comes out to about up to 32% in direct Cashback without any boosts. However, keep in mind that PartyPoker offers promotional periods when extra Points can be earned, as well as dedicated player boosts which give certain players regular boosts to their Points.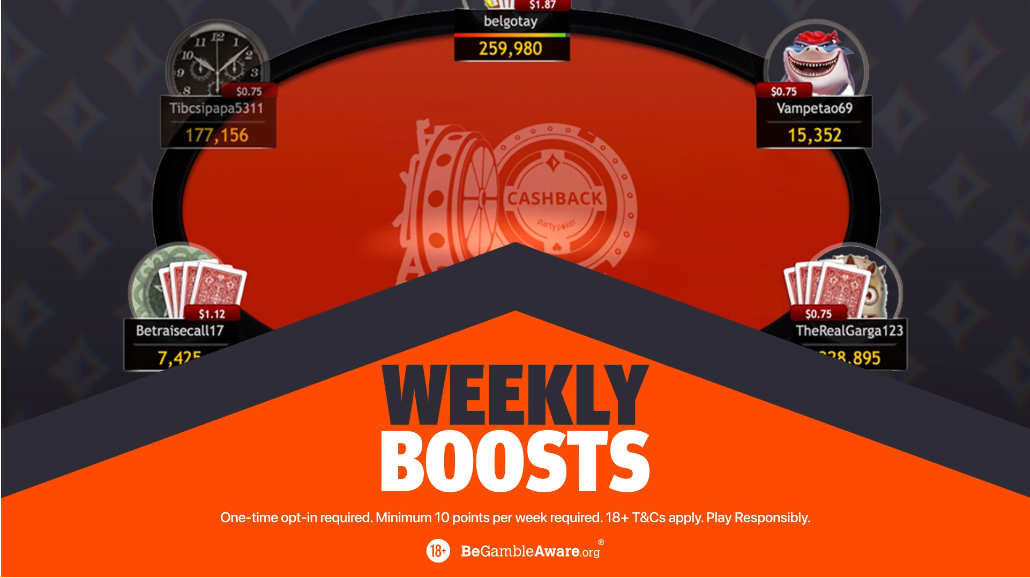 This means that, given the right circumstances, you may be earning up to 55% in Cashback weekly, which is some of the very best Cashback you can get anywhere on the internet these days.
The best thing about it is that PartyPoker pays your Cashback out in pure cash, without any restrictions or wagering requirements associated with it.
More Value at PartyPoker
The regular weekly Cashback is just the tip of the iceberg at PartyPoker, as the operator offers a lot more value through its other promotions and bonuses.
Joining the operator in 2023 will get you access to a valuable $600 deposit bonus, which will act as additional Cashback until you release the bonus in full.
Keep in mind that your Cashback and your bonus will both be available simultaneously on this real money poker app, making PartyPoker a truly amazing place to play for new players.
A selection of other promotional offers is also available, including the popular Diamond Club for Spins grinders, daily fastforward Leaderboards, fastforwards Boosted Hours, and more.
Join PartyPoker today to claim all these perks and start building your bankroll in the safest way possible at one of the world's finest online poker rooms.