Earn More Cashback with PartyPoker Fastforward Boosted Hours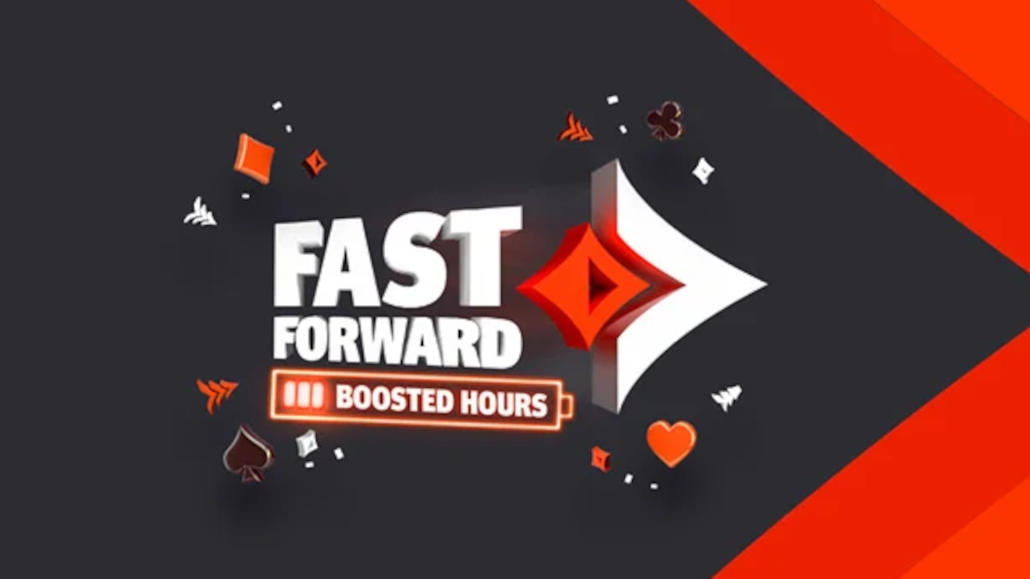 4 minutes
Last Updated: November 6, 2023
The PartyPoker Weekly Cashback program is one of the most valuable cashback schemes in online poker these days and one of the few that pay regular weekly cashback into your account.
The program awards variable amounts of VIP points to players playing different games, but the popular Fastforward poker is the most rewarding, with four points awarded for each dollar paid in rake.
However, if you are a true grinder and looking to optimize your value, the Fastforward Booster Hours are a great way to improve your cashback even further.
If you have been playing fast fold poker on another poker platform or are simply looking for a new game where you can optimize your value, keep one reading.
You'll find out how to get the most returns for the money wagered at the poker tables by playing Fastforward games at PartyPoker.
How PartyPoker Cashback Works
The Weekly Cashback program at PartyPoker offers weekly rewards for players based on the amount of VIP points earned at the tables.
To receive any rewards at all, you will need to opt-in for the Cashback program first, and then start playing real money poker games of your choice.
For every $1 in rake paid at the tables, you will receive some points, but the exact number will depend on the game type you play, according to the current VIP program rules.
You can earn points at PartyPoker at the following rates:
| | |
| --- | --- |
| Game Type | Points Per $1 in Rake |
| Fastforward | 4 |
| Cash Games | 3 |
| Cash Games (High Stakes) | 2 |
| SPINS | 2.5 |
| SNGs | 2.5 |
| MTTs | 2 |
As you can see from the table above, Fastforward games are the most valuable in terms of Cashback to begin with. Four points are awarded for every $1 paid in rake at these fast-play tables.
What's even more, players can receive a Player Boost each week. It is awarded by PartyPoker to selected players each week, providing up to 50% more points, resulting in more cashback.
All your points count towards the Weekly Cashback. You will need to earn at least 10 points in a single week to qualify in the first place.
The more points you earn, the more you will get in rewards, and the more valuable those rewards will be in terms of percentages.
Earning 1,200 points in a week will earn you the maximum base rate of 32% (at Fastforward poker) in Weekly Cashback, which can be further increased by Player Boosts.
However, even if you are not awarded any Player Boost for the given week, you can earn extra points and rewards by making use of the Fastforward Boosted Hours.
Fastforward Boosted Hours Explained
Every day of the week, playing Fastforward games at given times of the day will award you with some extra points, on top of the four points you get per $1 in poker rake paid to begin with.
The first Boosted Hour starts at 9 AM and lasts until noon, with one extra point awarded for every $1 in rake paid.
The second Booster Hour starts at noon and lasts until 2 PM, and two extra points are awarded for every $1 paid in rake.
Between 2 PM and 6 PM, you will receive an extra four points for every $1 in rake, effectively doubling your earning potential.
The next two hours, between 6 PM and 8 PM, award two extra points, while the final hour of the promotion, between 8 PM and 9 PM, awards one extra point per $1 in rake.
Making full use of the Fastforward Boosted Hours will earn you up to 8 points for every $1 you pay in Fastforward rake. This is the best points-earning and Cashback rate you could get anywhere on the internet to play fast fold poker.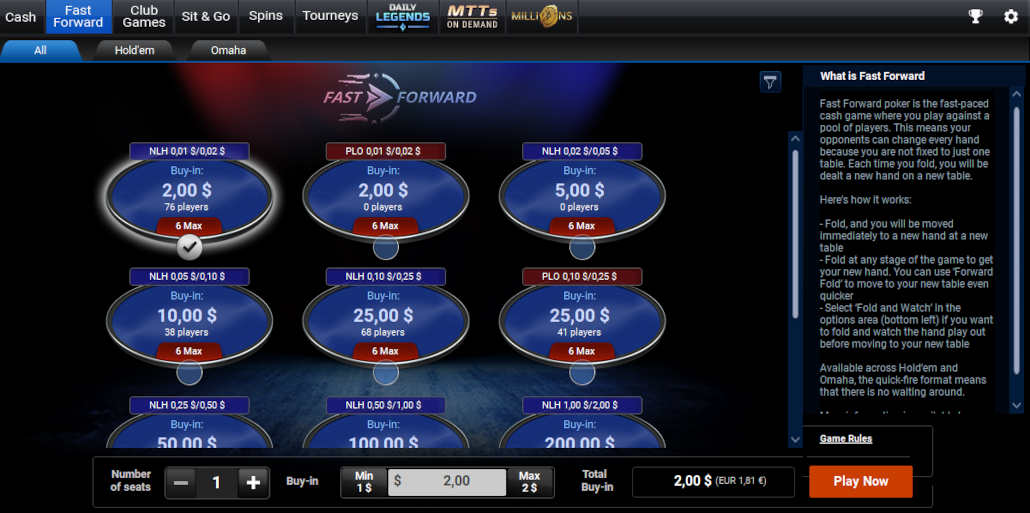 Keep in mind that you are not eligible for extra points if you have a Player Boost higher than 30% for the week. In this case, you will be getting plenty of extra points to begin with.
However, if you do have a high Player Boost, you will still be eligible for Daily Fastforward Leaderboards for more extra value.
Compete in the Daily Fastforward Leaderboards
All players who have a Player Boost higher than 30% are eligible for participation in Daily Fastforward Leaderboards, where a prize pool of $1,000 is split between the most active players.
Two Daily Leaderboards are available, one for stakes $0.25/0.50 and lower, and the other for stakes $0.5/1 and higher.
All points earned by playing Fastforward games of the corresponding stakes count towards the Daily Fastforward Leaderboards, and players with the highest points count get the rewards.
You can earn between $2.50 and $50 in extra value in the lower and between $20 and $100 in the higher Leaderboard, a nice boost to your daily winnings and Weekly Cashback.
It is worth noting that all Leaderboard rewards are paid in Partydollars (P$), which must be wagered at the tables once before they are eligible for cashout.
Join PartyPoker & Earn More at Fastforward Tables
Fastforward poker at PartyPoker is the most rewarding form of fast-fold poker you will find anywhere on the internet, with a mix of Weekly Cashback, Weekly Player Boosts, and Boosted Fastforward Hours.
You could easily be earning well over 50% in total Cashback playing Fastforward at PartyPoker, which is more than any other online poker site offers in 2023.
Join PartyPoker today, claim your lucrative welcome bonus offer, and get involved in the most rewarding fast-fold poker games anywhere in the world.
With the welcome bonus active, your rake returns will be off the charts in the first couple of months on the platform. This might be the best decision you can make as a cash game grinder at micro or low stakes.
You can check out more details about the PartyPoker Cashback and Boosts when you install PartyPoker, so download the platform and find out more about all the things you stand to gain by playing at one of the world's premier real money poker apps.