Rounders – The Best Poker Movie Ever Filmed?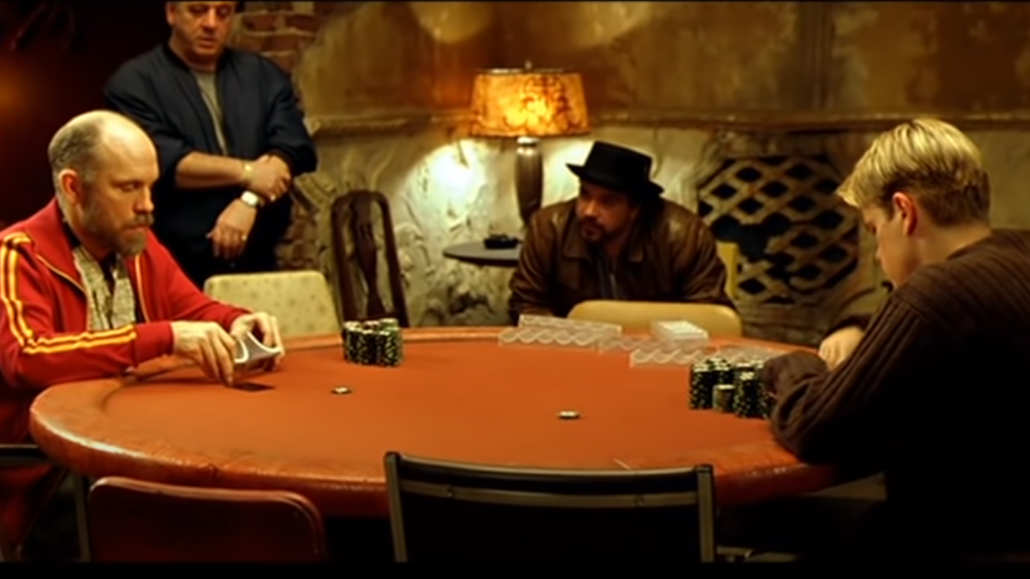 8 minutes
Last Updated: May 23, 2022
Rounders is one of the most loved and appreciated poker movies of all time. Even though it's been over two decades since the movie came out, Rounders still enjoys great popularity among movie fans and gamblers.
So, why was this movie so successful? Was it the nail-biting story? Perhaps it's compelling characters? Or was it just released at the right time, when poker was beginning to take traction?
Read our take on the movie in this comprehensive Rounders review.
The Plot
At the start of the movie, we get to know Mike McDermott, the main character of the movie. He is a law student in New York City but dreams of becoming a professional poker player and winning a World Series of Poker bracelet.
Mike is a very talented player but is impatient and often thinks that he's better than he really is.
One day, he gets into an underground poker game run by a Russian mobster nicknamed Teddy KGB. Being cocky and overconfident, Mike makes a wrong decision and loses $30,000 in just one hand.
He is distraught and disappointed and promises his girlfriend that he won't play poker anymore and will instead focus on his studies. He even gets a part-time job to stay on the right path.
Mike manages to hold his word for a few months until his old friend Lester "Worm" Murphy gets out of prison.
Lester is the complete opposite of Mike. While Mike is honest and plays fair, Lester only aims to earn money by hustling and cheating.
To help Lester pay off his mounting debts, Mike gets him in a game. He even sits to play himself, reluctantly so, as he's afraid of risking his relationship and studies.
Lester takes out a tab on Mike's name and loses both his and Mike's money. To make matters worse, these debts are owned by a pimp and mobster who works for Teddy KGB.
After Mike finds out about the newly-acquired debt, he agrees to help Lester win the money to pay off the debts. However, Lester doesn't tell him that the debts are owned by a man who directly works for Teddy KGB.
As Mike returns to the poker lifestyle, his girlfriend becomes disappointed in him and ends their relationship.
The two go to Atlantic City to win the money they need to pay back. Mike goes on a winning streak but still doesn't manage to win enough to pay out the debt fully.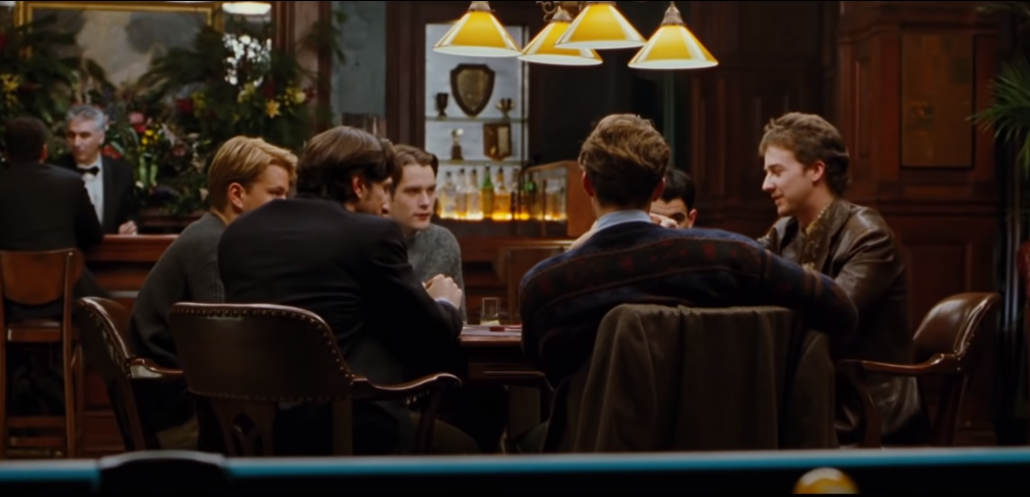 He then goes to a game hosted by the New York state police, where he continues winning.
But, at some point in the game, Lester joins the table. Right after, the troopers catch Lester bottom dealing Mike.
The two are then kicked out, and the troopers take their bankroll, effectively erasing all of Mike's previous efforts.
Down and beaten, Lester tells Mike that the man they are indebted to is working for Teddy KGB. Soon after, Lester goes on the run, and Mike returns to New York City, ending his friendship with Lester.
After unsuccessfully asking his friends and his mentor for money to get back in the game, Mike finally gets a loan from his professor.
He then challenges Teddy KGB to a No-Limit Texas Poker game. Mike beats him immediately in the first session, earning enough money to walk away.
But, as Mike is about to leave the game, Teddy KGB taunts him and manages to convince him to continue playing.
At the risk of losing everything, Mike finally starts playing slower and more responsibly. He folds one hand at the right moment, causing Teddy KGB to tilt.
In their final hand, Mike lures the tilted and emotional Teddy KGB into making an all-in bet. Teddy KGB loses and gets mad for being baited into making such a mistake.
But, despite being beside himself, Teddy KGB admits to Mike that the outcome is fair and allows him to leave the game with his winnings.
Walking out with over $60,000 in cash, Mike settles Lester's debt, pays back the loan to his professor, and settles other remaining debts.
He then drops out of law school and goes to Las Vegas to pursue his dream of playing in the World Series of Poker.
The Success and Cult Following of Rounders
The movie was released in 1998 and was a moderate success at the box office, receiving mixed reviews from critics.
Rounders was a fairly low-budget movie, especially considering some of the famous actors featured in it.
The overall budget was just $12 million. It grossed less than double that amount, earning under $23 million at the box office.
That said, Rounders was lucky to find itself on the brink of the right era. Just a few years after it was released, the poker boom in the US started.
Poker exploded into a massively popular card game and grew immensely during the early 2000s.
During that time, Rounders received renewed attention from all of the poker enthusiasts that were just getting started. Soon, it became a cult hit among poker players, a status it holds to this very day.
The Intriguing Main Characters of Rounders
Rounders is very much a character-oriented movie. It focuses on the relationship and the ups and downs of the three main characters.
These are the main protagonist Mike McDermott, the main antagonist Teddy KGB, and Lester "Worm" Murphy. Here's our take on each of the three:
Mike McDermott
Mike McDermott is a simple character many poker fans can identify with. He is limited by his financial situation but is set on making a name on the poker scene.
However, he's also held back by his desire to do so as quickly as possible and by the circumstances he puts himself in.
Throughout the movie, Mike learns a few painful lessons but never gets disheartened to the point of quitting the game he loves so much.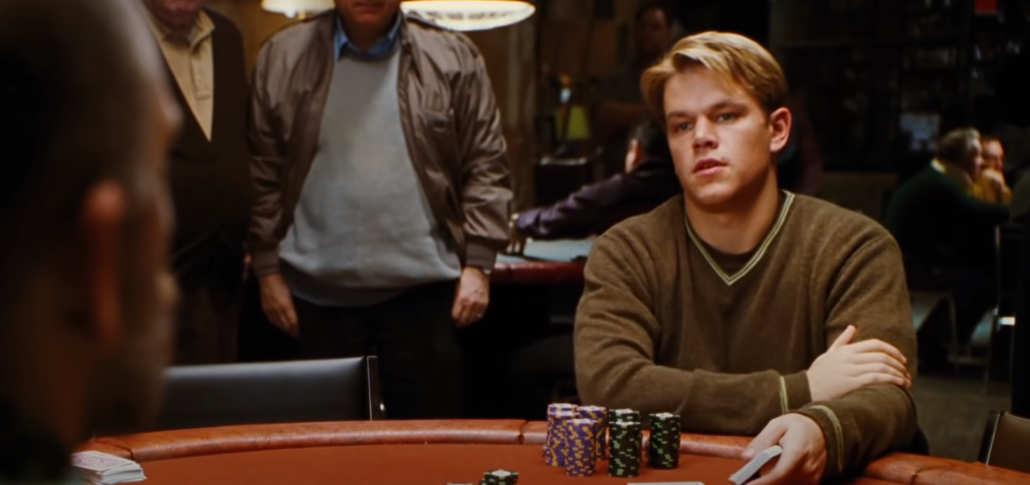 This determination makes you root for him and hope that he will pull himself up and win big by the movie's end.
A young Matt Damon delivers the role of his career at that point and puts in a powerful performance.
To this day, Mike McDermott is arguably the most famous poker movie character. Even so, in our opinion, Mike McDermott is less interesting than the other two characters we'll highlight.
Teddy KGB
Just like Rounders has a clear main protagonist in Mike McDermott, so does it have a clear antagonist in the form of the charismatic Teddy KGB.
Portrayed by the legendary John Malkovich and accompanied by the actor's recognizable diction and accent, Teddy KGB steals every scene he's featured in.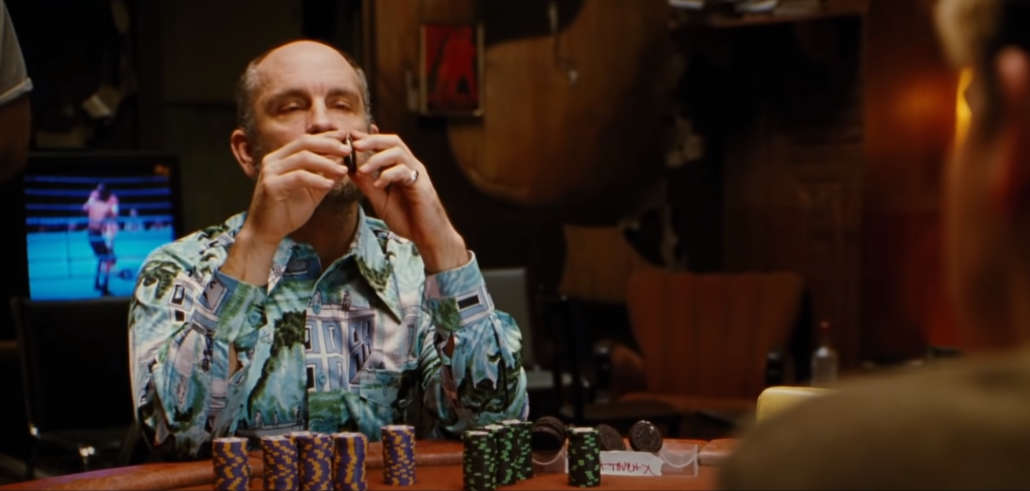 And, although he's supposed to be the "bad guy", Teddy KGB is often likable, charming, and hilarious. That said, he's not short of flaws, with the most glaring ones being his rudeness and frequently obnoxious behavior.
Still, Malkovich masterfully walks the line between these two sides, so you'll find yourself both rooting for and against him during parts of the movie.
Lester "Worm" Murphy
Although Lester is not the movie's main protagonist, he's certainly the character that you'll feel for the most.
Lester has the hardest life path and starts the film in prison. Moreover, he doesn't end any better, as, by the end of Rounders, he's on the run and with empty pockets.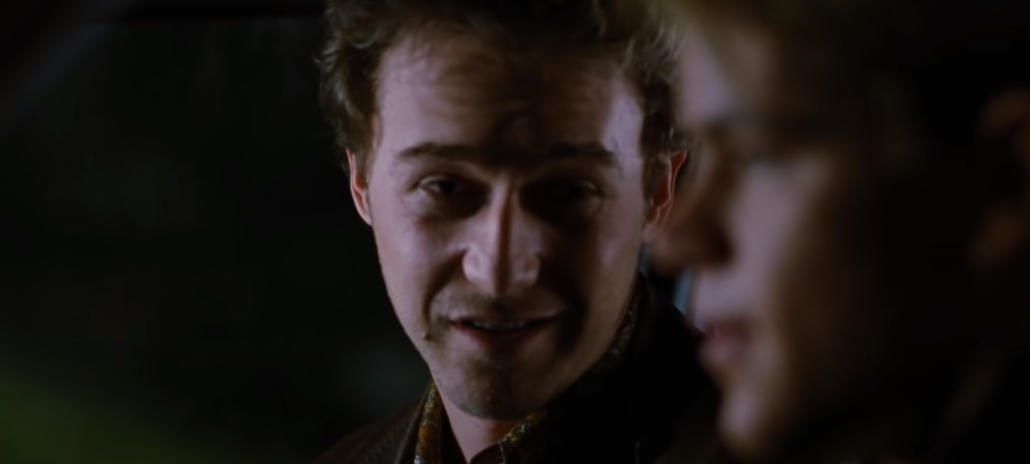 The casting of Edward Norton for the role of Lester was a perfect choice. Norton was a promising actor with a few serious and noteworthy roles already behind him.
Despite being an unlucky failure, Lester has the depth and intrigue that would very well warrant a spin-off or sequel that focuses on his story.
Rounders from a Poker Perspective
Even though Rounders is undoubtedly a super-exciting movie with a little bit of everything, it has received some flak over the years for not being very accurate in many aspects poker-wise.
So, to round off this Rounders movie review (no pun intended), let's discuss a few things that the movie completely misfires on.
Arguably the biggest mistake or poker inaccuracy is the one in which Mike McDermott walks in during the judges' game.
After observing just one betting round, Mike knows what cards each player at the table has. This is simply impossible to do in any situation, and not even the best poker players in history could pull this off.
To be fair, this is a movie. So, there is some creative freedom that allows for this.
But, for a poker movie that tries to bring an up-and-coming player's realistic and gritty experience, this Sherlock Holmes-like perception ability does take you out of the movie and makes it less believable.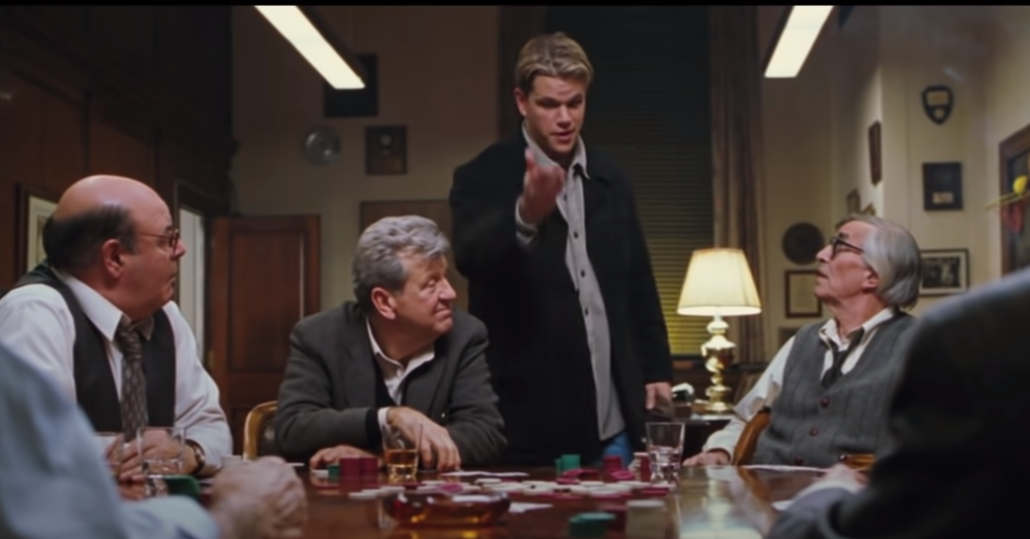 Another very noticeable mistake that slips by happens during Mike McDermott's game with Johnny Chan. To be more precise, McDermott buys in with a small bankroll of around ten big blinds or less.
But, according to his words, he has enough money to keep folding and playing tight for an hour before he outplays Chan. And, you don't have to be a math wizard to figure out that this doesn't check out.
Considering all of this and the movie's entertainment value, we would say that Rounders is primarily a great film for casual poker enthusiasts.
If you're looking to get into poker or are just starting out and are hyped about your new hobby, Rounders can only awaken more passion for the game.
On the other hand, if you're an experienced poker player, you'll likely be distracted by some glaring movie mistakes that Rounders seems to get away with.
Don't get us wrong. It's still a cult gambling movie, but more for those who aren't that deep in the poker scene.