This Is PLO by Phil Galfond – Comprehensive Review
While plenty of training material is available for No Limit Hold'em, Pot Limit Omaha resources are quite scarce. Those looking to improve in this growingly popular variation have limited resources to take advantage of, especially at the higher level, so take a look inside this!
This Is PLO course available at Phil Galfond's Run It Once training site aims to change this.
Most fans of this game know Phil has long been considered one of the best, if not the best, Pot Limit Omaha players.
So, as far as credentials go, it doesn't get any better than this. You'll get a chance to learn from the best and see the game in a new light.
If you'd like to know more, dive into this detailed This Is PLO review to learn what you'll find inside and if this is the course that will turn things around for you.

This Is PLO at a Glance: Learn from the Master
Undoubtedly, This Is PLO is the most extensive Pot Limit Omaha course in the market. The sheer amount of material is both impressive and daunting, as you'll need to spend quite a bit of time going through all the videos.
One of the reasons why there are so many individual lessons is that Galfond wanted to break down his ideas into videos not lasting longer than 30 minutes.
This makes the course very digestible and much easier to keep up with.
When one of the best players of all time decides to share his insights, you can be sure there will be some advanced and complex ideas.
So, the best way to take them is in small doses.
In the introductory video, Phil explains his motivation for creating the "This Is PLO" poker training program, how the course is structured, and what you'll find as you move along.
The course is divided into seven main areas, namely:
Foundations
Single Raised Pots (SRPs)
3-bet Scenarios
4-bet Pots
Hand Reading in PLO
6-max Specifics
Session Reviews
Each of these particular areas branches down into smaller subsections, with lessons going into the tiniest of details about specific situations.
The sound and video quality are great, of course, and Phil manages to explain his thoughts in a very clear manner, but there is still so much to go through in this course.
The Foundations Section of This Is PLO

As mentioned in the intro of This Is PLO review, Galfond first takes some time to explain his motivation and how this course came to be.
This brief intro may not be essential to developing your skills, but it will boost your motivation to get into it. The rest of this section covers several major topics like:
Solvers and their role in PLO (Explained via Building Blocks)
Board textures & frequencies
Intro to game tree
If you don't have much experience working with solvers, the Foundations videos will help you better understand the logic behind poker software and teach you how to "think like a solver."
The final video in this section provides a breakdown of the rest of the course and what to expect moving forward, so try not to skip it.
Single Raised Pots (SRP) Lessons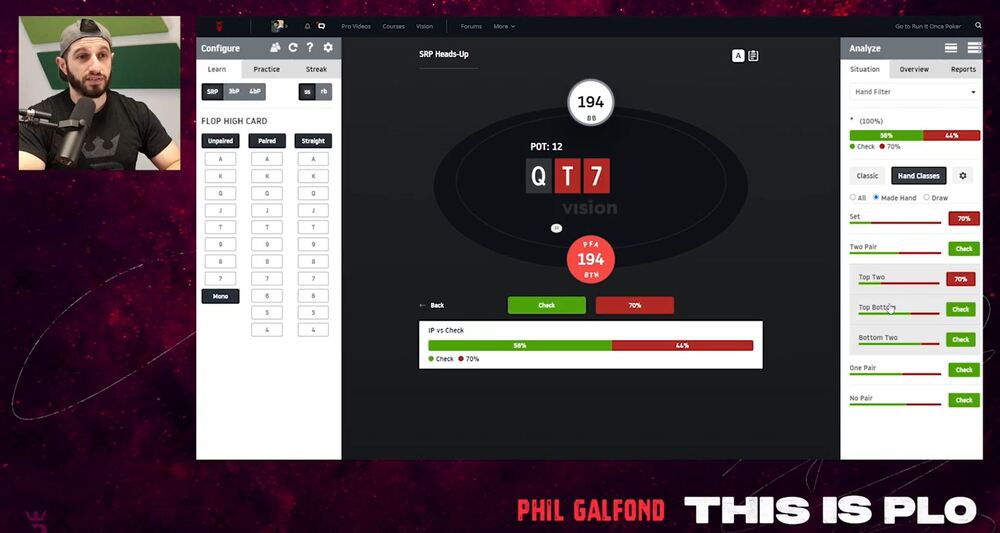 The SPR segment of the course is by far the most extensive one. There are nine different subsections, each containing several videos between four and twelve, depending on the situation's complexity.
These lessons are primarily derived from game trees for different situations you can find yourself in single raised pots, such as:
Continuation bets
Delayed c-bets
Turn probes
River spots
You will quickly realize just how detailed this course is by looking at how each of these individual sections is broken down by different board types, like:
Dynamic boards
Paired boards
Flush boards
Straight boards
Instead of talking about general concepts, This Is PLO sometimes goes into painstaking detail to explain every possible situation you may encounter.
All the math you see on the screen is based on solver calculations, so you can rest assured it is as close to being correct as possible.
And, if there is one man capable of interpreting and explaining these numbers, that's Phil Galfond.
As already mentioned, all videos are about 20 to 30 minutes long, so you should be able to stay focused for the entirety of any single lesson. It is probably a good idea to take a break after a few of them and let things sink in.
3-bet & 4-bet Pots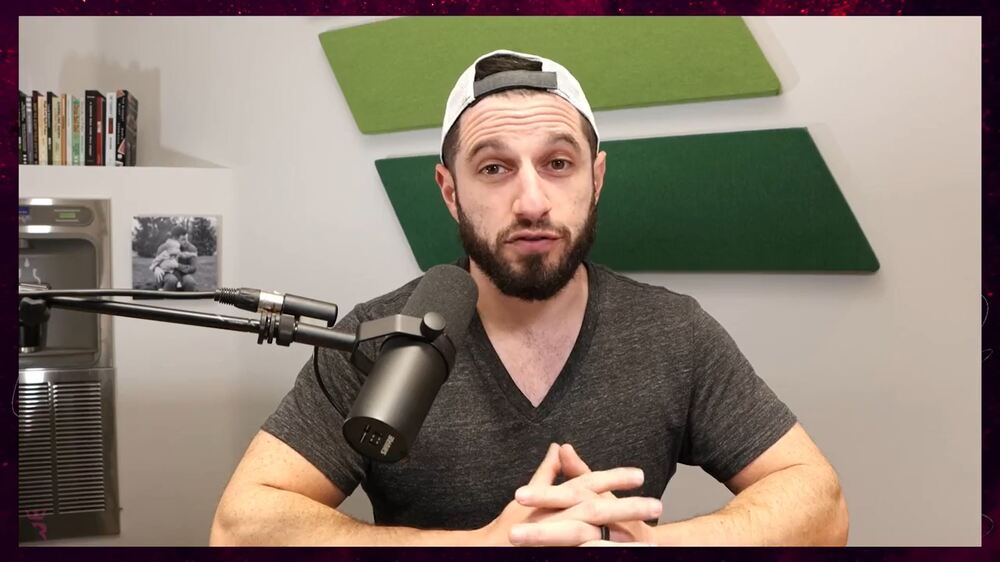 After covering the biggest area of single-raised pots, Galfond moves on to 3-bet and 4-bet scenarios, continuing to explain things similarly.
There are several specific areas covered inside the course, namely:
3-bet pots c-bet game trees
Playing against c-bets in 3-bet pots
Floating bets
4-bet pots lessons
For the most part, 3-bet lessons are broken down by board types to make it easier to navigate the course and find answers to specific questions you may have.
When it comes to 4-bet pots, these aren't covered as extensively, which makes sense as this is a fairly small and relatively infrequent node on the game tree.
There are four lessons, divided into IP and OOP segments, talking about some strategic ideas and even taking the time to step away from solvers for a little while and discuss some actual hands.
Learning Hand Reading With This Is PLO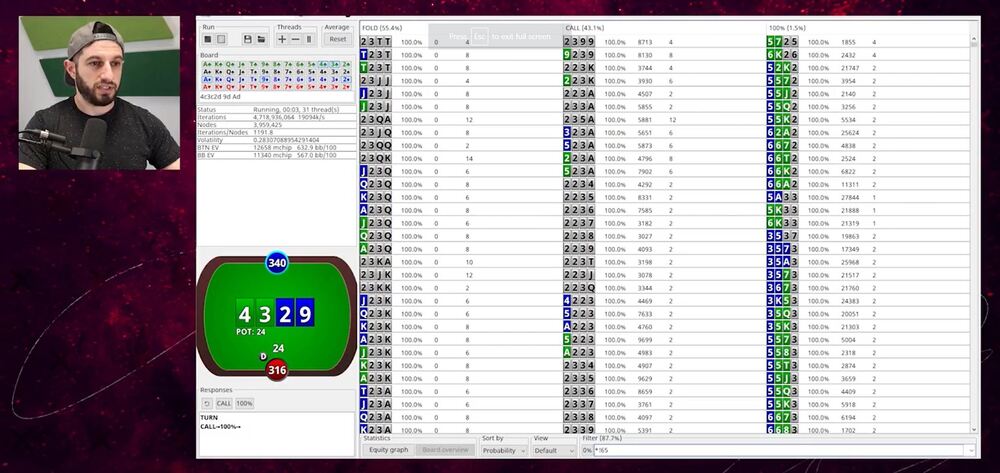 The ability to read hands and figure out your opponent's likely holdings is essential to almost every form of the game, whether it is live or online poker. Pot Limit Omaha is no different.
The hand reading section of the RIO This Is PLO course is divided into two large sections:
Call or Fold? (five videos)
Betting and Raising Rivers (3 videos)
In the first five videos, Galfond looks into several of his own hands and dissects river spots where he found a clear call or a clear fold against his opponent.
Phil uses these examples to talk more broadly about population tendencies and some spots in which players generally tend to over or under-bluff.
This reasoning is coupled with plugging poker hands into the solver to see what the software has to say and how it compares with these general observations.
The remaining videos flip the tables and focus on some interesting hands that Galfond decided to bet or raise rivers based on his read of the opponent's hand.
These lessons are quite fascinating, as they really give you an inside view into the mind of one of the greatest PLO players and may help you better understand how he got this well-deserved title.
This Is PLO 6-max Lessons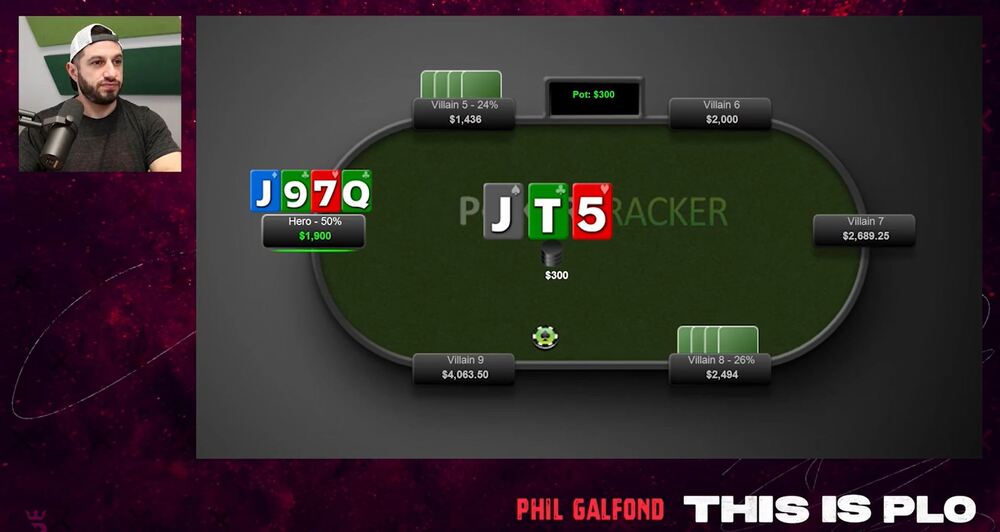 This Is PLO is primarily a heads-up course as this is the format that Phil thrives in and enjoys the most.
But, due to popular demand, a segment on 6-max games was also added to the course, making it even more valuable to the players out there.
For this part, Galfond brings in Richard Gryko, a 6-max PLO specialist, to help him present the content.
This segment is divided into two main areas:
Multi-way pots
Breakdown by positions
In the multi-way pot lessons, Phil and Richard cover many of the concepts discussed earlier in the course, but now with the view of 6-max tables instead of heads-up situations.
You will learn about playing as a preflop raiser, how to play as a caller, and what to do in 3-bet scenarios.
The number of lessons isn't as big as what you'll find in the heads-up section, but these videos will help you take those earlier concepts and incorporate them into your 6-max strategy.
The second part of this segment focuses on the same theoretical concepts but now explains them with a focus on position. These videos cover some of the most common SRP and 3-bet scenarios in and out of position, as well as blind vs blind play.

Summary: How Valuable This Is PLO?
The first thing that needs to be said here is that when it comes to learning PLO, there is no way to go wrong if Phil Galfond is your teacher. Subjectively and objectively, the man has been crushing the games for two decades, so you can't argue with that.
That being said, it doesn't mean that This Is PLO is the perfect fit for everyone wanting to get better, and even Phil is very open about that.
The course costs $2,500, which makes it one of the most expensive poker courses not only on the Run It Once training site but overall.
If you have very little knowledge about solvers, play at very low stakes, or don't want to put in the required time, this one is probably not for you.
For those regularly battling it out at higher stakes, playing PLO200 and higher, This Is PLO can really be a game-changer.
You'll be paying a few buy-ins for dozens of hours of high-level coaching from one of the game's greatest minds. While the dollar amount may seem high, it is not a big ask for so many detailed videos that must have taken countless hours to create.
At the end of the day, it's your decision to make.
Keep in mind that this is a high-level course intended for serious players willing and eager to take studying the game to a new level.
If this describes you, then you will not regret purchasing This Is PLO, guaranteed!