Best PokerStars Tournaments in August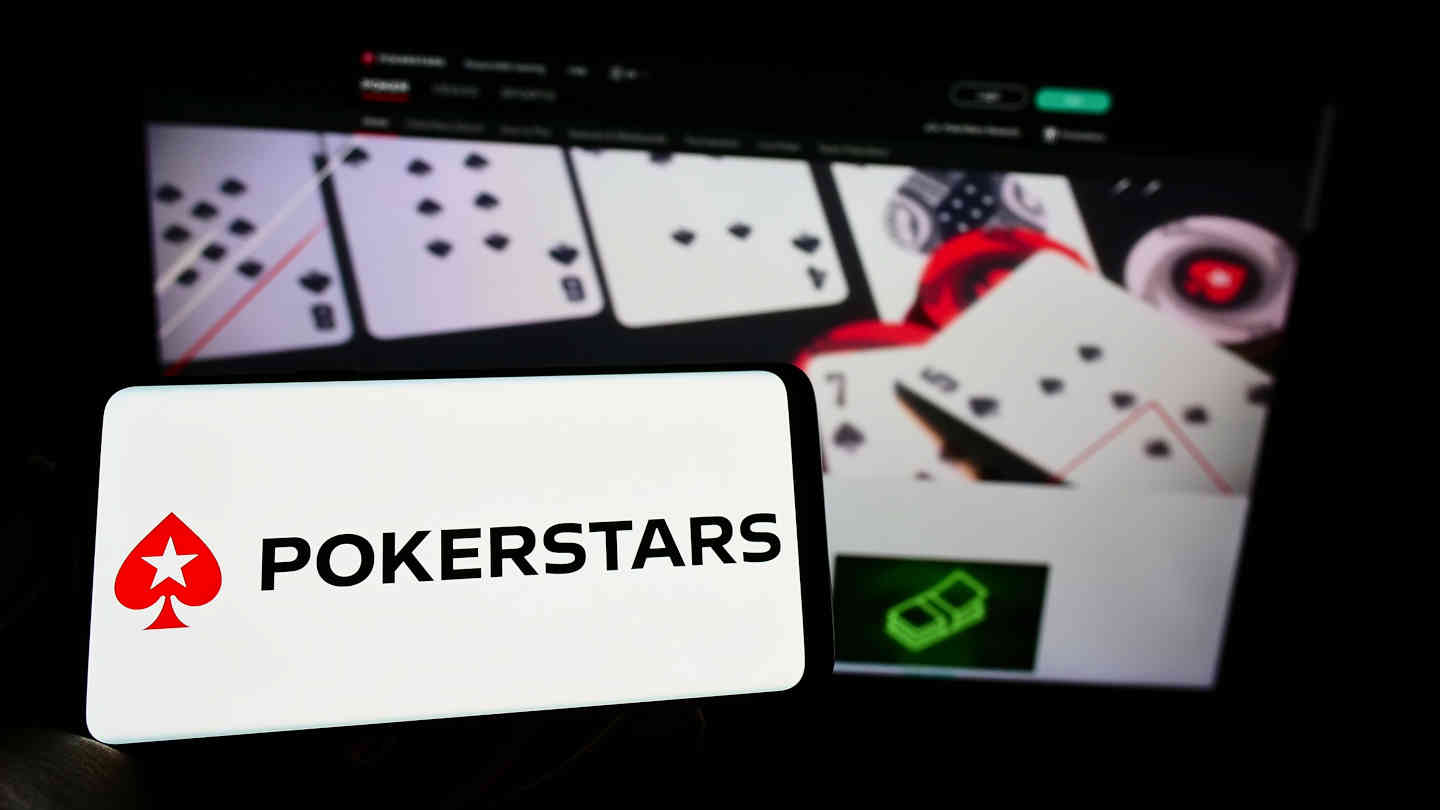 As the curtains close on the World Series of Poker (WSOP) in Las Vegas, the thrilling world of online poker remains very much alive at PokerStars.
This August, you can expect a variety of tournaments, stakes, and massive payouts on this popular poker platform.
There is plenty of MTT action awaiting for you at PokerStars this August regardless of what your bankroll might be, and we're bringing you the list of tournaments that you should definitely check out.
The Sunday Million
The Sunday Million stands as one of the best-known and most valuable online tournaments around. The event is hosted by PokerStars every week and has become the benchmark for online poker events worldwide.
The Sunday Million's appeal lies in its breathtaking prize pool, surpassing a cool $1,000,000.
This substantial sum stirs fierce competition, drawing in ambitious players from across the globe every Sunday, eager to claim their share of the pie.
The Sunday Million has morphed into a two-day Progressive Knockout tournament, adding a new layer of strategy and excitement to the gameplay.
Each player's buy-in contributes $50 to the overall bounty prize pool. Moreover, for each competitor eliminated, a progressive bounty of at least $25 is awarded, creating many interesting +EV opportunities along the way.
The Sunday Million, undoubtedly, sits atop the list of must-play PokerStars tournaments in August.
Sunday Eliminator and Other Sunday Majors
Every poker enthusiast knows that Sunday is the most thrilling day in the world of online poker.
Being the titan of online poker, PokerStars raises the bar high. The operator hosts a lineup of exciting tournaments every Sunday, covering a wide range of buy-ins to accommodate all players.
Among these, the Sunday Eliminator, Sunday Strom, and Mini Bounty Builder HR, with their affordable buy-ins of $27, $11, and $50, respectively, are excellent choices if you have a smaller bankroll.
But don't let the small buy-ins fool you! The Bounty Builder HR boasts an impressive guaranteed prize pool of $250,000, making it the tournament with the highest guarantee on the list.
For seasoned players with more significant bankrolls, PokerStars offers tournaments like the Sunday Warm-up, Sunday Cooldown, and Sunday Fenomeno. With buy-ins of $109 each, these tournaments feature enticing prize pools of $80,000.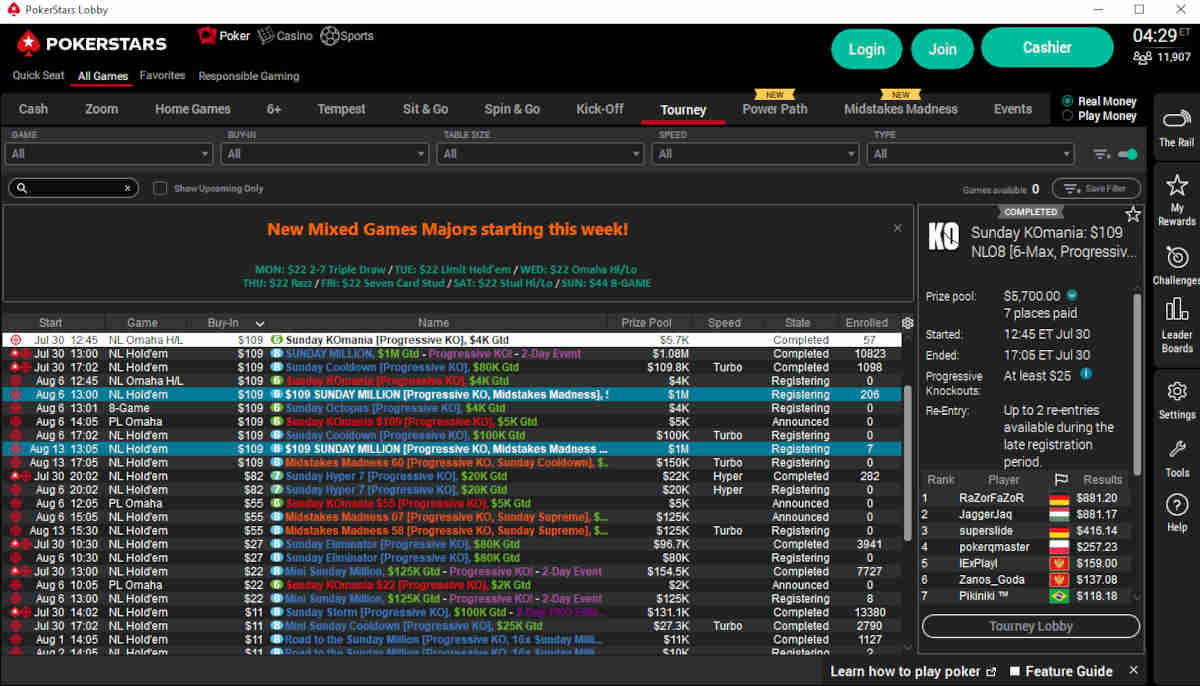 The Sunday Super Sonic stands out as the most premium event among the numerous options available. A hefty buy-in of $215 assures a tantalizing prize pool of $60,000. This tournament's fast-paced nature adds an extra layer of thrill to the event.
The Sunday Eliminator and the Sunday Cooldown stand apart as Progressive Knockout tournaments, adding another dimension of poker strategy.
Aside from the mentioned events, PokerStars hosts dozens of other tournaments on Sundays. These tournaments attract a mix of amateur and professional players, resulting in balanced and exciting playing fields.
If you've ever considered diving into tournament poker, Sundays at PokerStars provide the perfect opportunity.
Mini Bounty Builder HR and Other Saturday Tournaments
While Sundays on PokerStars steal the show when it comes to tournament action, Saturdays feature an impressive MTT lineup as well.
Offering an array of tournaments with lower buy-ins and smaller prize pools, this is the perfect warm-up to the Sunday frenzy.
Notable PokeStars Saturday tournaments include the Mini Bounty Builder HR, Mini Saturday KO, Saturday Eliminator, Daily Cooldown, Fenomeno, and the Fast 7.
With buy-ins ranging from $27 to $55 for the Mini Bounty Builder HR, Mini Saturday KO, Saturday Eliminator, and The Fast 7, these tournaments are an excellent choice if you want to save most of your buy-ins for Sunday.
Even though the buy-ins are lower, don't underestimate the potential payouts for these tournaments.
The Bounty Builder HR, for instance, boasts an impressive guarantee of $250,000, making it the tournament with the highest prize pool on the list.
Interestingly, the Daily Cooldown and Fenomeno, despite having buy-ins of $109, feature the lowest guarantees on the list, at $20,000 each.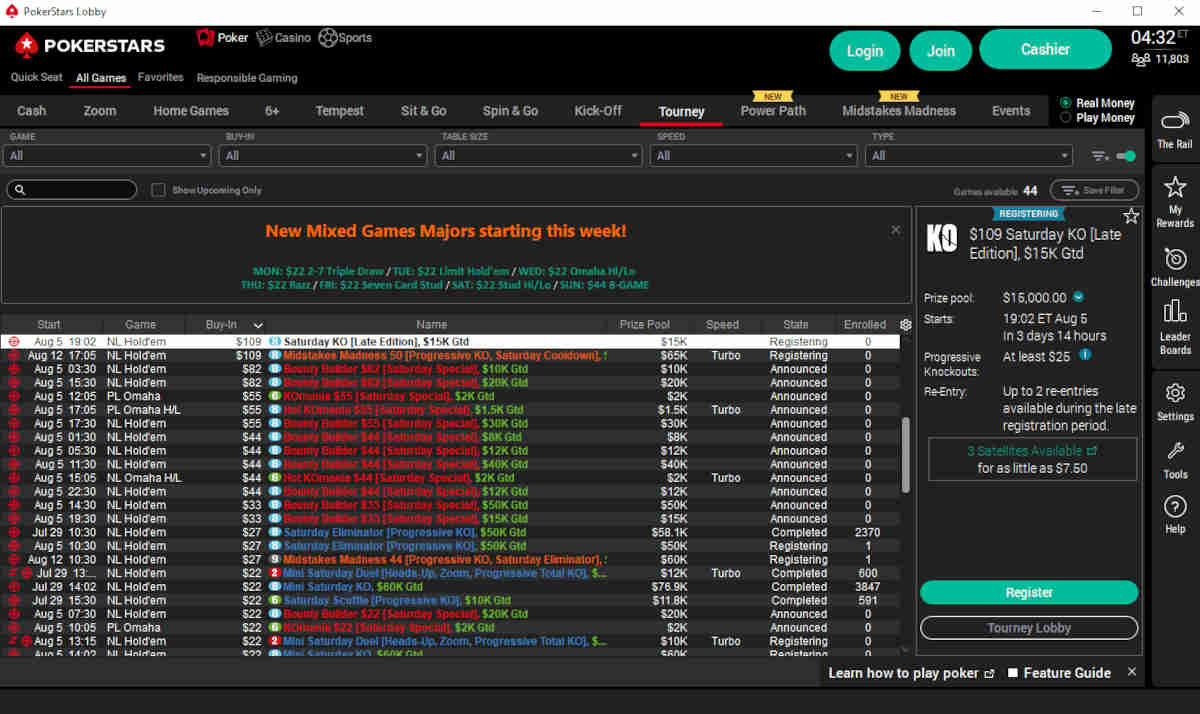 However, don't these lower guarantees discourage you. These tournaments are often less crowded, providing an excellent chance to showcase your skills against a smaller, often more manageable field.
The Mini Bounty Builder HR, Saturday Eliminator, Daily Cooldown, and The Fast 7 are also structured as Progressive KO tournaments. The thrill of earning additional cash prizes for each player you eliminate can make these tournaments particularly exciting.
Though the guaranteed prize pools on Saturdays are comparatively smaller than those on Sundays, they still remain impressive and offer numerous shots at a big score.
Moreover, Saturday tournaments serve as an invaluable training ground for newcomers. They allow you to refine your strategies and gain essential experience before diving into the more intense Sunday action.
Top Tournament Action on PokerStars in August
As we delve into August, PokerStars offers a spectacular collection of tournaments, catering to players across the board.
Whether you are a rookie honing your poker skills or a seasoned player aiming for big payouts, these tournaments provide exciting opportunities for all.
With the anticipation of the Sunday Million, the thrill of the Saturday warm-ups, and a host of other major events, PokerStars ensures a riveting poker experience throughout the month.