Top GG Poker Features – Final Table Betting (Bet on Tournament Winners)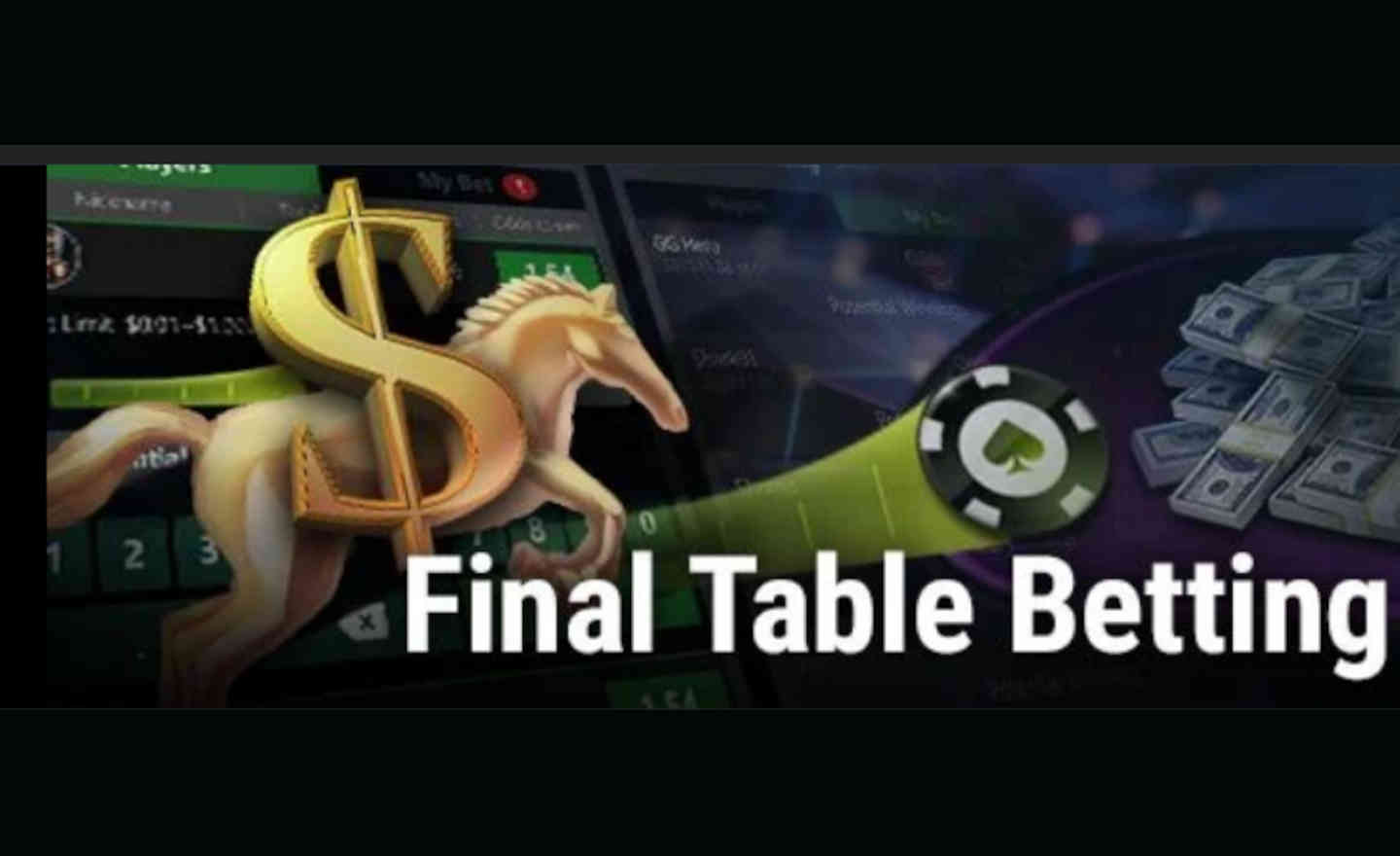 Have you ever watched a poker tournament's final table and thought, "I know who will win?"
With the GGPoker "Final Table Betting" feature, you can now make money from your guess! It is simple and exciting – and if you know your poker, you can turn your prediction into cash.
This article explains everything you need to know about this exciting feature on GGPoker.
How Final Table Betting Works
GGPoker's "Final Table Betting" feature adds a thrilling twist to your poker experiences. Here is what it's all about.
This feature, which GGPoker introduced in late 2020, lets you bet on who you think will win a poker tournament's final table. GGPoker runs the betting, so it is fair and easy to join.
When the final table is set, you can place your bet on any player you fancy.
The winnings are calculated based on the odds at the time you placed your bet and paid out once the tournament ends.
So, with GGPoker's Final Table Betting, you can get in on the action, have fun, and possibly earn some cash as well..
How to Participate in Final Table Betting
Here is a simple step-by-step guide on how to get involved in Final Table Betting on GGPoker.
1. Accessing the Final Table Betting Feature
First, open the GGPoker platform. You will find the "Final Table Betting" section in the poker lobby. Click on it to see a list of all tournaments that offer betting.
2. Choosing the Right Tournament
Look through the listed tournaments. Consider the player at the final table and your knowledge of their strategies. Once you find a tournament that you are confident about, go ahead and select it.
3. Placing a Bet
After selecting the tournament, you will see the players' names and the odds of winning. Select the player you believe will win, then decide how much you want to bet. Confirm your bet, and it is done. You have just placed your first bet!
4. Monitoring Your Bet
Once your bet is in, you can watch the tournament unfold live on GGPoker. Keep track of your bet and the tournament's progress.
You will see real-time updates and will know immediately if you have won once the tournament ends.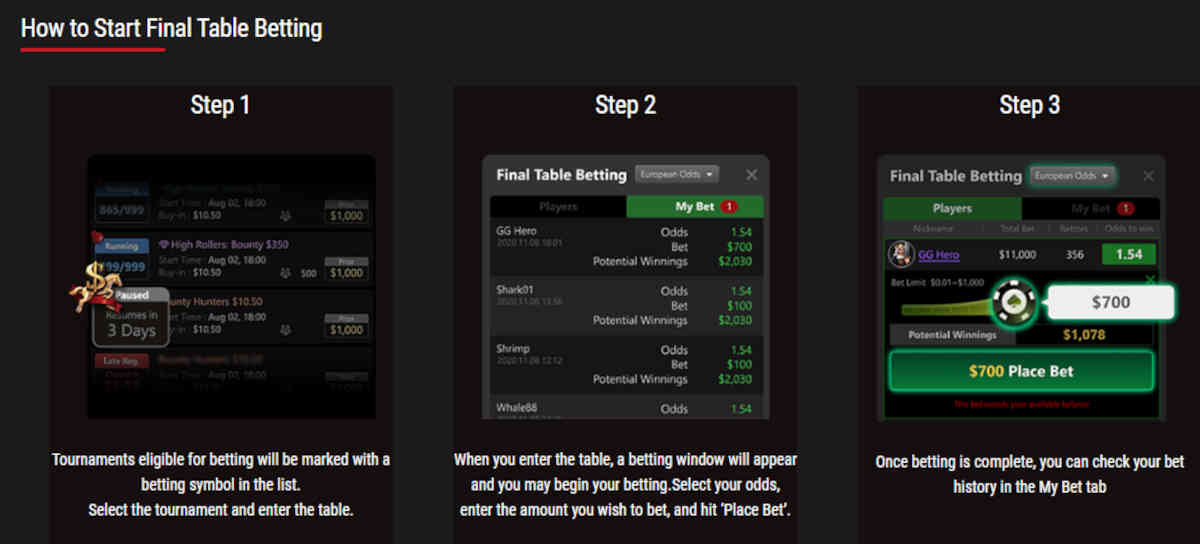 Things to Keep in Mind
Using the GGPoker's "Final Table Betting" feature can be a lot of fun, but there are a few things you need to keep in mind to ensure a smooth experience.
Timing of Bets
Bets are only accepted until the final table play starts. After that, you won't be able to place any bets, so make sure to get yours in on time.
Betting Limits
While there is no limit on the total amount you can bet, there are limits on how much you can bet on individual players. This means you can spread your bets across multiple players if you want.
Player Choice
You are free to place bets on any or all players. It is all about where you thing the smart money is.
Checking Winnings
If your bet wins, you can check your winnings on PokerCraft's timeline and balance history.
Cancelling Bets
Remember, you can't cancel a bet once you have placed it. So be sure about your choices before confirming the bet.
Changing Odds
The odds can change until betting is closed. But, don't worry. Any bets you had already made won't be affected by these changes.
Final Thoughts on Final Table Betting
GGPoker's "Final Table Betting" brings a fresh twist to the thrilling game of online poker. It merges strategy and predictions, offering you the chance to capitalize on your poker knowledge.
So no matter your poker experiences, this feature can add extra excitement to your railing experience and potentially boost your bankroll. Just remember to bet responsibly.