Top GGPoker Features: PokerCraft – Free Hand Analysis & Social Sharing Tool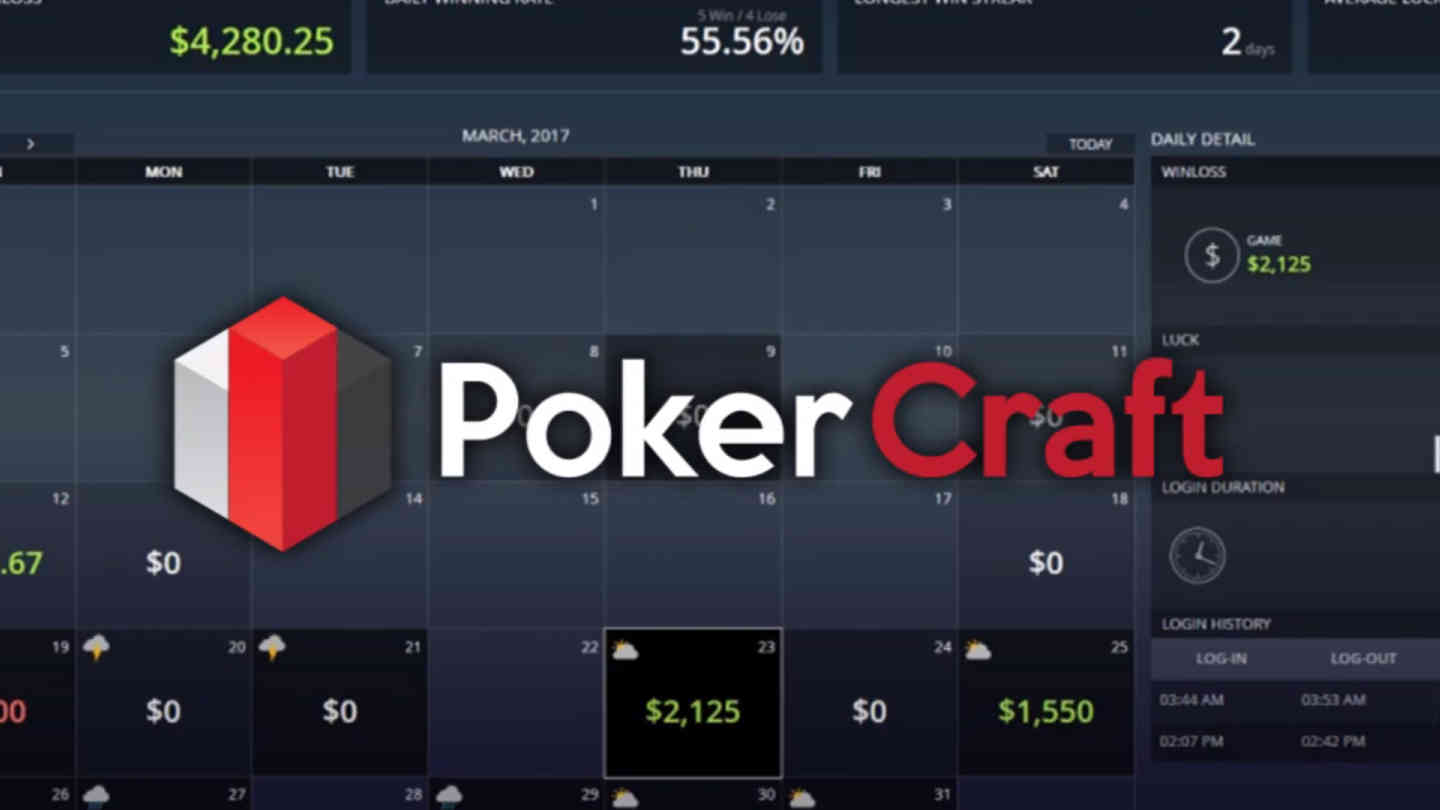 Third-party HUDs (heads up displays) have been mostly banned by major poker sites for some time now, and this includes GGPoker as the biggest operator in the industry.
That said, GGPoker offers many of the same features you would get from a traditional HUD, along with some extra ones, through its integrated analysis and sharing tool, PokerCraft.
PokerCraft gives you a chance to analyze hands and sessions you played on the platform in a variety of ways, filter out hands based on game type, stakes, and more, and share it all to social media straight from the tool.
Sign up with GGPoker right now to start using PokerCraft yourself, or keep reading to find out more about the unique features of this powerful poker tool.
Session History with PokerCraft
As you play at GGPoker, PokerCraft will record every single cash game and tournament hand you play on the platform, across the stakes.
Once you launch PokerCraft, you will be able to look over all the poker sessions you played, filter them by a variety of parameters, figure out your wins and losses, and much more.
With the Sessions History tool, you are able to keep track of your winnings across different game types, blind levels, and time periods.
At the top of the Session History page, you will also see your overall win/loss number, showing you exactly how you are doing at GGPoker and whether or not you are beating your games or still have some work to do.
Hand History Features
One of the simples tools within PokerCraft are hand histories, which allow you to see all the hands you have played on the platform individually.
GGPoker used to not allow for any hand histories in the past, and you could neither save nor export them, but that's all changed with the introduction of PokerCraft.
Now, you can use PokerCraft to go over the histories of all the poker hands you have played, as well as export them for use in other poker tools away from the tables.
Whether you are looking to study by reviewing the hands you have played, or to show off your big hands to your poker buddies, PokerCraft is the only tool you will ever need.
Hole Card Matrix Feature
If you are wondering how exactly you do with particular starting hands, whether it's monster hands like AA and KK, trouble hands like 99 or AQ, or trash like 72, you can do so using the Hole Card Matrix.
Accessing Hole Card Matrix will give you a view of all the possible starting hands in Texas Hold'em and clicking on each of them will help you figure out how you do with them.
You will get the exact information on the number of times you were dealt the hand, the amount of money and big blinds you won or lost with it, and more.
Hole Card Matrix is one of the more powerful tools within PokerCraft, as it allows you to figure out your leaks and learn which hands you are losing money with in different situations.
Likewise, you will be able to see which hands are your biggest winners, and perhaps make some educated deductions on why exactly that is and how you can improve upon it in the future.
Running Bad or Playing Bad? Figure Out Your EV!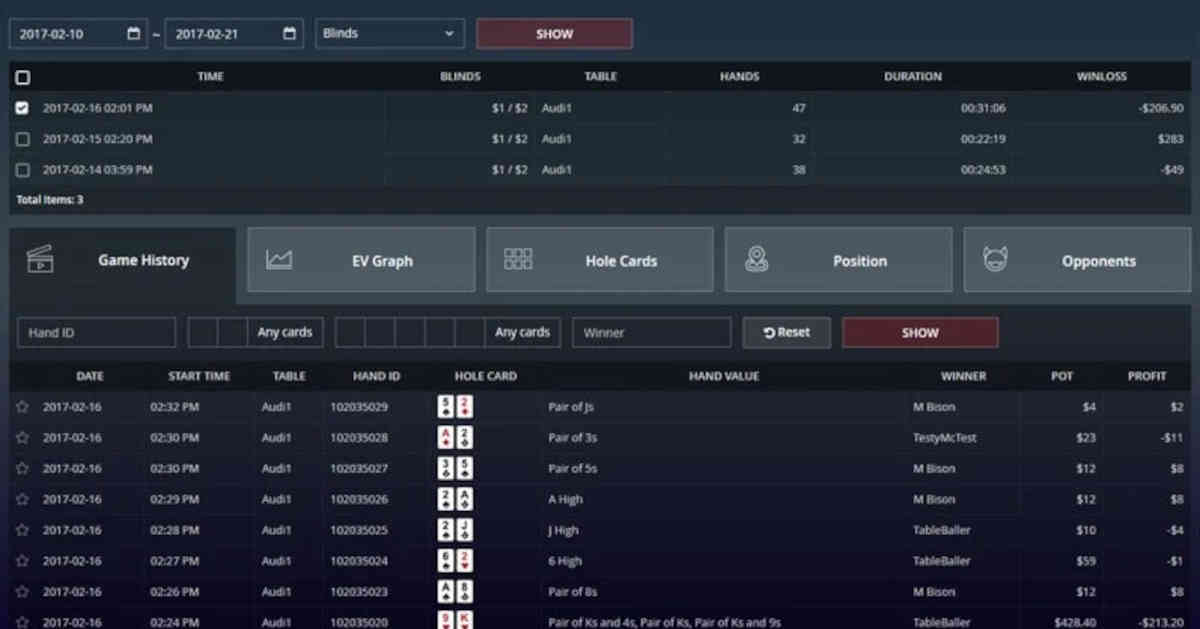 Like most HUD poker tools, PokerCraft also includes the coveted EV graphs, which usually serve to bring players some sort of peace of mind.
With EV graphs, you can see your all in equity and compare it to your results, to try and figure out if you have been running under or over EV in those situations.
Of course, the EV line does not account for all the spots and situations that rise up in poker that you could consider "bad luck," but they do help many players sleep better at night.
EV analysis and showdown/non-showdown winnings can also help you figure out where you are winning most of your money, as well as where you may be leaking money in some situations.
The EV graphs portion of PokerCraft is another useful part of the tool, and one you will want to learn how to use as you put in more hands and get a statistically more relevant hand sample.
Results by Position
Of course, PokerCraft also allows you to find out how you have been doing in various positions by clicking the Positions button.
The Positions tab will display each position in poker and let you go over your results and play in each position, from the small blind to the dealer button.
If you want even more details, you can click each individual position and display more specific numbers for that position, including a breakdown of your play in the said position per session.
PokerCraft lets you get very deep into the weeds and discover exactly how you perform in each position, as well as why, which is a great tool to help you improve your game and do better in future sessions.
Hand Moments & Social Sharing
While PokerCraft is a great learning and analysis tool, it is also meant to be entertaining, and the Hand Moments feature is a big part of this.
Hand Moments capture all the excitement of the hands you have played at GGPoker in single images, which demonstrate both the results and the unique nature of the hand played in a fun and teachable way.
Whether you want to post the hand to Twitter to show your poker friends how well you played it, or to Facebook to brag about the size of the pot you won, Hand Moments gives you quick access to ideal images to share.
Play with PokerCraft at GGPoker
GGPoker has grown into the world's number one online poker site for many reasons, and their introduction of a number of extra-useful tools into the software has been one of them.
Today, PokerCraft represents one of the best hand history and analysis tools out there, and you can use it completely free at GGPoker.
The tool is available to every single player, putting everyone on the same footing, but remember that not everyone will be able to use PokerCraft as well as you.
Download GGPoker today, sign up with the operator, and explore the different features and tools within PokerCraft in any game type and at any stakes you prefer.