HSP Season 10 Episode 9 Recap: Everybody's Getting Aces!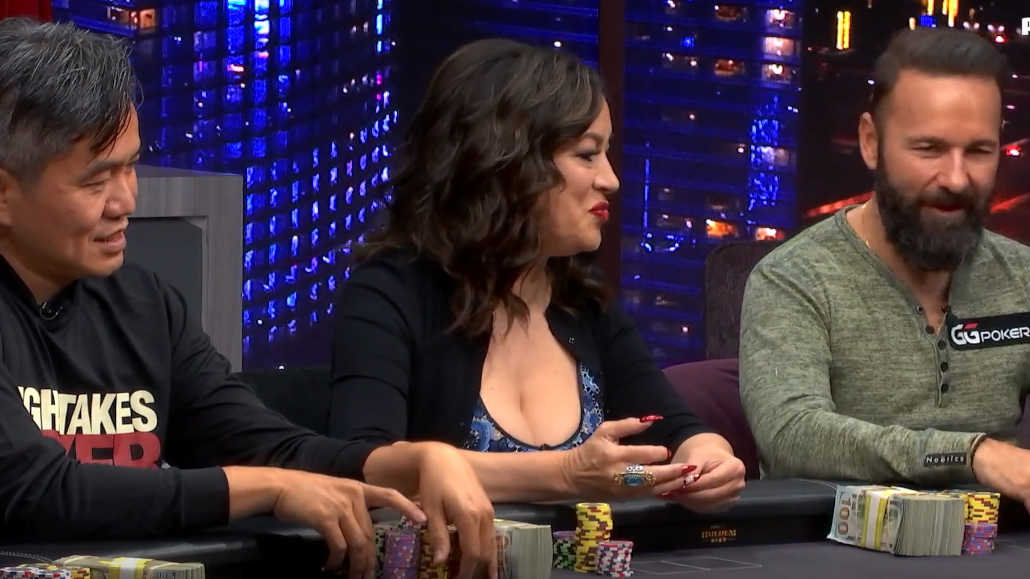 High Stakes Poker has returned with a new episode and a brand-new lineup that we'll get to see for the next few weeks.
Jennifer Tilly is the only one who seems to be the regular fixture this season, as she is back once again to battle it out with pros and recs alike.
In addition to Tilly, the new lineup features the Canadian poker legend Daniel Negreanu, the high-stakes pro Andrew Robl, always entertaining Eric Persson, one and only Jean-Robert Bellande, and a DoorDash co-founder Stanley Tang.
Rounding up the lineup is Stanley Choi, a billionaire businessman whose biggest poker achievement was winning his first-ever poker tournament. Mind you, it was not a small local event, as Choi pocketed $7,000,000 for his efforts.
Chips were flying, and the table talk was great, as you'd expect from this lineup. However, one thing that really marked the latest HSP episode was the fact that pocket aces and kings made an appearance in almost every hand.
If you didn't know better, you might think that it was a rule of some sort that one of the players has to be dealt a big pocket pair every round.
With big hands and large stacks all over the shot, it is no surprise we saw a fair number of decent-sized pots, so let's get into it.
Robl and Tang Get the Ball Rolling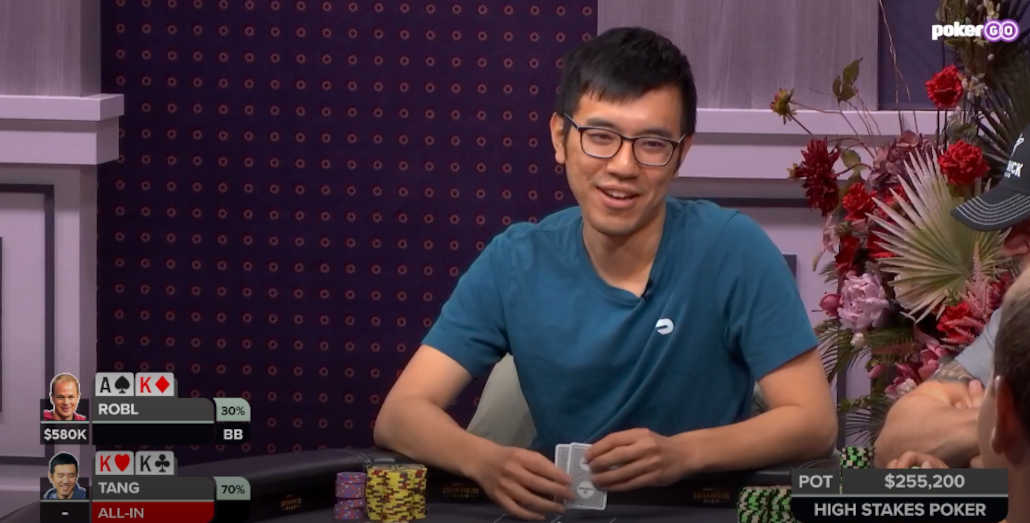 Despite the night starting off with several big pocket pairs, it took a little while before we saw the first major confrontation.
It finally happened when Tang picked up pocket kings after posting a double straddle for $1,600. Robl woke up with a monster of his own in A♠K♦, and the two ended up pilling all the chips in the middle before the flop.
With over a quarter of a million in the pot, the two decided to run it twice, and Andrew got lucky to catch an ace on the second run, so the confrontation ended without serious injuries. Robl and Tang made a few hundred each, chopping up the blinds and a bit of Negreanu's money.
Kid Poker Gets One Through
Daniel Negreanu was in his element despite the cards not cooperating. He was talking, joking, and having fun, all the while his stack was going in the wrong direction.
He was able to stop the bleeding a little bit in a three-way pot that saw him take up A♦6♦ against Tang's A♥J♥ and Persson's 4♥3♥.
With $10,000 in the middle, the flop came A♠9♦2♣, giving Daniel and Stanley a top pair. Tang led out for $3,000, but Persson thought it wasn't enough and made it $8,500 with his gutshot.
At this point, Negreanu went for his chips, and it seemed like he was gearing up for a raise. However, Tang made a call out of turn, giving Canadian a pause.
After a brief moment, he settled on a call as well, and the three saw the K♦ land on the turn.
It was a good card for Daniel Negreanu as it gave him a nut flush draw to go along with his top pair. So, when the action checked to him, he moved in for $47,000, staking his claim on $35,000 already in the middle.
Last night's High Stakes Poker had some crazy action right from the start, including this wild hand between @RealKidPoker, @IAmMaverick888, and @stanleytang.

The full episode is available right now on PokerGO.

📺 – Watch Here: https://t.co/zYyUeXBUP1 pic.twitter.com/tY6R8PSyOW

— PokerGO (@PokerGO) March 22, 2023
This put Tang in a tough spot with his top pair decent kicker, as he also had Persson to worry about. Eventually, the billionaire businessman let go of his hand, and Eric followed suit with his four-high, sending a nice pot Daniel's way.
A Big One to Wrap the Night
The final hand of the session saw the most exciting hand of the night, and, once again, it was Daniel Negreanu and Stanley Tang taking the spotlight.
The action started with Jen Tilly opening to $1,500 with K♠Q♠ and Negreanu making a quick call with pocket deuces. Tang made a call with A♠8♣ on the button, and the three proceeded to see the flop of A♥9♦2♣.
Daniel found his money card, but the action checked around. The turn would change things, though, as it came 8♥, improving Tang to two pair.
Tilly started the betting with a $3,000 attempt, but that was met with a quick raise to $12,000 from Negreanu. Stanley called on the button, and Jen had no option but to get out of the way.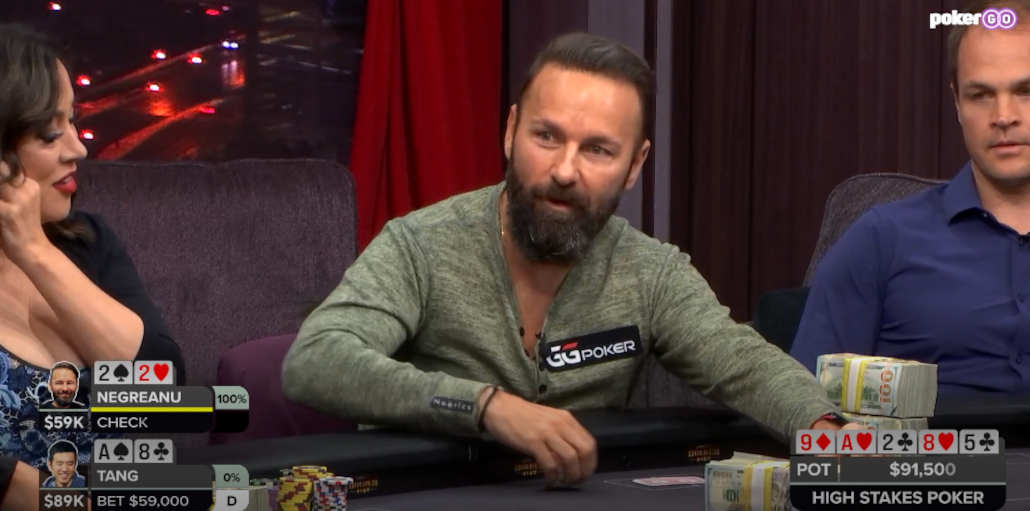 The inconsequential 5♣ hit the river, and Daniel, sensing Tang had something good, found a sneaky check. After counting Negreanu's stack, Stanley bet out for $59,000, just $200 less than what Canadian had left.
Of course, that last $200 found its way into the middle, and a few moments later, Tang was shown some bad news as his two pair was no match for Daniel's set of ducks.
It's safe to say that we'll see plenty more action with this lineup moving forward, especially if the dealers continue with the big-hand routine.
There are also a few big stacks on the table right now, including Robl, who sat down with $700,000, and Persson, who started with $400,000, so some fireworks are bound to ensue!