Jennifer Tilly Poker Journey: From Hollywood to Las Vegas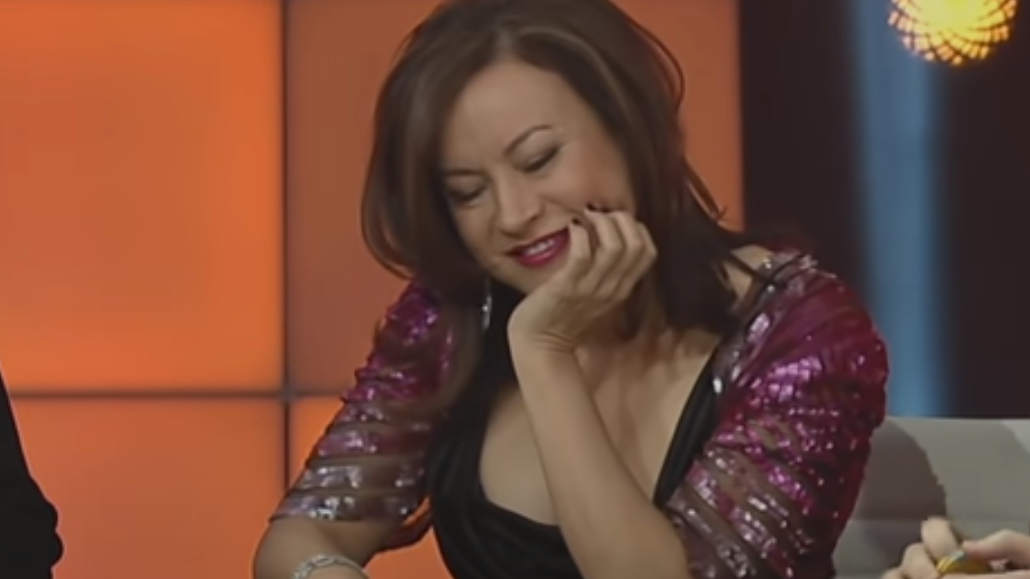 When we talk about successful poker players, quite a few of them came from humble backgrounds and only made a name for themselves at the green felt.
That could hardly be said for Jennifer Tilly, who was famous way before she became a poker player but found a new passion in the game to go hand in hand with her acting prowess.
A famous Hollywood actress Jennifer Tilly is a name that an average Joe will know better than the likes of Phil Ivey or Daniel Negreanu, poker skills aside.
Jen found poker through her boyfriend, poker icon Phil Laak, who was already crushing it at the tables when the two met and fell hopelessly in love.
This time around, we look at the life and career of one of the most cheerful and positive characters in all of poker, Jennifer Tilly.
Jennifer Tilly Poker Career Highlights
Started playing poker in 2003
Won the 2005 WSOP Ladies Event
Is dating poker pro Phil Laak
Appeared on multiple TV poker shows
Famous for her roles in the Chucky movies
Jennifer Tilly's Early Life
Born as Jennifer Ellen Chan on September 16, 1958, the acting and poker icon did not have an easy way to the top, despite what some may think.
She was born in Harbor City, Los Angeles, to father Harry Chan and mother Patricia Tilly. The two had average lives, with her dad working as a used cars salesman and her mom as a school teacher.
She bears mixed heritage, as her dad was of Chinese descent, while her mother has mixed Irish and Finnish blood, giving Tilly quite a repertoire of potential traits she could inherit.
Tilly lived alongside her brother Steve and two younger sisters, Meg and Rebecca but was quickly separated from her father after her parents got a divorce when she was only five.
Her mother married John Ward, a reported pedophile, and abuser, which was confirmed by both of her sisters but never by the actress herself. The new family lived on Texada Island in Canada, quite a change from Los Angeles.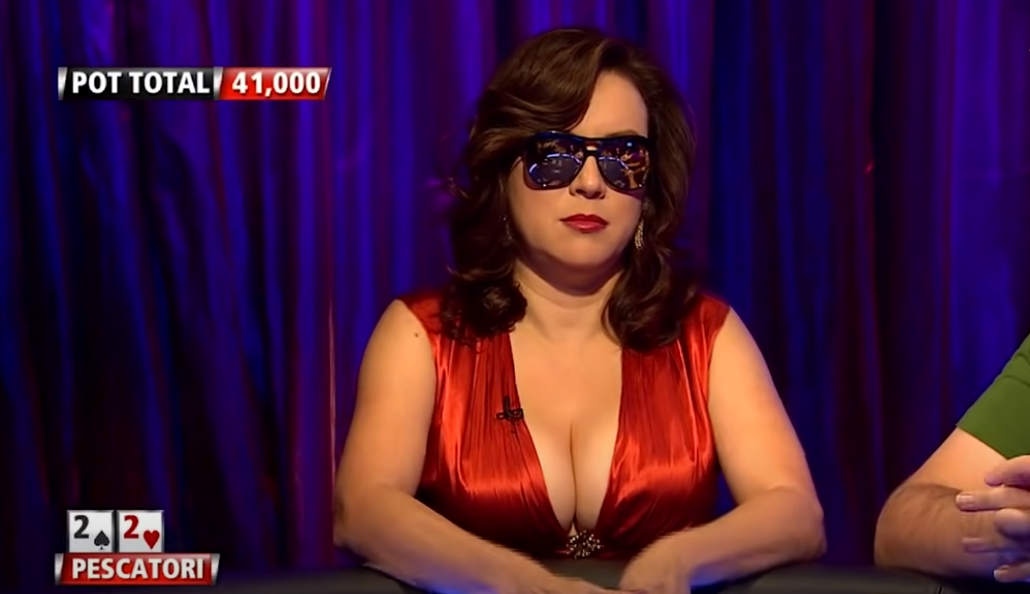 Some 11 years later, when Jen was 16, her mother divorced John, and they moved to Victoria, signing her up for the Belmont High School.
Tilly would finish out high school and opt to follow the path that her mother, who quit a career as a stage actress, never quite saw through.
She got a Bachelor's Degree in Theater at Stephens College in Missouri and would go on to become a famous actress specializing in horror movies, but with many parts in other genres as well.
Jennifer Tilly's Acting Career
Jennifer Tilly would discover poker relatively late in her life, but that does not mean she did not find success on a personal level much sooner.
Her acting career started in 1983 when she was 25 years old. She got a recurring role in the TV series Hill Street Blues, where she played Gina Srignoli, a widow to a member of a mafia family.
She would go on to get sporadic roles on other series, appearing on the fourth season of Cheers and the eleventh season of Fraiser.
All of these roles were just a prelude to what was yet to come.
A number of small parts like these led her to finally getting a major role in a movie, acting alongside Richard Dreyfuss in "Let it Ride."
Following this, Steve Kloves wrote a role with Tilly in mind in his new movie, and she acted as the star in The Fabulous Baker Boys, playing a singing waitress.
Her role as Olive Neal in Woody Allen's "Bullets Over Broadway" got her nominated for the Oscar for Best Supporting Actress.
Today is the 27th Anniversary of #BulletsOverBroadway. This scene is Olive's first day of rehearsal. @johncusack is being extra courteous to me cuz I'm the boss's girlfriend. My ever suspicious bodyguard @chazzpalminteri is lurking nearby.
Pic: jennifertillysupremacy Instagram pic.twitter.com/h0RgUKUg6D

— Jennifer Tilly (@JenniferTilly) October 22, 2021
During the 90s, Tilly would go on to star in movies and appear alongside numerous Hollywood celebrities.
She starred in "Bound" by Lana and Lilly Wachowski and got a role in Jim Carrey's "Liar Liar."
None of these roles made Tilly the icon she is, however. Instead, it was her appearance as Tiffany Valentine in the Child's Play horror movie series that made her world-famous as a true scream queen.
Tilly first appeared in Child's Play in the fourth version of the movie, "Bride of Chucky," and would become a recurring character, appearing in "Seed of Chucky," "Curse of Chucky," and "Cult of Chucky."
Her other popular acting engagements include voice acting as Bonnie Swanson on "Family Guy," as well as characters in famous cartoons "Stuart Little," "Monsters Inc." and "The Haunted Mansion."
Jennifer Tilly's Poker Career
Tilly was first introduced to the game of poker through her father, who loved to gamble and gifted her daughter the World Series of Poker video game, which she loved at first sight.
Of course, the video game was nowhere near as appealing as the real game of poker, which she would discover through her boyfriend Phil Laak, whom she met in Hollywood.
Her first steps on the big stage came in 2003 when she participated in a WPT Hollywood Home Game, where she came second, winning $5.000 for her effort.
Jen was now hooked to the game, and she clearly had quite a bit of talent for it.
Phil Laak helped her develop that talent, and in June 2005, all the hard work was rewarded. Tilly won the $1,000 WSOP Ladies Only Event for $158,335, beating a field of 601 female poker players.
In September that same year, she would once again prove dominant among the ladies, winning an invitational WPT Ladies Night for $25,000.
In August 2006, Tilly won a charity event at the Legends of Poker in Los Angeles for $25,000 and followed it up with a win in a $1,000 side event of the Five Diamond Poker Classic for another $39,480.
Just before that, she nearly missed out on a WPT Main Event final table, coming 15th in the $10,000 WPT Borgata Poker Open in Atlantic City.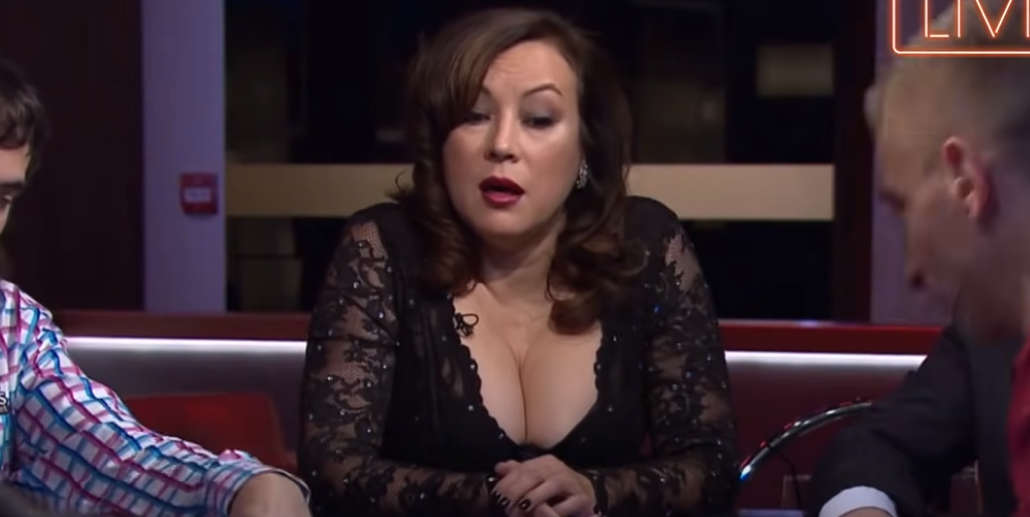 Over the next couple of years, she pursued poker very seriously and would appear on several televised poker events such as Poker Royale, Poker After Dark, and Poker Million.
In 2005, Tilly said in a TV interview that poker had become her prime interest and that she was looking to pursue it more than her career in acting.
She would pursue the career for several years and would once again come very close to a major tournament title at the 2008 L.A. Poker Classic, placing 13th in the Main Event for $61,610.
Poker After "Retirement"
By the end of 2008, Tilly announced her retirement from poker. She stated she'd still pursue poker as a hobby but did not see herself finding the validation she was looking for in the game. In a Bluff Magazine column she was writing at the time, she wrote:
"I love poker, but greatness in poker is an elusive dream. There are too many variants. Trying to find validation in poker is like trying to find a virgin in a whorehouse. I'm not giving up poker entirely – gambling is an addiction, after all. I'm just going to treat it more like a hobby and less like a career."
Despite her supposed retirement from poker, Tilly's appearances at the green felt seemed to grow in number.
She would appear on Poker After Dark once more in 2009, along with playing in the PartyPoker.com World Open V and Full Tilt Poker Million VIII on Sky Sports.
In 2010, Jen would play on the Poker Lounge, hosted in Cardiff, and record a deep finish in the $10,000 Pot-Limit Hold'em Championship at the WSOP, coming 21st in this prestigious event.
She kept racking up various poker tournament results, and in 2013 appeared in one of the most interesting poker formats ever.
Alongside her boyfriend Phil Laak and their close friend Antonio Esfandiari, she ponied up $125,000 to play in the PartyPoker.com Premier League VI in London.
She finished 7th out of the 16 players, losing a small portion of her initial buyin.
As a wannabe pro, Tilly could not repeat her Ladies Event success at the WSOP, and as a hobby player, such a result kept eluding her as well.
She got close to the final tables of WSOP events in 2013 and 2015, finishing 13th and 14th in two separate tournaments.
In 2019, Tilly was once again playing plenty of poker, with appearances in Poker After Dark events, as well as her record four cashes at a single World Series of Poker.
The most amazing thing about Jen's success in poker, as limited as it may be, is that she won a WSOP bracelet and had numerous other noteworthy results. She did all this while remaining a top-rated Hollywood star and winning acting awards for her performances.
Away from the tournament felt, Tilly could also be seen playing in various televised cash games, appearing at the Poker After Dark cash game tables, High Stakes Poker, Poker Night in America, Friday Night Poker, and The Big Game.
Throughout the entire Jennifer Tilly's poker career, her rivalry with close friend and poker legend Antonio Esfandiari and the various moments with her and Phil Laak would make watching her play all the more enjoyable.
Tilly continues to appear in televised poker shows to this day, with PokerGO clearly interested in getting as much of the actress on air as possible.
Jennifer Tilly's Net Worth
In most cases, I have a hard time assessing the net worth of poker players because many of them are completely out of the spotlight and not too interesting to mainstream media.
This is not the case with Jennifer Tilly, whose life is very much at the center of attention. For that reason, we have a pretty good idea of what Jennifer Tilly's net worth actually is.
According to multiple sources, Jennifer Tilly's net worth is close to $25,000,000, with some also claiming it to be a little higher.
Of course, there is no telling what the poker's power couple of Jen Tilly and Phil Laak has been doing in the private Hollywood cash games, so this number could also be bigger if they have been crushing the other celebs at the tables.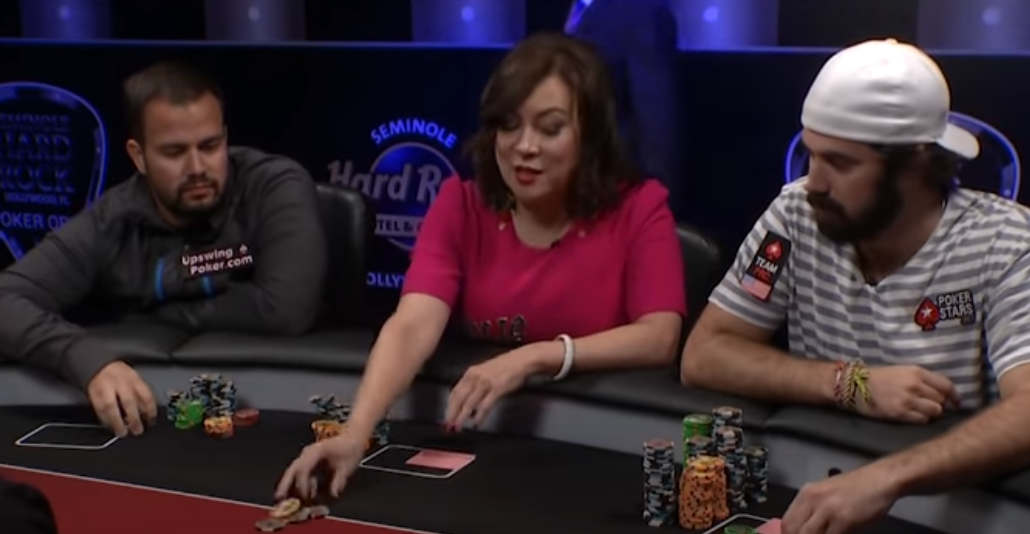 Yet, the official number on Jennifer Tilly's net worth is $25 million, and I don't intend to argue with the gossip columns, so that's the number I am sticking with too.
Where is Jennifer Tilly Today?
In case you have been wondering what Jen Tilly is up to these days, I can tell you that it's quite a bit, both poker-related and otherwise.
For the most part, Tilly is busy doing what she does best, and that's acting. Most recently, she appeared on the TV series Monsters at Work, voice acting as Celia Mae.
On a more exciting note for all the fans who love her for her Chucky performances, the TV Series Chucky is now completed and waiting to air, and we are about to get a new dose of Tiffany Valentine very soon.
#Chucky wants Jake to bring him to a party. 🥳 Everybody loves a party! 🎊🎉 Why not? What's the worst that could happen? 🤷🏻‍♀️ #chuckyseries Tonight 10/9c on @USA_Network & @SYFY pic.twitter.com/M77FDApYG7

— Jennifer Tilly (@JenniferTilly) October 19, 2021
The actress is also involved with two other projects that are currently in pre-production, and those are High Holiday and Renaissance Girl.
So, we will be seeing a lot more of the 63-year-old actress who seems to look and feel just as well as she did a decade ago.
Looking at her Twitter feed, you will probably notice that Tilly lives a very fulfilled life, rich with travel and adventures that she mostly shares with her significant other, poker pro Phil Laak.
However, while her acting and other parts of her life may be very important to her, there is no denying that poker seems to be one of her biggest passions.
Her social media feeds are riddled with poker-related posts, and her appearances in TV poker shows seem to be as frequent as those on the big screen.
We're magic on the mike! Currently calling the final table of the Ladies Event at @WSOP with @JamieKerstetter and @lonmceachern pic.twitter.com/XKDQ7uK4pi

— Jennifer Tilly (@JenniferTilly) October 15, 2021
While she did raise a few eyebrows during her career for some of the plays she's made, Jennifer Tilly remains one of the most beloved characters in the world of poker.
She might not be one of the best poker players to have ever lived, but her friendly and cheerful personality remains her biggest strength to this day and the reason we all love seeing her mix it up on the green felt!