Antonio Esfandiari – Making Magic Happen at the Tables
Antonio Esfandiari – Making Magic Happen at the Tables
Antonio "The Magician" Esfandiari is one of the most familiar faces of the poker scene. A magician turned poker pro has an impressive resume, having won millions playing tournaments in the US and across the globe.
But Antonio didn't become famous solely due to his undeniable poker skills. A true entertainer at heart, he's always been a notable presence at the tables. This made him popular with the fans and fellow pros alike, opening doors for many opportunities over the course of his career.
His earlier profession has definitely helped Esfandiari feel comfortable around cards and poker chips, and he'll often pull a proper magic trick at the tables.
This is the Antonio Esfandiari poker and life story, from his early days to this very day. If you happen to be a fan of "The Magician" or would simply like to know more about one of the most prominent figures in poker, keep on reading.
Poker Career Highlights
A professional magician turned poker pro
Winner of the 2012 Big One for One Drop
Three World Series of Poker Bracelets
Live tournament earnings of $27.8 million
Antonio Esfandiari Early Life
Antonio Esfandiari was born in Teheran, Iran, in 1978. His parents actually named him Amir, and he only changed it to Antonio later in his life.
Esfandiari's father was a successful businessman in Iran, but the war created havoc in the country, driving the currency value to the ground. His family lost a fortune in the process, and they were struggling.
In 1988, when Amir was just nine years old, his family moved from Iran to the US, making a new home for themselves in San Jose, California.
This is where he grew up, and in 1997, he graduated from Del Mar High School.
After high school graduation, Esfandiari didn't try to pursue further education. Instead, he set off to try and build his life his way. He became independent at a very young age, and it was clear to everyone around him that whether he makes it in life or not, he'd do it on his own terms.
He started working at a restaurant, figuring out what his true passion was and what he really wanted to do with his life. It was during that time that he saw one of his coworkers perform magic tricks. Esfandiari was captivated by these skills and set on a path of becoming a professional magician.
19 year old at the time, he'd spend countless hours every day learning and practicing, determined to master all the secrets of the trade. It was around this time that he changed his name to Antonio as well, primarily because it was good for business. Antonio the Magician had a better sound to it.
The natural talent, combined with the hard work, helped Esfandiari become quite a good performer. After a while, he was able to earn $300 – $400 an hour performing magic tricks, but "The Magician" was just at the start of his extraordinary life path.
Antonio Esfandiari Poker Career
The Antonio Esfandiari poker journey started almost by accident. He never made a conscious decision to play poker for a living. It was a mix of things that led him to the green felt, and it was his success at the tables that caused him to hang around.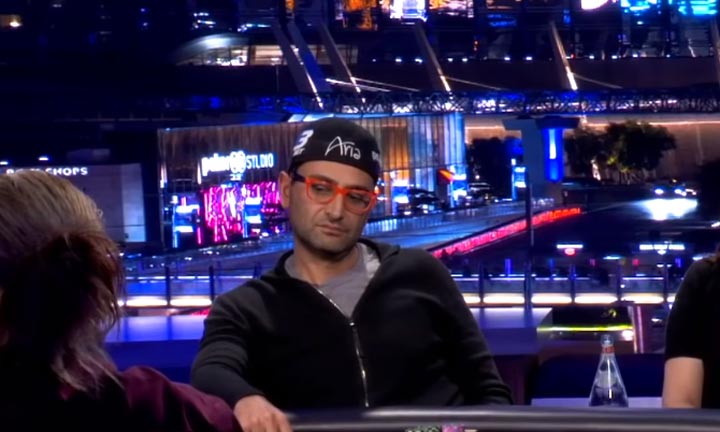 Antonio got his first taste of poker when he was invited to a game after performing one of his magic shows. Like many who'd go on to make successful careers in the game, Esfandiari was instantly hooked. It all came naturally to him.
It's worth noting that neither of his career choices, magic nor poker, was well-received by his family members. But Antonio was determined to succeed despite all adversities.
Climbing the Ranks
Realizing he was naturally talented for poker, Esfandiari was increasingly falling in love with the game. Of course, there was also the fact that he could make significantly more money playing cards than he could possibly earn performing tricks.
In 2002, the Antonio Esfandiari poker journey started for real. He began playing in tournaments in California and Las Vegas.
Esfandiari didn't have to wait for too long for his big breakthrough to come along. In 2004, he managed to take down the prestigious WPT L.A. Poker Classic, pocketing just shy of $1.4 million. If he had any doubts about playing poker before, they were all gone now.
Just a few months later, in May of 2004, Esfandiari won his first World Series of Poker bracelet, earning another $185,000 in the process.
With his newly found bankroll and confidence, Antonio was ready to take poker full time. In the years to follow, he traveled the US and the world, playing in many poker tournaments and slowly but surely increasing the Antonio Esfandiari net worth.
Over the years, Antonio has established himself as one of the top players around, mixing things up with the best of the best, both in tournaments and in cash games.
Then came 2012, perhaps the most important year in "The Magician's" life.
The $1,000,000 Big One for One Drop event was set to take place during that year's WSOP, and Antonio decided to participate. It was a steep buy-in for sure, but Esfandiari was confident of his game.
As it turned out, it was the best decision he could have made, as he ended up winning the whole thing and pocketing $18.3 million. He was up against the UK pro Sam Trickett in the final heads-up skirmish.
The win also brought him another WSOP bracelet. Later that year, in Europe, he managed to claim another one, albeit in a much smaller event. So, as of right now, Esfandiari's bracelet total is three.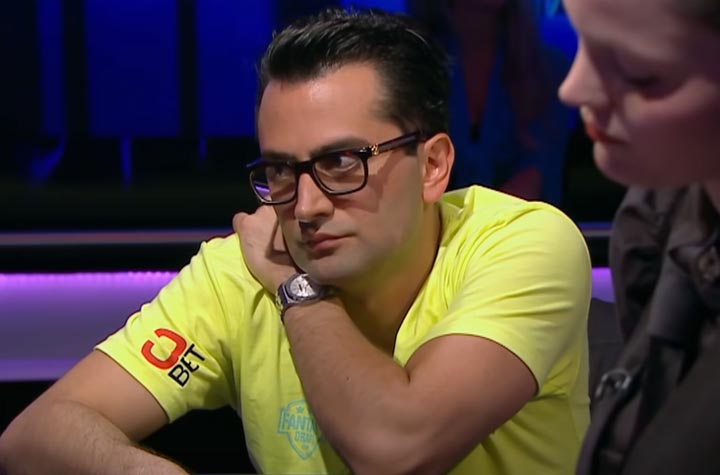 The only other seven-figure cash of Antonio's poker career came in 2013 when he finished 4th in the $111,111 One Drop High Roller, good for $1.4 million and change. But "The Magician" has an impressive run of six-figure cashes over the years.
All these combined bring his total live tournament winnings to $27.8 million. This is an impressive number for sure and good enough to put Esfandiari in the top 20 of the All-Time Money List.
Antonio Esfandiari Wife, Private Life, and TV Appearances
Although he's no stranger to long poker sessions and some crazy parties, Esfandiari identifies himself as a family man, first and foremost.
He is married to Ama Bounahra, a daughter of a fellow pro, Badih "Bob" Bounahra. In 2015, the couple had a son.
In some of his interviews, Antonio has emphasized that he's very family-oriented and very close to everyone in his family. So, it comes as no surprise that he devoted his win in the Big One for One Drop to his father, who was right there next to him, celebrating the big moment.
Esfandiari's father also often accompanies him to tournaments, and he's been known to make an appearance on TV sets. Although he was initially against the idea of Antonio playing Texas Hold'em professionally, he came around to become one of his biggest supporters.
A somewhat lesser-known fact is that Antonio also has a brother, Pasha. His brother also plays poker, but he's not nearly as serious about the game as Antonio.
Of course, it's impossible to talk about the Antonio Esfandiari poker or private life without mentioning Phil "Unabomber" Laak. Laak and Esfandiari have been best friends for many years, but with a very healthy and entertaining rivalry at the tables.
Antonio was very young when he met Phil, and he said that Laak, already an experienced gambler at that time, taught him the importance of bankroll management and not playing in the games that he can't afford.
Esfandiari was still a magician when he met Laak. In fact, Phil was present at one of his shows, and, true to his character, he spent the entire evening watching Antonio's hands and trying to figure out the tricks. This caught Esfandiari's attention, they started chatting after the show, and the rest is history.
Antonio Esfandiari on TV
The 2004 win in L.A. Poker Classic opened many doors for Antonio. He received invitations for poker shows like High Stakes Poker and the National Heads-Up Championship, and he says these events had a huge impact on his career.
Esfandiari has also had a bit of an acting career, although nothing comparable to his poker success. He appeared in several poker and gambling movies, including Runner Runner, The Grand, Lucky You, and 7 Days to Vegas. He also played in Freelancers, The Bayton Outlaws, and Cat Run 2.
In 2008, Antonio and Laak got their own show on the MOJO HD network, called "I Bet You." It was a gambling reality-type show, which saw two friends traveling the States gambling on everything and anything that crossed their path.
The show lasted for two seasons, and the third one was already filmed and ready to go, but the network went down before it could happen.
In "I Bet You," "The Magician" and "The Unabomber" didn't have to act or pretend too much. They already had the kind of dynamic that was perfect for a show of this type. If anything, the fact they were cameras around inspired them to come up with crazier, more daring, and more embarrassing challenges.
Antonio Esfandiari Net Worth
At the moment of writing this, "The Magician's" live tournament winnings stand at close to $28 million, which suggests that the Antonio Esfandiari net worth should be around $20,000,000 at least. Of course, it's impossible to say how much money Antonio has paid in buy-ins over the years, as tracking sites only track those events in which he made it into the money.
Aside from his poker accomplishments, various TV appearances have probably helped boost the Antonio Esfandiari net worth over the years. He's quite a popular player, and that alone is worth some money.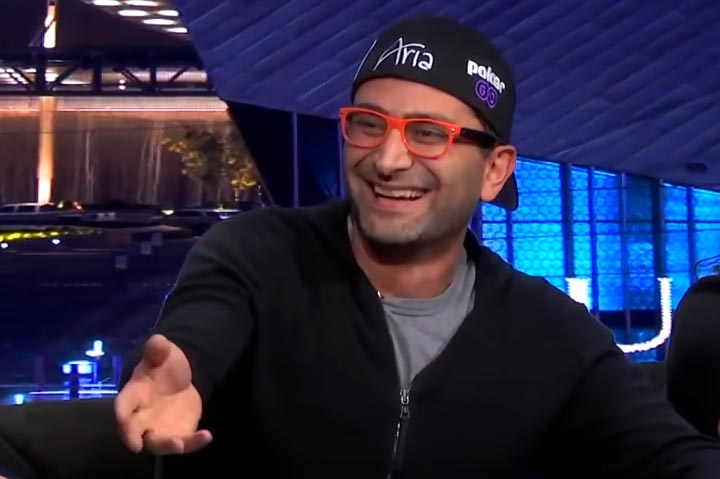 Like the rest of the top poker players, Antonio has also been a regular in many high-stakes cash games. We don't have access to any actual records for these, but considering his poker skills, he's probably done alright.
So, what's the actual Antonio Esfandiari net worth? A good guess is probably somewhere in the $20 to $30 million region, which is quite a neat trick if you ask me.
What's Antonio Esfandiari Been up to Lately?
The Antonio Esfandiari poker career has seemingly slowed down a bit. In recent years, he hasn't played in many tournaments. In fact, Hendon Mob only has one cash in 2019 under his name, coming from a fairly deep run in that year's WSOP Main Event.
However, this doesn't mean that Antonio has decided to remove himself from the poker world altogether. Perhaps he's just grown a little tired of big-field tournaments.
Esfandiari has appeared on some of the new Poker After Dark Episodes produced by PokerGO, and he's also been the first player to take on Phil Hellmuth in the High Stakes Duel. Antonio lost the first match for $50,000 and then lost the rematch for $100,000.
"The Magician" took one final swing at "The Poker Brat" in a $200,000 heads-up skirmish, but Hellmuth managed to come out on top once again. Antonio was done, and Phil decided to cash out $400,000 and move on to Season 2.
The Season 2 of High Stakes Duel is currently underway. Phil is now facing Negreanu and has managed to seize a 2-0 lead in that match as well.
As for Antonio Esfandiari, he's definitely not going anywhere. With the world of live poker opening, he might get the itch to play again, and something tells me we'll be seeing some more of "The Magician" in the months to come!