Mid States Poker Tour & MTSP History
8 minutes
Last Updated: September 29, 2023
Mid States Poker Tour: 2021 Schedule & MTSP History
Images from shutterstock.com
The Mid States Poker Tour has been running since 2009. It started off as the Minnesota State Poker Tour but quickly grew to surpass the state's border, expanding to Iowa and beyond, eventually leading to the name change.
The MSPT entered 2021 strong, with a $1,100 event at the Venetian. The tournament gathered just over 1,000 entries, generating the first place prize of $180,500.
When it was all said and done, it was James Caroll taking home the trophy and the six-figure cash, bringing his total live tournament earnings to over $4.5 million.
On January 22, the Mid States Poker tour will be back, this time coming to Grand Falls Casino in Iowa for the $1,100 Main Event with the guarantee of $200,000.
The latest MSPT Main Event took place in August of 2020 and gathered 518 players, becoming the largest No Limit Hold'em tournament in Iowa's history. With many players probably itching to play live, the upcoming tournament could shatter the record once again.
MSPT 2021 Grand Falls Main Event
The 2021 Mid States Poker Tour Main Event will kick off on January 22 and feature two Day 1s – Day 1A on 22nd and Day 1B on 23rd.
The surviving players will come together on Sunday, January 24, to compete for the lion's share of the prize pool, the trophy, and the prestigious title of the MSPT champion.
The Main Event will start with 25,000 in chips, but all players can usually receive an additional 5,000 as long as they pay the $10 dealer appreciation fee.
Levels last 40 minutes, and antes come into play at Level 4.
The structure was created and approved by Allen Kessler and offers plenty of play for the affordable $1,100 buy-in, which is probably one of the reasons Mid State poker tournaments attract so many players from the US.
Qualifying for the Mid State Poker Tour Main Event
For those players who don't have the bankroll to buy in directly or simply want to try and cut their costs, there are also numerous satellite events running already.
Satellites feature a buy-in of $250, with one-fifth of the players advancing to the $200,000 guaranteed Main Event. Satellites are available up until Saturday, January 23.
Mid States Poker Tour 2021 Schedule
The Grand Falls tournament in January is just one of many on this year's MSPT schedule. If you're looking for quality but affordable tournament action, there is plenty more to come this year.
Feb 4 – 6: $350,000 guaranteed Poker Bowl event at the Venetian
Mar 17 – 21: $50,000 guaranteed regional tournament at Grand Falls
Mar 26 – 28: $200,000 Main Event at Riverside Casino, Iowa
April 23 – 25: $200,000 guaranteed Main Event at Canterbury Park, Minnesota
April 28 – May 2: Regional event at Golden Gates Casino in Colorado
May 1 – May 31: $100,000 Main Event at Silverado-Franklin, South Dakota
May 6 – 9: $200 Main Event at Golden Gates Casino
May 13 – 16: $1,000,000 guaranteed Main Event at Firekeepers Casino in Michigan
Jun 1 – Jun 30: Main Event at the Venetian
Jul 29 – August 1: $200,000 guaranteed Main Event at Riverside Casino
Aug 11 – 15: $100,000 guaranteed Main Event at Canterbury Park, Minnesota
Aug 20 – 22: $200,000 guaranteed at Grand Falls Casino
Sep 1 – 30: The Venetian tournament
Sep 17 – 19 – $200,000 guaranteed at Canterbury Park
Oct 14 – 17: $1,000,000 guaranteed at Battle Creek
Oct 22 – 24: $100,000 guaranteed at Silverado-Franklin
Nov 11 – 14: $200,000 guaranteed at Riverside, Iowa
Dec 9 – 12: $500,000 guarantee at Canterbury Park
As you can see, some of the events still don't have guaranteed prize pools confirmed, and dates remain flexible for a few MSPT events, but this schedule should give you a good idea of what to expect.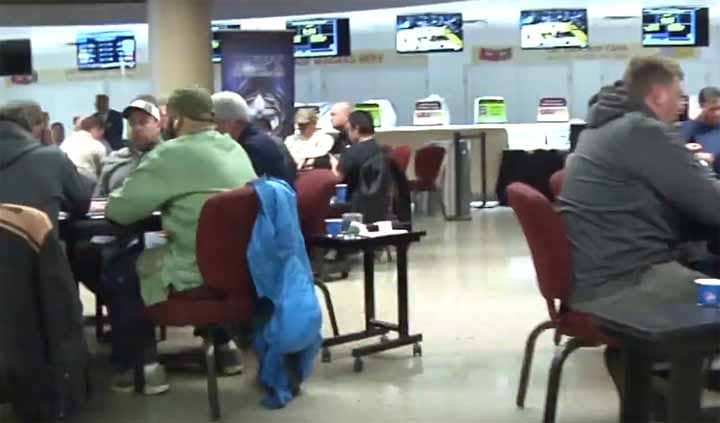 There is plenty of good action ahead and two events that feature a $1,000,000 guarantee. All tournaments have a buy-in of $1,100, and you can qualify for all of them through $250 satellites, so there are ample opportunities to get your seat.
For more information about particular events, you can visit the Mid States Poker Tour official site.
Mid States Poker Tour History
As mentioned, the idea for the MSPT poker series came in 2009, with the launch of the Minnesota Poker Tour. Soon after, other states in the area picked up on it, and the Mid States Poker Tour was born.
Over the years, the MSPT would become hugely popular with the players because of its generous guarantees, good structures, affordable buy-ins, and numerous satellites leading up to each event.
MSPT Poker: Initial Years
The first MSPT poker event took place in December of 2009 at Canterbury Park, attracting 130 entries. When it was all said and done, it was one John Dragich who walked away the winner, banking $34,765 for his performance.
The tour came back to Canterbury Park the next year, and player numbers looked good, with 136 already registered but a couple of days of qualifiers still remaining. However, an unexpected blizzard pretty much entirely wiped out the two days of satellites, causing the field to remain much smaller than the organizers had anticipated.
In 2011, the MSPT poker Main Event final table at Canterbury was played with RFID cards for the first time. The live broadcast showing hole cards and poker hands as they happened attracted over 2,000 viewers who came to watch the final few of the initial 230-strong field.
The winner, Kou Vang, banked $64,645 for his efforts, while the runner-up, Everett Carlton, took home just shy of $32,000.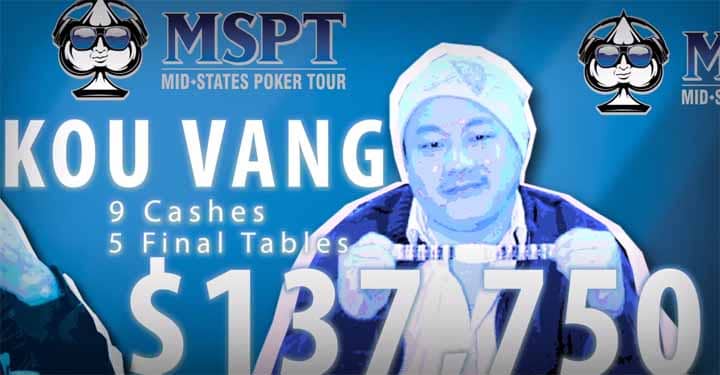 December of 2012 saw the MSPT break its own record as 376 players gathered to compete in the Main Event.
This was also the largest live poker tournament with the buy-in of at least $1,000 ever to take place in Minnesota.
Up until April of 2011, the MSPT was limited to Minnesota. Apart from Canterbury Park, tournaments were organized in Northern Lights Casino, Grand Casino Mille Lacs, Jackpot Junction, Running Aces Harness Park, and Grand Casino Hinckley.
MTSP Goes Across the Border
On April 6, 2010, the MTSP crossed the Minnesota state border for the first time. The first-ever event to take place outside of MI was organized at Diamond Jo Casino in Northwood, Iowa.
The winner of the event was Jarod Ludeman, 22 years old at the time, pocketing $30,000.
This was just the beginning of the expansion, though, as the Mid States Poker Tour would continue to grow in the years to come, adding more venues and states to the mix.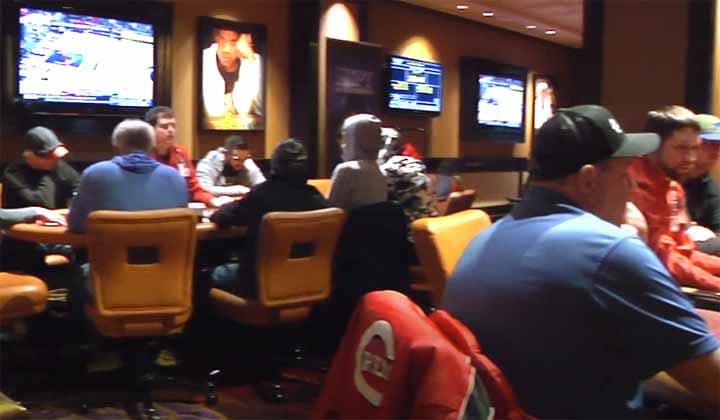 In August of 2012, Grand Falls Casino in South Dakota hosted its first MSPT poker tournament, followed by Wisconsin, Michigan, and Oklahoma in the next couple of months.
Louisiana, Colorado, and Indiana joined the Mid States Poker Tour ranks in 2014, and later that year, the poker capital of the world, Las Vegas, Nevada, came on board as well.
The series was very popular with the players, so there was more and more interest by casinos all over the US to join.
The first Mid State poker tournament in Colorado was organized in Golden Gates Casino in November of 2014, followed by Jacksonville, Florida, early in 2015. Later that year, Maryland became part of the MSPT as well.
Today, the Mid States Poker Tour covers more than a dozen states, featuring between 20 and 30 tournaments every season.
In addition to Main Events, the MSPT also hosts several regional tournaments every year. These events usually have a buy-in of $350 but still offer big guarantees. The last such tournament took place in March of 2020, attracting 370 entrants and awarding the $23,476 first-place money.
Mid States Poker Tour Hall of Fame
In 2017, the MSPT Poker Hall of Fame was established to recognize the best and most successful players over the years.
The criteria to be inducted into the MSPT Hall of Fame are as follows:
Have at least 25 MSPT Main Event cashes
Have at least one win or one MSPT Player of the Year title
Or, alternatively, reach 10 MSPT ME final tables, with at least one win or one POY title.
As of right now, there are seven players who have earned their spot in the Hall of Fame. The most successful, at least in terms of winnings, is Richard Alsup with 12 ME final tables, 30 cashes, and $781,130 in earnings.
Blake Bohn, who was inducted in 2020, has $502,720 in winnings, which came from 25 Main Event cashes and nine final table performances.
Biggest Events in the MSPT History
Over the years, the Mid States Poker Tour has seen a number of big tournaments, with players frequently competing for large six-figure payouts.
The largest Main Event to date in terms of the prize pool took place in 2018 at the Venetian in Las Vegas. The tournament featured a buy-in of $1,600 and a guaranteed prize pool of $3,000,000.
The guarantee was shattered as the event attracted 2,877 entries. The eventual winner, Michael Soyza, took home $588,249 – the biggest payout in the MSPT history to date.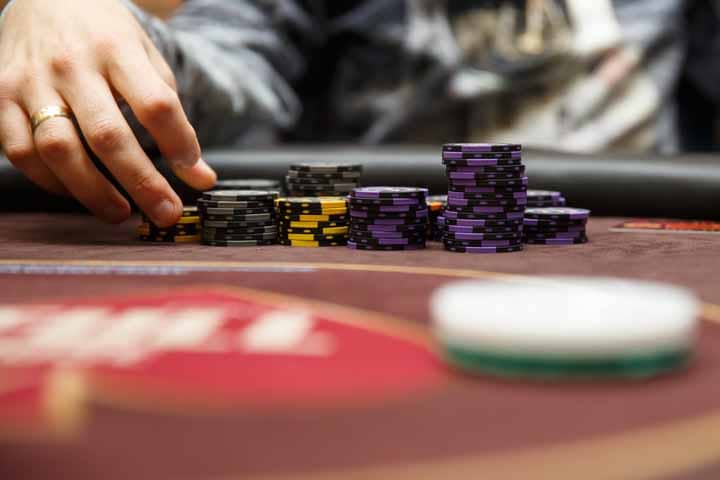 That same year, just a couple of weeks earlier, the Venetian hosted another MSPT poker tournament, this one with the buy-in of $1,100 and $3.5 million guaranteed. The total number of entries came up to 4,411, making this the largest MSPT Main Event ever, as well as the biggest tournament to take place at the Venetian.
The winner was supposed to take home $548,000, but David Lavine made a deal that secured him $495,500 – not too shabby for a $1k tournament.
The second-largest MSPT poker event took place at the Venetian as well, in June of 2019. A total of 4,345 players put up the $1,100 buy-in, shattering the $3,000,000 guarantee.
The eventual winner walked away with $445,000 after a four-way chop. If there were no deal, the first place money would be $540,000.
What Lies Ahead for Mid States Poker Tour?
Over the years, the Mid States Poker Tour has gone from strength to strength, spreading over more than a dozen states and attracting an increasing number of players.
From amateurs and hobby players to professionals with WPT titles and WSOP bracelets, this is a rare poker tour that is really open to everyone.
You don't need a huge bankroll to participate, and prize pools are good.
The MSPT has big plans for this year, although their schedule is somewhat modest compared to 2020.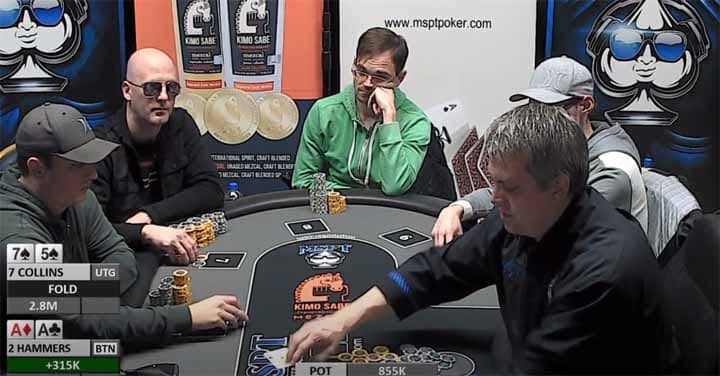 This is probably because of the uncertain situation with live tournaments, as it's hard to say what might happen two or three months down the line.
That said, for those eager to play some live poker, the Mid States Poker Tour offers plenty of interesting events they can already plan for.
There are at least a few MSPT poker tournaments this season worth checking out, while serious grinders have their work cut out for them.