The Best Delaware Online Poker Sites 2023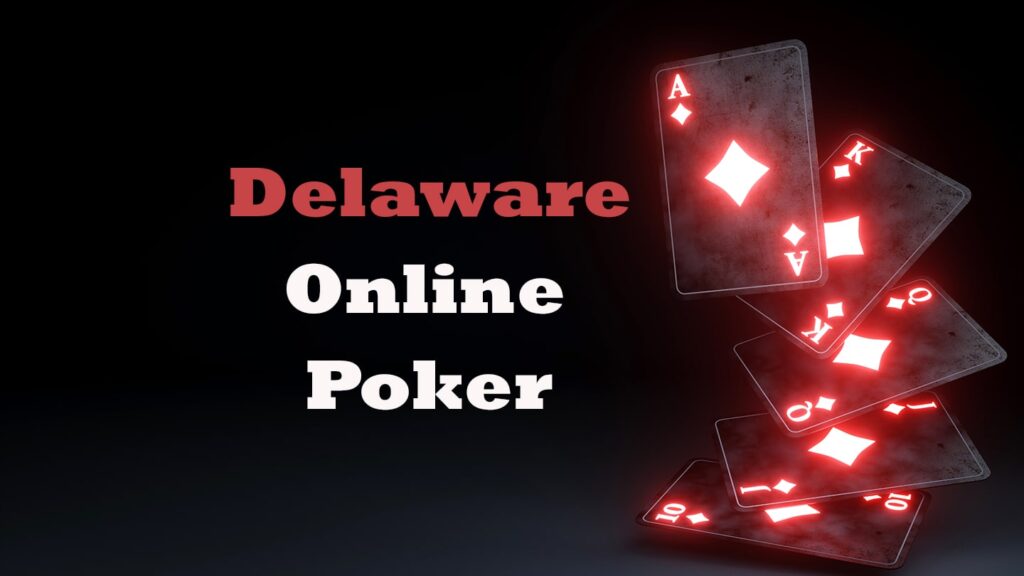 Online poker is legal and available in Delaware. In fact, Delaware was the first state in the US to legalize online poker, passing the relevant legislation in June 2012. In November 2013, the first Delaware poker sites went live.
Being a state with a very small population, Delaware was quick to enter an agreement with Nevada and later New Jersey, making it possible to share player pools across state borders. This made the prospect of DE online poker possible, and the market has been operating without a glitch to this very day.
However, DE online poker laws are somewhat different from those in other states, which creates an interesting situation where players only have a choice of one operator, albeit through different land-based sites.
Best DE Online Poker Sites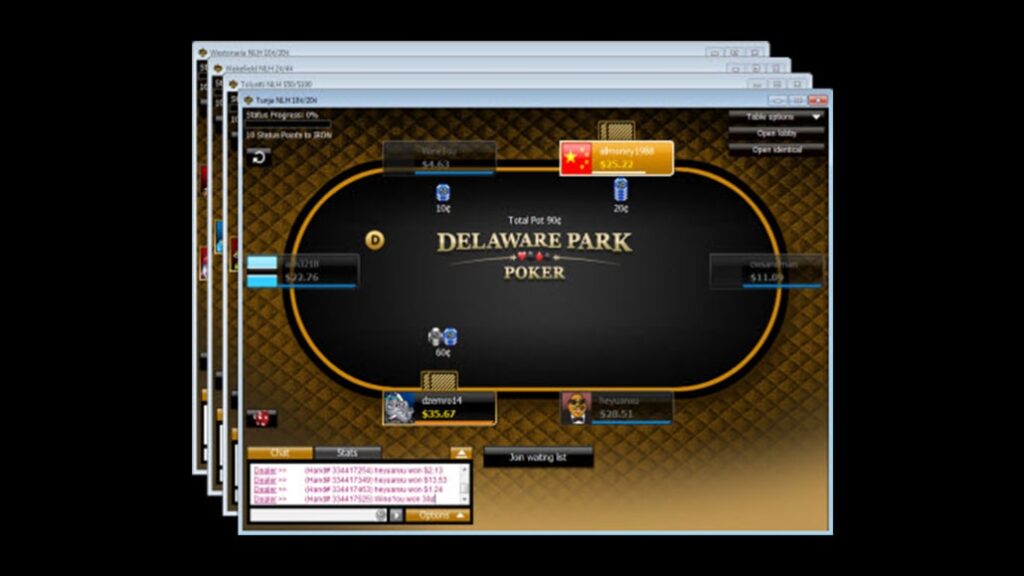 In Delaware, there is a monopoly situation when it comes to online poker. Three casinos owned and operated by the state lottery have sole licenses to offer poker games. Each of these casinos offers its own slightly different platform, but everyone plays on the same site, powered by 888 Holdings.
888 Poker Delaware
As mentioned, there are three state-controlled "racinos" in Delaware, each allowing players to register for an online poker account via their own interface, namely:
Dover Downs Poker
Delaware Park Poker
Harrington Raceway Poker
While these are three different poker sites from a technical point of view, for you, as a player, there is absolutely no difference, as all three use the same software and are a part of the same network powered by 888 Holdings.
888 Poker Delaware shares liquidity with New Jersey and Nevada, combining players from the WSOP.com client in those states, allowing for a much healthier ecosystem. This is possible because 888 is WSOP's interactive partner in these states.
However, there are limits to this agreement. While DE poker players get to play in the same cash games and some of the regular tournaments, they can't compete in WSOP NV marquee bracelet-awarding events.
Overall, 888 Poker Delaware offers decent cash game action up to $1/$2 and a fair schedule of events thanks to the ability to share player pools. Standard games on offer are NLHE and PLO, and there are also Seven Card Stud tables available, although games don't run frequently.
DE Online Poker Bonuses & Promotions

Online poker bonuses in Delaware are quite limited. Since casinos in the state have a monopoly, there is virtually no competition to drive things, which means that players don't get to enjoy as many poker bonuses or other incentives as they do in other regulated states.
The standard welcome package for new players is 100% up to $500, and you can get this regardless of which one of the three casinos you go through.
As with almost all poker bonuses, the amount is released in chunks as you play and generate the rake. Delaware poker sites use the contributed rake model, which is used to determine the percentage of rake you contribute to the pot, and this is the number that your points are based upon.
The standard release rate is $10 for every 80 status points earned, and you receive 2 status points for every $1 in rake paid at cash game tables or in tournament fees.
Delaware Poker Promotions
Online poker is not the focus of Delaware online casinos, so players don't get to enjoy many great promotions. Occasional reload bonuses are pretty much the best you can hope for, while other poker-specific promos that you might have seen in other states are virtually non-existent.
The good news is that poker still counts towards loyalty programs, which helps keep your bankroll healthier. The money you paid in rake helps you accumulate Rewards Points and Status Points, and you can turn your Reward Points into money.
Status Points, as the name suggests, are used to track your loyalty status, and the higher you get, the better your perks will be.
Types of Online Poker in Delaware

When it comes to options, Delaware is no worse than other regulated states. Even though there is just one network on offer, players can enjoy cash games, tournaments, and sit and goes.
Thanks to the player-sharing agreement, these games also offer decent traffic and are available pretty much around the clock, with some being more popular than others.
DE Online Poker Tournaments
There is a fair amount of tournament action on DE poker sites, at least when it comes to events with lower buy-ins. You'll find a decent number of MTTs with buy-ins under $50, but fields are not big, and guaranteed prize pools aren't huge.
One of the biggest regularly-running events at 888 Poker DE is the weekly $100 Sunday MTT with $15,000 guaranteed.
As mentioned, poker sites in Delaware share liquidity with WSOP.com rooms in New Jersey and Nevada, but not when it comes to major series, i.e., bracelet and ring-awarding tournaments are not included. So, DE poker players don't get to compete for these trinkets and can't participate in some of the biggest and juiciest events hosted on these sites.
Cash Game Action on Delaware Poker Sites

If you're looking to play cash games instead, DE poker rooms have you covered. Stakes start as low as $0.01/$0.02 and go up to $5/$10, although finding action beyond NL200 and PLO200 is somewhat challenging.
On its own, Delaware probably couldn't offer enough liquidity for cash games to run around the clock, but DE players get to share tables with those in NJ and NV, and that allows for decent traffic averaging over 200 players on a weekly basis.
Beyond No Limit Hold'em and Pot Limit Omaha, DE poker sites also host Seven Card Stud and Seven Card Stud Hi/Lo games. The overall traffic isn't big enough to support these games running constantly, but at the right times, you can probably find a few tables going, especially at lower stakes.
Sit & Go Games in Delaware
Poker sites in Delaware spread sit and go games with buy-ins starting at $1 and going up to around $30 or even more for heads-up matches. However, much like on other US poker sites, these games aren't very popular and attract very limited numbers.
Luckily for all the fans of sit & go action out there, Delaware also offers BLAST games, 888 Poker's branded jackpot sit and goes, and these enjoy quite a bit of popularity.
With buy-ins starting as low as $0.10 and prizes being as high as 10,000 times the buy-in, BLAST tables in Delaware are frequented by casual players with a dream and serious grinders alike. If you're up for some sit-and-go action, these are definitely your game of choice.
Signing Up With DE Poker Sites

You should have no problem joining the ranks of players playing on licensed and regulated poker sites in Delaware. As mentioned earlier, you can sign up for an account via three different casino sites, but you'll end up on the same platform, so it doesn't matter what venue you decide to go through:
Visit one of the three racino sites offering online poker in Delaware
Click on the big 'Poker Download' button
Once the file downloads to your device, install the software
Run the software and click the 'Register Now' button
Fill in your personal information (email, username, date of birth, name and surname, etc.)
Log into the client with your newly created account
You can now browse the tables and make your first deposit to claim the welcome bonus and join the action
It's important to mention that in Delaware, you'll need to first download and install the software, as there is no option to create a new player account on the site. This doesn't make much of a difference, though, since you need the software to play anyway, as DE poker sites don't have an instant-play browser option.
Delaware Poker Mobile Apps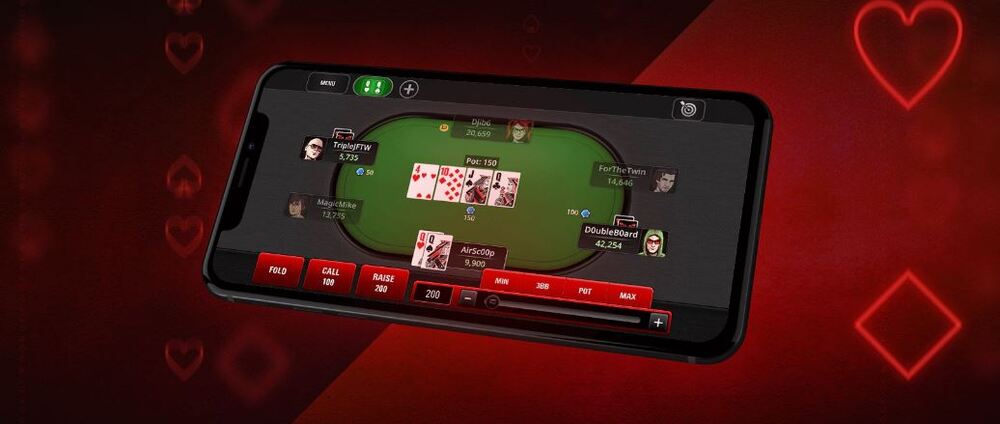 As strange as it may be in this day and age, there are no DE poker mobile apps to speak of. Licensed operators in the state only offer a PC version of the software, so you can't even install it on a Mac, and there are no mobile poker apps for either Android or iOS.
As already mentioned, you don't have the option to access your account or the poker lobby via a browser, either, so the only way to play is from your desktop computer.
This may be the biggest complaint we have against poker operators in Delaware, as it is no secret that more and more players are taking their poker experience on the go, and even those who don't prefer to at least have access to their accounts from their phones or tablets.
Unfortunately, this is another sign that online poker isn't near the top of the list for licensed casinos, and the only way we see this changing is if poker continues to grow in the US and more states pass the regulation and enter the MSIGA.
Delaware Online Poker Banking Options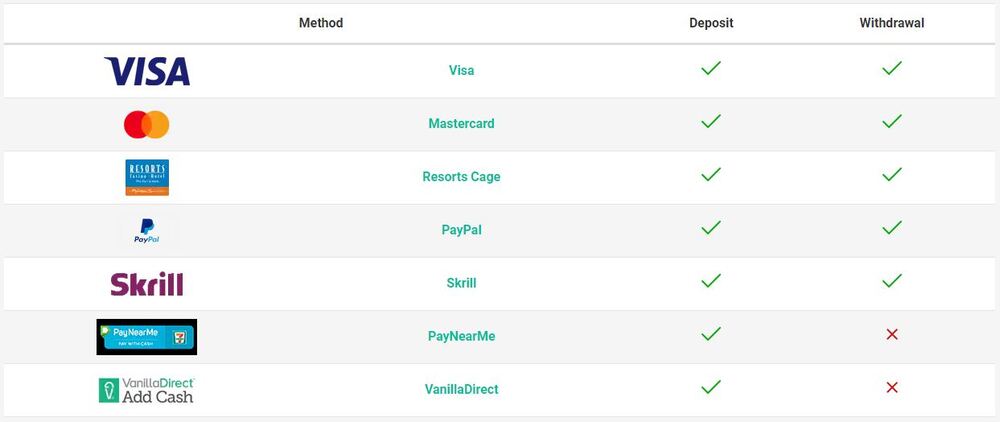 While poker sites in Delaware are far from technological marvels and have their faults, the operators do a decent job when it comes to deposits and withdrawals.
The minimum deposit and withdrawal thresholds are $10 across the board in Delaware, which makes it easy to get started.
When it comes to payment options on offer, they include:
Visa
MasterCard
PayPal
ACH
Specific to DE poker sites, if you want to use PayPal as a withdrawal option, make sure there is an ACH bank account attached to it. Withdrawals to PayPal accounts that only have debit/credit cards attached are not possible.
As always, prior to your first withdrawal, you'll likely be required to prove your identity by supplying relevant documents. Luckily, this is a one-time thing, and once your account is confirmed, future withdrawals will be as simple as entering the amount and choosing your preferred method.
Delaware Online Poker Laws & Regulations

Delaware is known as "The First State," and it is only right that they were the first to pass the online poker regulation. The state's governor signed the bill in June 2012, and the very first DE poker sites went live in November 2013.
Unlike states that came after, like Michigan or Pennsylvania, Delaware decided to keep things "in-house" when it came to online poker licenses, only allowing three state lottery-owned casinos to offer poker. These casinos partnered up with 888 Holdings to provide them with the software and launched the first (and so far, the only) online poker network in Delaware.
To kick things off, these poker sites struggled, as the small market wasn't enough to keep the platforms liquid.
So, in February 2014, Delaware and Nevada signed an agreement that allowed the two states to share player pools across state lines. With this, they became the first parties to sign the Multi-State Internet Gaming Agreement (MSIGA).
In 2017, New Jersey joined the MSIGA as well, and this provided another important boost for Delaware, adding more players to the overall player pool.
Since 2013, 888 has been the only company allowed to provide online poker services in cooperation with Delaware casinos. Things may change in 2024 and beyond, however, as the state Lottery may be looking into other options.
If one of the other major players in the US online poker market were to enter the scene, this could change things up for Delaware players. The arrival of PokerStars or BetMGM, the two most likely candidates, would bring some positive changes but would also cut ties with the 888/WSOP network.
As for the other DE online poker laws, they're similar to those in other states. All players have to be at least 21 years of age and physically present within Delaware state borders when accessing the software to play for real money.
Offshore Operators vs. Regulated DE Poker Sites

The situation for DE poker players isn't great. While regulated poker exists in the state, it is somewhat limited by the state monopoly and the small market. While the shared liquidity somewhat offsets the latter issue, it's not the perfect solution.
All these facts may push some online poker fans towards seeking alternatives presented by offshore operators. With bigger bonuses, much larger player pools, and better software solutions, these may seem like viable alternatives.
However, as always, we urge you to stick to licensed and regulated Delaware poker sites and avoid the offshore alternatives, and these are just some of the main reasons why.
⭐ Safety of Your Funds
Almost always on top of our lists recommending legal US poker sites, the safety of your money simply can't be overstated. When dealing with licensed DE poker rooms, you know your funds are kept safe, segregated, and out of touch.
When it comes to offshore sites, no such insurances are provided. Even if a particular operator claims they keep the players' money segregated, there is no independent body to confirm such claims. And, as history has shown us, these claims are often not true.
⭐ No Tax Issues
What's better than playing online poker? Well, that's easy – playing poker and winning. After all, even the most casual of players like to be on the winning side. But when you do win a substantial amount of money, even if you're able to cash it out from an offshore site, you still need to report it for taxes, and this can get tricky.
There are no such problems with legal Delaware poker sites. In fact, the rooms take care of almost everything, and you're provided with all the information you need to do your taxes correctly. This may not matter if you play for cents, but if you have a bigger bankroll, it's good to be able to sleep calmly, knowing there is no potential threat of the IRS coming after you.
⭐ Games' Integrity
It's the fact that poker rooms in Delaware don't have the best software out there, but at least you can be sure that the software has been tried and tested to ensure it is truly random and safe to use. Additionally, regulated sites put a lot of effort into ensuring there is no collusion, bots, or other similar issues.
On the other hand, the games' integrity has been one of the biggest issues at offshore sites. Some of them do try to tackle the problem but often don't have the resources to do it properly. Some, let's be honest, don't particularly care, and that's a big red flag.
⭐ Local Custom Support
It's important to have around-the-clock access to customer support that actually cares. With Delaware poker sites, this is exactly what you'll get, as there are even physical locations that you can visit if a problem can't be solved remotely.
With many offshore operators, both access and quality of support are limited. This may not seem like a big issue until there is a serious problem that needs resolving, and then your money gets stuck for days or weeks as you're running in circles.
⭐ Available Legal Remedies
Finally, even if there is a problem that goes beyond customer support, there are actual legal entities that you can turn to in Delaware to help you out. If you feel the room is doing something it shouldn't, or you feel cheated, or whatever else, there is someone you can lodge your complaint with.
You won't get anything like that with offshore sites. While most of them are licensed by one commission or another, the simple fact is that these commissions don't take players' complaints too seriously and often side with the operator without looking into the matter too much.
Delaware Online Poker Summary
Online poker has been legal in Delaware since 2012, and the small market managed to survive and even thrive to some extent, thanks to partnering up with other states to share the player pools and create sustainable player traffic.
There may be some changes on the horizon for Delaware online poker, but the important thing is that the game is here to stay. Even if a new company enters the market to replace 888, players in the state will be able to continue enjoying online poker, just as they have for over a decade.
DE Online Poker FAQ