McLaren Grand Prix Turbo Series at PartyPoker Featuring F1 Tickets and $1 Million in Prizes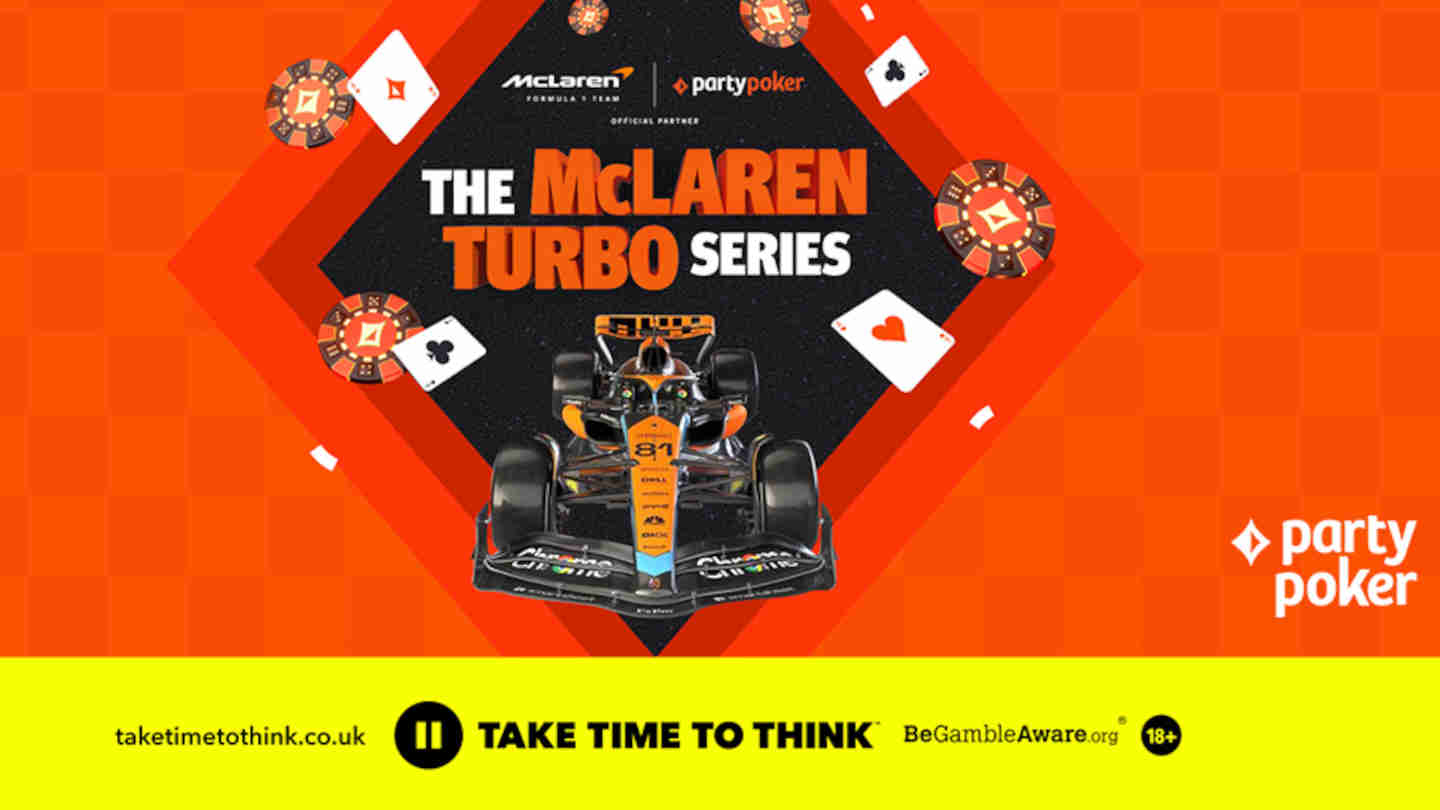 PartyPoker is partnering up with the McLaren Formula 1 team to bring us the McLaren Grand Prix Turbo Series, an exciting online tournament festival running from August 13 to 28.
Dozens of events offered over the fortnight will pay out at least $1,000,000 in prizes, with buy-ins ranging from as little as $1.10 to $109.
The Series will culminate in a big prize draw, where three lucky players will receive a couple of Grandstand tickets to go watch Brazil, Mexico, or Las Vegas Grand Prix this season, the perfect gift for any real F1 fan.
Whether you are an avid Formula 1 fan or not, McLaren Grand Prix Turbo Series at PartyPoker should be a fun one, as dozens of exciting turbo events will offer plenty of exciting tournament action.
If you don't yet have a PartyPoker account, follow our link and sign up to receive a FREE $109 Sunday Party ticket, which you can use to get into your first Sunday major at PartyPoker as early as this Sunday.
McLaren Grand Prix Turbo Series Highlights
Starting on August 13, McLaren Grand Prix Turbo Series will feature a long list of poker tournaments with fast blind structures and a variety of buy-ins, with the most affordable ones available as low as $1.10.
Popular daily and weekly events, such as Daily Legends, Sunday Carnival, and Sunday Party, will all get special boosts to their prize pools during the Series, making them even juicier than usual.
In addition to these McLaren turbocharged tournaments, the Series will also feature a $100,000 Main Event, whose Day 1 flights will start as early as August 13, and will run throughout the Series until Day 2 kicks off on August 28, bringing together all the remaining survivors.
Overall, McLaren Grand Prix Turbo Series will pay out at least $1 million in guaranteed prizes. However, it is expected that many of the events will shatter the guarantees and offer significantly bigger final prize pools than planned.
Win Formula 1 Tickets at PartyPoker
Perhaps the most exciting part of the McLaren Grand Prix Turbo Series comes in the form of a valuable prize draw that won't even require you to play in actual poker tournaments.
Head on over to PartyPoker, sign up for an account, and make your first deposit to become a part of this exciting McLaren-powered draw.
Once you are set up, you will need to answer a very simple question, "Who came second in the 2023 British Grand Prix?" and you will be entered into the draw where valuable Formula 1 prizes are up for grabs.
🏁 PartyPoker and McLaren Bring You the Ultimate Race Day Experience!

Win an all-expenses-paid experience for a Grand Prix of your choice: Brazil, Mexico, or Vegas!

✅ Visit https://t.co/ETS5d8PG5m
✅ Log in/Register
✅ Answer a Quick Question

Prizes:
🥇 Pair of grandstand… pic.twitter.com/xpKGe3CZEx

— PartyPoker (@partypoker) August 9, 2023
The draw will take place on August 29, after all the McLaren Grand Prix Turbo Series events are done, and will give away the following awards:
1st Place: Two Grandstand tickets to Grand Prix Brazil, Mexico or Las Vegas + $5,000 for flights and accommodations.
2nd Place: Two Grandstand tickets to Grand Prix Brazil, Mexico or Las Vegas
3rd Place: Two Grandstand tickets to Grand Prix Brazil, Mexico or Las Vegas
This means three lucky players will get a chance at an experience of a lifetime at one of the most exciting Formula 1 races of the season and bring a friend or a loved one to experience it with them.
The pole position will even get $5k in cash to cover all the costs of flights and accommodations, for a truly complete VIP experience.
If you've always dreamt of seeing F1 up close and personal, sign up with PartyPoker today, enter the draw, and give yourself a chance to win one of the valuable packages up for grabs.
Qualify for McLaren Grand Prix Turbo Series Online
Every F1 Grand Prix starts with a round of qualifications, and the same goes for the McLaren Grand Prix Turbo Series at PartyPoker, with plenty of qualifying opportunities offered in the build up to the festival.
Satellites for the Series are offered from as low as $0.01, with a wide range of options offered and tickets available for all events, all the way up to the $109 Sunday Party and Main Event.
Check out the PartyPoker tournament lobby for a full list of available satellite tournaments, and choose your preferred buy-in level and satellite type for the upcoming Series.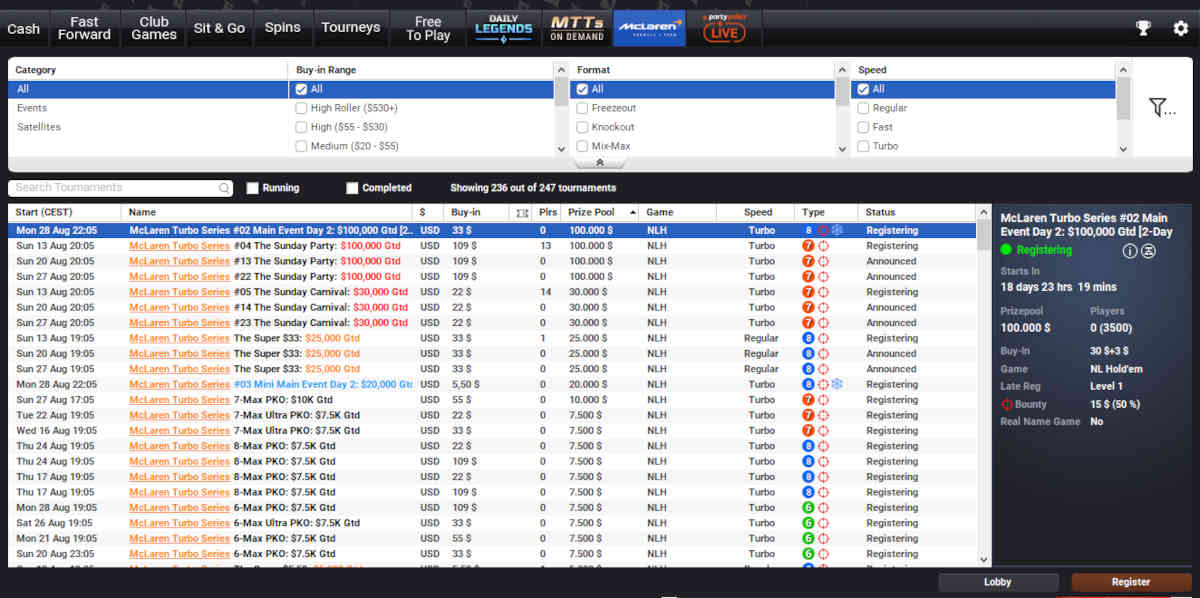 Plenty of Extra Value at PartyPoker
PartyPoker remains one of the top online poker sites in 2023, and continues to offer exciting and lucrative tournament series each and every month.
If you are looking to play in the McLaren Grand Prix Turbo Series in August, keep in mind that PartyPoker has plenty of extra value for you as well, especially if you are completely new to the site.
Signing up with PartyPoker will give you access to a 100% welcome bonus, worth up to $600, along with $30 in tournament tickets, which you can get as soon as you make your first $20 deposit.
If you follow our links to sign up with PartyPoker, Mypokercoaching will also reward you with a FREE Sunday Party ticket, worth $109, with no strings attached.
Sign up today to claim all this extra value and enjoy the McLaren Grand Prix Turbo Series in full, with plenty of opportunities to play for free and build up your bankroll with minimal risk.