PartyPoker MILLIONS Festival Gets Underway in Malta – Last Call for the Players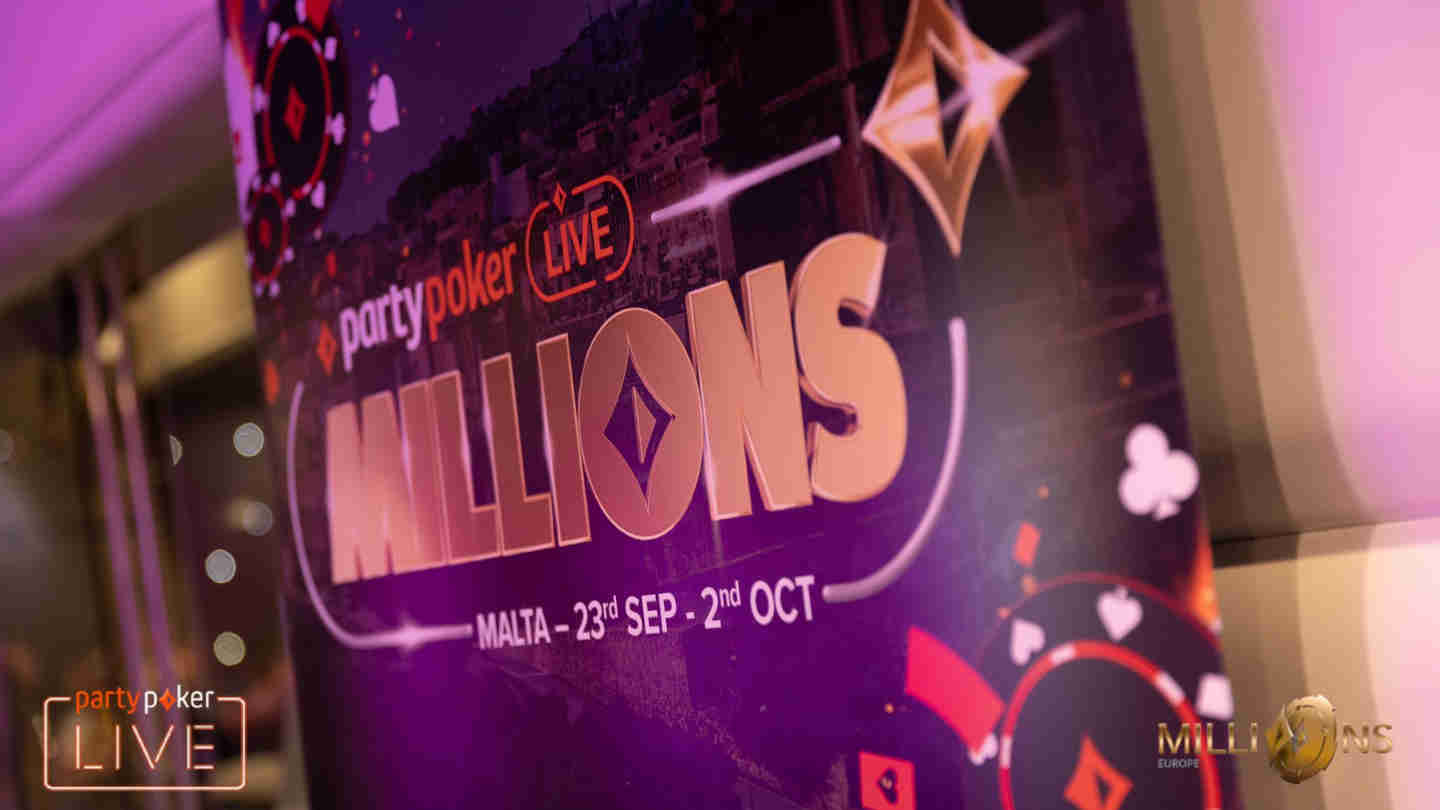 2 minutes
Last Updated: September 24, 2023
After months of preparations and anticipation, the PartyPoker Millions is finally here. Things kicked off yesterday, on Saturday, and continued today with initial Early Bird flights of the €400 Grand Prix event.
Those who decided to book an early flight and join the fun are saving a fair bit of money, as later Day 1 flights come with the price tag of €550. But, even at that cost, the Grand Prix is a great bargain, as it comes with a big €1,000,000 guarantee.
This event will be followed by the €3,000 Main Event, and several other tournaments are on the docket for the coming week. Players had ample opportunities to qualify via PartyPoker, and there were even two Day 1 flights taking place on the platform, but for the next few days, all eyes will be on Portomaso Casino in Malta.
PartyPoker Grand Prix Malta Sets Its Sights High
It's an ambitious move to promise a seven-figure prize pool in a three-digit buy-in event, but PartyPoker has gone and done it just the same.
To try and hit this ambitious mark, PartyPoker started with Day 1 flights earlier this year, both online and in several live venues across Europe. In total, before things even officially got underway in Malta, 319 players had already participated in Day 1 action.
After the weekend's Early Bird offers, there are five more starting flights planned between September 25 and October 1. Each Day 1 will play down to 15% of the starting field.
We still don't have any official numbers to draw on, but if pictures tell more than a thousand words, it certainly seems like there is plenty of interest in the event, and by the time the registration is over, the operator should hit (and likely exceed) its target.
🔥 Day 2 of MILLIONS MALTA is heating up! keep an eye out for the latest updates! #MILLIONSMalta #GrandPrixMalta pic.twitter.com/9RUsgaxDge

— PartyPoker (@partypoker) September 24, 2023
The Party Is Underway in Malta
The opening weekend of PartyPoker Millions has been a success, according to all accounts. Players are still arriving on the island, as there is now a bit of a gap before the action resumes.
Things will pick up again on September 27 with the €5,300 High Roller, followed by starting flights for the Grand Prix and the MILLIONS Main Event on September 28.
Those already in Malta will have plenty to do, however. PartPoker has prepared some fun events to allow players to get to know each other, and the small island features a very rich offering of entertaining activities as well.
From rich culture and history, over great Mediterranean cuisine, to bustling nightlife, Malta has something in store for everyone.
While Early Bird offers are off the table now, there is still plenty of time to book your flights and get over just in time for the main action. The Grand Prix event certainly offers great value for money, and this could be a perfect excuse for a summer getaway as autumn starts to spread its wings across Europe!