Planet Hollywood Poker Room Review: Heaven For Recreational Players
Planet Hollywood Poker Room Review: Heaven For Recreational Players
Planet Hollywood Poker Room is famous for having splashy and exciting poker cash games and fun tournaments that attract recreational players and tourists from all over the world.
If you prefer to play in a party atmosphere with outgoing type people, then Planet Hollywood is the destination for you on your next Las Vegas adventure.
Planet Hollywood Poker Room is a perfect spot for new and recreational poker players who are looking to give the intimidating stare-downs a miss that you may find in the other local poker rooms on the strip.
If you are still not convinced, get to the bottom of this article, and I am sure that you will feel at least tempted to try Planet Hollywood as your place to stay on the strip.
Planet Hollywood Poker Room Review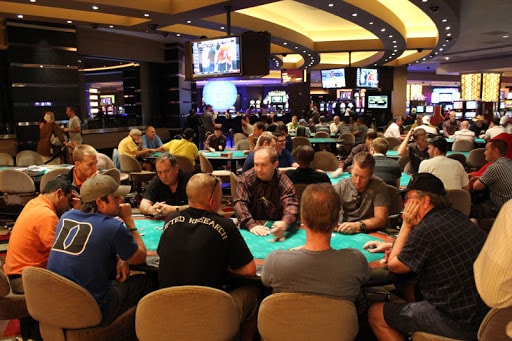 Officially opening its doors to poker players, tourists, and locals in 2007, Planet Hollywood has become known as the poker room to be at if you are looking for a higher tempo ambiance.
The poker room is a hot spot for the more laid back and fun type players, which creates a welcoming environment for any poker player just starting their journey on the felt.
Despite Planet Hollywood Poker Room being one of the smaller rooms in Las Vegas, having a total of ten poker tables, this intimate and fast-paced setting creates a unique experience that cannot be found even in the bigger casinos.
The Planet Hollywood Poker Room is found next to the Heart Bar in the middle of the casino, and this is what gives it that gusto and electric-like feeling when playing.
And if you are a sports fan with a few bets on the game, you can follow the action as it unfolds on one of the many TVs that are on the poker room walls.
One negative, however, as the poker room is not a separate entity from the main casino, you do get the waft of cigarette smoke from time to time, and it can get noisy, which may distract you if you are in a particularly tough spot when playing poker.
But you can see some silver linings here, as with more visibility for tourists, it is more likely they will take the plunge and join in on the poker action for you to take advantage of.
So, it is definitely worth the bit of short-term pain for long-term gain.
You will be pleased to know as well that Planet Hollywood uses the Bravo Poker Room Management System to let budding poker players know what games are being played and how long you can expect to wait before you can join a table.
Furthermore, the poker room is open round the clock, so no matter what time you can fit in a session, there will be a game waiting for you.
Planet Hollywood Poker Room Cash Games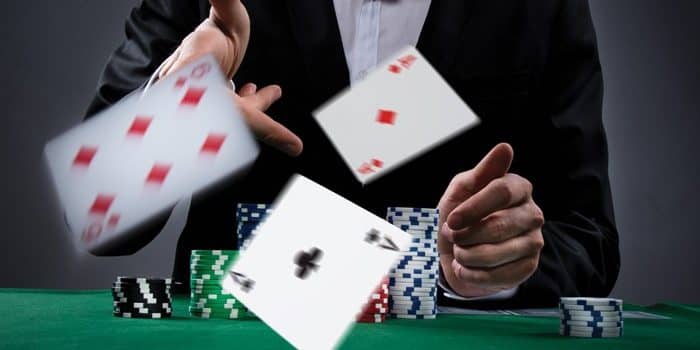 As you could probably guess, due to the size of the Planet Hollywood Poker Room, the choice of poker games to play is quite limited.
On any given night, you can find your usual Texas No-Limit Hold'em cash games as well as Pot-Limit Omaha.
As this is a more touristy hot spot, you will not find the nosebleed stakes that you can find at the Bellagio and Aria, for example.
The stakes on offer are tailored towards the lower end of what you can play in Vegas, and this is $1/$2 and $2/$5 if you are unsure of what these lower stakes are.
But just because the blinds are low, do not think that the games do not play big.
For example, when playing Pot Limit Omaha, players can buy-in up to 300 big blinds for some skillful deep stack play.
You will also find that poker straddles are extremely common when playing at the Planet Hollywood Poker Room, which helps the games play bigger.
When playing $1/$2, you can straddle for $5 from under the gun and $10 from the button. You also have what is known as the PHamous straddle, which lets you straddle for $20 in any position other than UTG and the button.
At $2/$5, the UTG straddle is $10, button straddle is $20, and then you can use the PHamous straddle for $25-$100.
Planet Hollywood Poker Room Promotions
We all love promotions, especially when we do not have to jump through hoops to get the rewards, and Planet Hollywood Poker Room offers that in abundance.
The high hand promotions on offer to you at Planet Hollywood are as follows:
$100 for Four of a Kind
$250 for straight flushes
$500 for royal flushes
In a first for me, at least, there is also a promotion that allows you to win a modest $25, and to qualify for that, you need to win a pot at showdown without a pair using both hole cards from 3 am to 9 am.
As a Caesars Entertainment property as well, you can sign up for the Total Rewards card, which will give you a range of benefits and comps.
You get $1 for every hour of poker you play and can spend your rewards in any restaurant at Planet Hollywood as well as for table service.
Also, if you play for three hours between 2 am and 5 am, you can earn a free buffer voucher or a $20 Ringer which is found in the sportsbook where you can get pizza and wings, etc
Rake
They say that in the poker game of life, women are the rake, but at Planet Hollywood, sadly, the rake is the rake.
The house takes a ten-percent rake up to a max of five bucks plus another dollar, which goes towards the high hand promotions, which is actually an extremely high price to pay for the games.
Planet Hollywood Poker Room Tournaments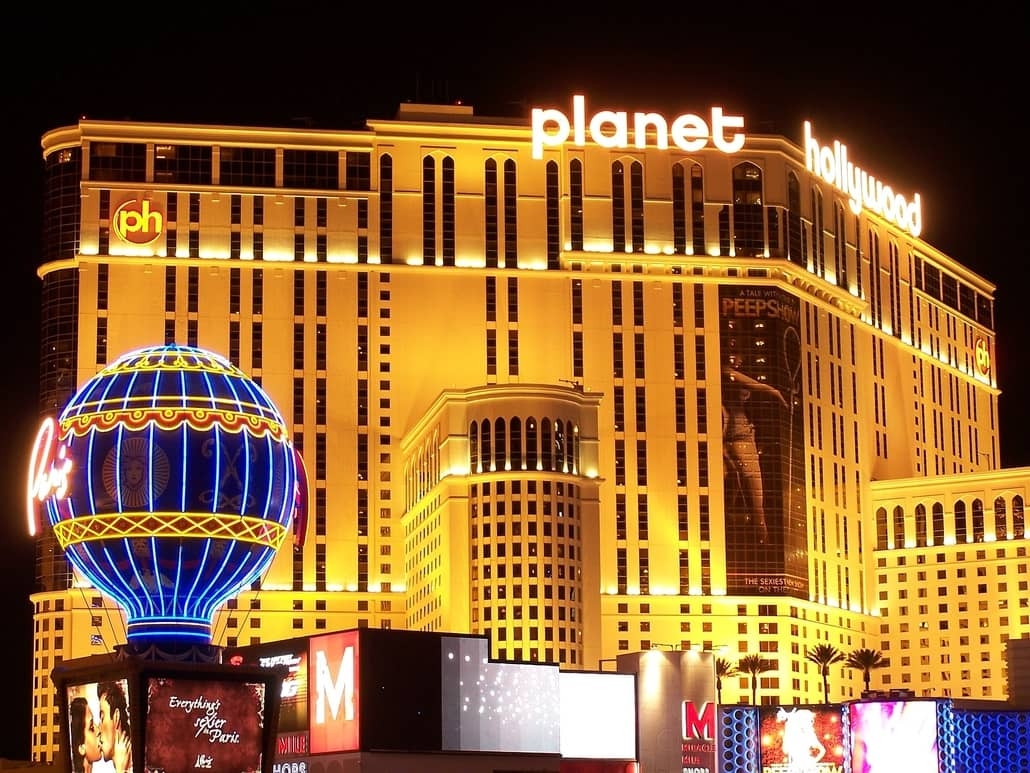 If playing a few cash games poker hands is not to your liking, but you still want to get your No Limit Hold'Em action, then you will be pleased that Planet Hollywood hosts five daily tournaments!
10 am daily poker tournament
The buy-in for the morning tournament at Planet Hollywood is a modest $80 with the winner taking home $850 of the $1,500 guaranteed prize pool.
You get a starting stack of 15,000, which equates to 75 big blinds as the first level blinds are 100/200.
1 pm daily poker tournament
A bigger buy-in of $100, which is still very reasonable, will see you compete for a slice of the $3,000 prize pool.
This is a deep-stacked tournament, starting with 20,000 chips, you can also pay an extra $5 for an additional 5000 chips. The winner of this takes home a four-figure sum of at least $1,250.
4 pm & 7 pm daily poker tournament
These two poker tournaments are the same as the 10 am daily: same starting stack, buy-in, and prize pool payouts.
10 pm daily poker tournament
Another $100 buy-in event, but it does differ from the 1 pm daily poker tournament. This is a bounty tournament, so if you knock an opponent out, you get $25.
The prize pool for this event is $1,000, and your starting stack is 15,000, with the option to have 5000 more chips for $5.
10 am Sunday poker tournament
The largest standard event of the week in the Planet Hollywood poker room begins on Sunday morning. The $135 buy-in event generates the $5,000 prize pool with first place winning at least $1,500.
The starting stack again is only 15,000, but you do have the usual option to add 5,000 more chips for $5.
You can also earn free entry into this tournament by playing 20 hours of Live Action.
The blind levels for all the daily tournaments are 20 minutes. For the Sunday 10 am poker event, level 1-7 are 20 minutes with levels 8 and after being 25 minutes.
Planet Hollywood is also home to the World Series of Poker Circuit Events. The 2019 Circuit Event from November 15th – November 26th generated over $2.5 million in prizes with event buy-ins that varied from $135 to $2200.
Not bad for a poker room that is often overlooked by players.
Planet Hollywood Parking
Who hates paying for parking? WE ALL DO!
Luckily for us, there is complimentary parking for people looking to hit up Planet Hollywood.
There is a 10-story parking garage that is attached to the resort, but I do have to let you know that you will be in for a good stroll from the parking exit to the main casino floor.
So, start doing some circuit training so you won't be out of breath by the time you get to the casino. A nice plus with this, though, is that it is one of the easier garages to get in and out of Sin City.
Planet Hollywood Poker Room Staff
The consensus seems to be that the Planet Hollywood Poker Room staff are friendly and helpful with a deep knowledge of customer service, and can keep their poker software running without any trouble.
The review of the dealers is that they are well informed and keep the game flowing well. Chip runners appear to prompt so you can be sure not to miss out on any hands when you are playing.
The cocktail waitresses can be found easily, and a nice bonus is that there is a tableside rolling drinks cart too.
Planet Hollywood Casino Games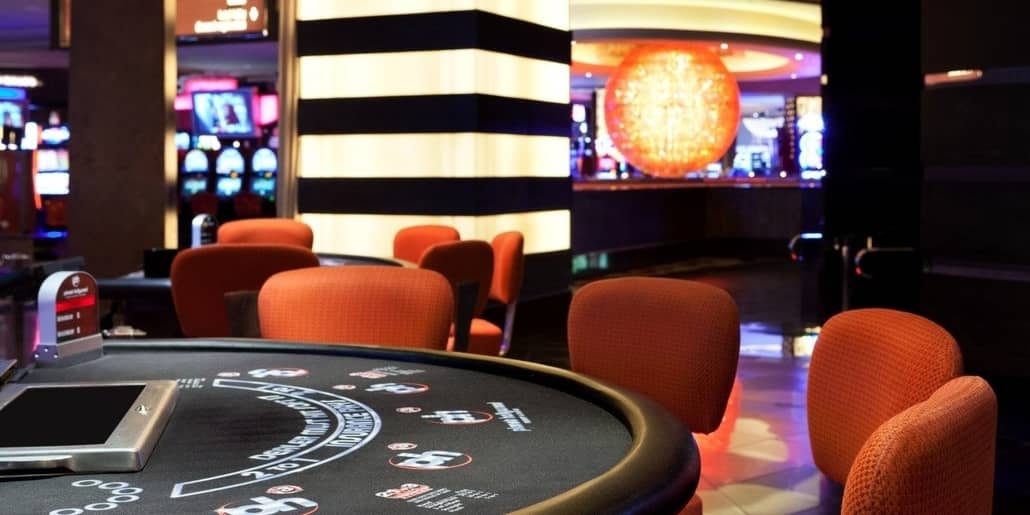 With close to 65,000 square feet of gaming space, you can be sure to find a slot machine or a table game that suits your needs as you look to give Vegas the old hit 'n' run.
This is a high energy casino with everything from go-go dancers to interactive gaming tables.
You truly get a unique experience when playing at Planet Hollywood Casino.
A crown jewel in the Planet Hollywood Casino is the MEGAbeat, which is one of the largest progressive jackpots in the world.
Slots
Planet Hollywood is home to 1,200 slot machines, which vary from your traditional penny video slots to your favorites like video poker, Megabucks, Wheel of Fortune and Monopoly.
Table Games
Regardless of what you think of table games, you cannot go to Las Vegas without dipping your toe in at least.
The sensible side of our brains tells us not to bother, but sometimes you just have to give in to those urges as long as you can do so with caution.
There's quite little that matches that feeling of wonder as you throw dice on the craps table or looking at the roulette wheel spin, and you will be sure to feel that exhilaration when playing at Planet Hollywood.
The casino allows you to play your favorite games, such as:
Craps
Roulette
Let it Ride
Six Card Bonus
Another gaming feature that separates Planet Hollywood from the rest of the crowd is new innovative Gamblit Gaming.
This is a unique experience that you can play with friends on an interactive gaming table.
Think of it as playing video games against your pals where you can win some big cash prizes.
Planet Hollywood Resort and Casino – What to Expect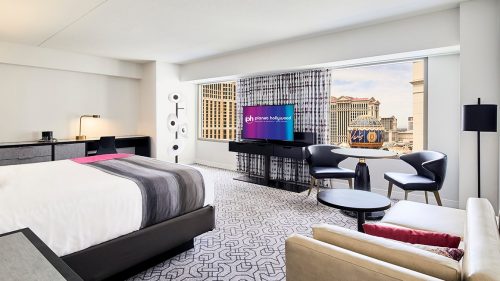 Planet Hollywood also unveiled its new rooms recently. These have a modern and contemporary look that does make you feel like a superstar but doesn't come with the same price tag.
If you are a fan of clean and slick design, then these are the rooms for you. Planet Hollywood is up to date with its trends, so you will not feel like you are stuck in decades gone by.
The rooms are bright, elegant, and with being situated in the heart of Las Vegas Boulevard, you get some truly iconic and stunning backdrops from your hotel window.
The dining options to choose from are equally as spectacular, and whether it's a just for a quick bite or something more upmarket, your culinary tastes will be taken care of while you are in town.
Some of the restaurants you can enjoy while staying at Planet Hollywood include:
Gordan Ramsay Burger Las Vegas
Café Hollywood
Koi – authentic Japanese restaurant ($$$)
Strip House Steakhouse – A 'sexy' steakhouse that makes you feel like a movie star and is a throwback to a bygone era.
Planet Hollywood – Things to Do (non-related casino activities)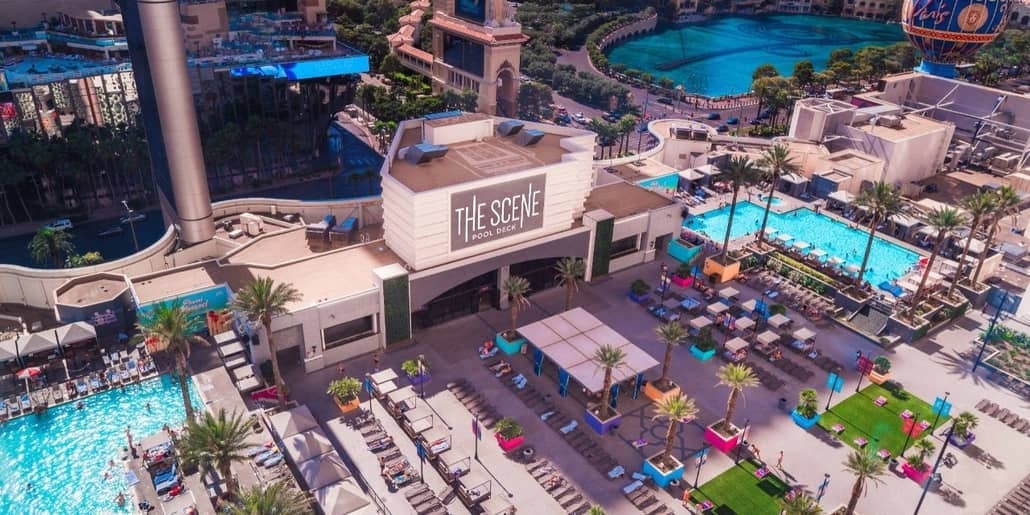 If you are someone who lives in a cooler climate, then you will enjoy soaking in the sun at the Scene Pool Deck.
An absolute peach of a social retreat, you can enjoy two separate pool decks, pool bars, live music, and DJ's while you relax in one of the many cabanas and day beds.
An absolute gem at the pool deck is 'The Flowrider,' if you need a water adrenaline fix, then step right up.
The Flowrider is a wave simulator that gets the blood pumping without having to travel to the beach.
Need a place to pick up some gifts for the family back at home? Then you are in luck as Planet Hollywood is home to Miracle Mile Shops, which allows you to get some retail therapy.
With over 200 shops, eateries, and live entertainment venues, you won't have time to get bored.
With some of the biggest names in fashion, you can find something to treat the better half at:
Victoria's Secret
MAC Cosmetics
GUESS
Urban Outfitters
Did you know you can even get married at The Chapel at Planet Hollywood, so if you're in a whirlwind romance, why not tie the knot at the same venue where Elvis and Priscilla Presley made their vows!
That's right. You can get married in the same spot as The King did. Ohhhhhh Honey.
Planet Hollywood – Keeping You Safe Against Covid-19
Caesars Entertainment is doing all they can to keep colleagues and players safe.
For the time being, Planet Hollywood is temporarily closed, but when it reopens, be assured that you will be in safe hands on your next trip to Nevada.
Nevertheless, watch below to see what Planet Hollywood is doing to keep you safe.
Planet Holywood Poker Room Review – The Final Thoughts
Planet Hollywood scores highly when it comes to action, fun, and adventure. While this might not be the best spot if you want to be playing poker for a living, despite having only low stakes for their poker games, you can be sure to find a big game at one of the PLO tables or take part in a $2/$5 game that has a $100 straddle.
More catered towards those who like high energy, this is a perfect spot for new poker players to cut their teeth where they can socialize and learn the game we love to play.
And when you get tired of the hustle and bustle, the pool deck offers a perfect place of calm where you can relax and recuperate after some intense evening shenanigans.
With promotions galore and plenty of non-related casino activities, it would be foolish not to think about staying at Planet Hollywood.